Ah, Peru!
My aunt and uncle spoiled me in my junior year in college by taking me on my first international trip - to Peru! It has a special place in my heart because we had such an amazing experience. It was from them that I caught the travel bug. :) my aunt's blog on that Peru trip is here.
As a result, I was kind of in charge of planning this trip. And as a result of THAT, it wasn't a vacation with much relaxing or sleeping in. In fact, the latest we got to sleep in was 7am (once) and the earliest was 3am. Not much time, and so much to see! We changed hotels every single night except for the last two nights (which Zach finally demanded haha). My over-scheduling may have been strategic, to motivate Zach to participate more in the planning next time 😇.
I planned a lot of this trip around:
trying to visit cool sites I hadn't seen before and
adjusting slowly to higher altitude before going on the Salkantay Trek (a 4 day hike to Machu Picchu beginning on Day 5)
Notes on altitude adjustment
We didn't want to take Diamox or any other altitude sickness medication. So, in the week(s) leading up to the trip as well as when we were there, we made sure to drink plenty of water daily. I also went a step further and took some Ginkgo biloba and garlic capsules daily (there were some reports of it helping, but inconclusive evidence).
During the hike, a lot of our group would walk briskly, then take a break, and repeat. I tried this for awhile, and it killed me. I would basically be gasping for air and stopping more and more frequently. I later found my rhythm was to be slow, steady, and quiet– who knew that it could make such a difference. So, my advice to anyone is to find what works best for you, and do your own thing (not necessarily what the group does). Also, breathe through your nose, not your mouth (slow calming meditative breath worked really nicely for me!).
Overall, it's not an exact science to avoid getting altitude sickness, but a rule of thumb is to "climb high, sleep low". I might as well share with you our sequence of elevations in the table of contents below, which mostly seemed to work for us...though no promises...
Itinerary
Arequipa: 7,638ft | 2,328m | 1.5mi
Viewpoint: 16,109ft | 4,910m | 3mi
Chivay: 11,910ft | 3,630m | 2.25mi
Colca: 10,660ft | 3,250m | 2mi
Yanque: 11,211ft | 3,417m | 2.1mi
Chivay: 11,910ft | 3,630m | 2.25mi
Arequipa: 7,638ft | 2,328m | 1.5mi
Cusco: 11,152ft | 3,399m | 2.1mi
Humantay Lake: 13,845ft | 4,221m | 2.6mi
Soraypampa: 12,690ft | 3,869m | 2.4mi
Salkantay Pass: 15,213ft | 4,638m | 2.9mi
Chaullay: 9,414ft | 2,870m | 1.8mi
Aguas Calientes: 6,232ft | 1,900m | 1.2mi
Machu Picchu: 7,872ft | 2,400m | 1.5mi
Machu Picchu Mountain: ? | ? | ?
Cusco: 11,152ft | 3,399m | 2.1mi
Lima: 505ft | 154m | 0mi
Paracas: 0ft | 0m | 0mi
Huacachina/Ica: 1,332ft | 406m | 0mi
Lima: 505ft | 154m | 0mi
Los Angeles: 125ft | 38m | 0mi
Itinerary
Day 1:
Los Angeles
125ft
38m
0mi
Arequipa:
7,638ft
2,328m
1.5mi
Day 2:
Arequipa
7,638ft
2,328m
1.5mi
Viewpoint
16,109ft
4,910m
3mi
Chivay
11,910ft
3,630m
2.25mi
Colca
10,660ft
3,250m
2mi
Day 3:
Colca
10,660ft
3,250m
2mi
Yanque
11,211ft
3,417m
2.1mi
Chivay
11,910ft
3,630m
2.25mi
Arequipa
7,638ft
2,328m
1.5mi
Day 4:
Arequipa
7,638ft
2,328m
1.5mi
Cusco
11,152ft
3,399m
2.1mi
Day 5: *Hike
Cusco
11,152ft
3,399m
2.1mi
Humantay Lake
13,845ft
4,221m
2.6mi
Soraypampa
12,690ft
3,869m
2.4mi
Day 6: *Hike
Soraypampa
12,690ft
3,869m
2.4mi
Salkantay Pass
15,213ft
4,638m
2.9mi
Chaullay
9,414ft
2,870m
1.8mi
Day 7: *Hike
Chaullay
9,414ft
2,870m
1.8mi
Aguas Calientes
6,232ft
1,900m
1.2mi
Day 8: *Hike
Aguas Calientes
6,232ft
1,900m
1.2mi
Machu Picchu
7,872ft
2,400m
1.5mi
Machu Picchu Mountain
?
?
?
Cusco
11,152ft
3,399m
2.1mi
Day 9:
Cusco
11,152ft
3,399m
2.1mi
Lima
505ft
154m
0mi
Day 10:
Lima
505ft
154m
0mi
Paracas
0ft
0m
0mi
Huacachina/Ica
1,332ft
406m
0mi
Lima
505ft
154m
0mi
Day 11:
Lima
505ft
154m
0mi
Los Angeles
125ft
38m
0mi
---
Day 1: Arequipa and Yanahuara
Climb Elevation: 7,638 ft (2,328 meters or 1.5 miles)
Sleep Elevation: 7,638 ft (2,328 meters or 1.5 miles)
Our ~15 hour travel began with a flight to San Salvador around 1pm, then a plane change to Lima, and then a plane change to Arequipa, arriving the next day at 6am. One takeaway: If you have the ability to travel with a max of 2 flights in a row, we would recommend that.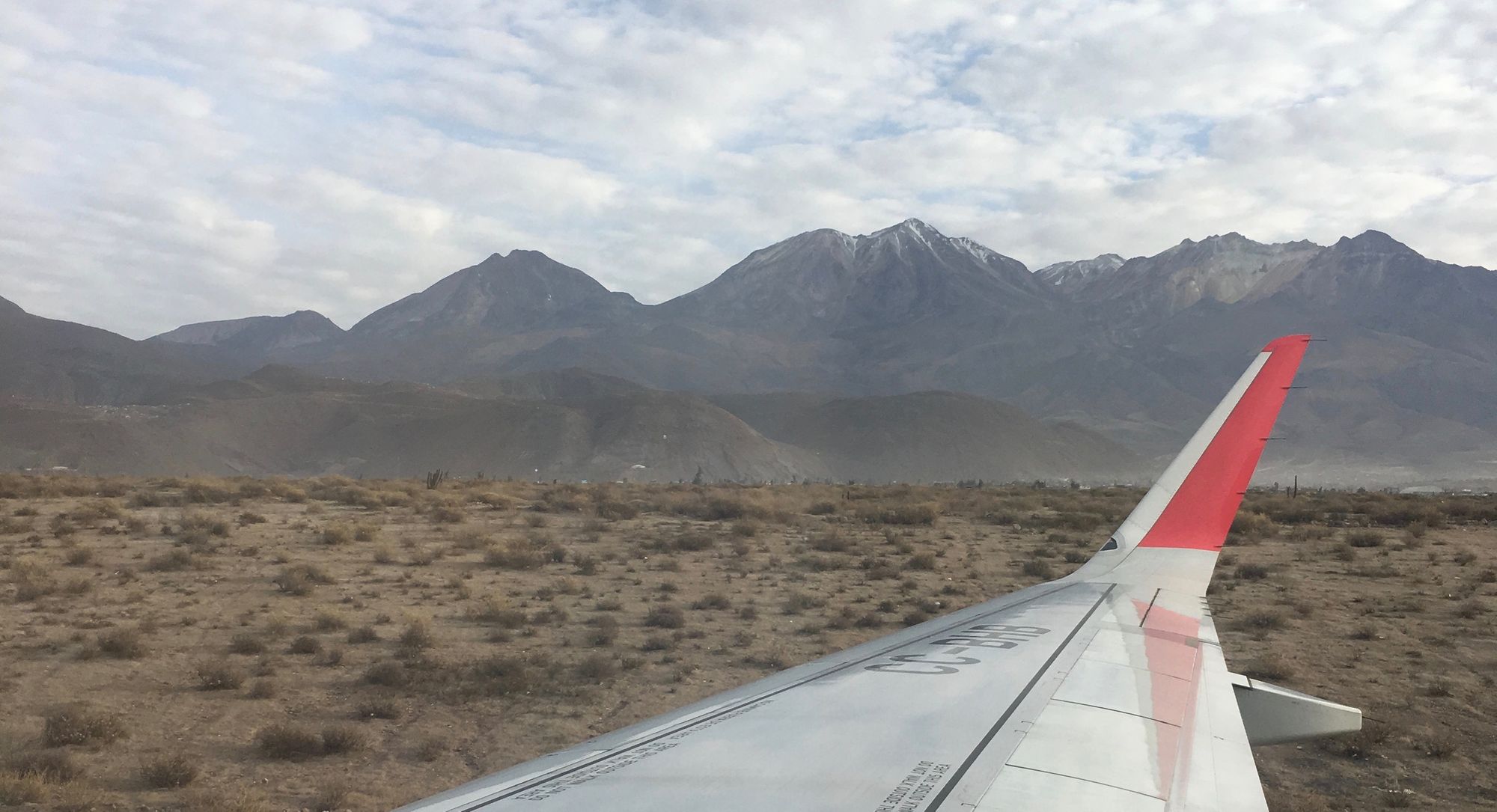 When we first landed, there was a "Claro que si" advertisement cut into the mountain side -- an ad you'll probably see all over town, but in this moment it served as a happy confirmation that we finally made it :)
We checked into our hotel (Hotel Casona Solar), and then napped. It was really hard, but we kept it short, and then went out to explore and eat some crepes.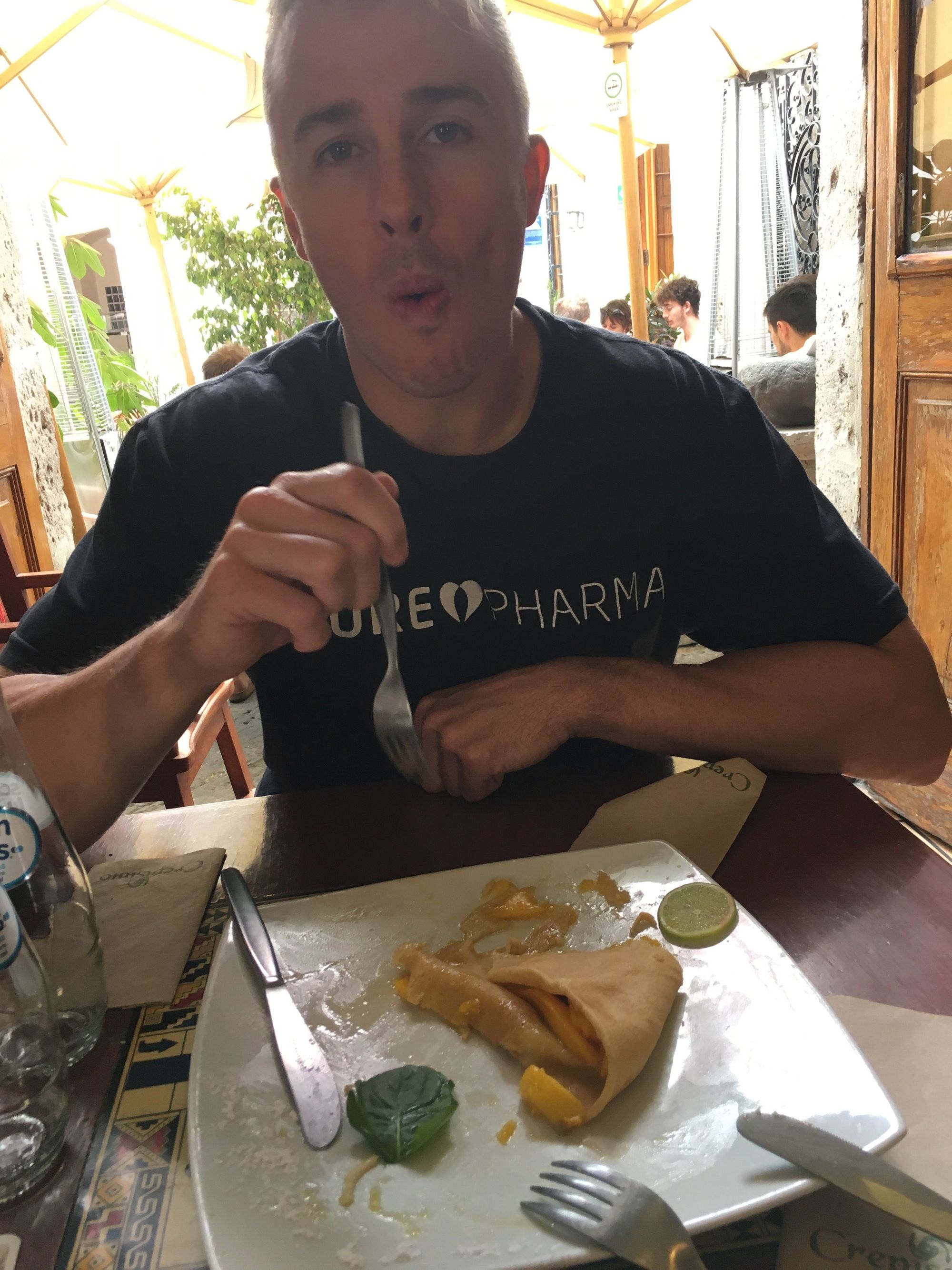 The next matter of business was to find transportation to our next night's lodging in Colca Canyon. We discovered Eco Tours provided a 2-day-1-night bus tour to Colca Canyon, which was perfect. Unfortunately it meant trekking back some blocks to an ATM and then coming back later (walking wasn't the easiest haha).
We continued on our walk to Yanahuara to explore neighborhood life outside of the city center, and for a better view of the volcano El Misti.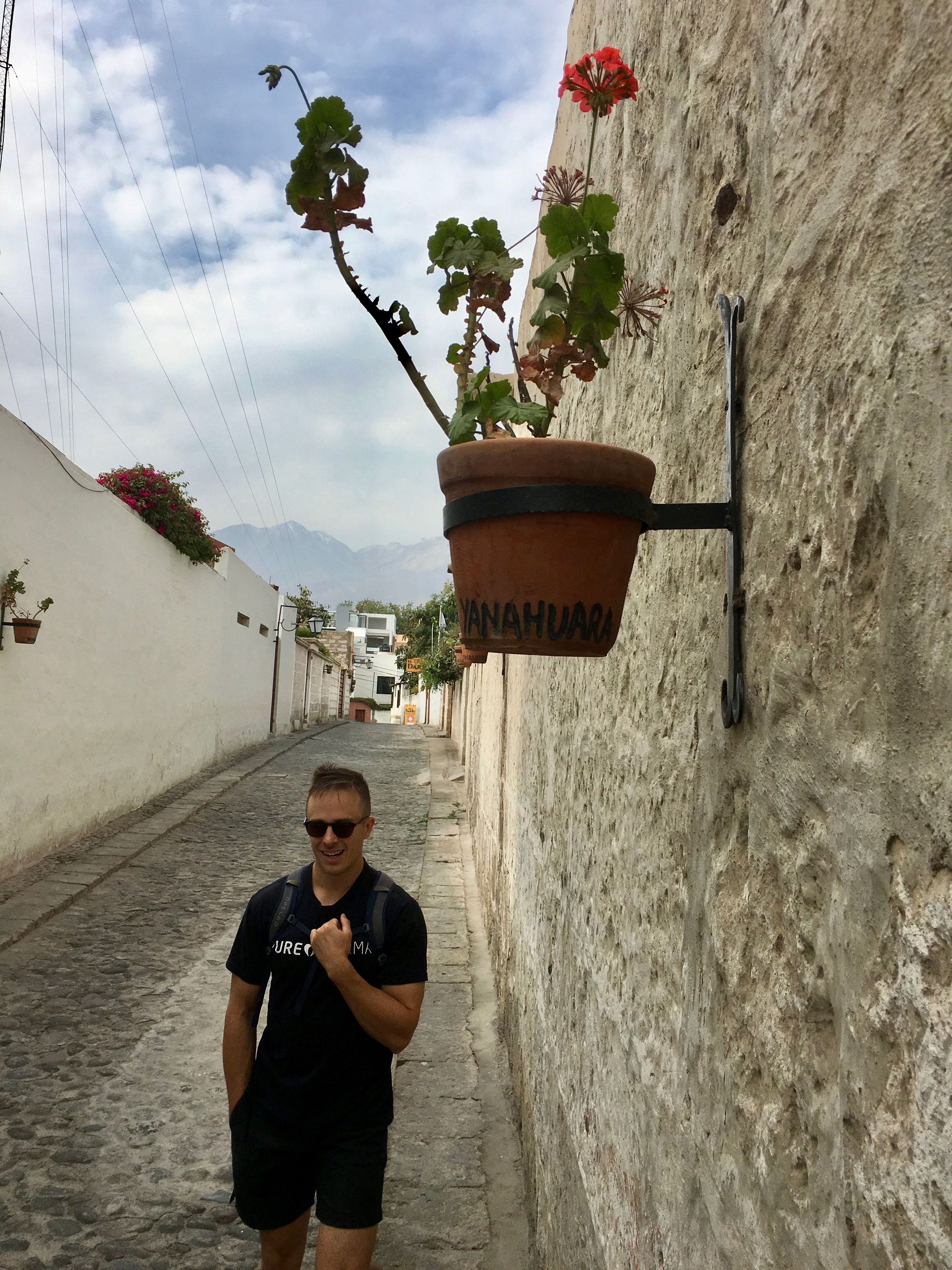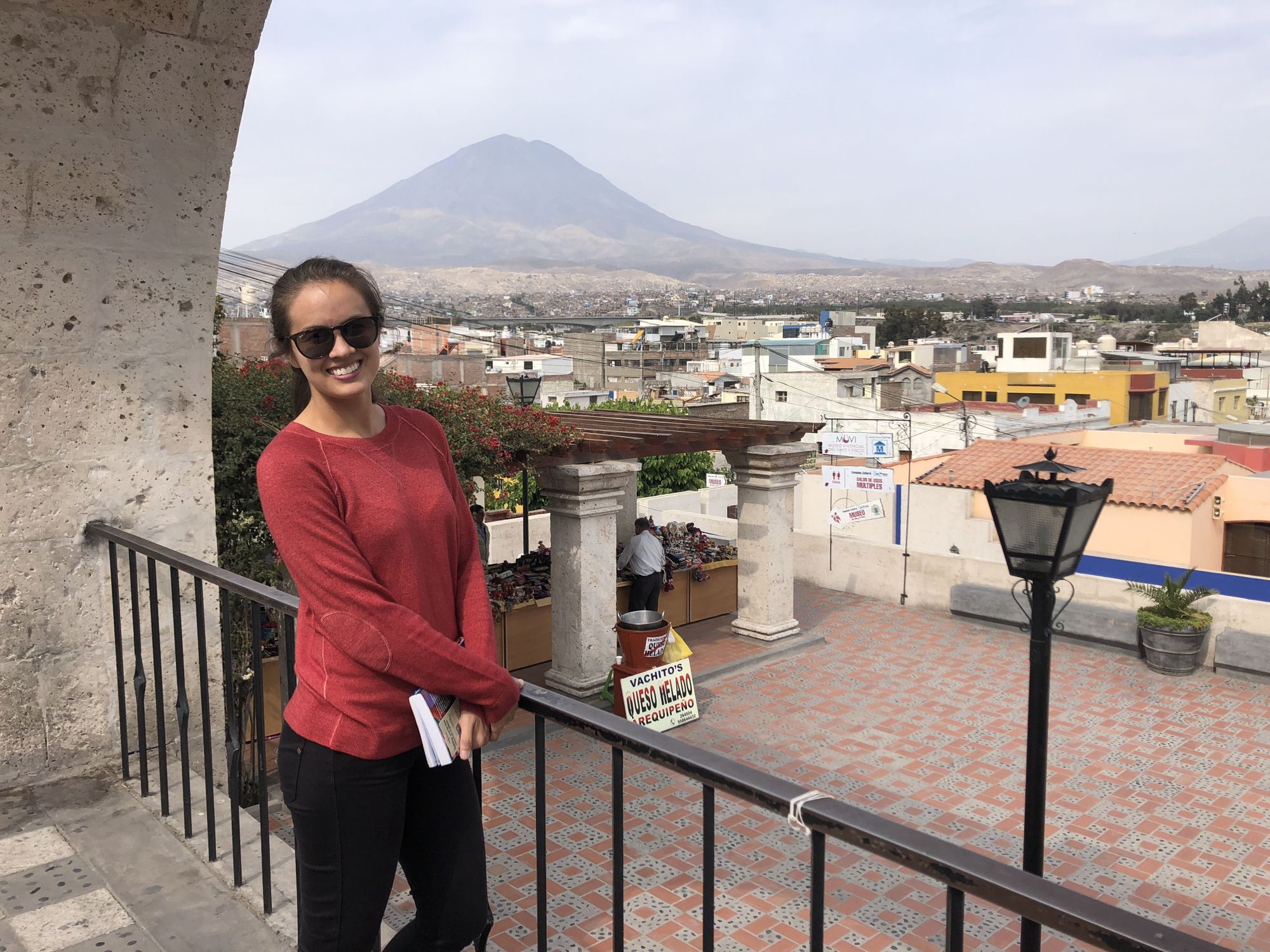 By the time we got back to the city center, we were pretty tired due to being sleep deprived and oxygen deprived, but we knew that the Santa Catalina Monastery was a must-see, so we stopped by. They were closing early this day for a fashion show, so we took the hour guided tour to get the most out of it.🕵️‍♀️
Arequipa is composed of beautiful buildings made of porous pinkish-white volcanic rock called sillar commonly found in this region. Already, you can see the similarities between the walls of our hotel and of the convent. I didn't realize that Arequipa had the nickname of "white city" for this reason.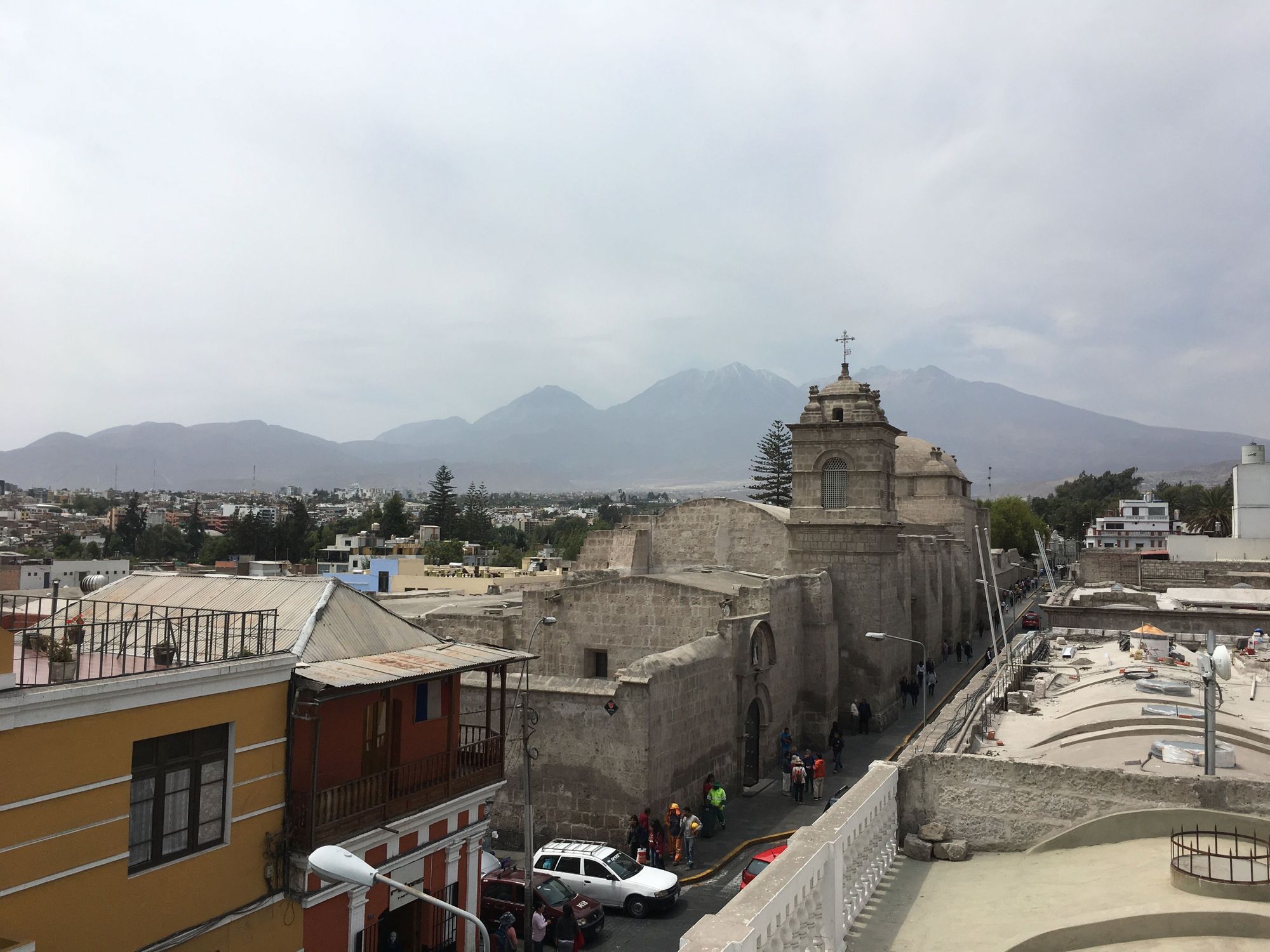 The grounds were like a huge maze, and really beautiful. The area open to tourists is uninhabited, as the structures were damaged in earthquakes in the 1960's. There's a separate section of the monastery where the current nuns live which remains undisturbed. It's hard to believe how big the full monastery must be; it already felt like a small town in just the area we were allowed to visit! (Though, we must remember that in this "town", the nuns were not supposed to leave the Monastery or be seen from the outside.)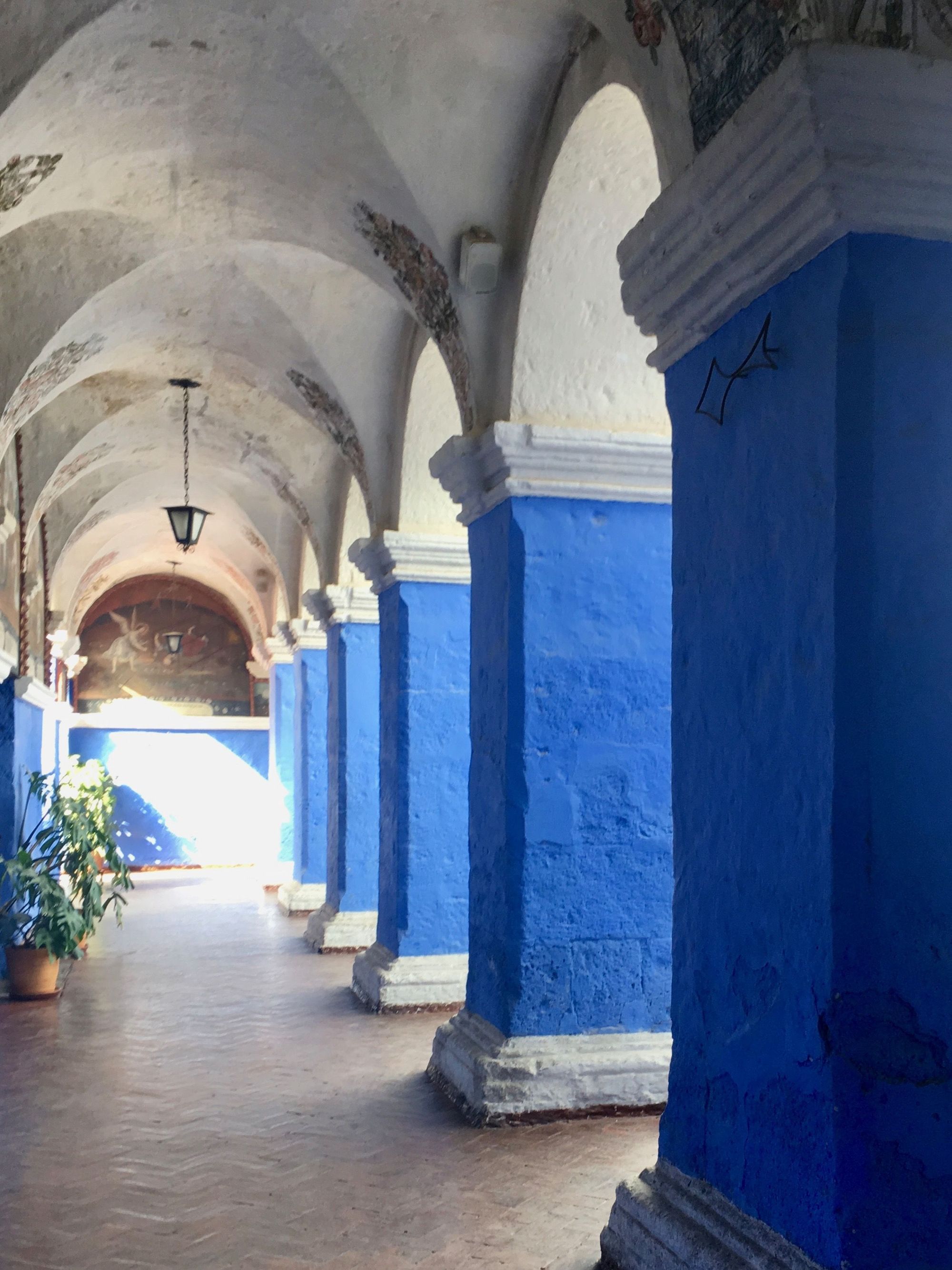 The women who live here would opt in to attending, and wealthy families would have to pay a hefty dowry. After 4 years, they graduate from being a Novice and can decide if they will stay (forever) or leave (shamefully). While they reside here, they receive education and make all sorts of goods for a living. It was a fully-functioning type of town, with even what appeared to be social classes. You could see how the residences varied dramatically. Depending on the nun's wealth, they may inhabit tiny room, or a large quarters with servants, multiple kitchens, and an outdoor space.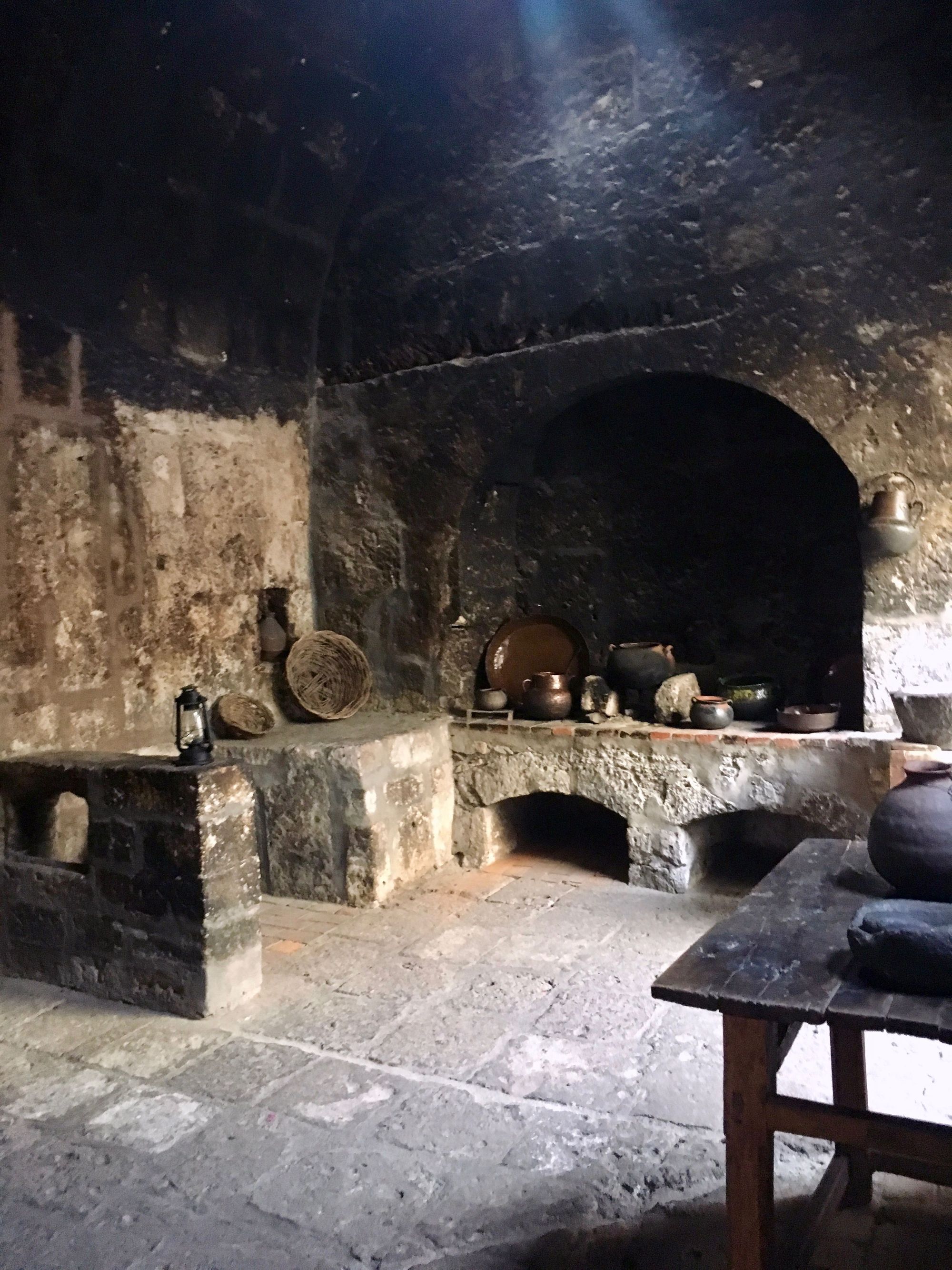 For dinner, we made a reservation at Zingaro (under "Isaac" lol) and got a delicious passionfruit drink and ceviche. Peru is the one place we've encountered where the name "Zach" gave us trouble and "Gemma" did not.
On our walk home, we passed through the Plaza de Armas square, with the lit Basilica Cathedral, and an ongoing cultural dance competition (check out their footwork!).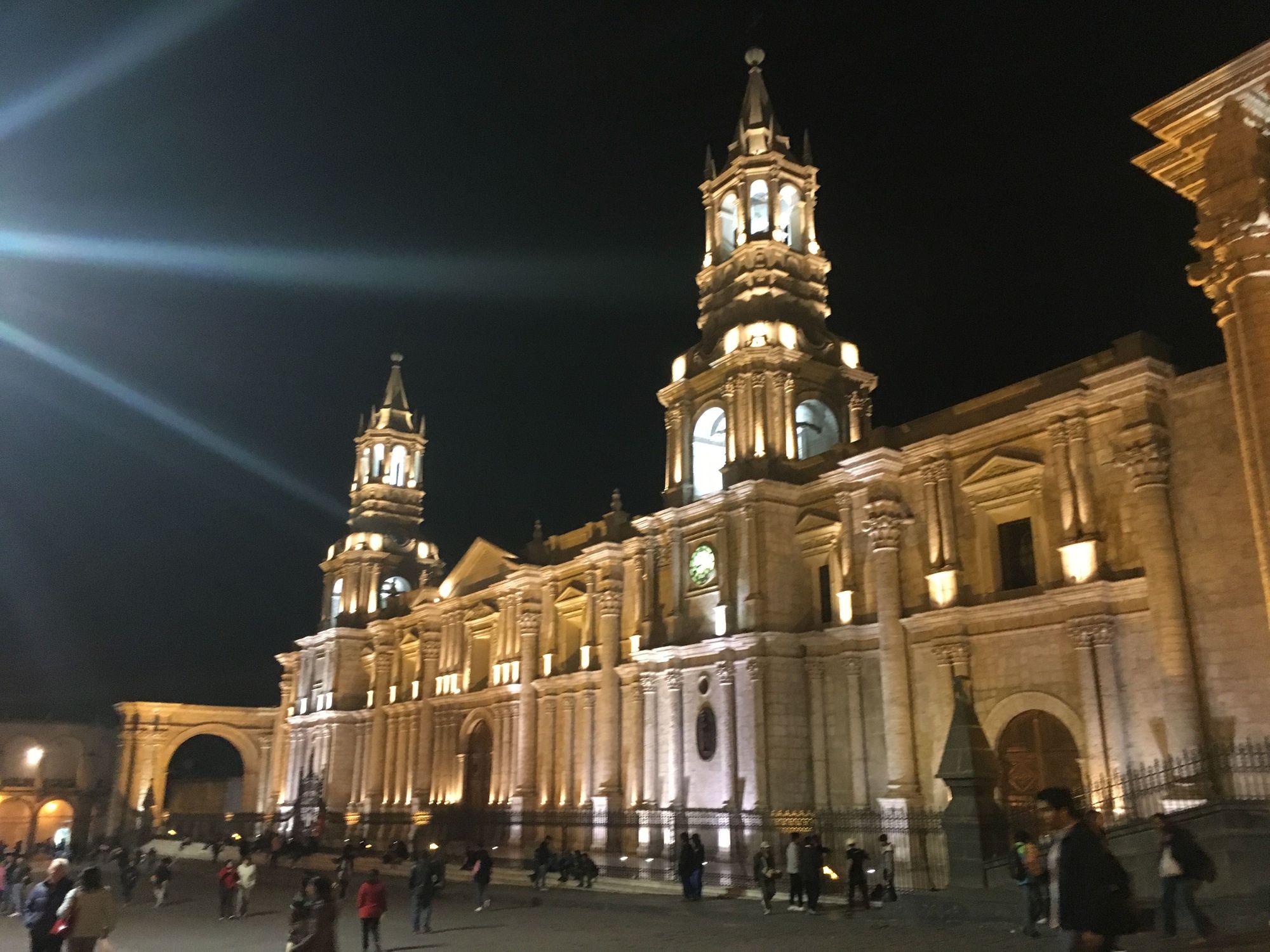 Day 2: Colca Canyon
Climb Elevation: 16,109 ft (4,910 meters or 3 miles)
Sleep Elevation: 11,500 ft (3,500 meters or 2.2 miles)
Early in the morning (of course), Eco tours picked us up and drove us in a charter bus to Colca Canyon with multiple stops along the way for some sight-seeing. Our journey starts jam-packed in traffic, looking at the loud taxi cab numbers, to humble dwellings in suburbs, to barely any other humans around.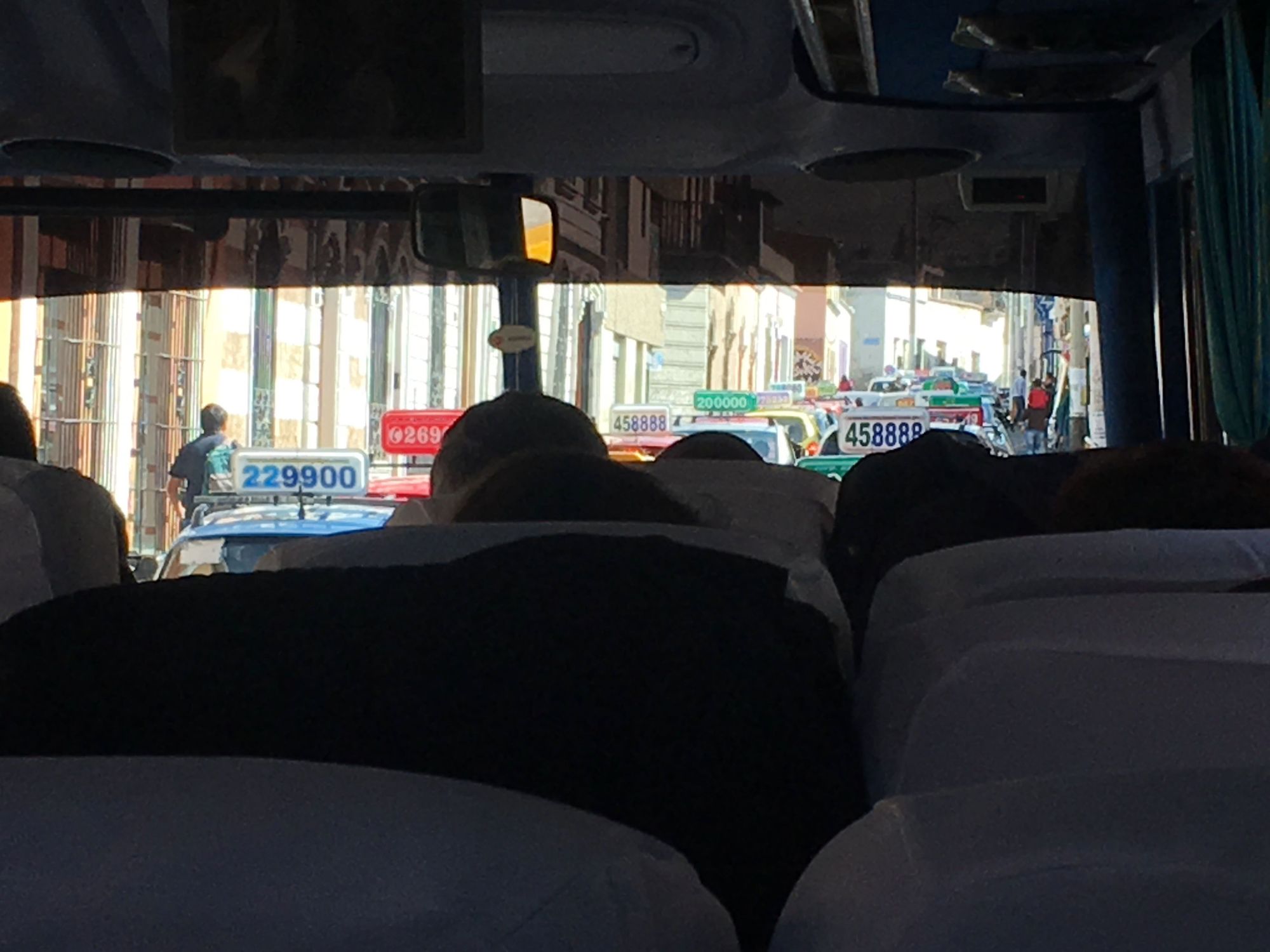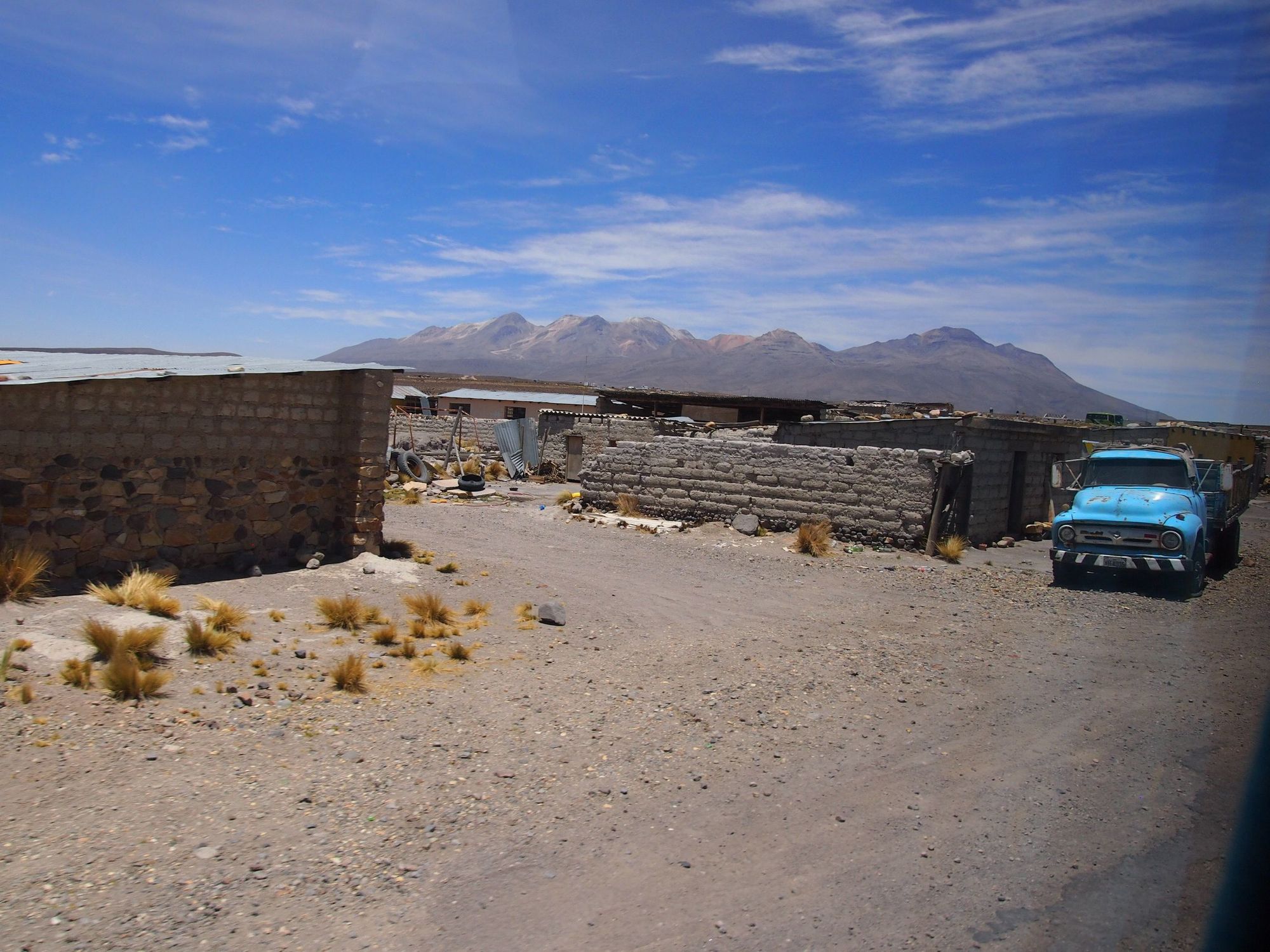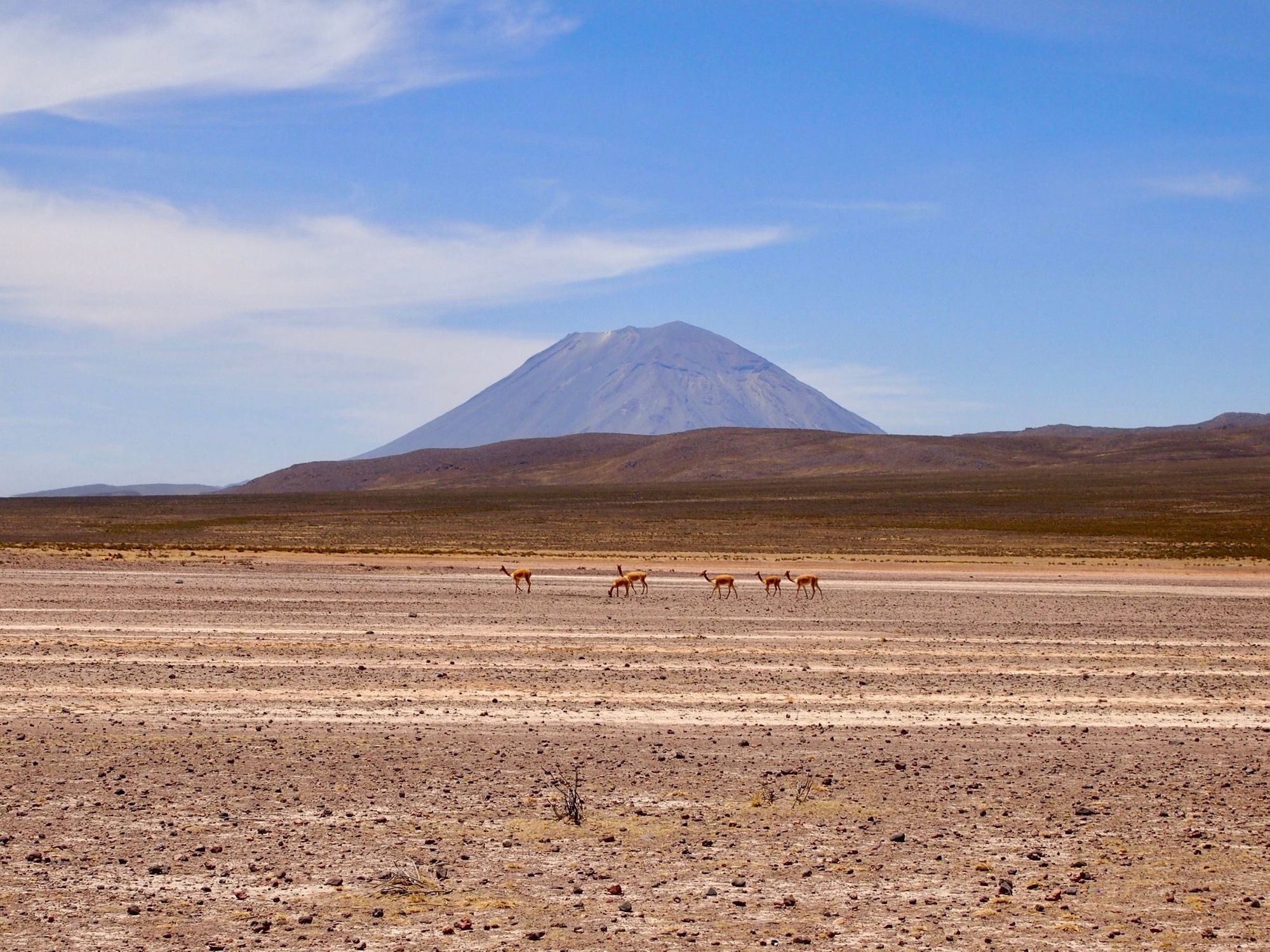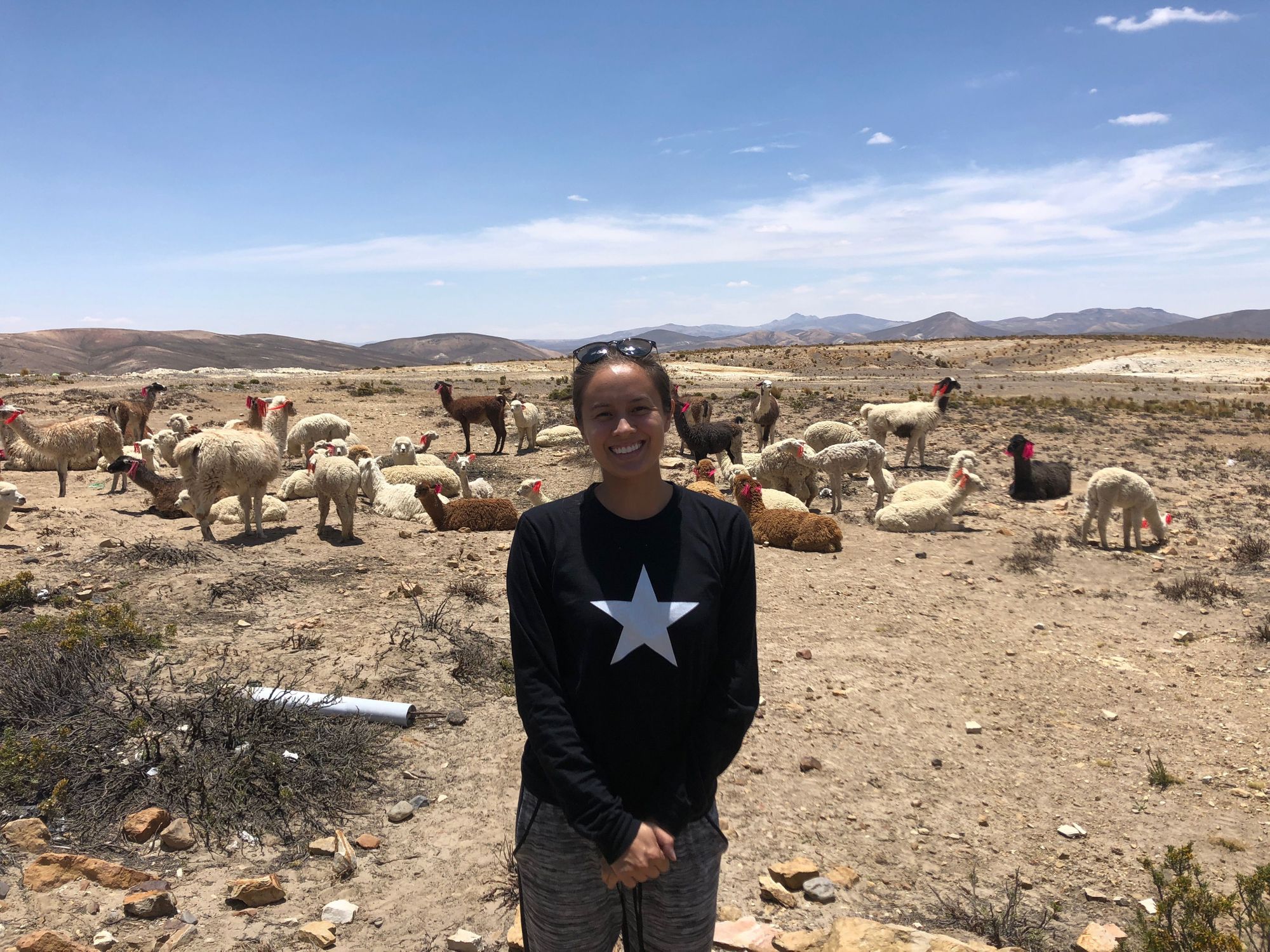 And then we drove by some more alpaca. I didn't realize they'd be littered across the landscape!!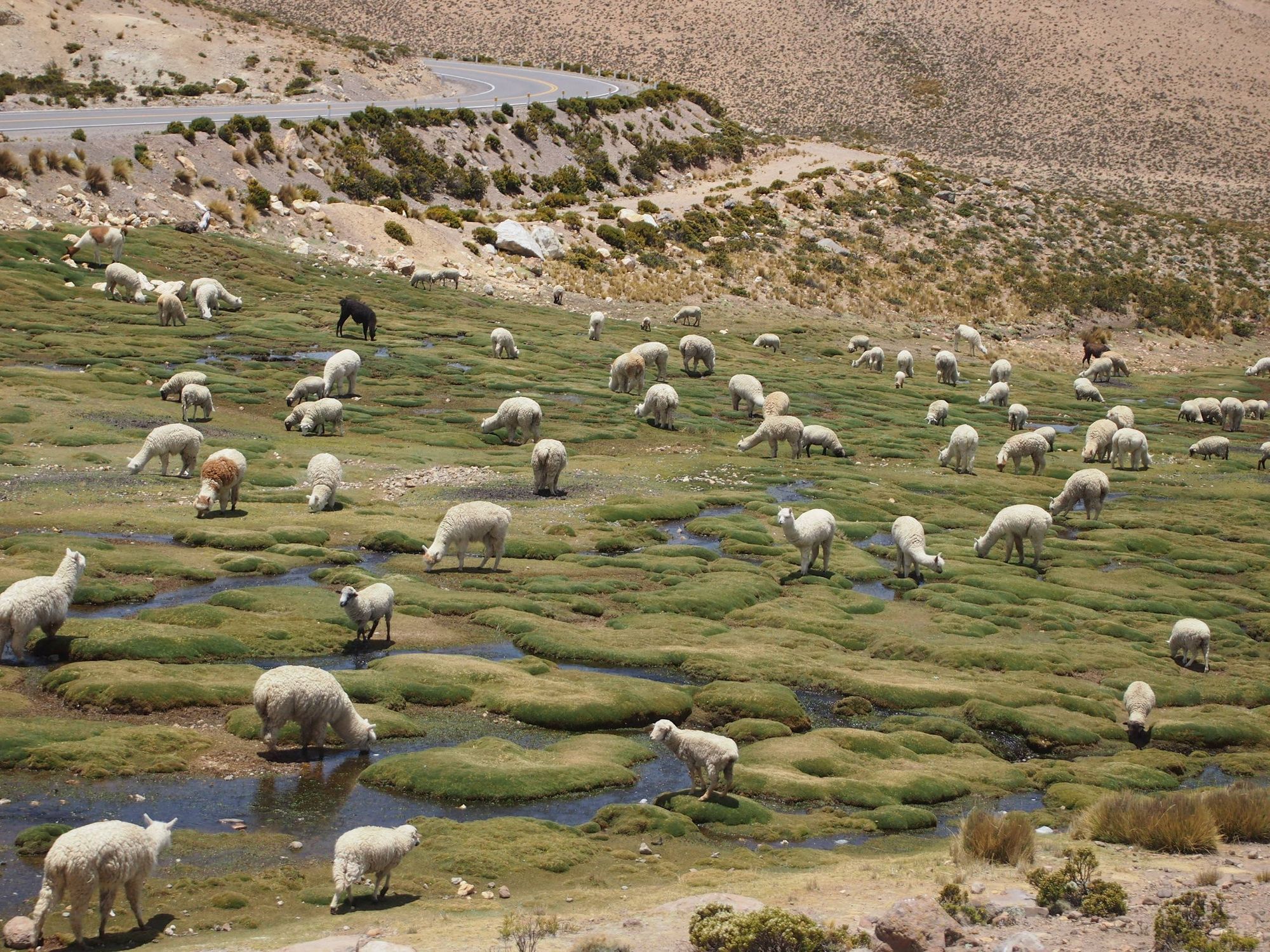 Our bus made a pitstop, where I purchased my first Coca Tea and a couple bags of sour skittles. The combination helped me cope a little with the hazy feeling of the high altitude.
Then we continued on to reach the peak of our ascent: 4910m above sea level, over 3 miles. It was pretty desolate except for the many alien-looking towers of stacked rocks. We were allowed to step out and take pictures here, as it was supposedly the best viewpoint of Misti (an active volcano that was currently erupting).
I was excited to check it out, so I hopped up and climbed out of the vehicle, and started crossing the street, which is where I almost fainted. That last picture is as far as I got. 😤 Thanks to Zach who turned around and saw me struggling to communicate to him and decided to escort me back to my seat haha. 🙋🏻‍♀️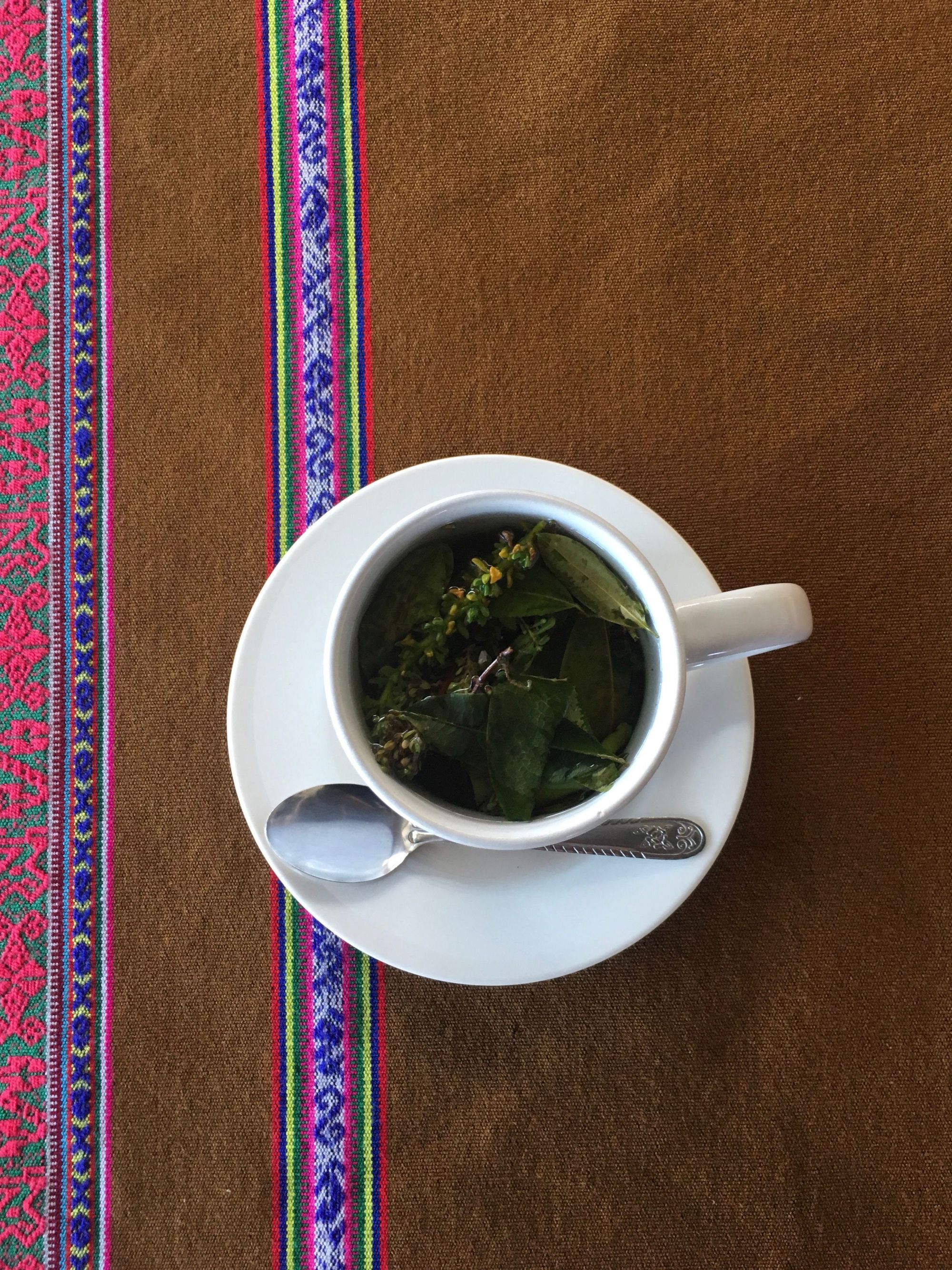 From here we headed down to the town of Chivay to get some lunch.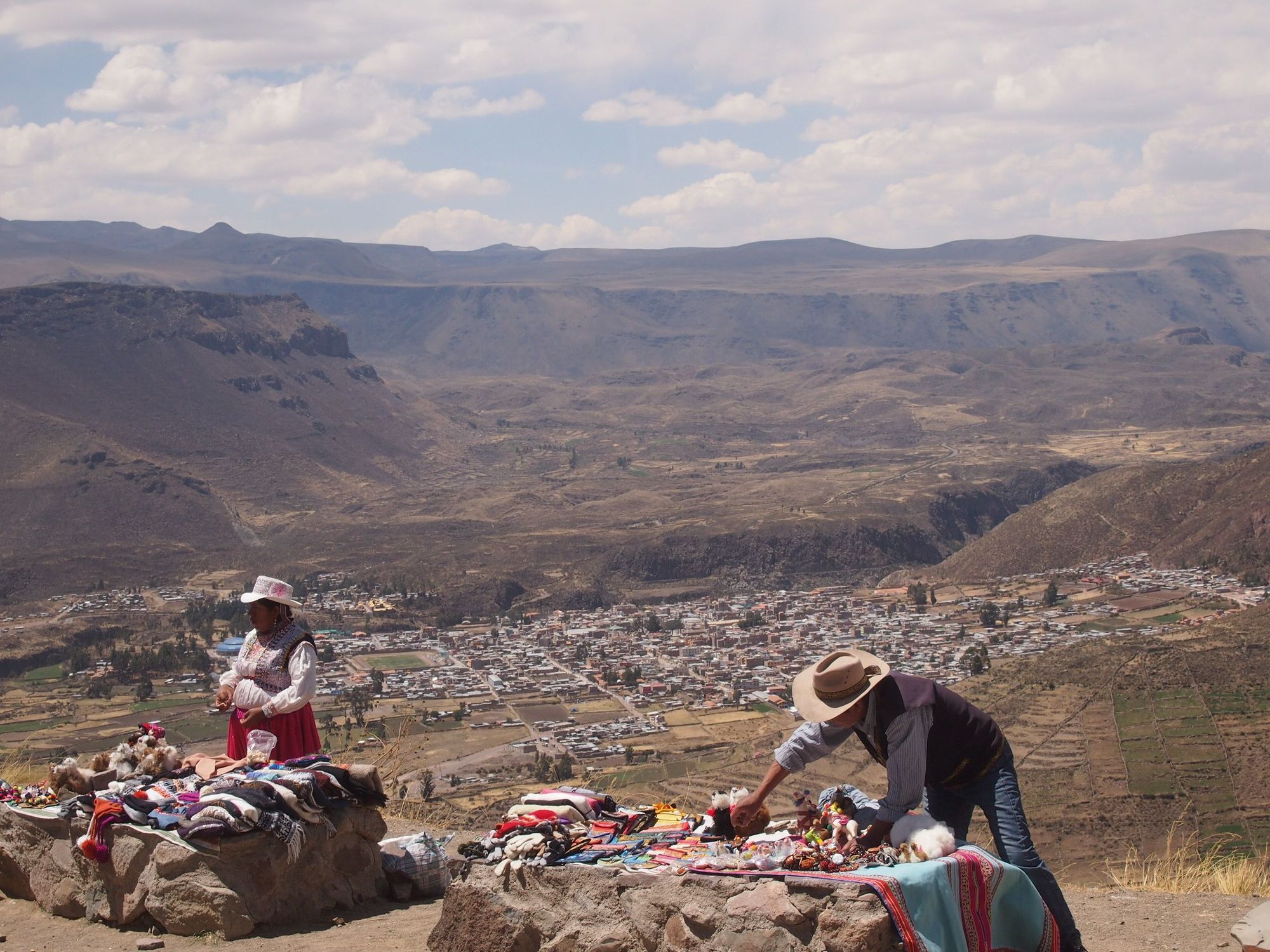 CHIVAY
Elevation: 11,910 ft (3,630 meters or 2.25 miles)
At this elevation (over 4000ft below the volcano viewpoint), my pacific islander self could handle walking around, but I'd run out of breath just walking down the street. We wandered off from the rest of the group, trying to find a spot recommended in the Lonely Planet guide. We couldn't find it, and when I asked the locals, they hadn't heard of it either 🤷🏻‍♀️. So we ended up at another spot where Zachy ate some ALPACA meat– bad boy! 😜– and this little boy hung out with us at our window.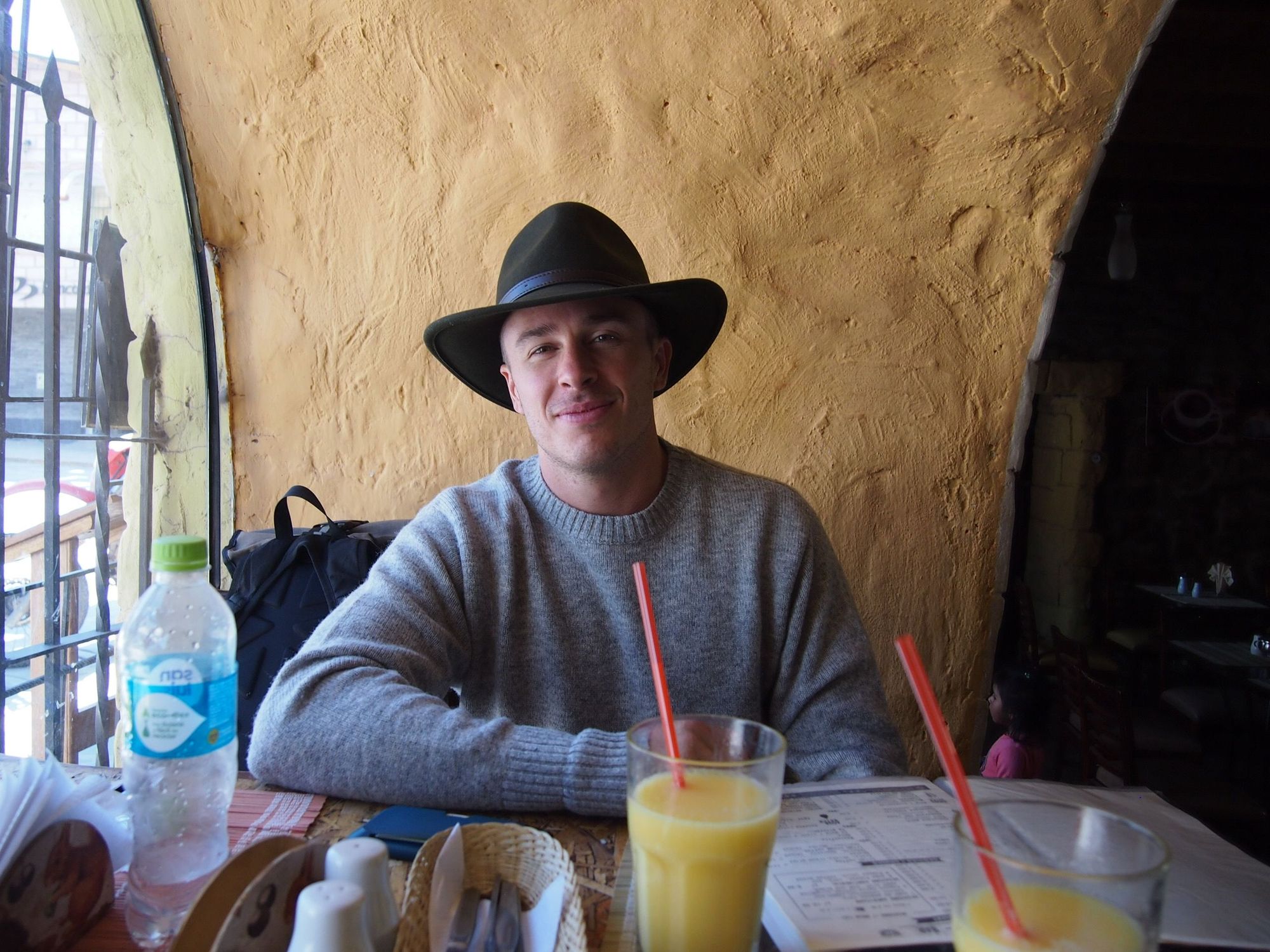 After lunch, we got picked up separately from the group by our own driver, to take us to our reservation at The Colca Lodge!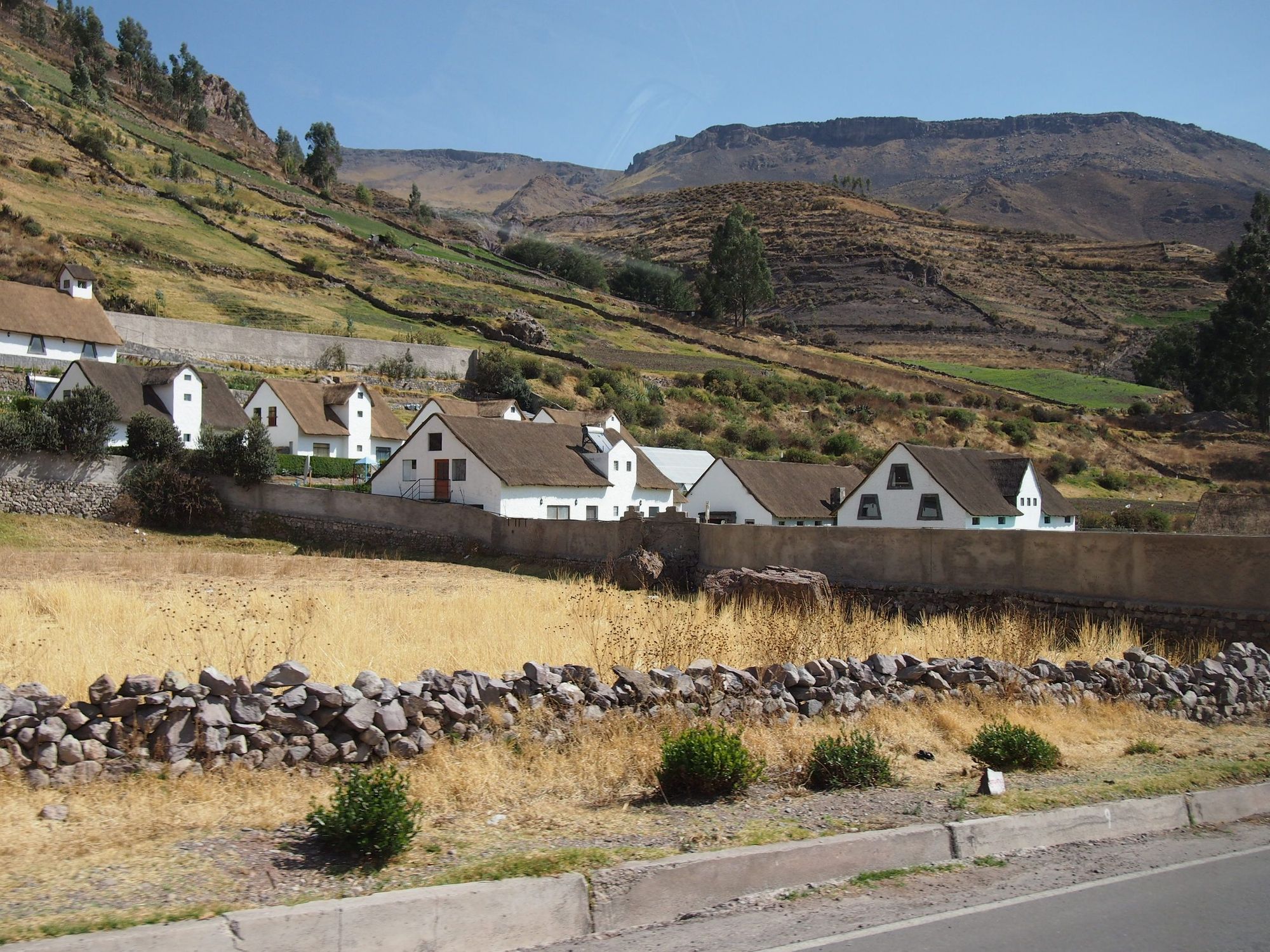 We arrived, checked in, got a complimentary welcome drink, and explored the beautiful grounds, where we spotted the alpaca farm and natural hot springs! ✅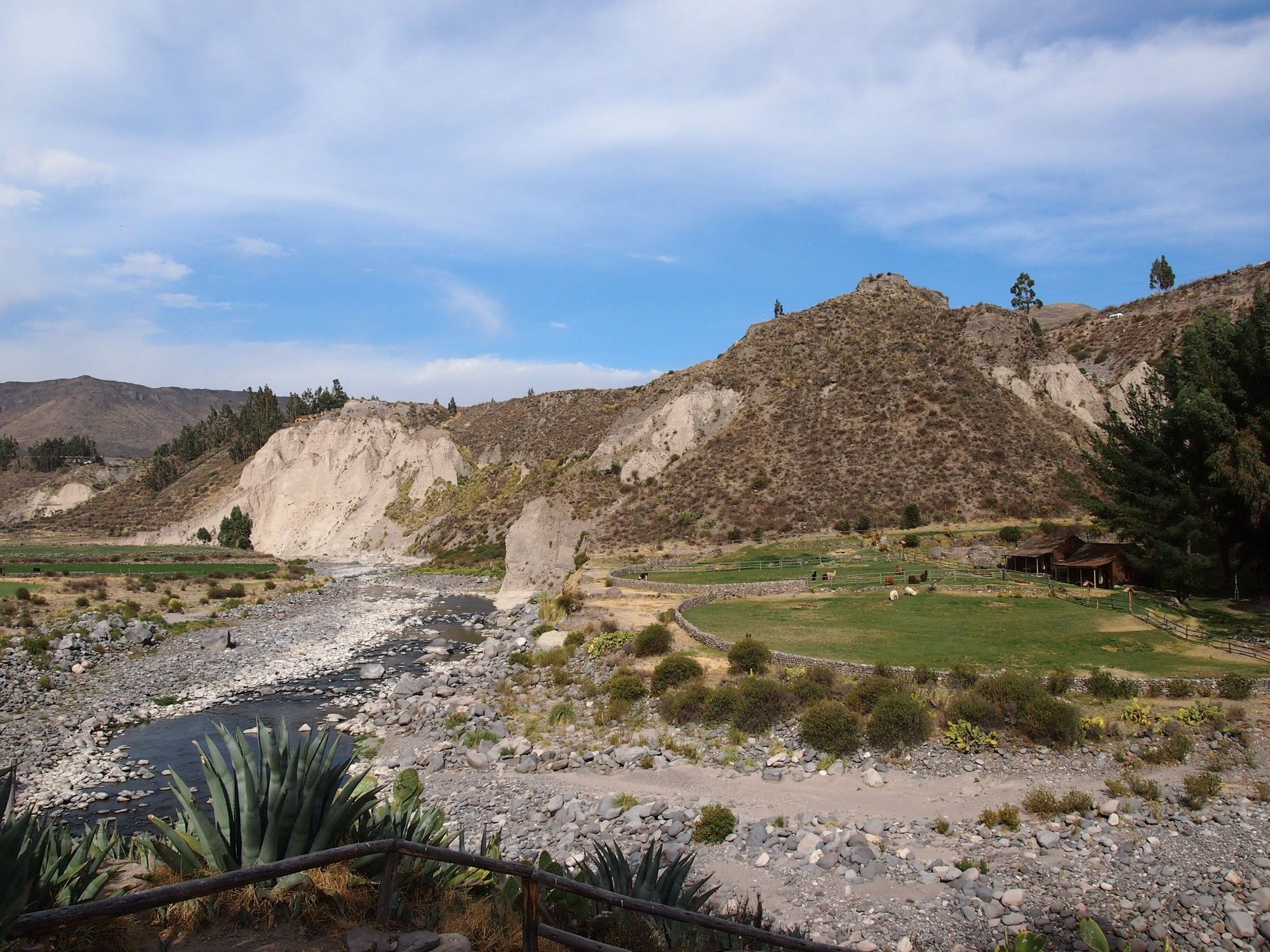 Suri Alpaca are the rarer of the alpaca and some consider them sacred, with those silky dreadlocks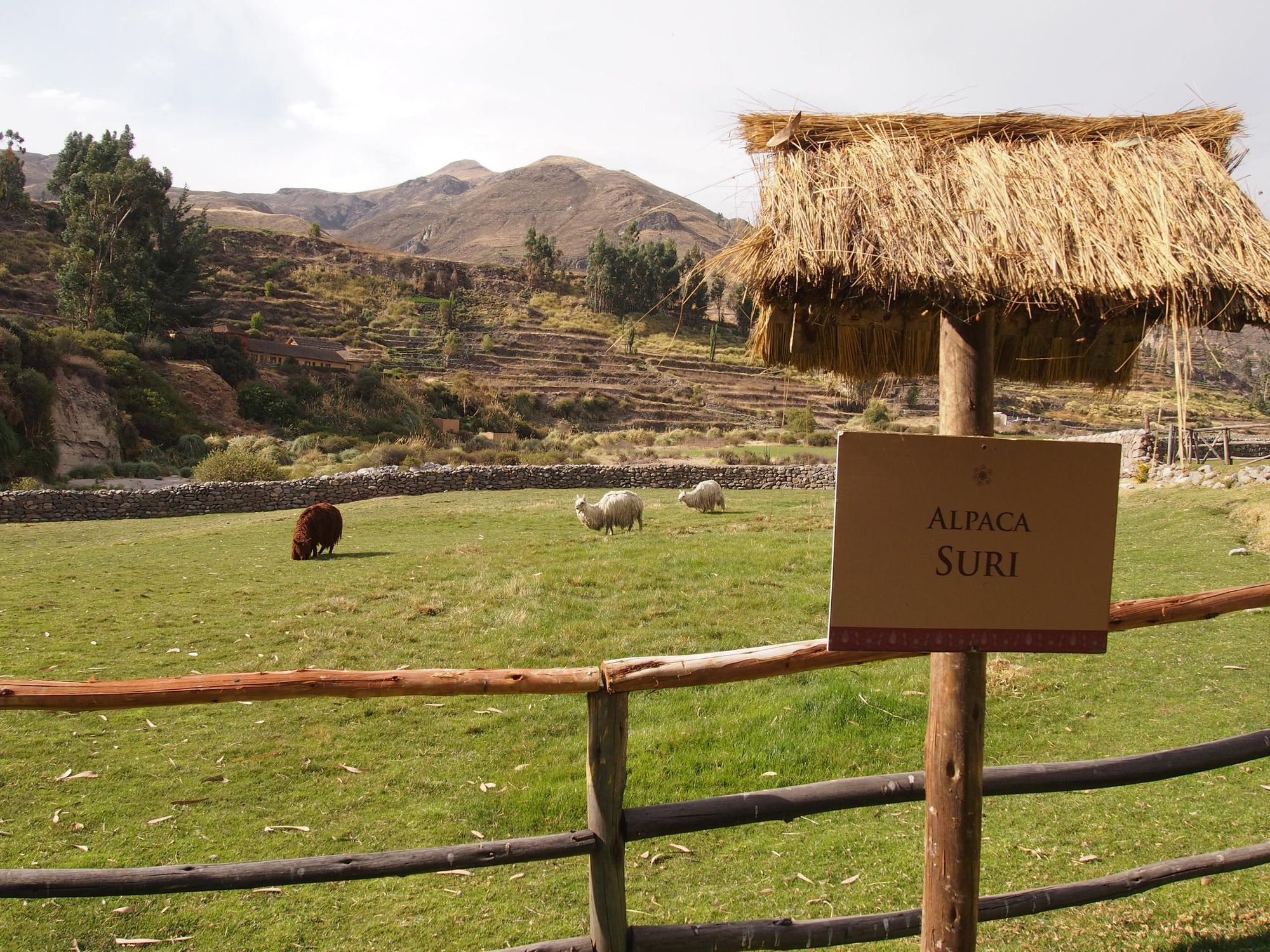 The Huacayo are the puffy kinds. Though it seems like a Suri may have snuck its way over... maybe it likes how cute its neighbors are...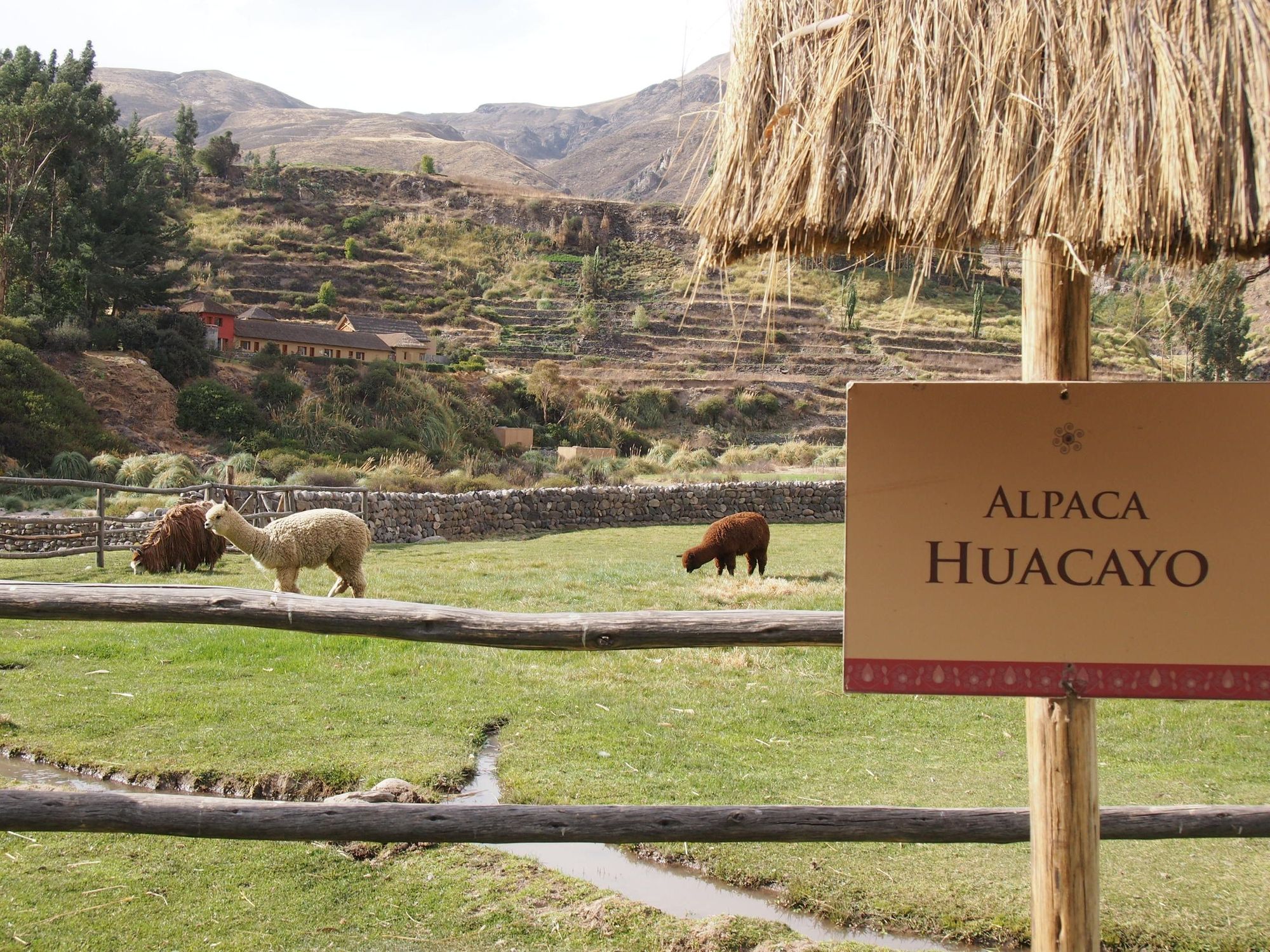 Llama Llama Red Pajama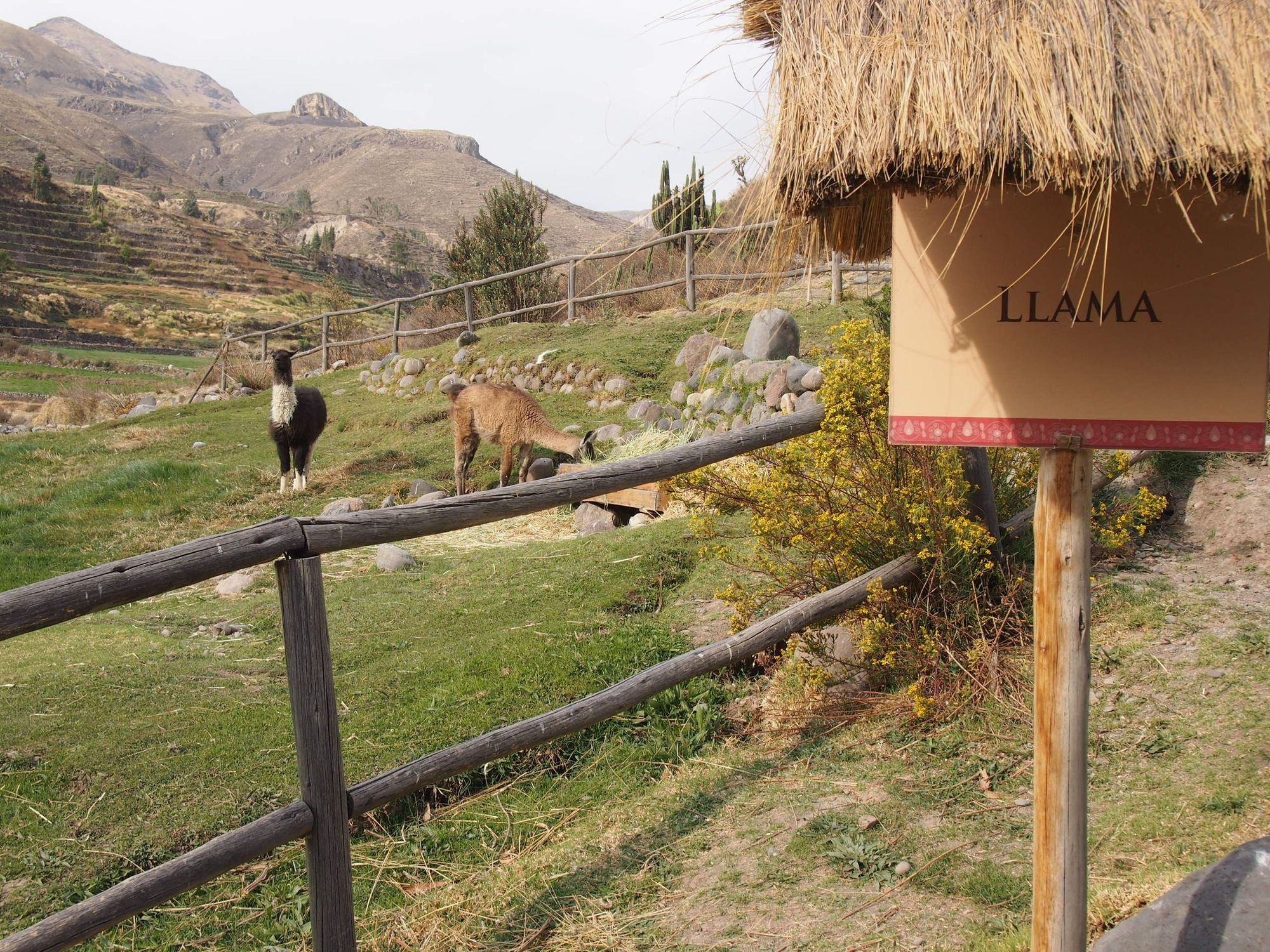 Hehehe 🦙📹
After this slice of bliss, we went to hang in the hot springs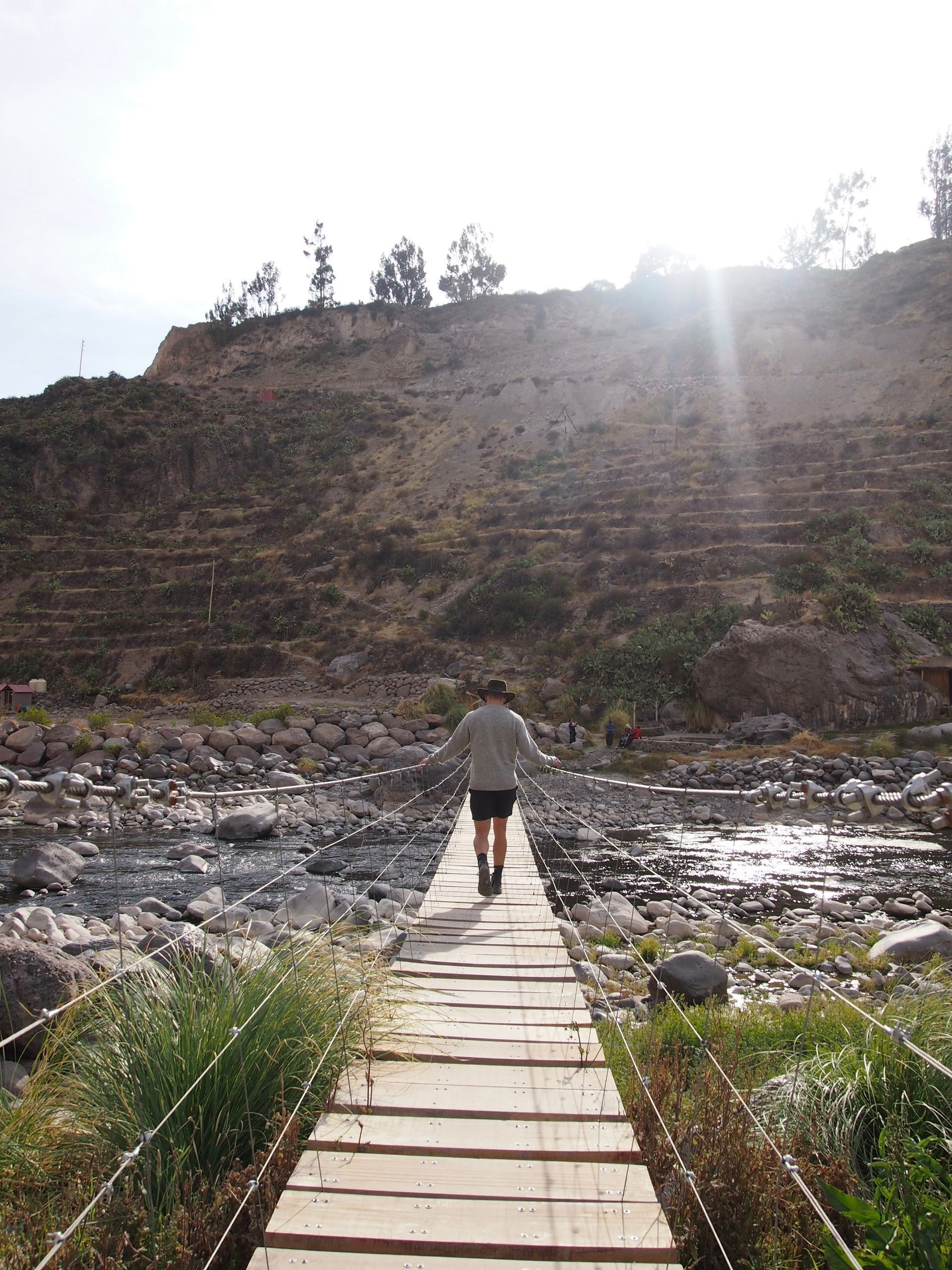 There were multiple springs with varying temperatures (up to 80ºC / 176ºF). I felt like goldilocks trying to pick the right one. We settled in and met some nice folks from Quebec and one from Alaska, but I don't have pictures of them, so here are pictures of us instead–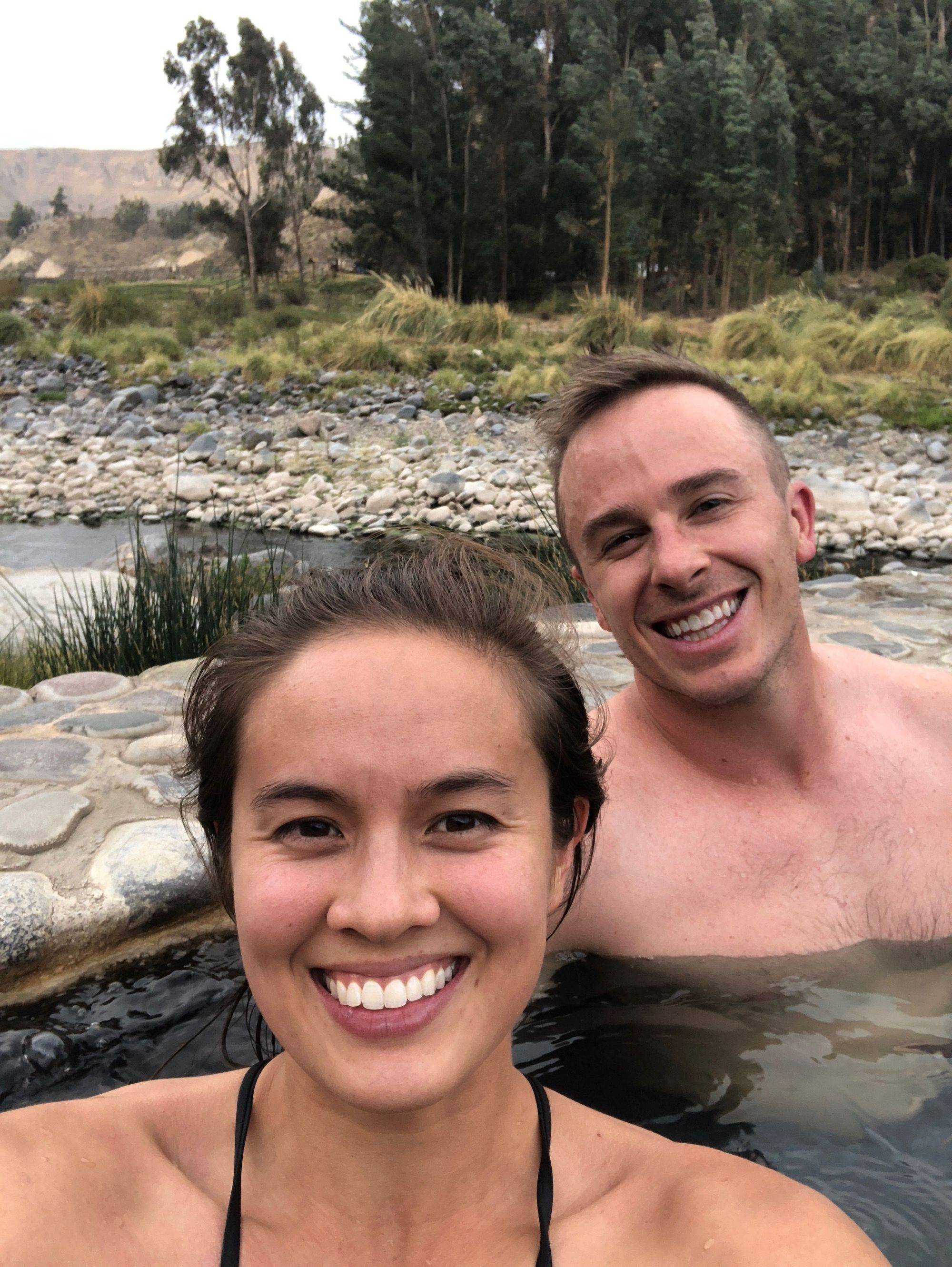 The time came to head back and watch the beautiful sunset from our room...

For dinner, we got some amazing hot chocolate and ceviche (the rest of the food was just ok). Zach had been having pains in his back, especially after the bus ride, so we spontaneously went to the spa and got 30 min express massages which were completely wonderful. ✨¡El fin de la noche!✨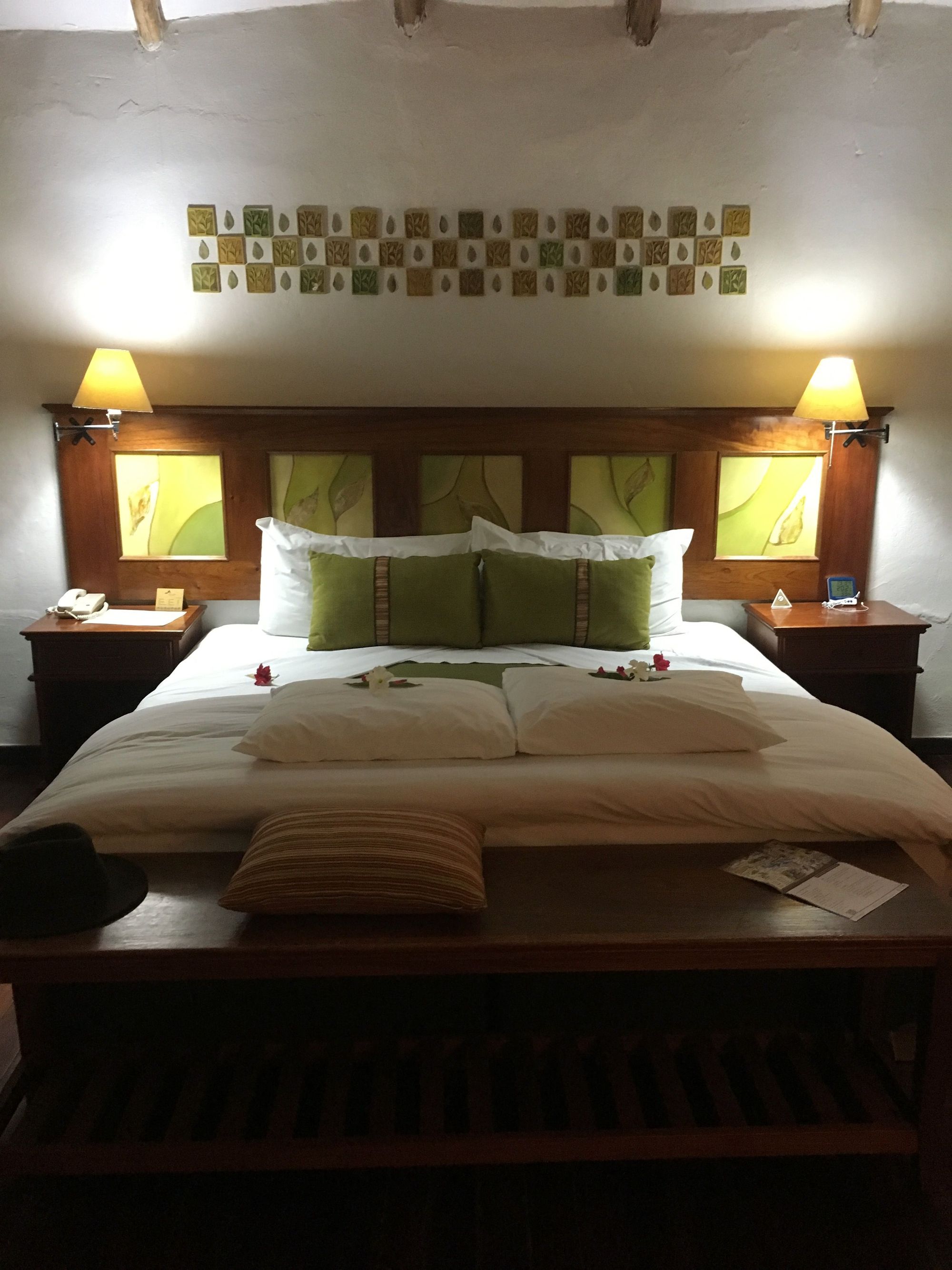 Day 3: Terraces and Condors
Climb Elevation: 11,910ft (3,630 meters or 2.25 miles)
Sleep Elevation: 7,638ft (2,328 meters or 1.5 miles)
We headed out of our hotel, passed a lady hooked up to oxygen in the lobby, and said Bye Bye Colca Lodge!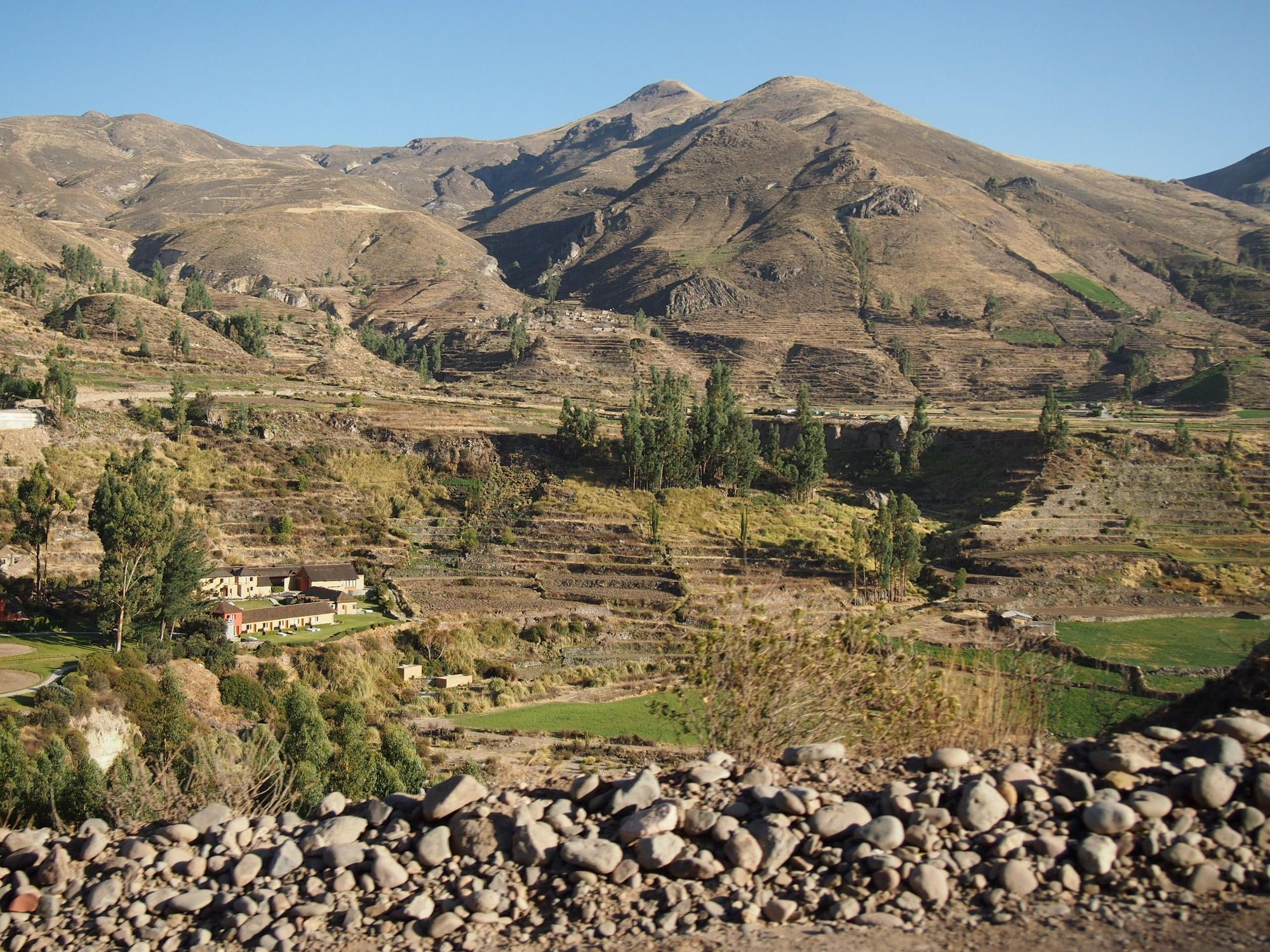 We transferred back to our previous bus in Yanque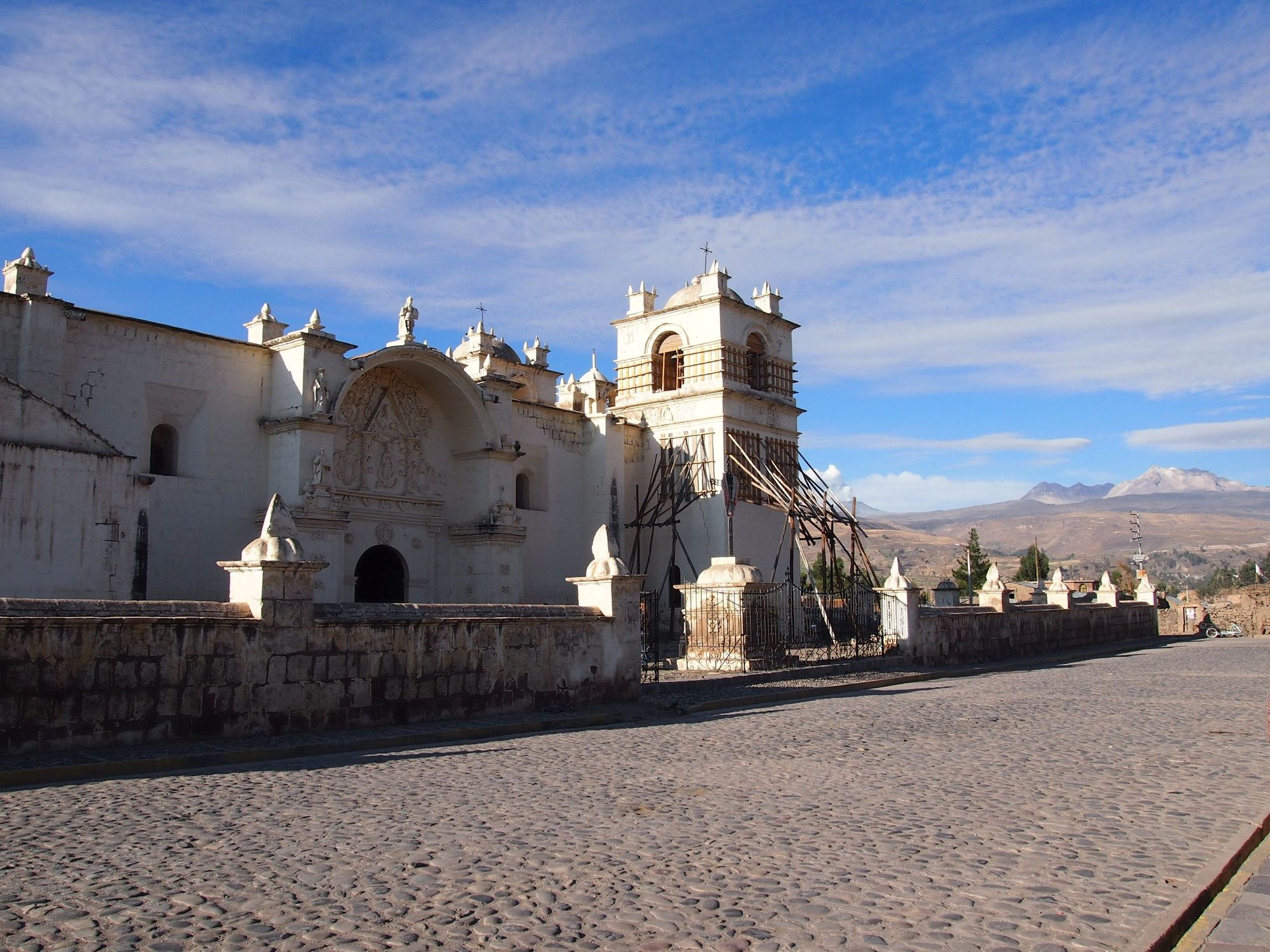 And headed for Cruz del Condor to hopefully see the Andean Condors. On our way, we stopped to see what I thought were some mind-blowing, gorgeous terraces (and honestly one of the main reasons I wanted to visit the Colca Canyon).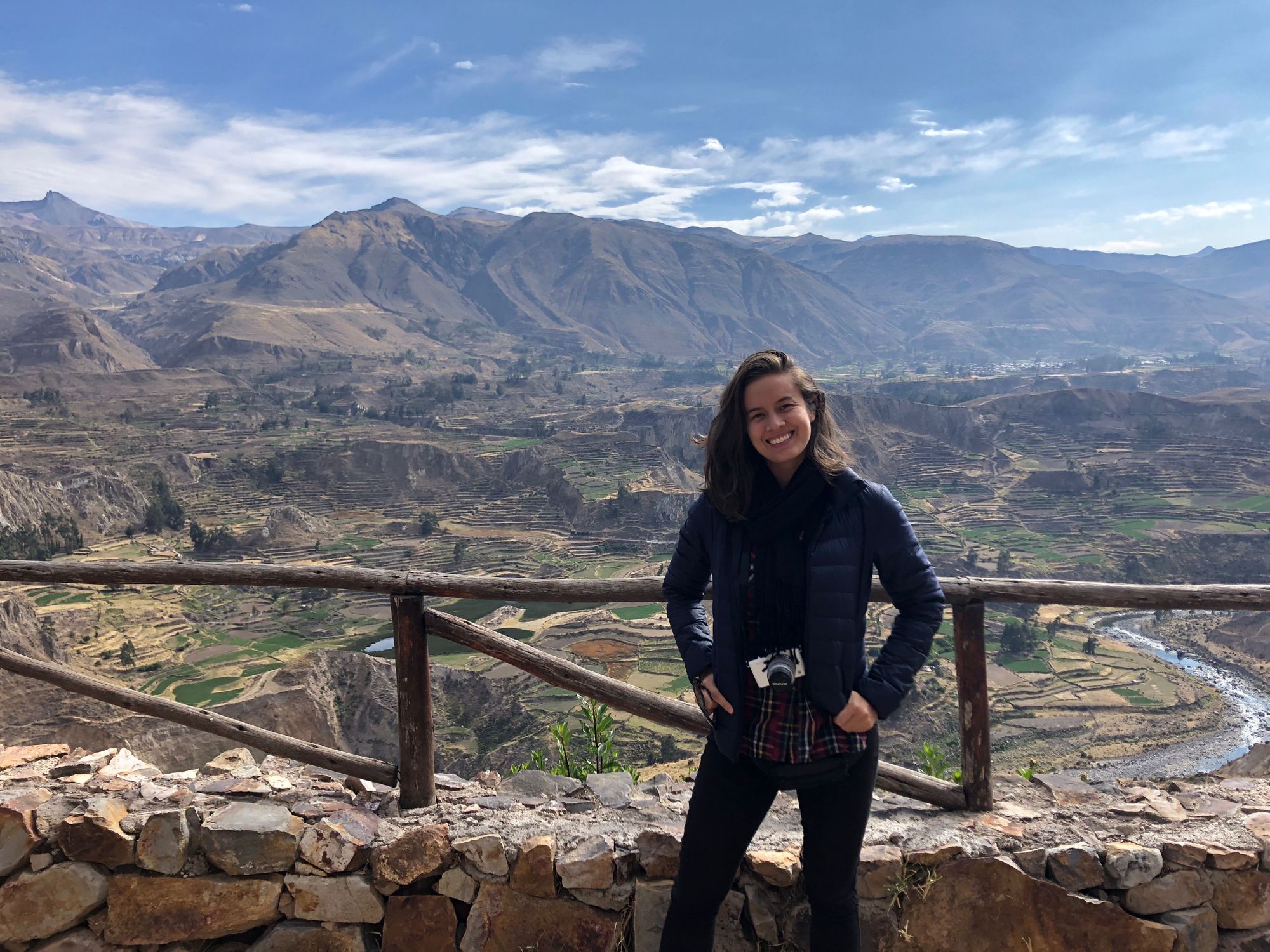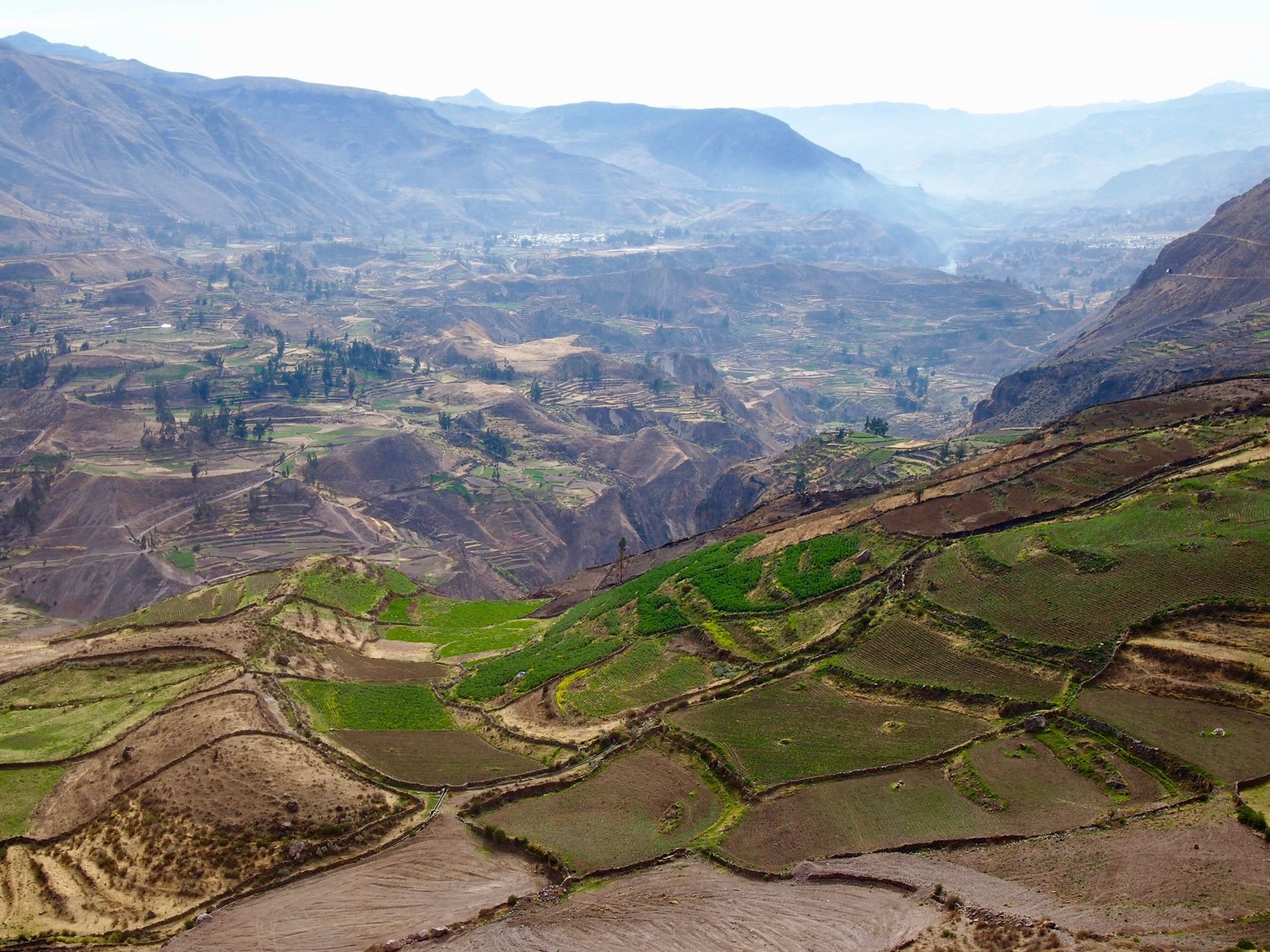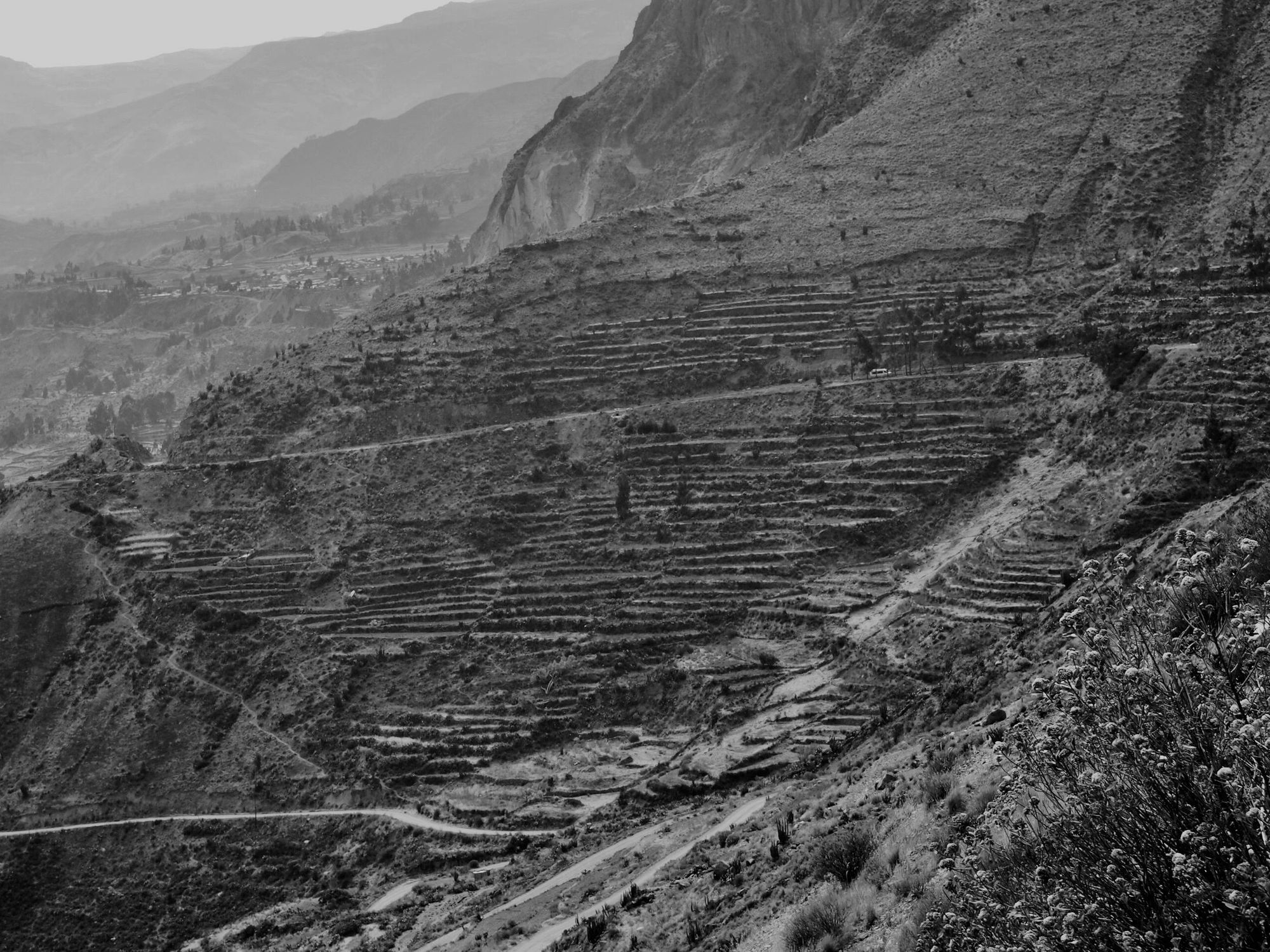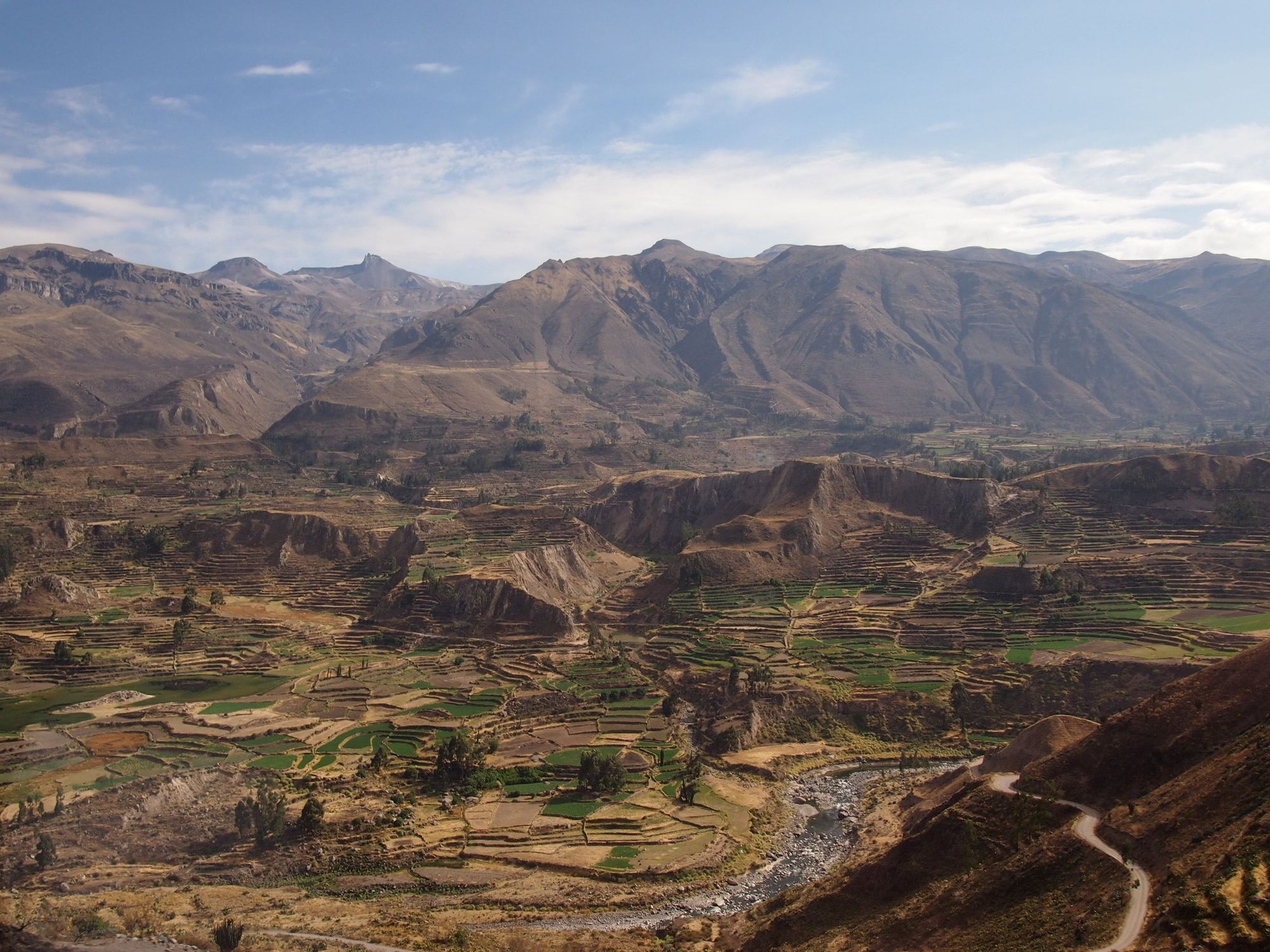 It was hard to tear me away. I was so sad to leave the beautiful sites that I kept trying to take pictures from the bus... You can humor me with some of them here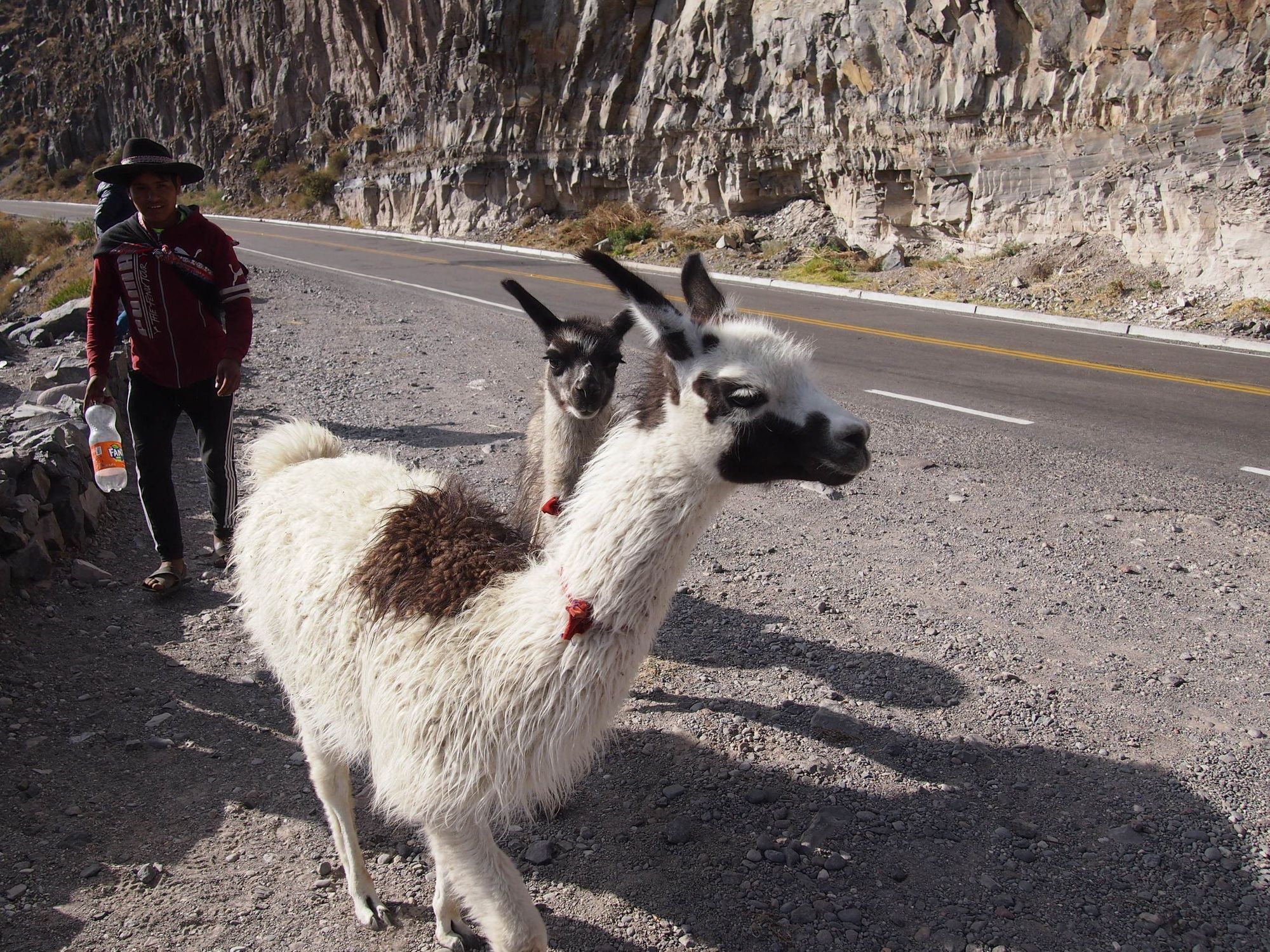 I didn't expect to see any more landscapes in Colca that I found quite as beautiful as the terraces. However, when we approached the canyon, I was pretty shocked at how stupendously ginormous the mountains were. It was surreal and tough to capture.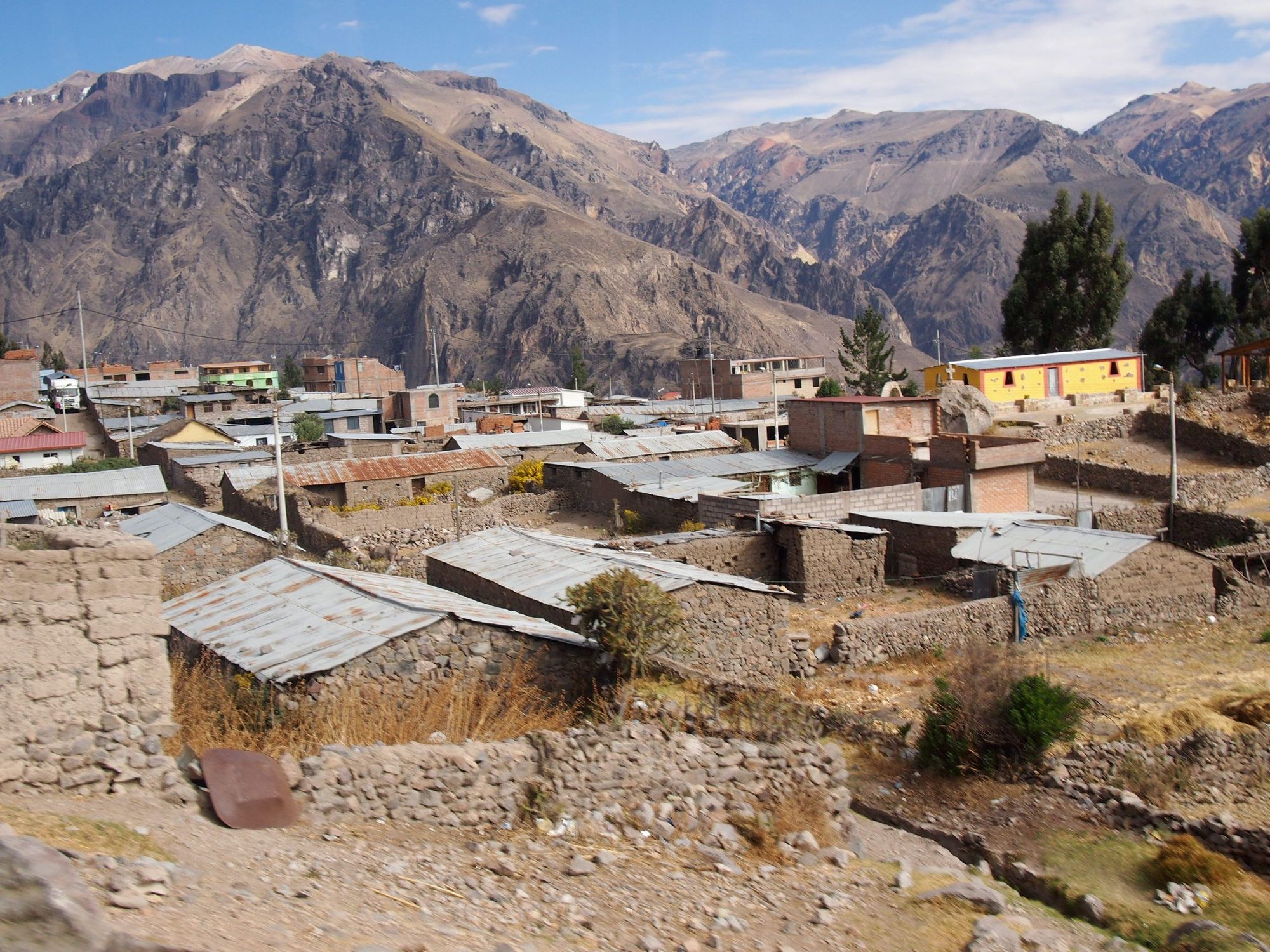 We waited for a couple hours, watching the scenery, our eyes tracing over what seemed to be impossibly steep hiking trails on the mountains in front of us.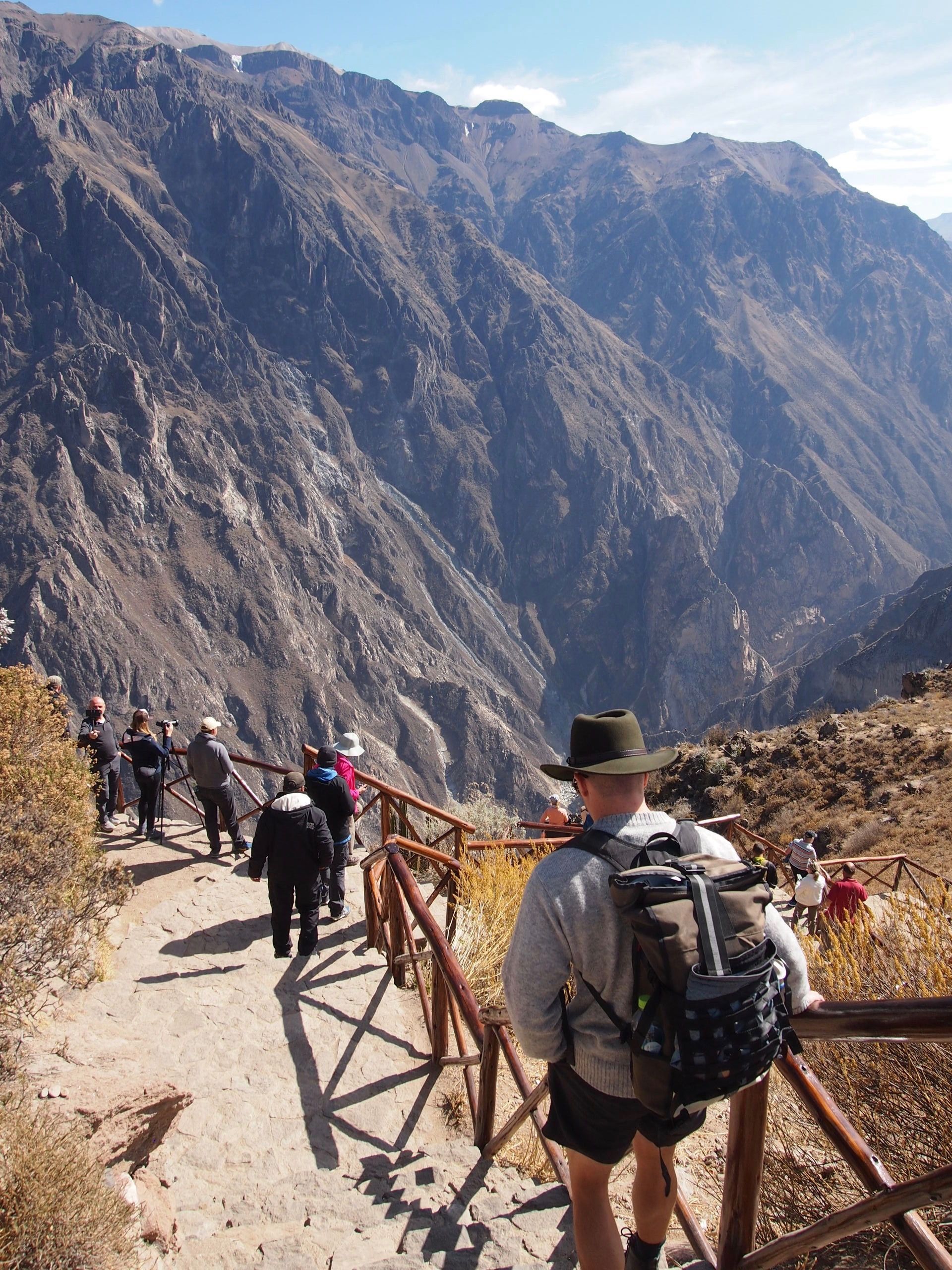 Condor spotted!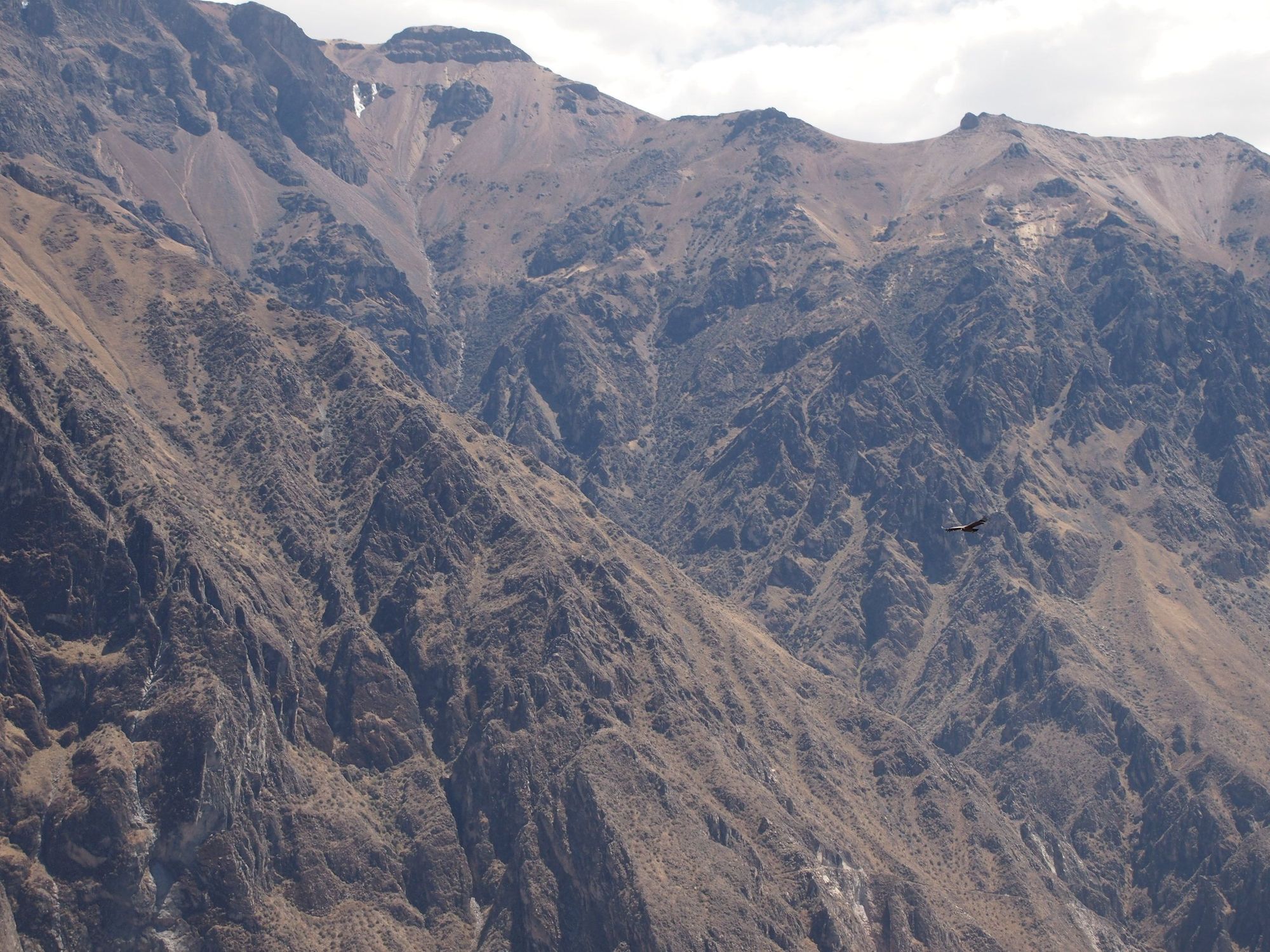 We boarded the bus and started heading back to Arequipa. We stopped by some other place which was not super monumental except that Zach almost got spit on by a llama.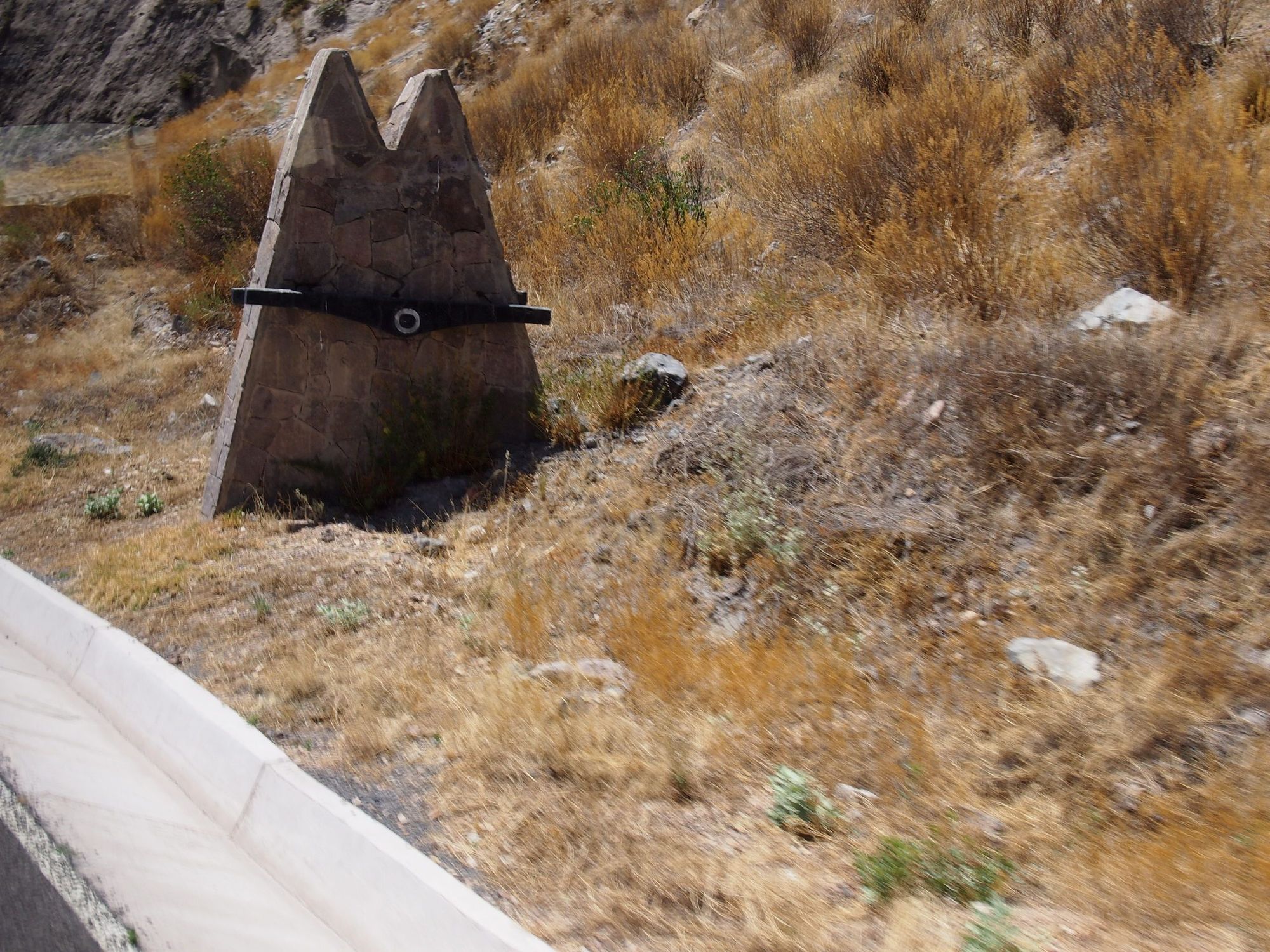 Again we stopped in Chivay for lunch, and ate at a much livelier spot with live music and a buffet which was quite tasty. And to top it off, we passed a herd of alpaca!
We arrived back at Hotel Casona Solar, and got a bigger room equipped with an entryway and a bar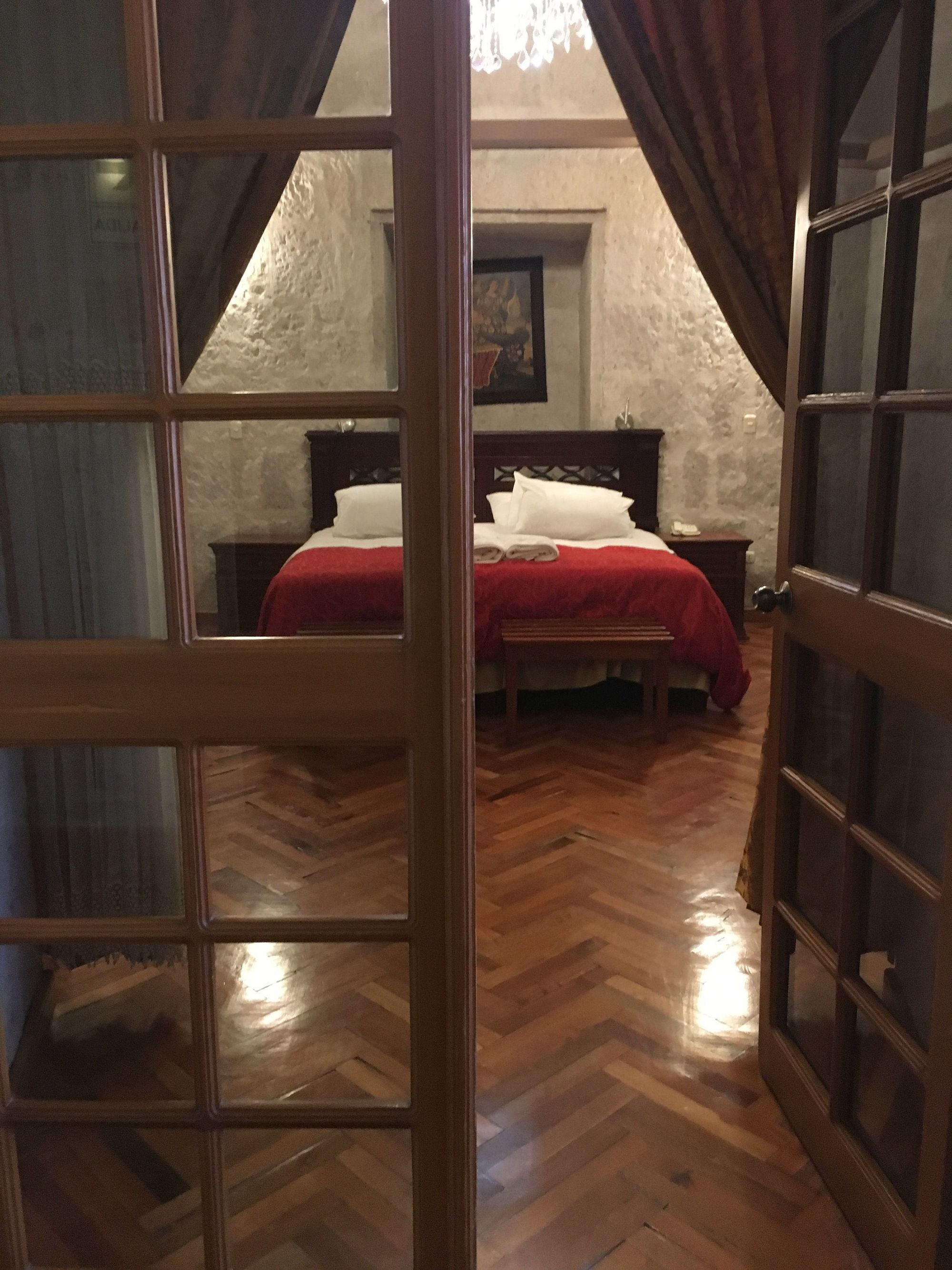 For our last night in Arequipa, we HAD to go to Zingaro again – and on our walk there, we came across some sort of dog parade where they were all dressed up, and then after dinner, there were race cars zooming around an "improptu track" (no fences, only enough space for cars to fit lined by people) in the main plaza. Arequipa really bustles with some wild activities!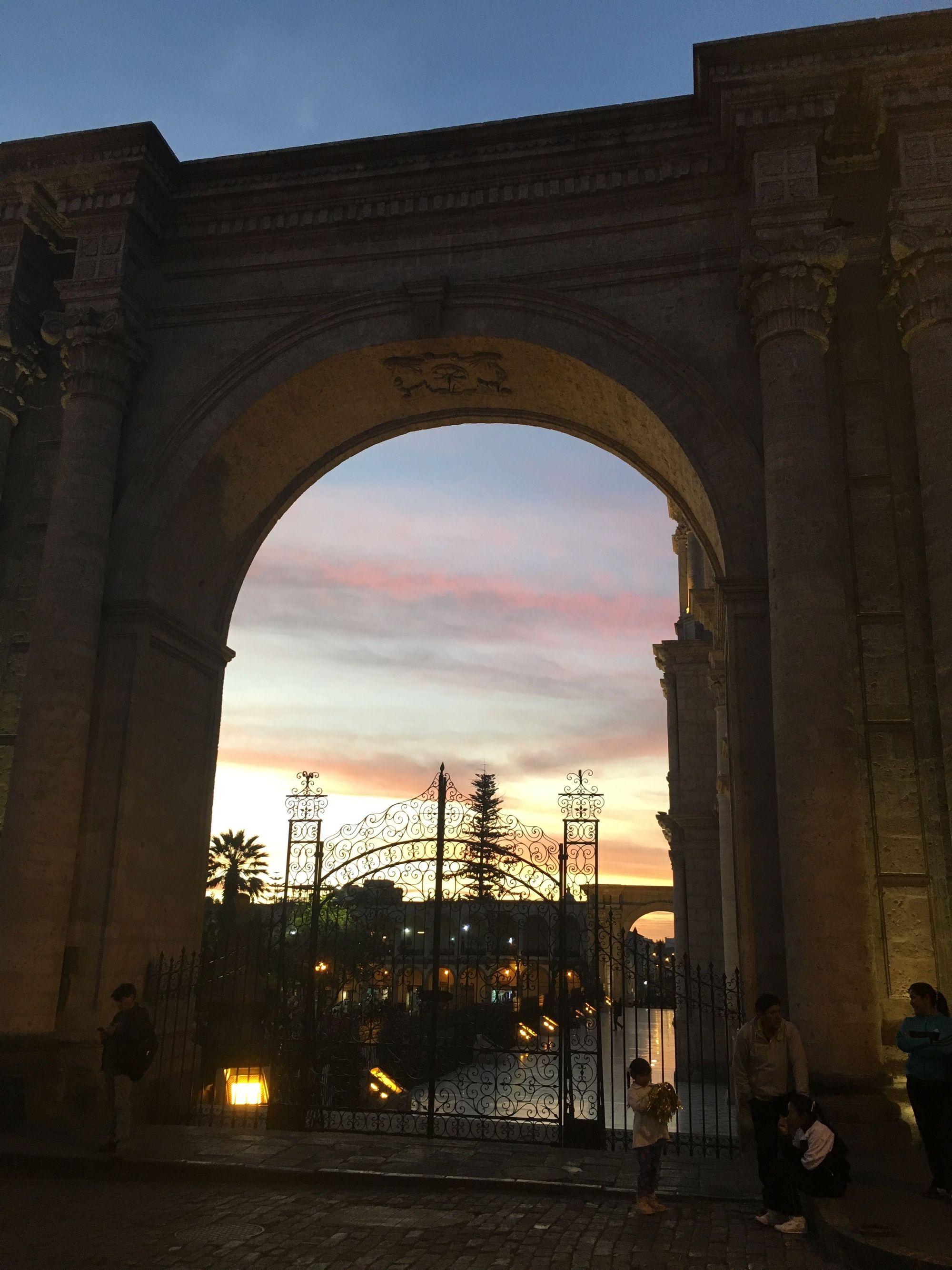 Day 4: Cusco + Moray + Salineras
Climb Elevation: 11,152 feet (3,399m or 2.1mi)
Sleep Elevation: 11,152 feet (3,399m or 2.1mi)
We got picked up around 5:15am to make our flight to Cusco at 7am. Upon landing, we waited for a long time to get picked up by our arranged transportation, to our Quinua Villa Boutique "apartment". The car dropped us off as close as it could, but we still had to climb a lot of steps to get to our alley... Luckily I felt slightly more acclimated, though was still winded when going up the steps.
When we got to Quinua Villa Boutique we were so excited! Each apartment in here is completely unique and fun— look how cool:
After checking in, we got our hotel to arrange for a driver take us to Moray and Maras. This was in my "I hope we have time to do this" list. We didn't get a guide or anything, and it was last minute, so I am very grateful they were able to pull it off! We also needed to be back in time for our Salkantay briefing at 6pm so were on a tight timeline. But first we were given a short buffer of time to grab breakfast before the car would arrive, and so we ran down to Jack's cafe and went all out: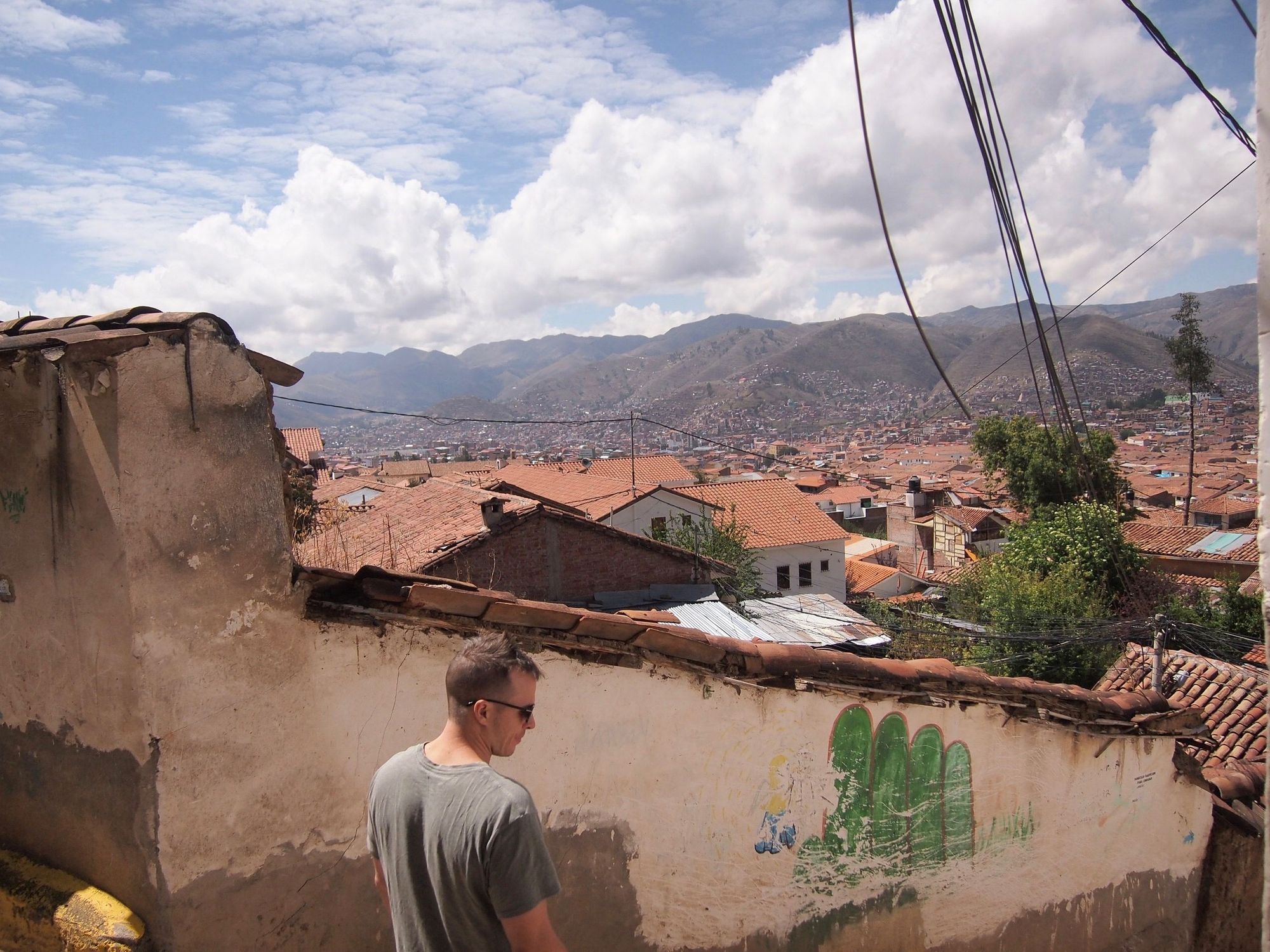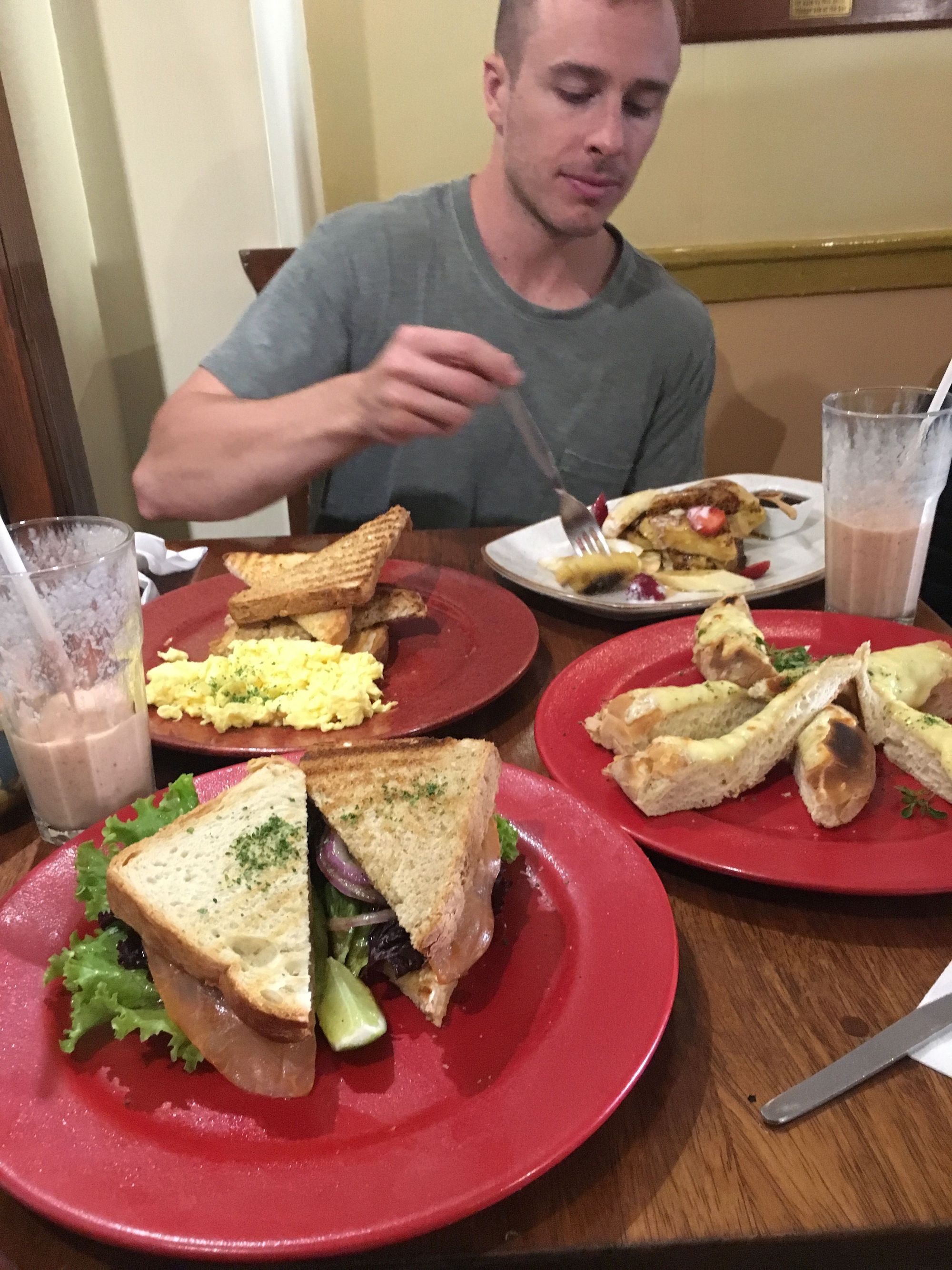 My friend Jackie recommended we stay in the San Blas neighborhood and it turned out to be a very unique and convenient location for us. It is more of a walking neighborhood, but that also means that the roads are barely wide enough for one car lane and there are rules on what cars are allowed where and when. Getting a ride often requires patience and teamwork with other cars since you'd have to share the road with cars going both directions and there were usually traffic jams. Here our driver is out directing some of the cars so that we could get out onto our adventure.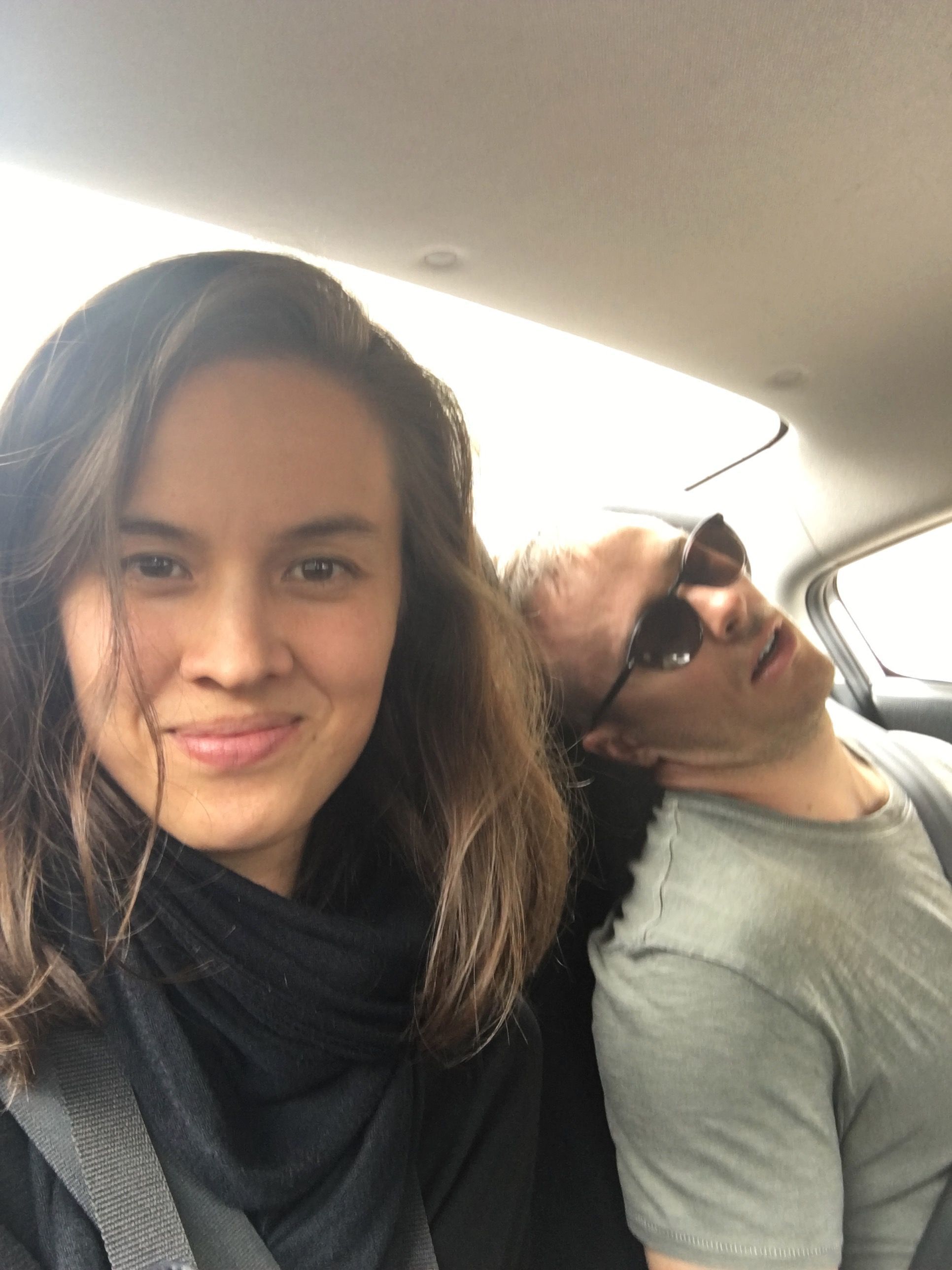 We passed through such beautiful farmland and landscape on our way. I was obsessed with the wide open views, moving patterns of the clouds' shadows, colors of the soil, and the majestic mountainous backdrop. Zach, I bet you never saw any of this: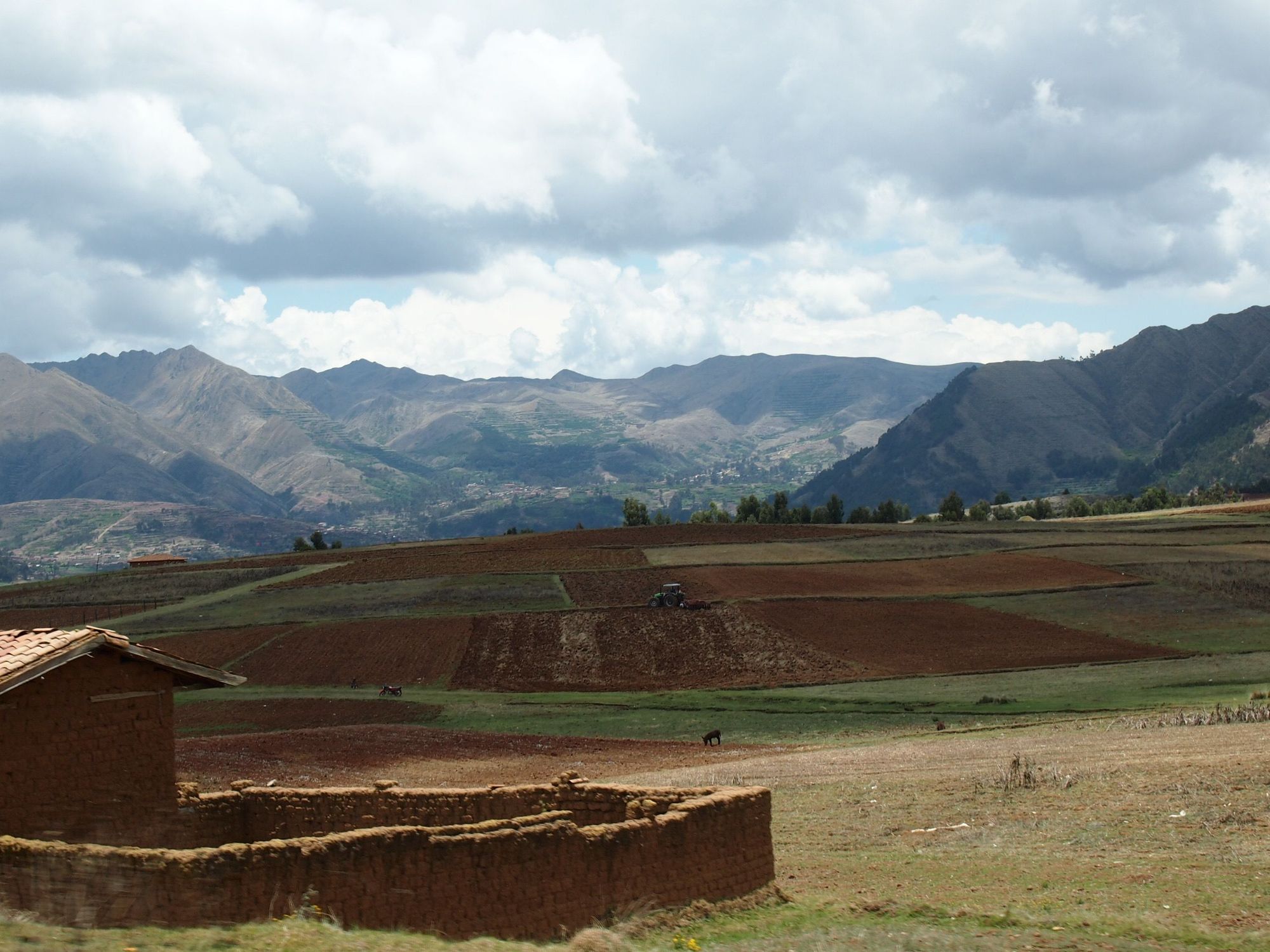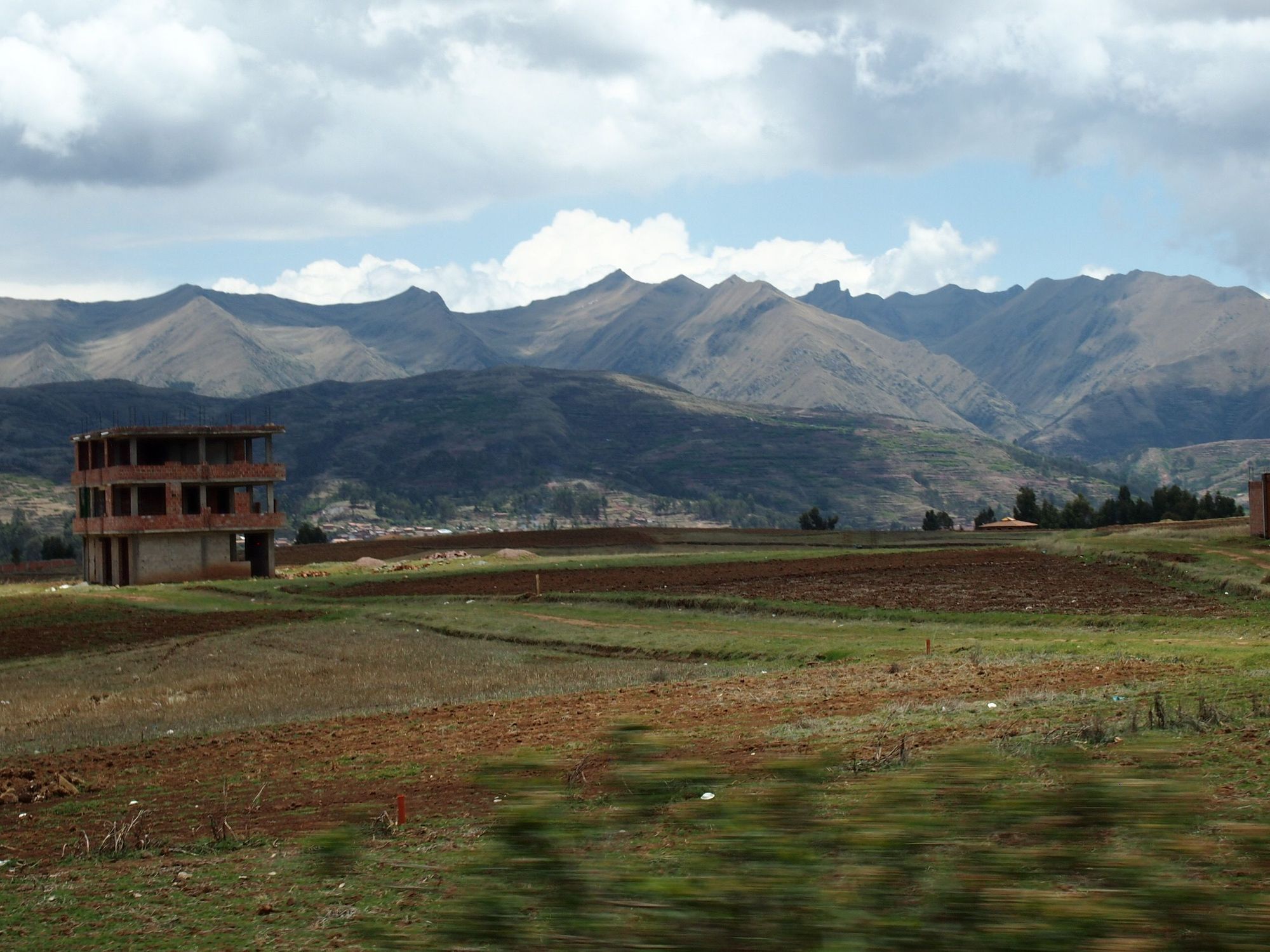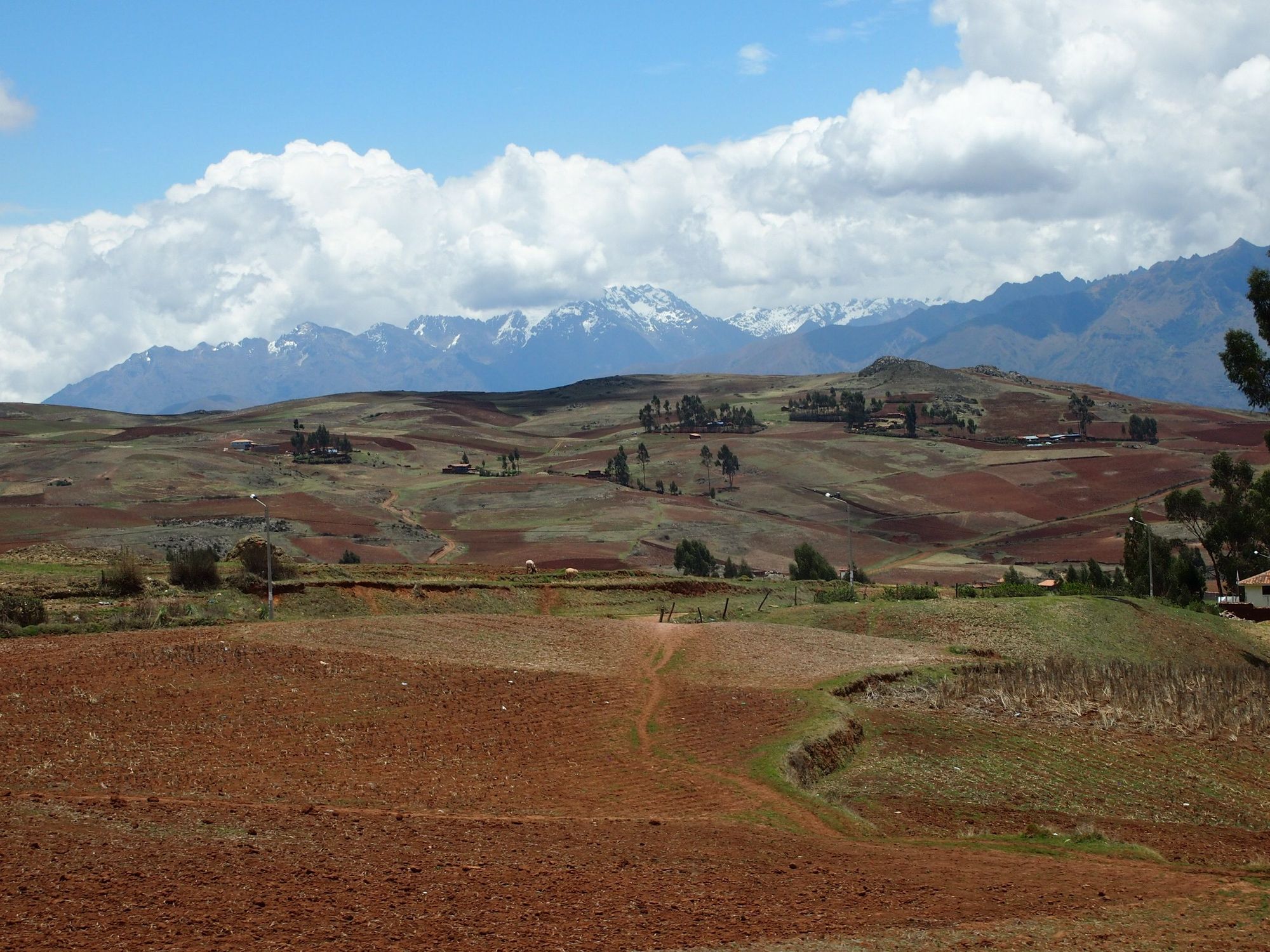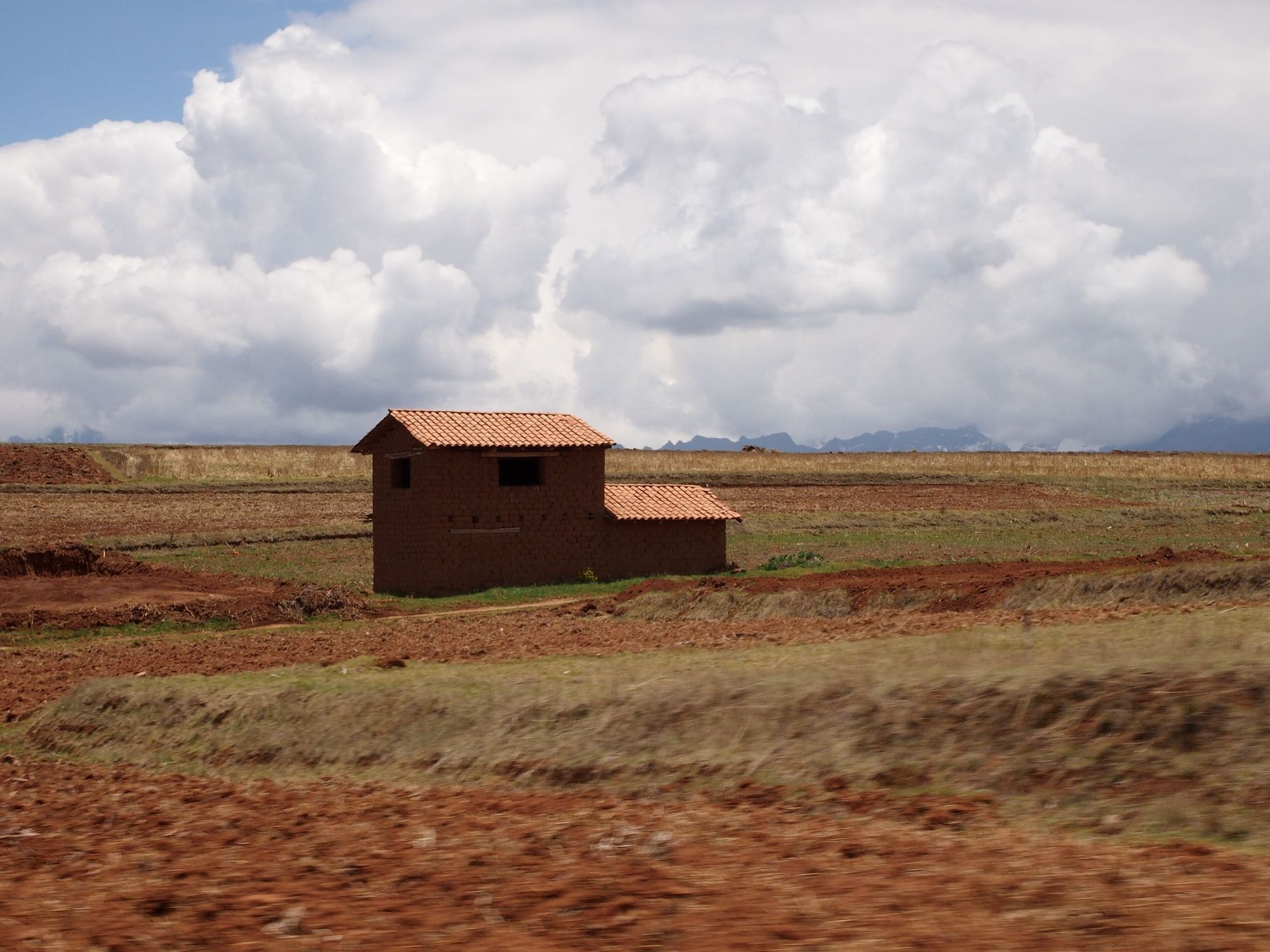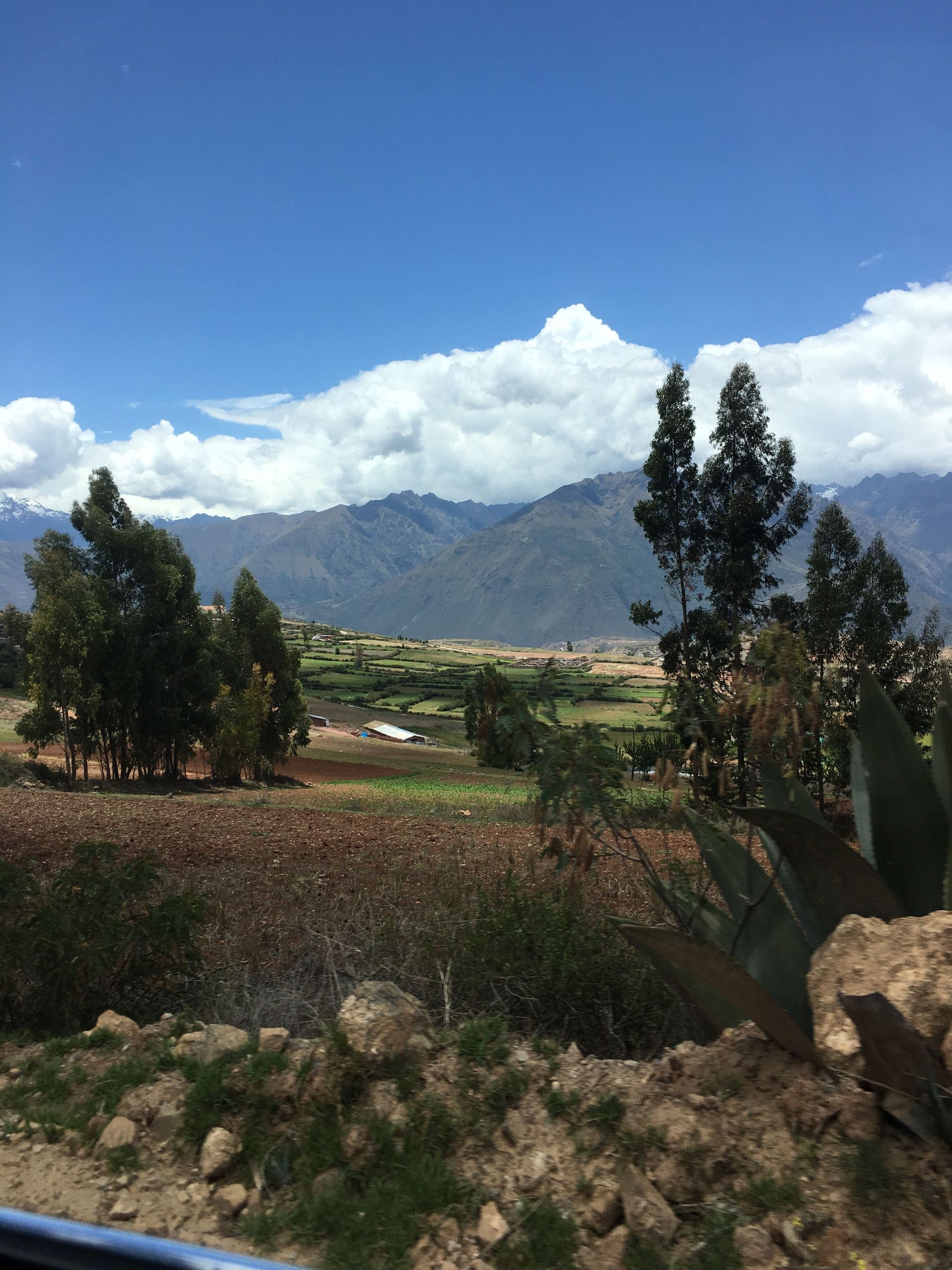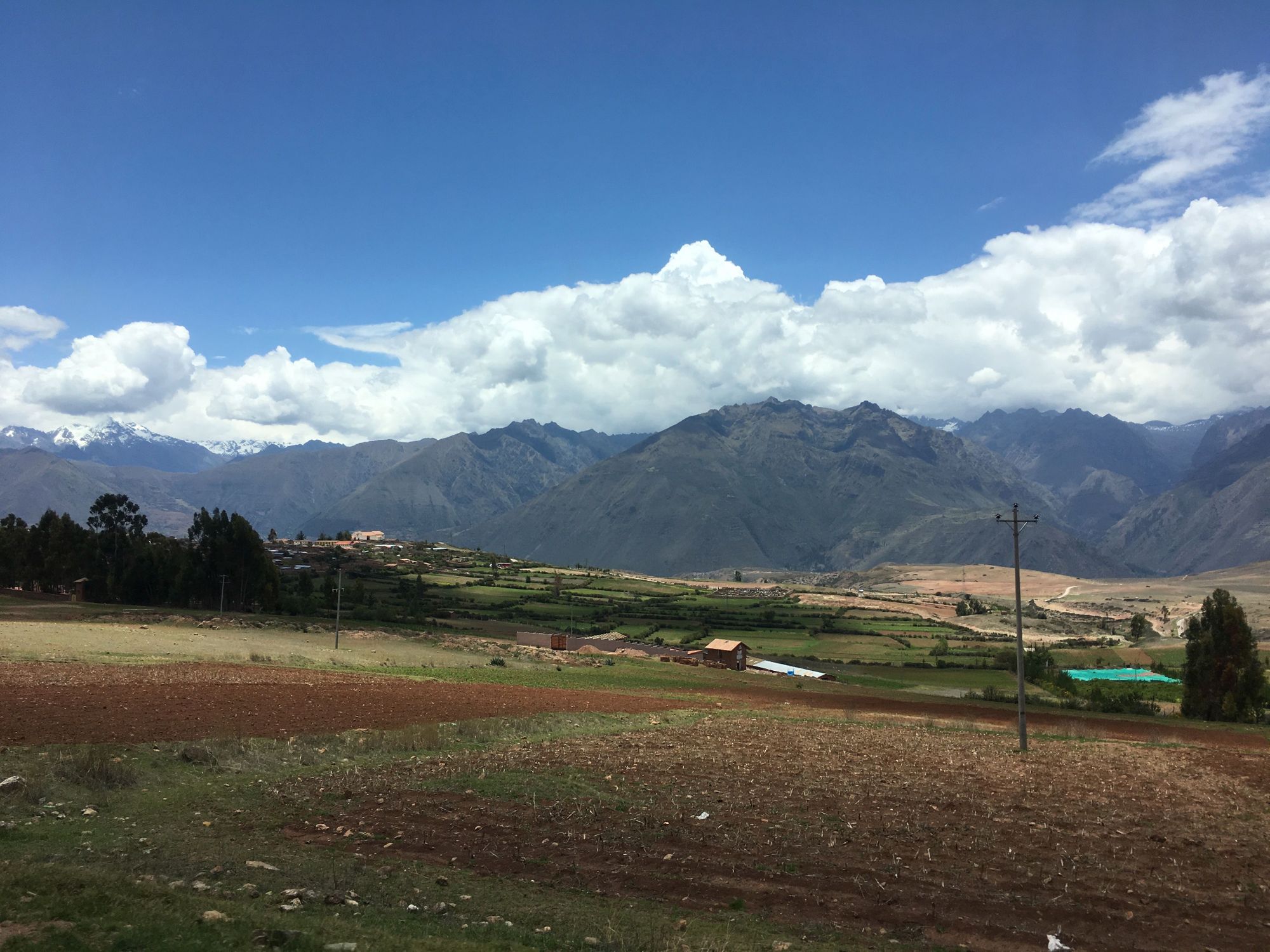 First stop: Moray Ruins

The purpose of these terraces is unknown, but a wide belief is that they were for agricultural experiments by the Incas. Many of the terraces contain different types of soil, probably imported, and the different levels in elevation creates microclimates – perfect for testing conditions in which different crops will thrive.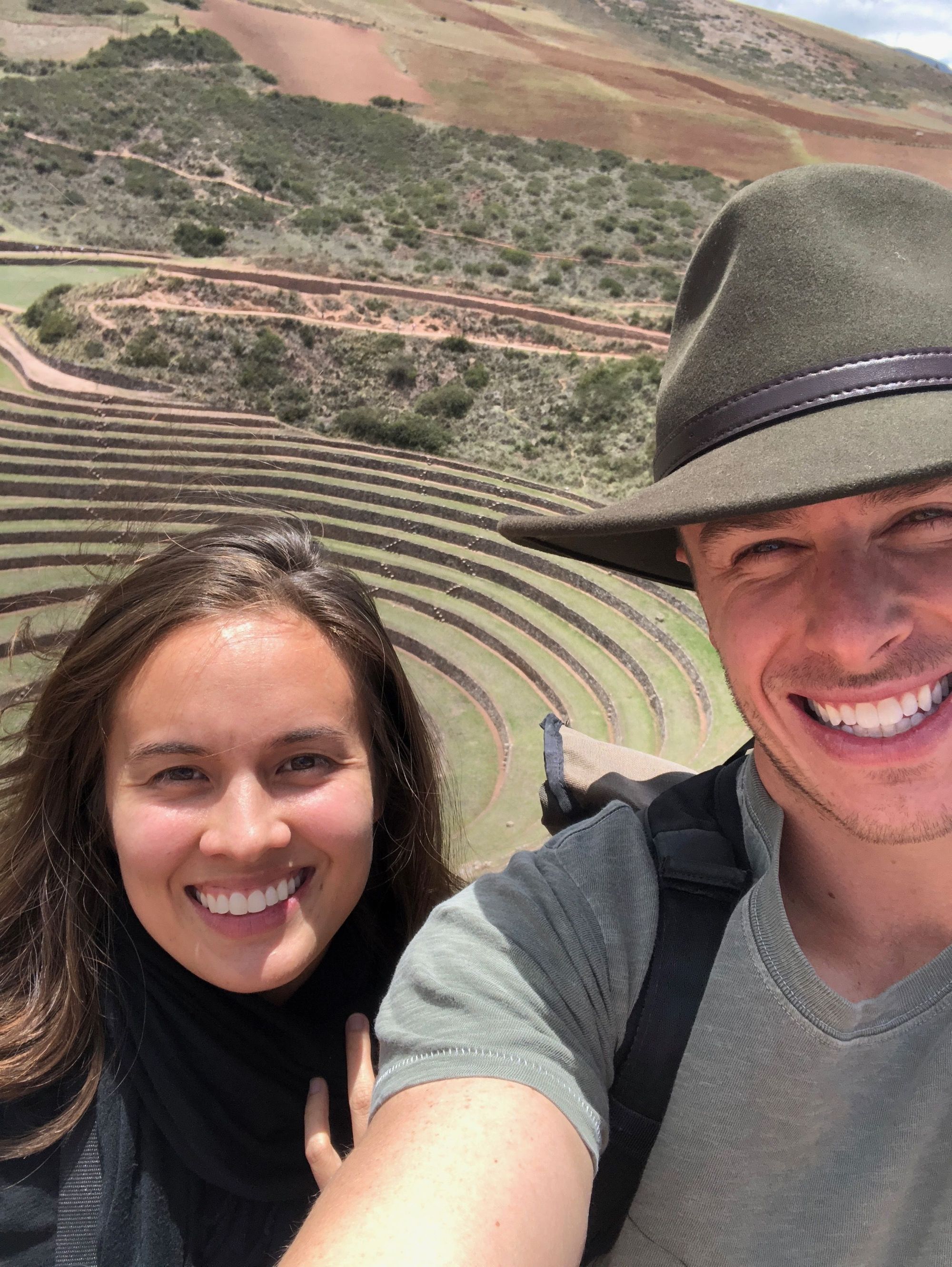 There were also some smaller ones that looked like experimentation for the experimental farmland idea? lol. This is how self-guided tours go haha.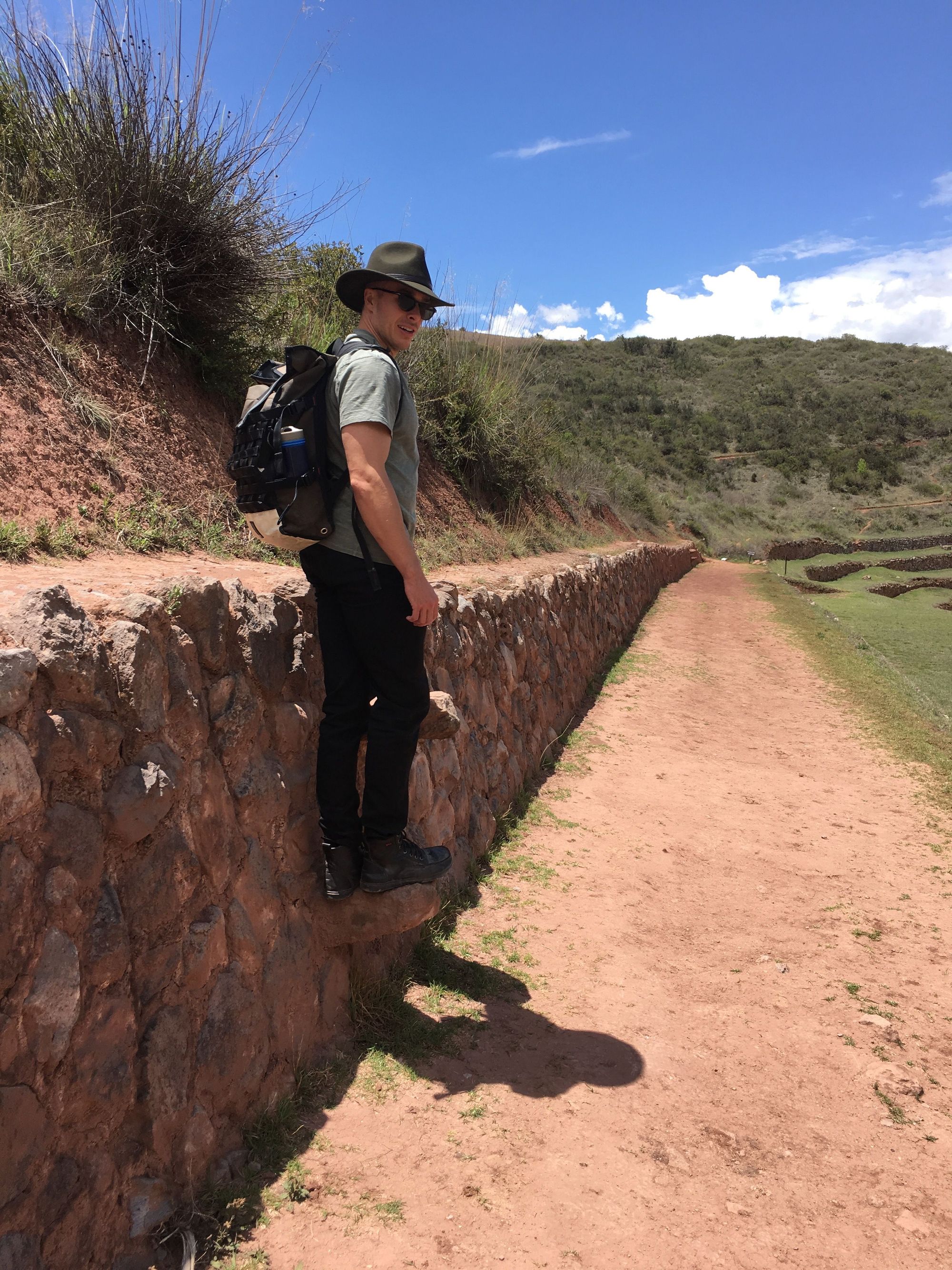 We got in the car, and Zach was out again immediately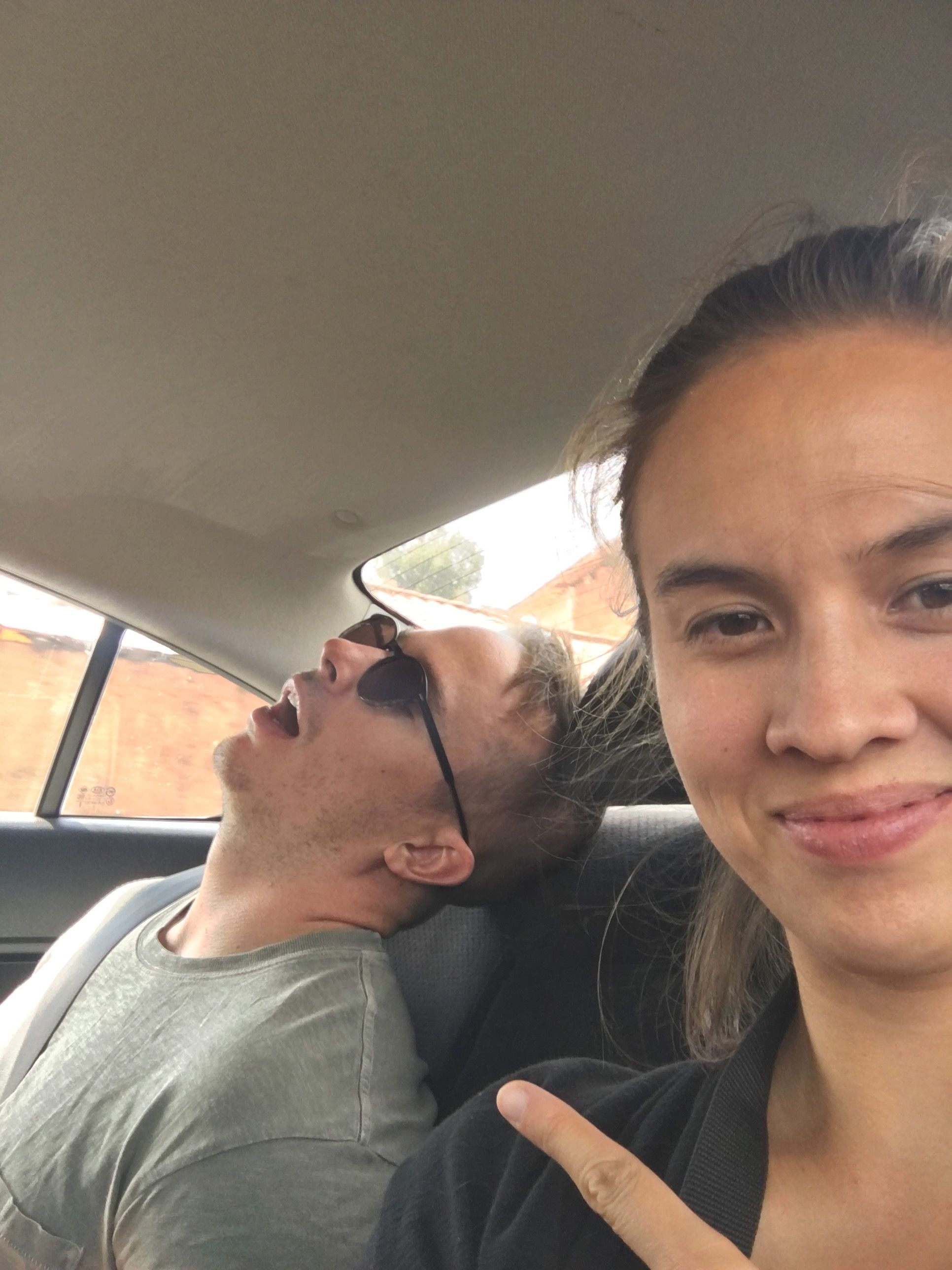 Second stop: Salineras de Maras (Salt Flats!)
I thought this was amazing and unreal and beautiful. A highlight for me. 🧂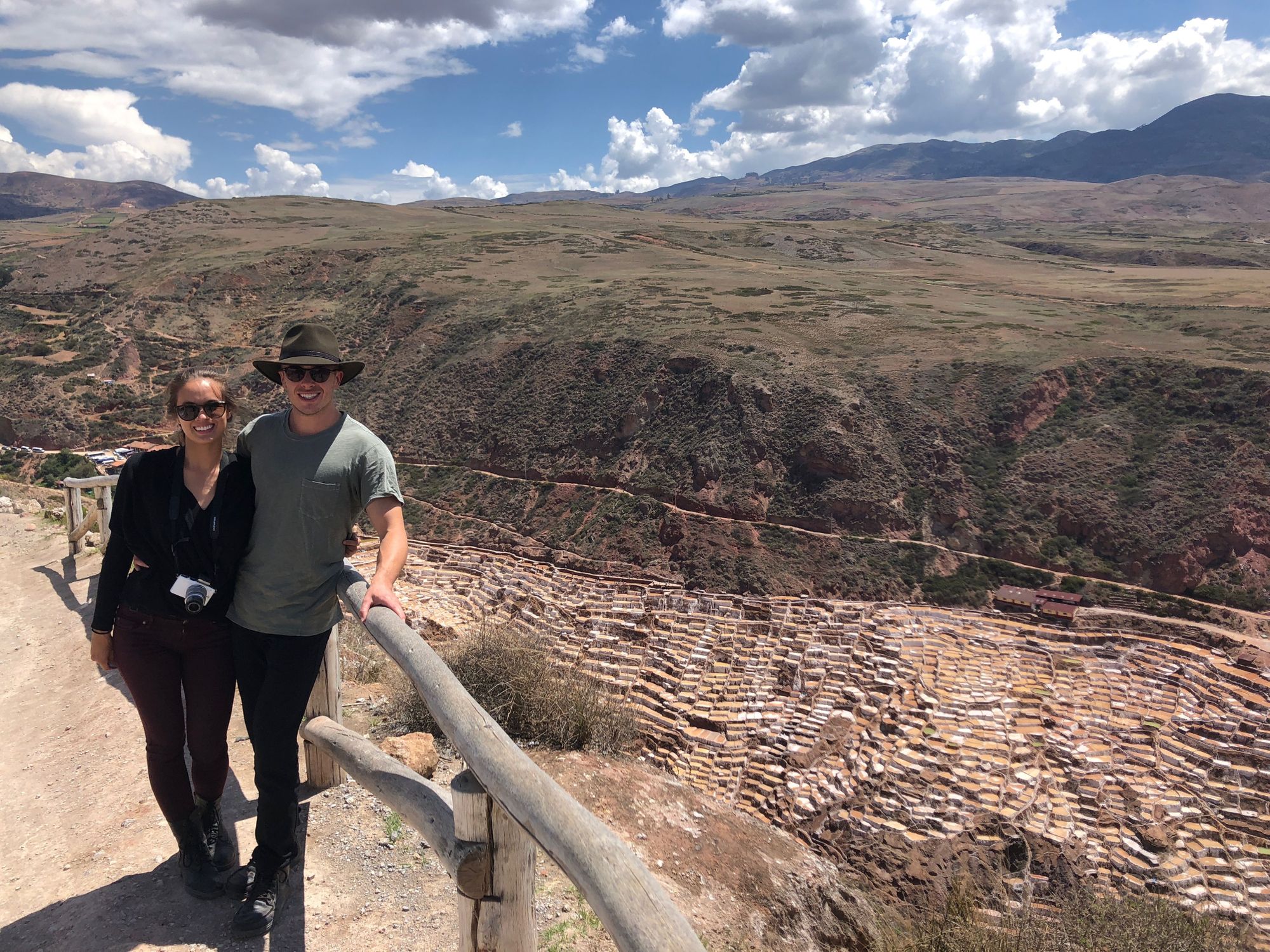 We got to walk around the flats and enjoy the scenery 😍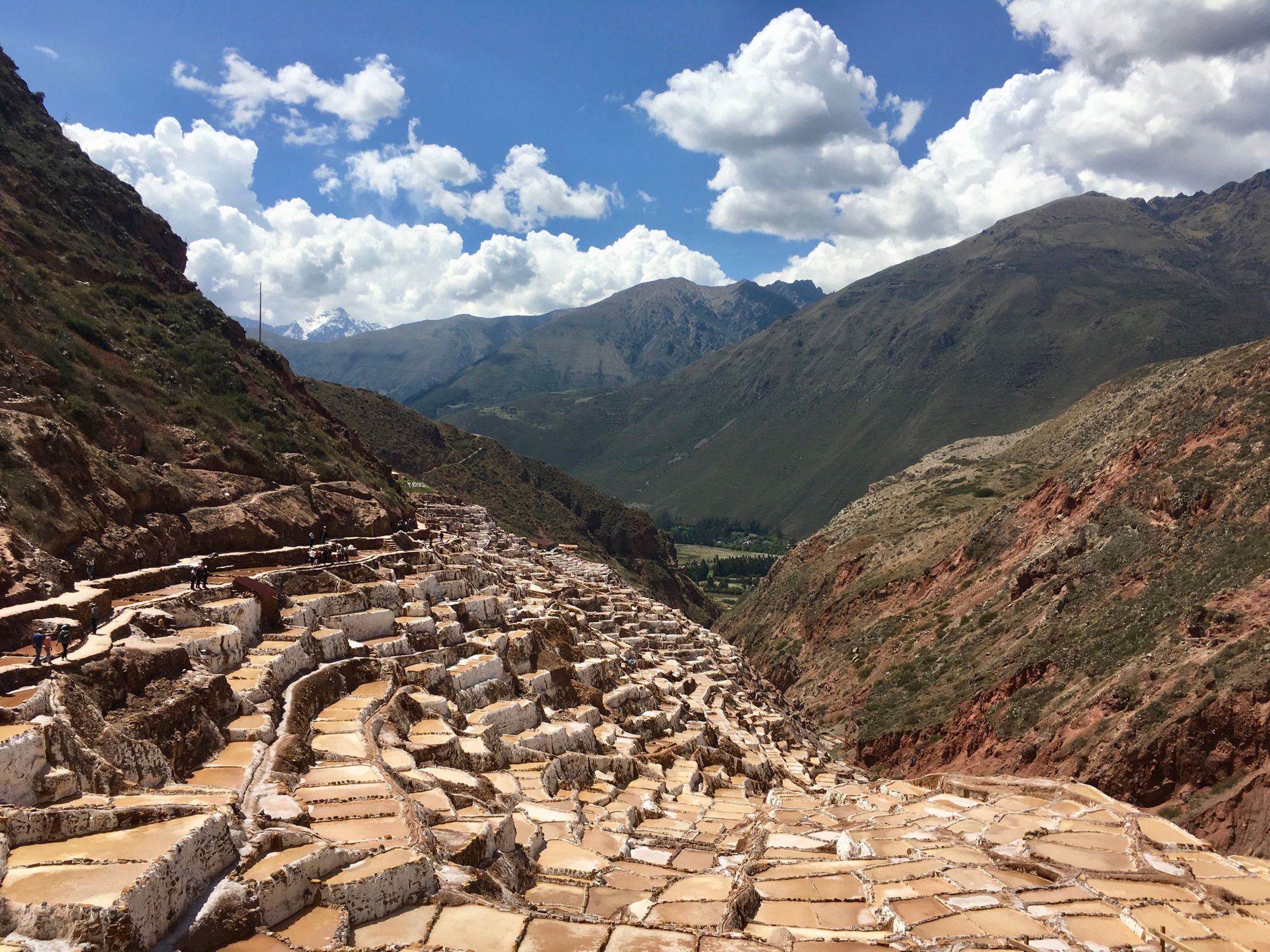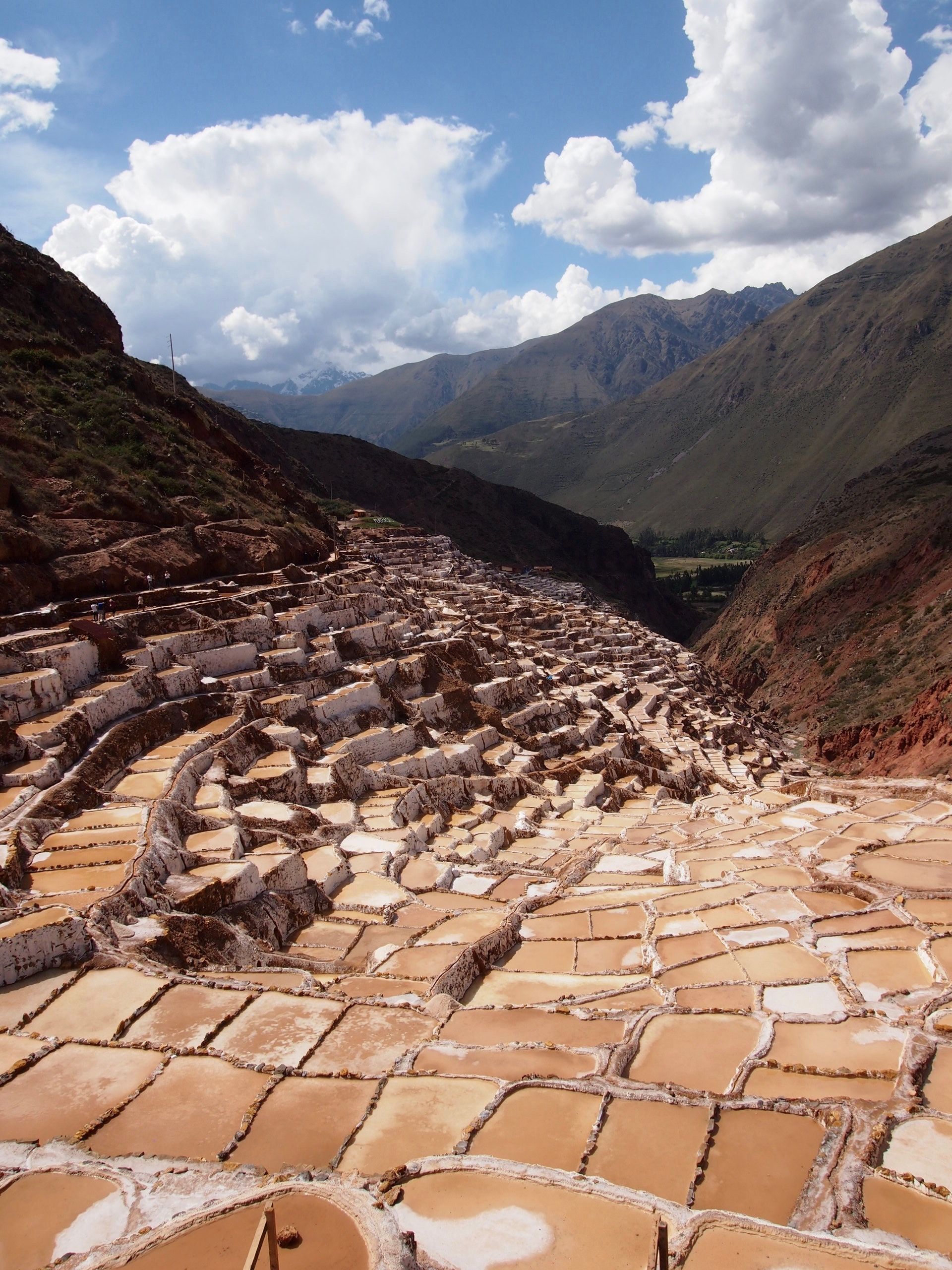 Proof that we were here: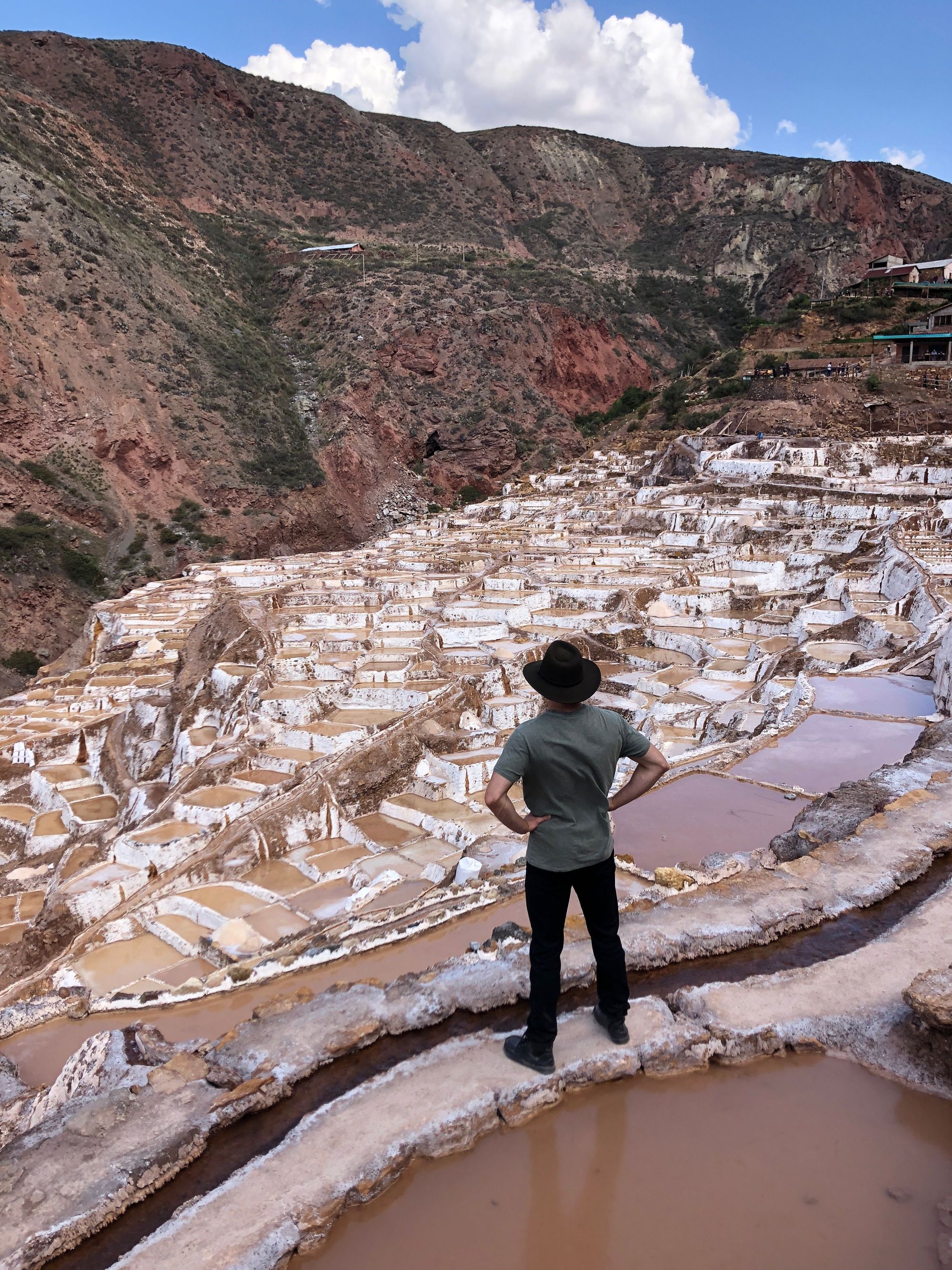 These ancient (pre-Inca) salt flats are fed by a natural and highly salty stream. There are channels to direct the water down the terraces and into all of the various ponds. As water evaporates, the salt becomes more and more concentrated, until the worker stops the water from entering the pan and lets it dry up. When it is ready, they will scrape up the salt and reopen the water supply, to repeat the process.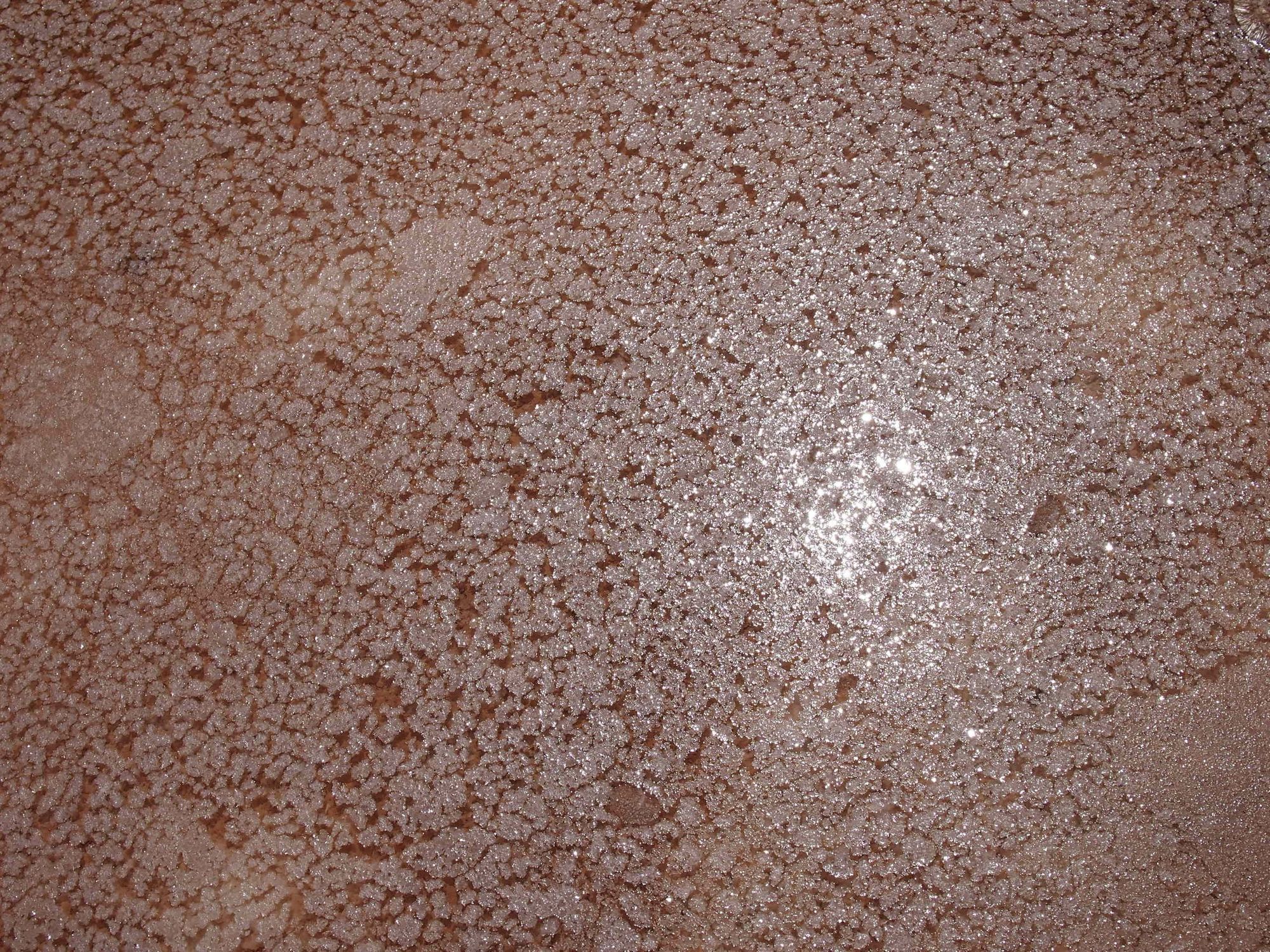 Look at all the varying colors and different levels of progress in each pan!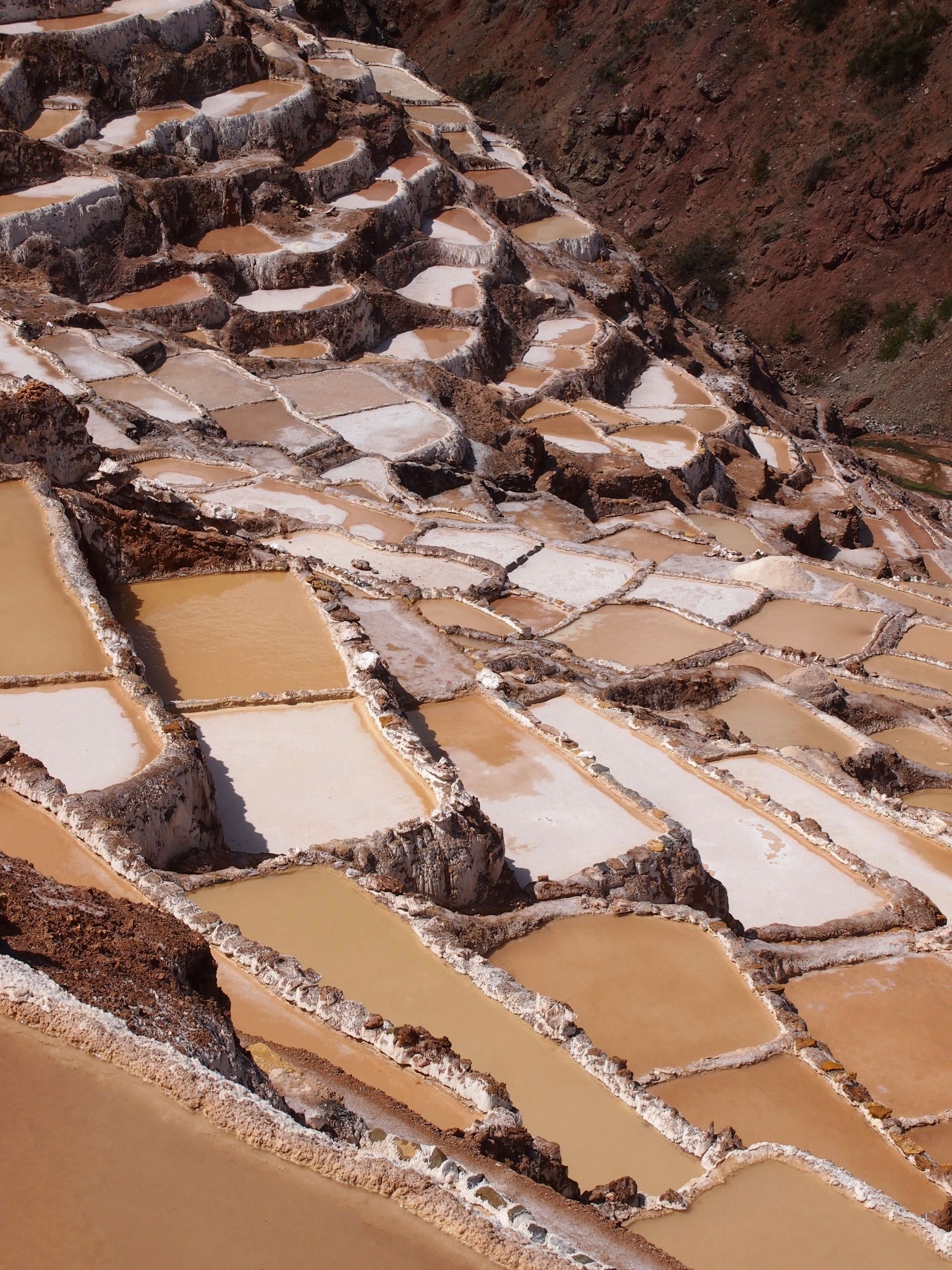 Other views: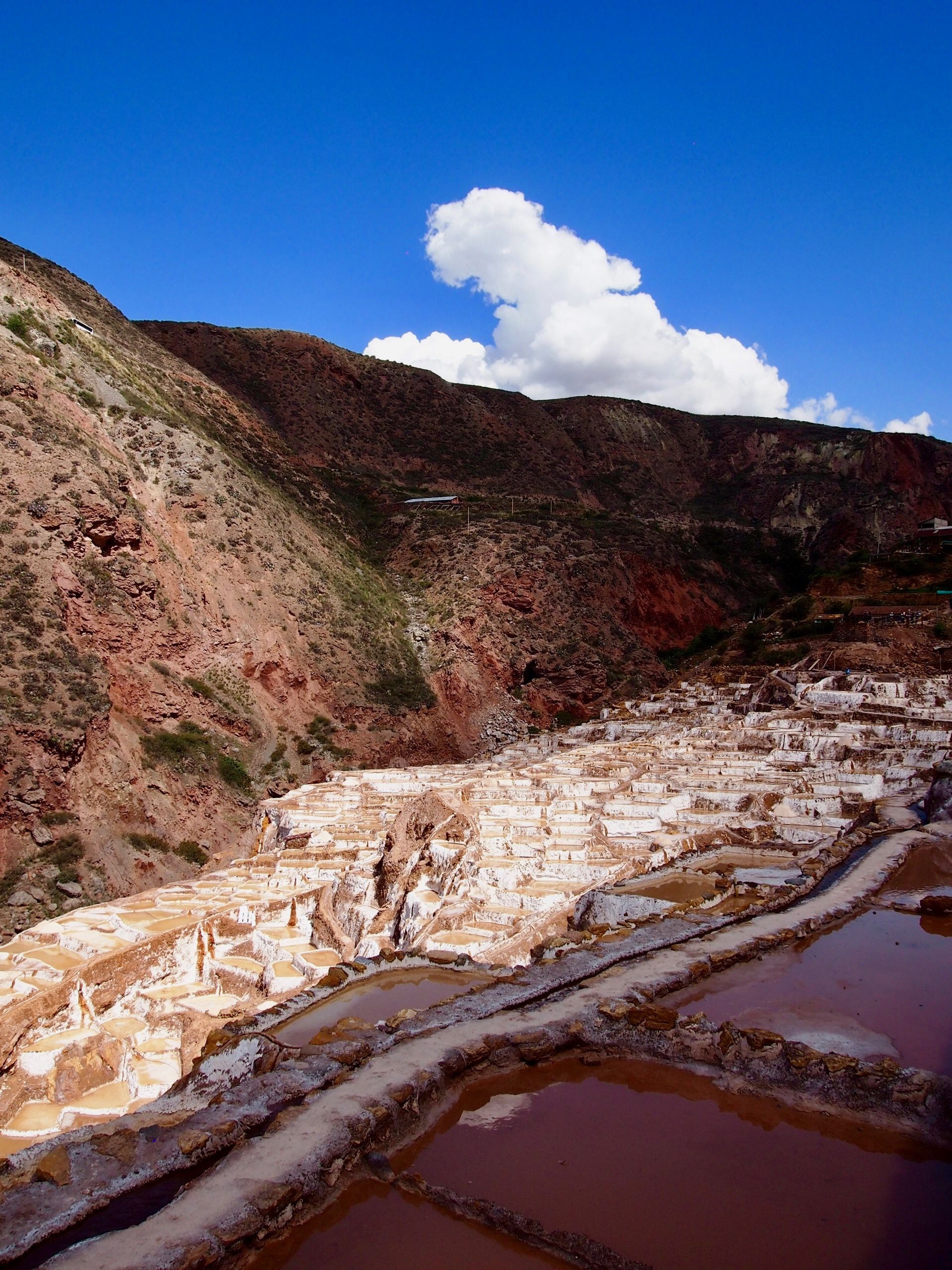 One last picture as we drove off!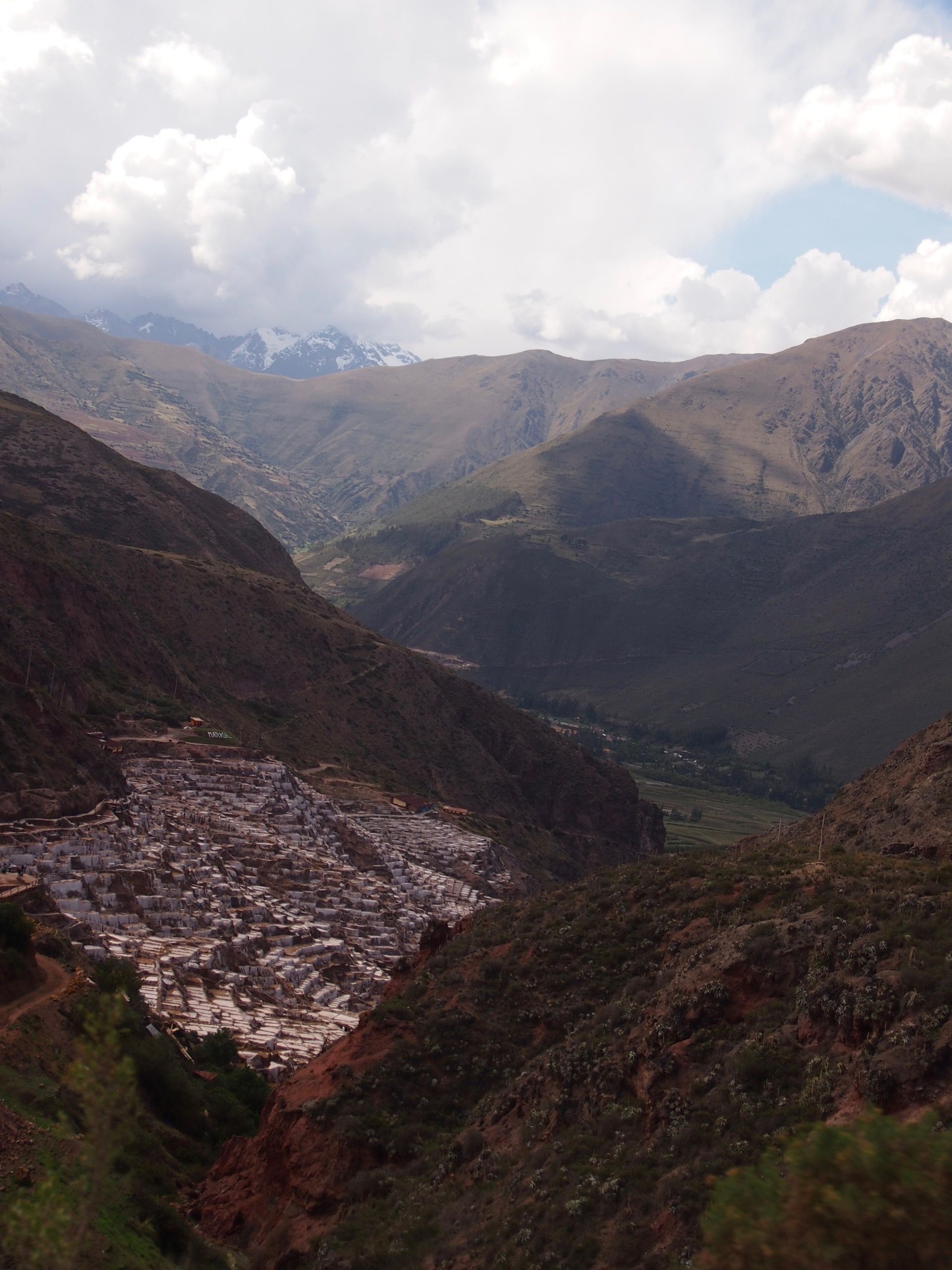 We got back to the city around 4 and walked around Plaza de Armas and San Blas, looked at a modern art shop (still wish we bought that painting of Machu Picchu!) and watched the sun set from up high 🌇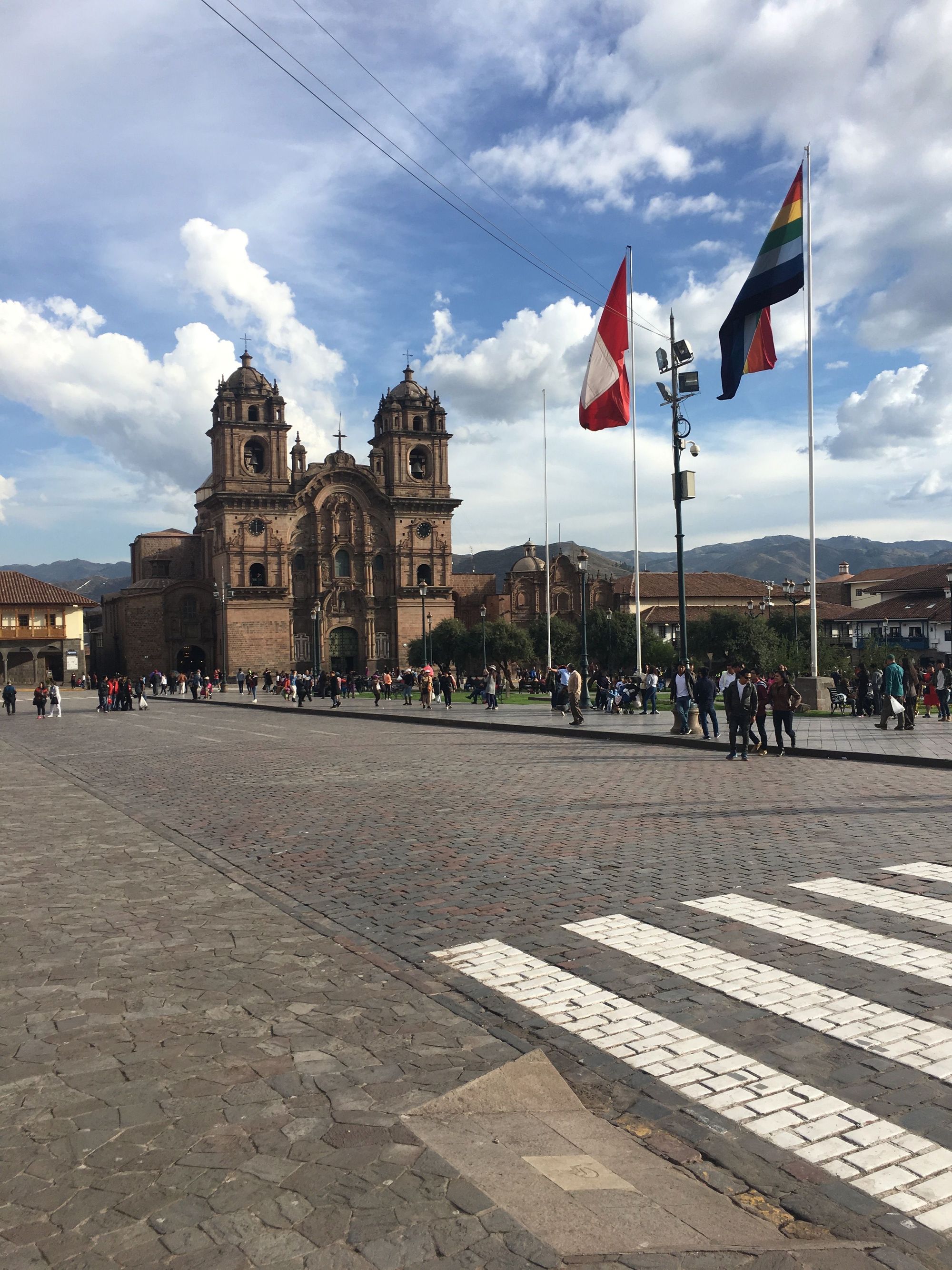 Then it was time for our Salkantay Trekking briefing! Here we met most of our group, and our guide Leo, who was basically warning us of how hard it was going to be. Up until this point, I assumed that by the time the hike rolled around, I'd be acclimated and that a hike wouldn't be a big deal. But somehow the briefing got me all nervous, so I didn't have an appetite when we ate at Cicciolina which was supposed to be a really great restaurant. (Though, we ordered octopus which really wasn't going to cut it for me right then haha)
After dinner we headed straight to bed; the briefing lasted later than we expected (until about 8pm), and we were going to have to be up the very earliest tomorrow...
Day 5: Humantay Lake
Salkantay Trek: Day 1
Climb Elevation: 13,845 ft (4,221 meters or 2.6 miles)
Sleep Elevation: 12,690 ft (3,869 meters or 2.4 miles)
The van from Salkantay Trekking group arrived to pick us up at 3am, but because we stayed in the San Blas neighborhood, they weren't allowed to come up any side streets. We had to wander down to the main streets to find them.
Once we got on the bus, we immediately continued napping. I have a hazy memory of there being commotion around someone badly needing to use the bathroom along the way and I think we made an emergency stop. That person probably remembers it in vivid detail haha.
We stopped for breakfast in Mollepata in basically someone's backyard with some cute bunnies and chickens running around. Here we started getting to know our fellow hikers. I remember feeling slightly queasy and hungry and not very chatty this early in the morning, but the overall vibe of everyone was very friendly.
We continued on to the trek's starting point. Today was the "easy day" (hurrah!). We got out of the van, situated our necessities in our daypacks, said hello to some cows, used the bathroom, and took a commemorative "before pic":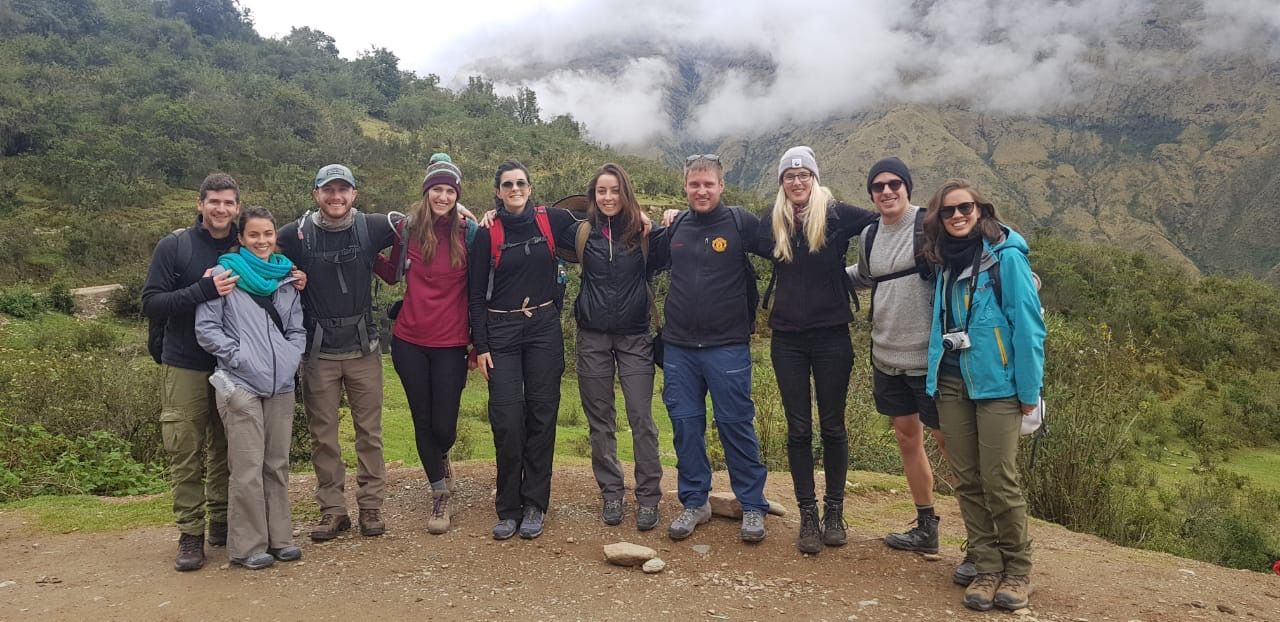 We started with a gradual incline. The theme of this stretch was that our guide Leo would sprint ahead, and the rest of us would try to find him and keep up. We named our group the "Leo Chasers"
Shoutout to my amazing boyfriend Zach who probably could have been sprinting ahead with Leo but stayed by my side going my pace the entire trek while I struggled through it. ❤
This section of the hike was foggy all around so we couldn't actually see where we were, which I quite enjoyed in its own right. We got to a little stopping point maybe an hour or so in (I have no concept of time lol), and Leo went over some history of Peru and the Incans with us.
Fun fact: When we finished our snack, we were instructed not to leave our banana peels in the wilderness as compost because it will not actually decompose at that high of an altitude.
As we continued on, good things started happening:
1) the terrain flattened out quite a bit. I mean, there was even a stretch where there was an optical illusion to make uphill FEEL like downhill. To elaborate, from our point of view, it appeared that we were heading downhill, and that our destination on the other mountain was beneath us, but in reality we were headed uphill which you could only tell because of the water current flowing next to our path. 🌀
2) the fog started to lift! Just look at those gorgeous peaks! 🏔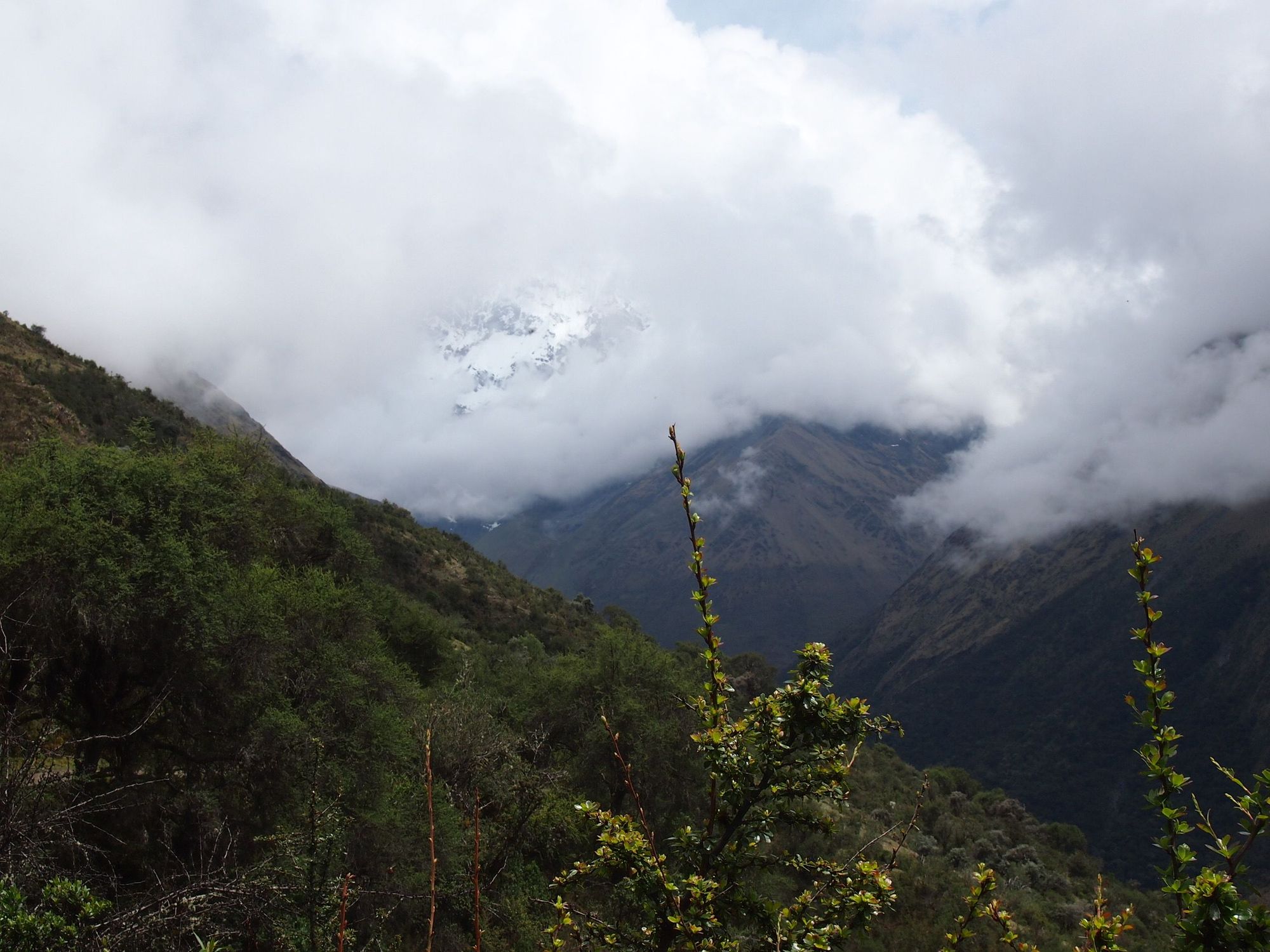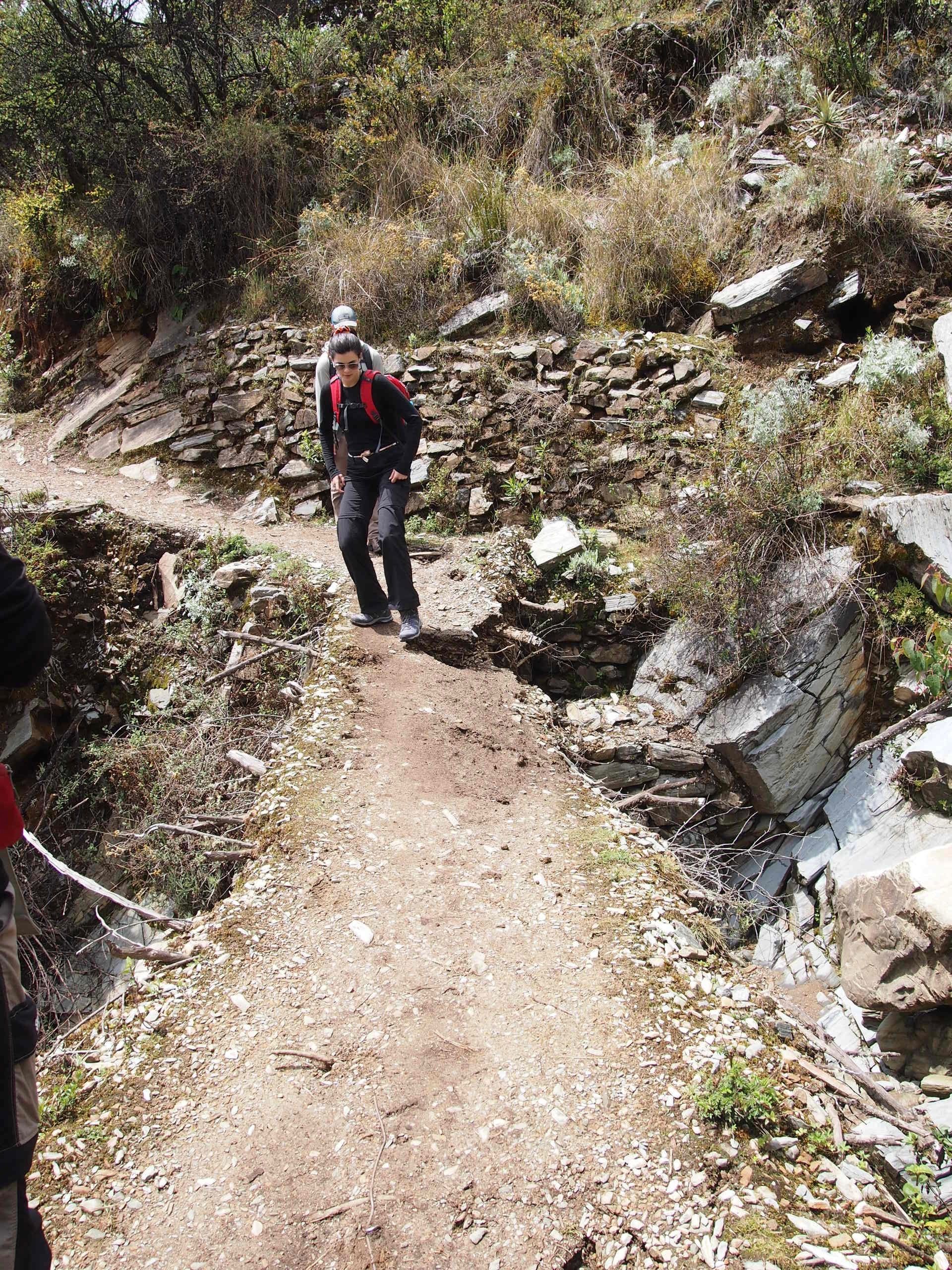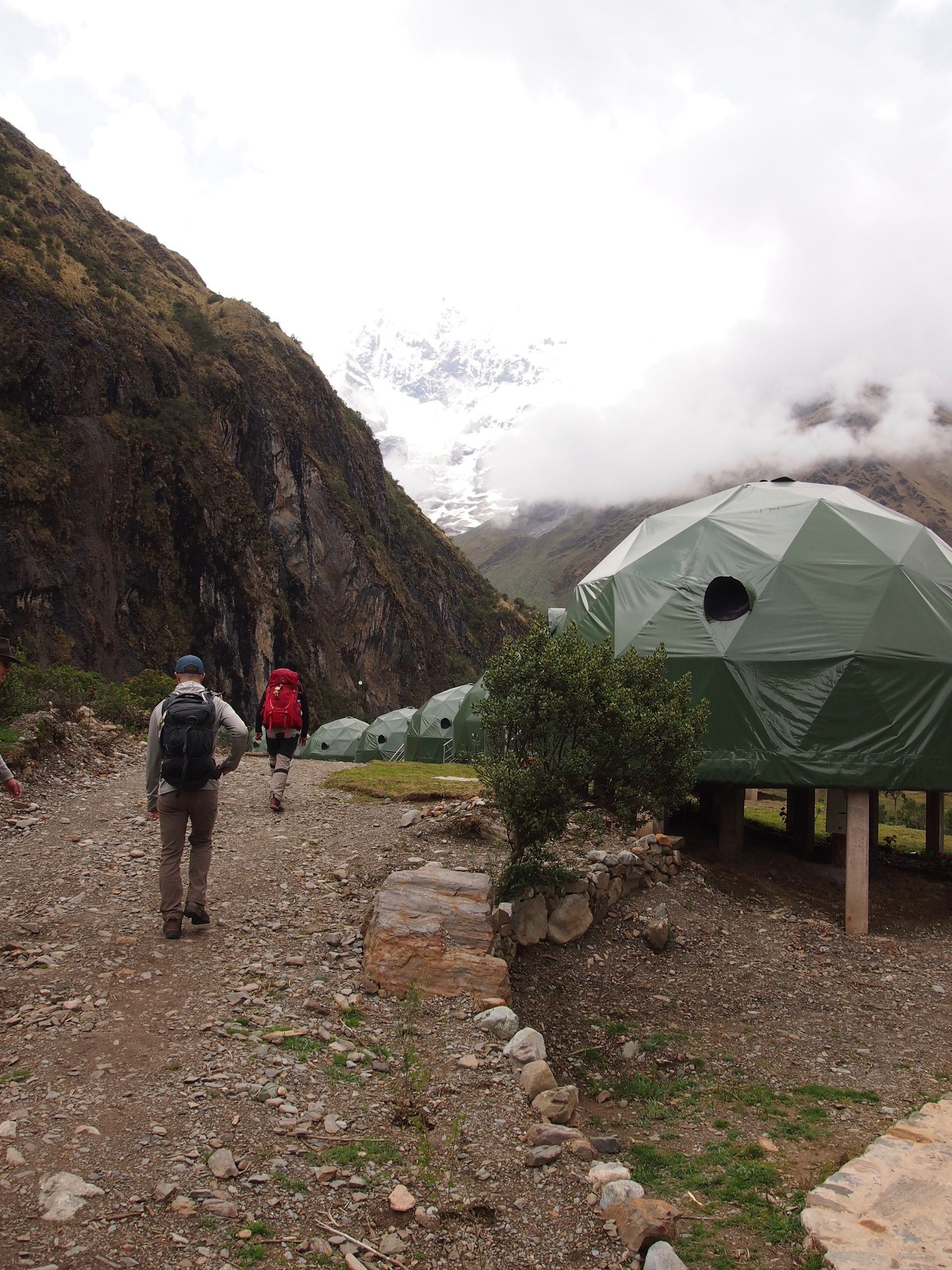 Lunch was already being prepared for us when we finally got to our campsite – the Sky Domes! I was most excited about these lodgings; I had dreams of looking at the mountains and the stars at night after a strenuous day of hiking and feeling very accomplished 🤩.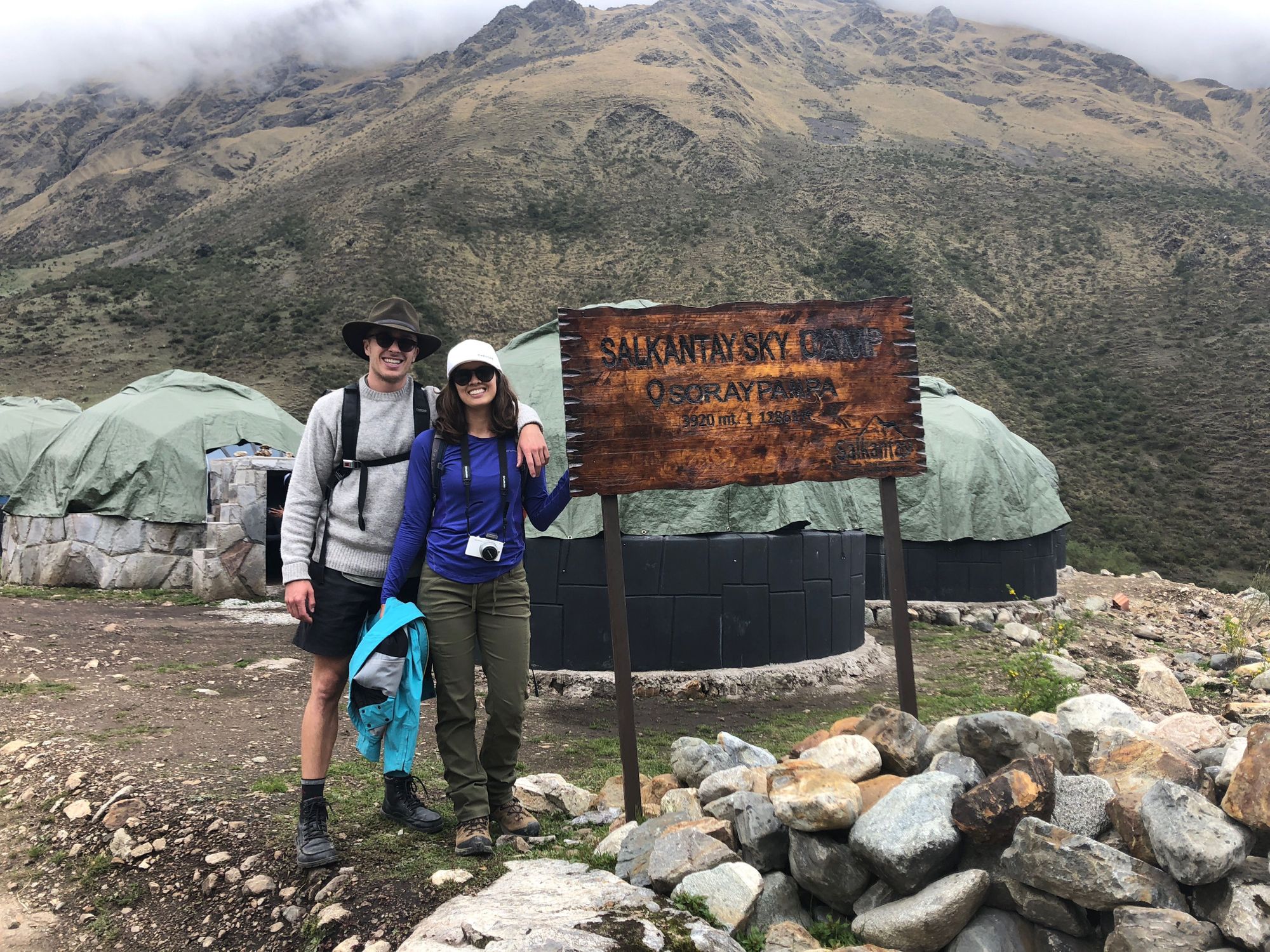 We had a little break after lunch before we continued on a round-trip hike to Humantay Lake. This lake was one of the main reasons I wanted to do this trek. But apparently this ascent was also the "real test" – Leo would gage how we do on this steeper climb, to determine our abilities for the following day. If we got to the lake in under an hour he said we wouldn't need a horse the following day. BOY was that tough. I was like... if it's going to be worse than this tomorrow, you can leave me here! 😅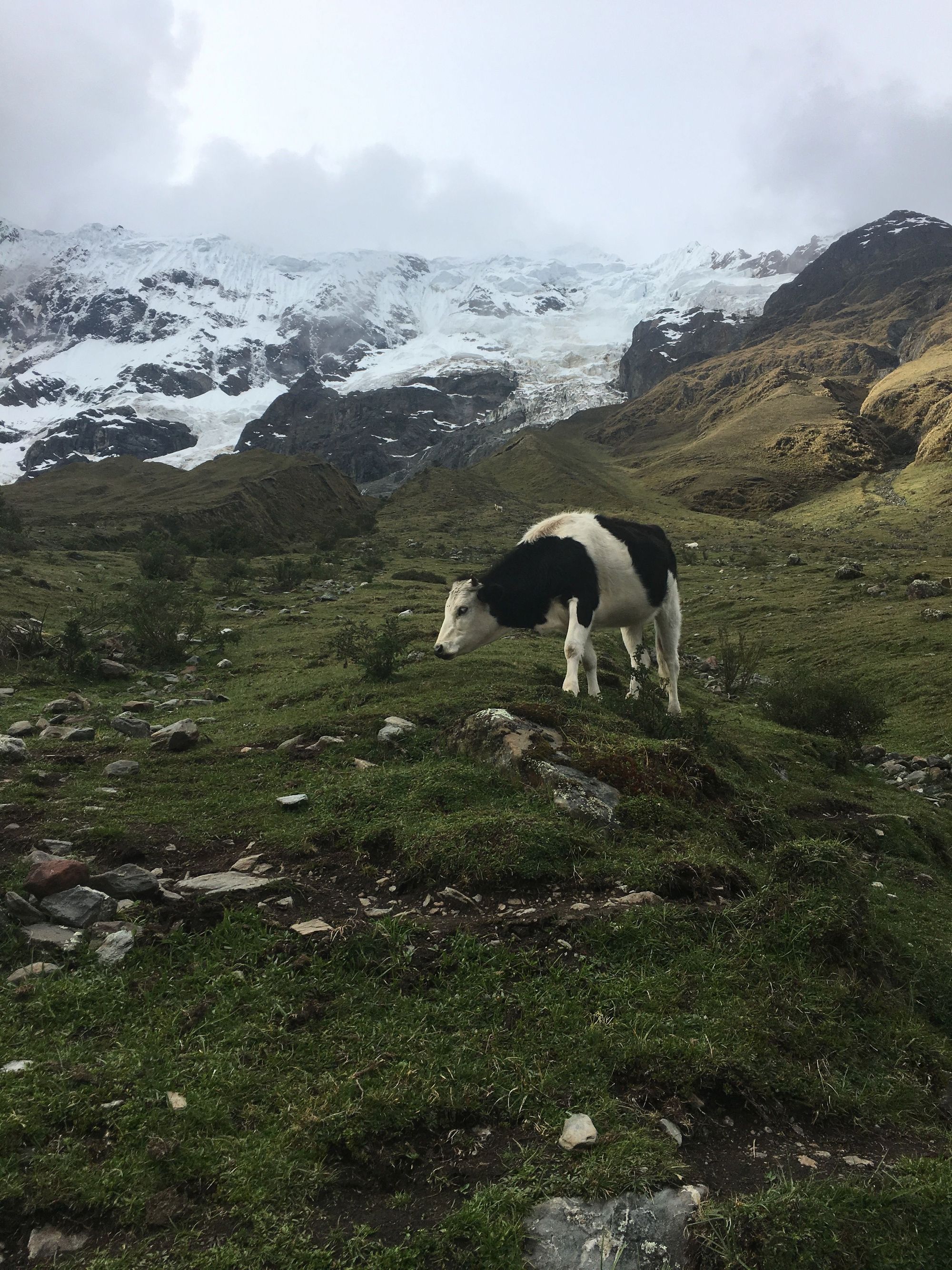 And right in the knick of time, we made it to Humantay Lake!! 😍 We stayed for a little while to soak in the views.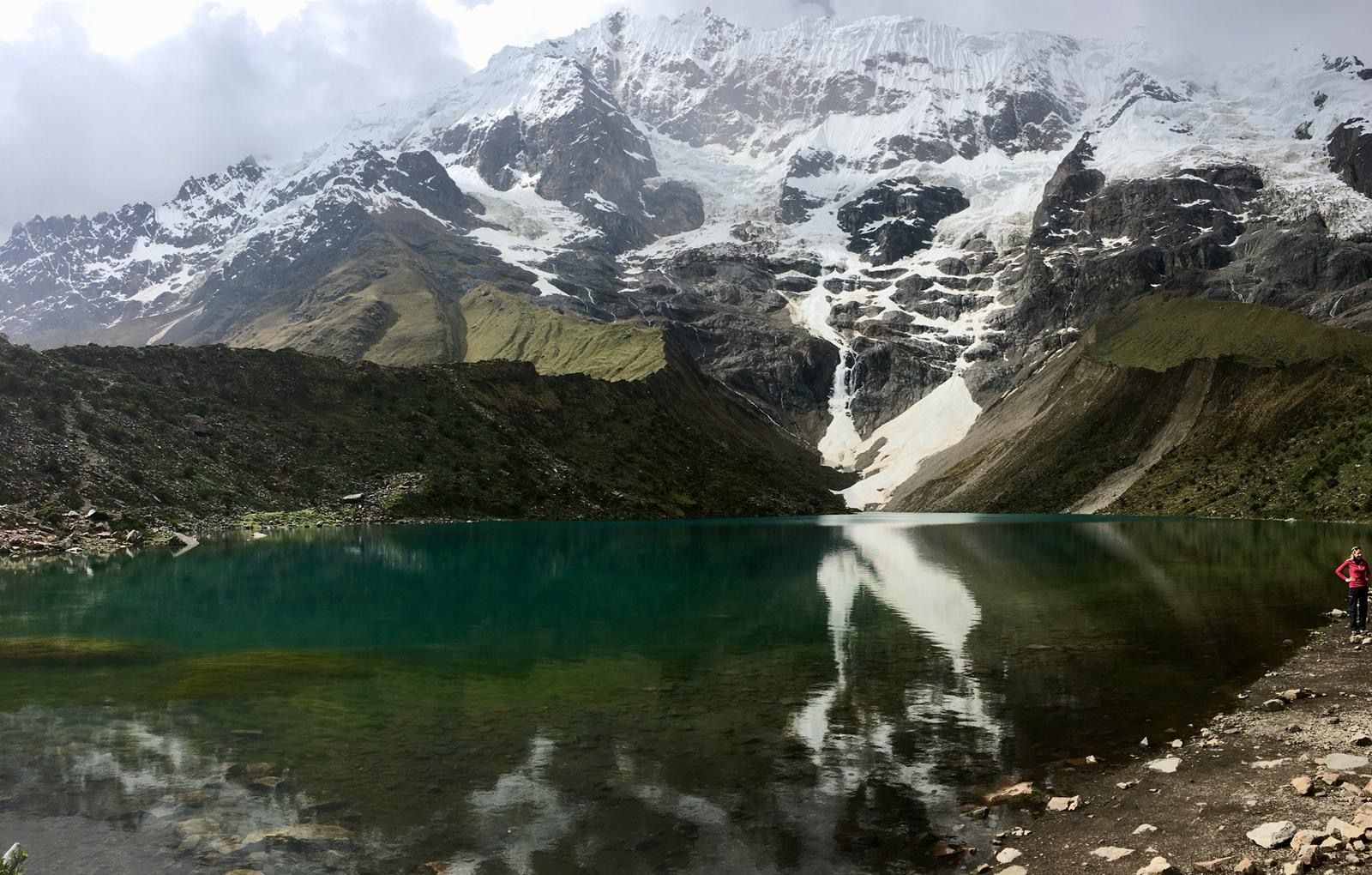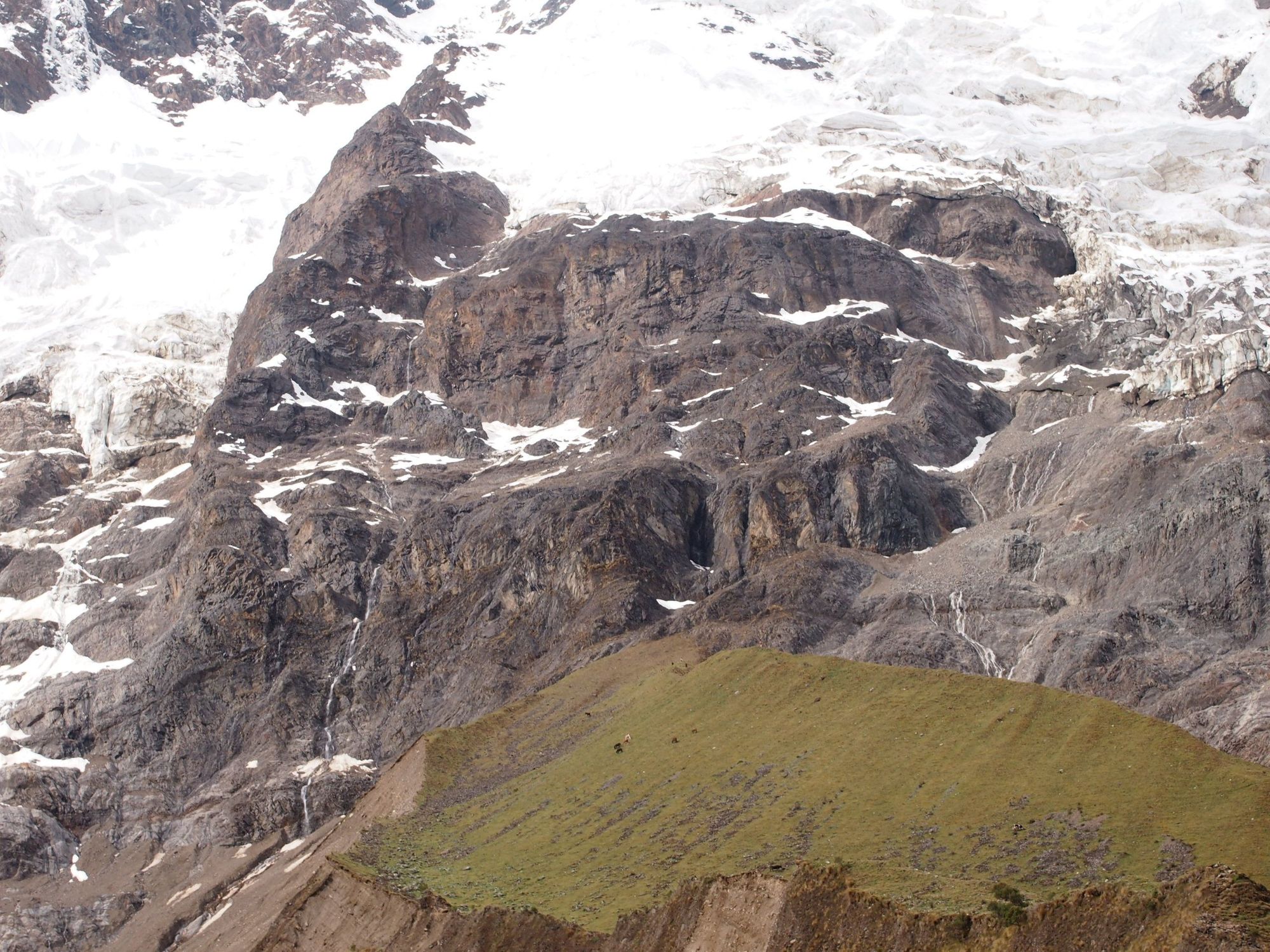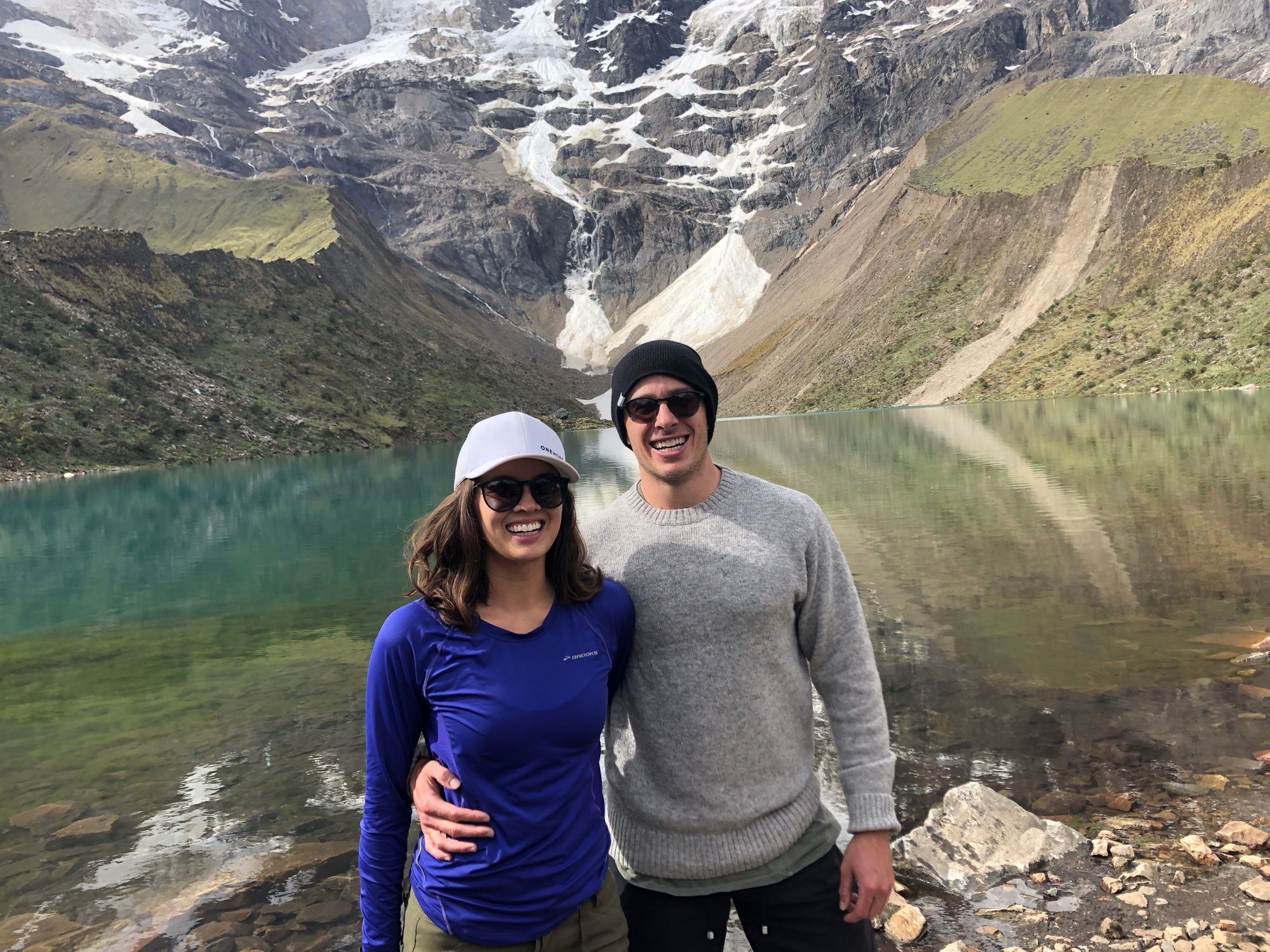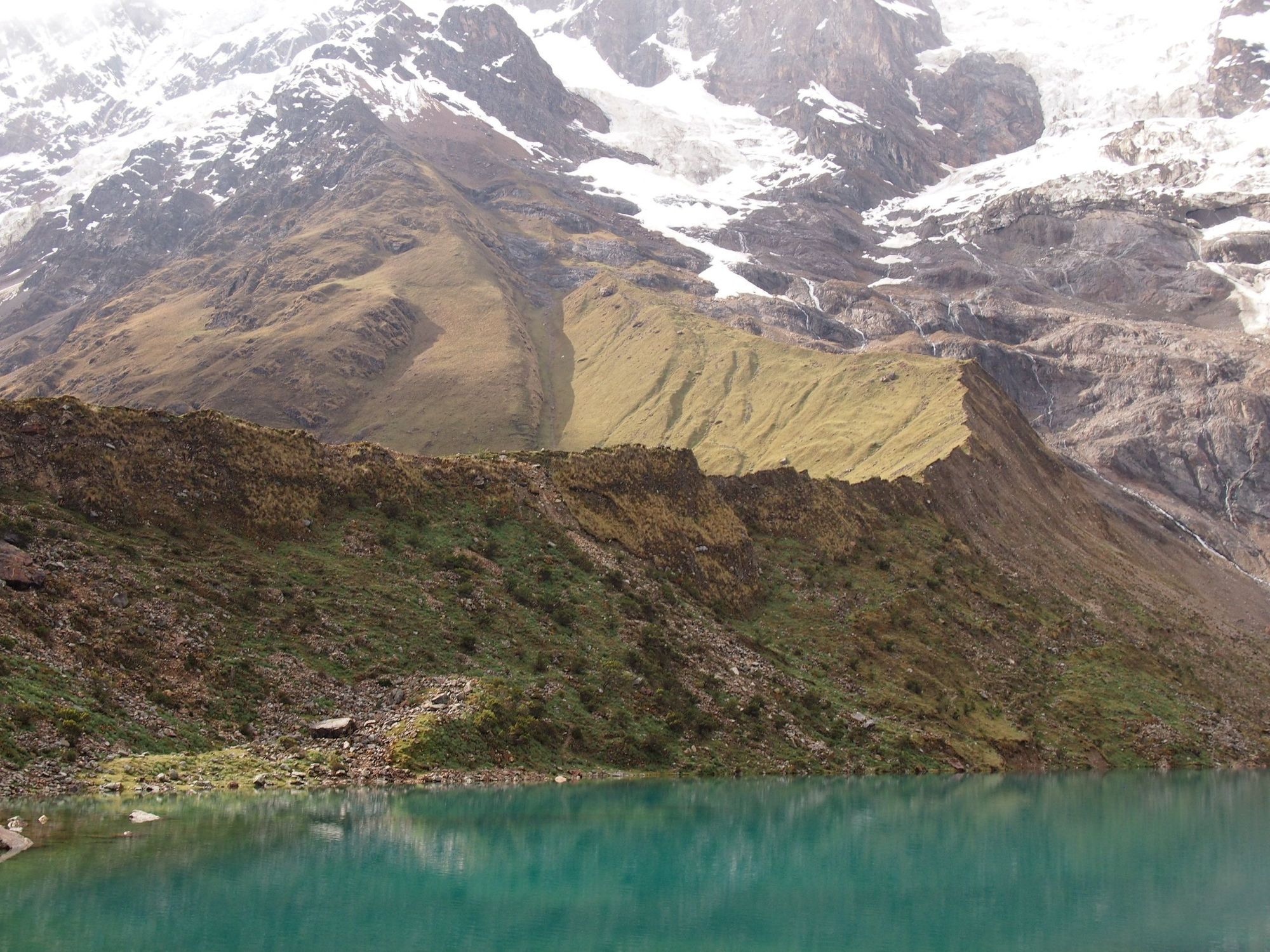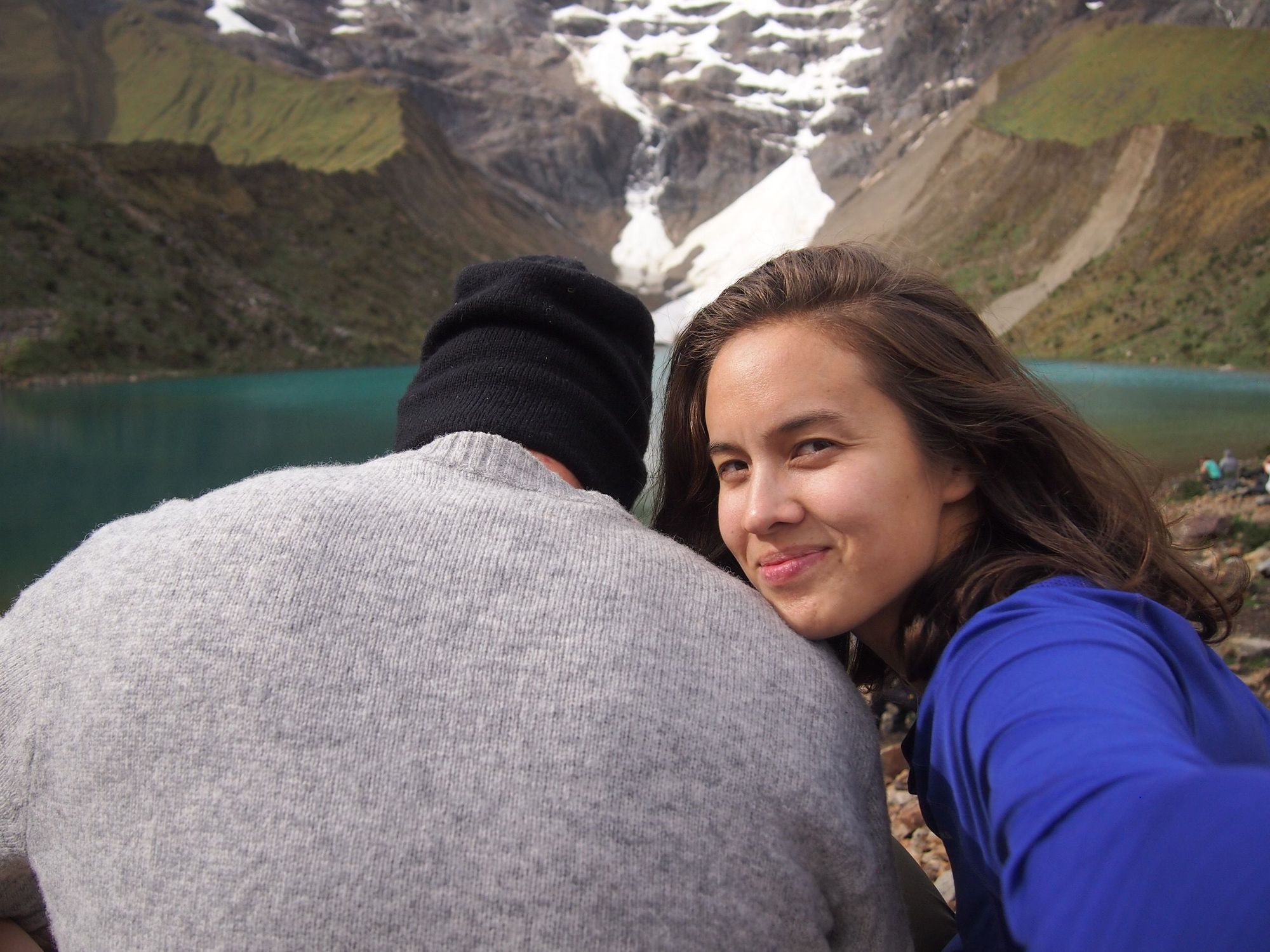 The weather would change rapidly. And there were bunch of ongoing mini avalanches.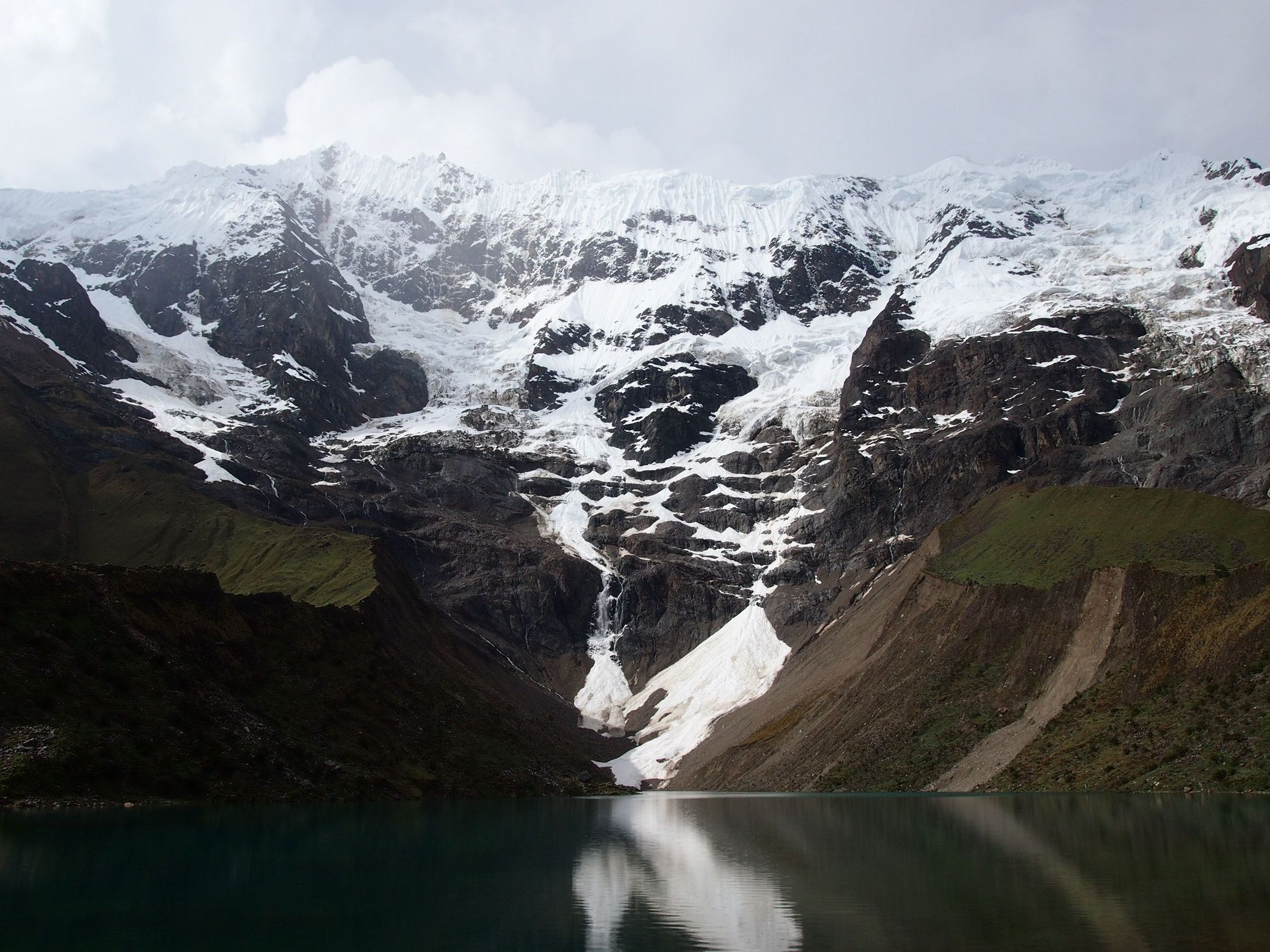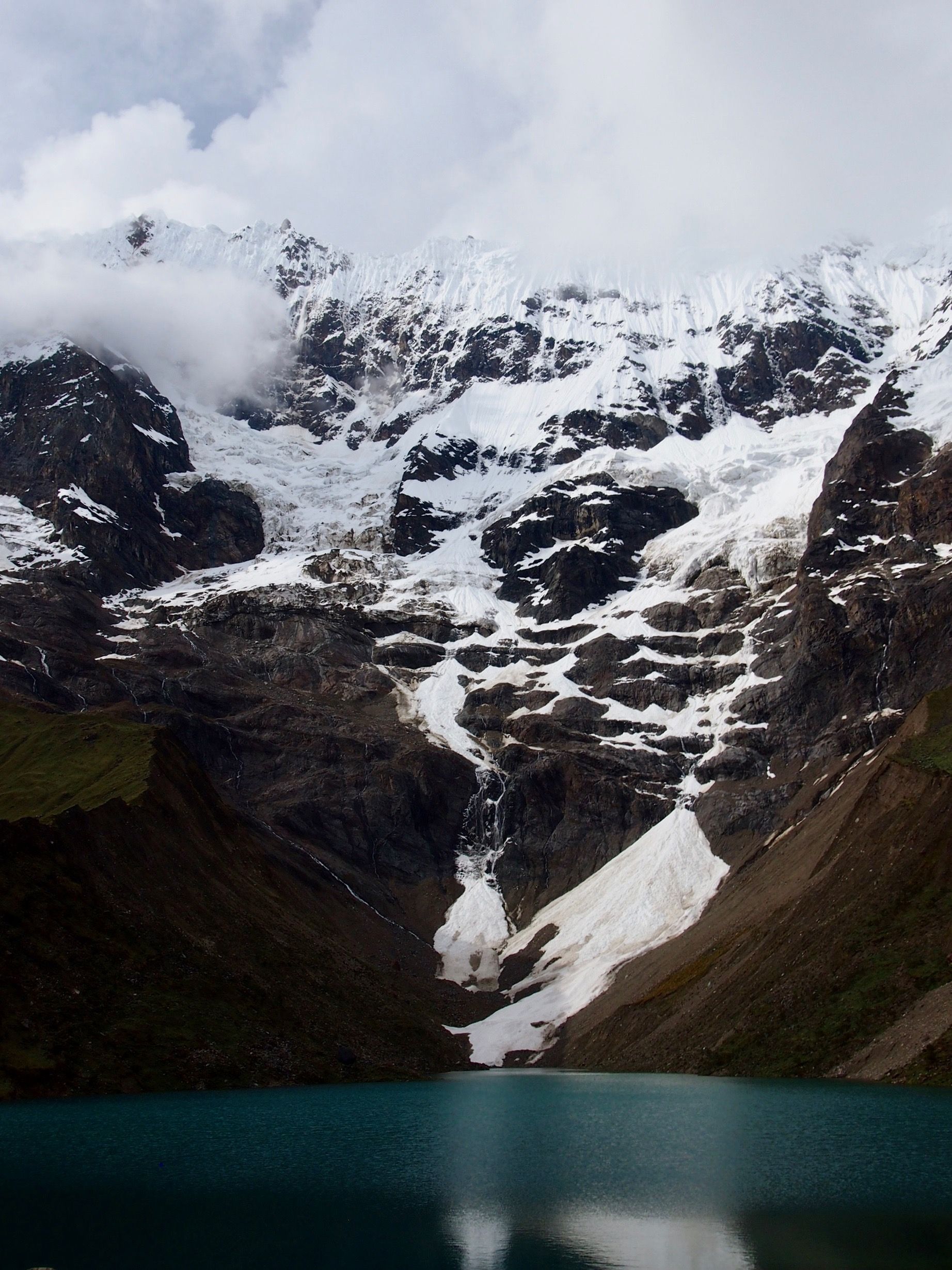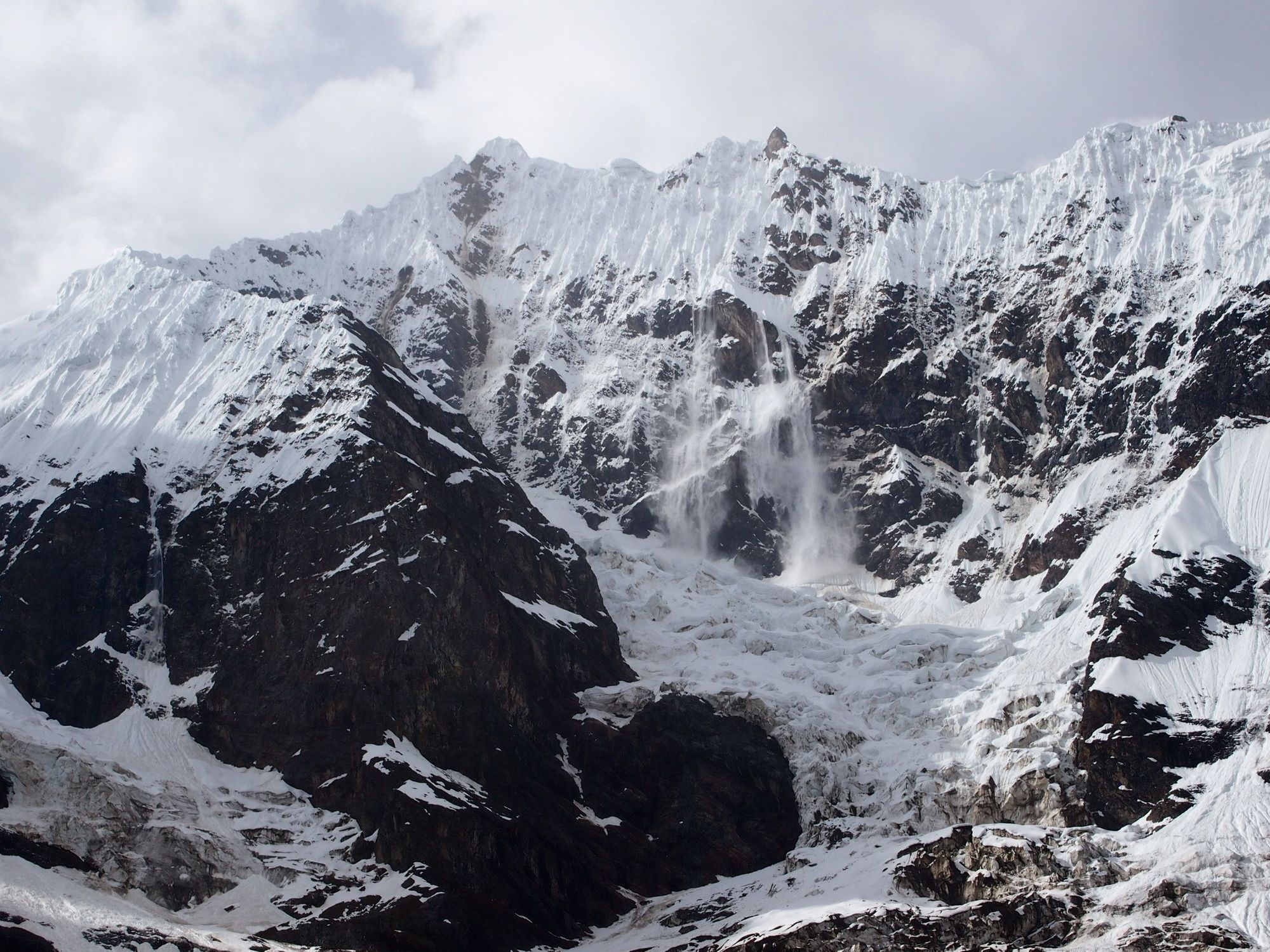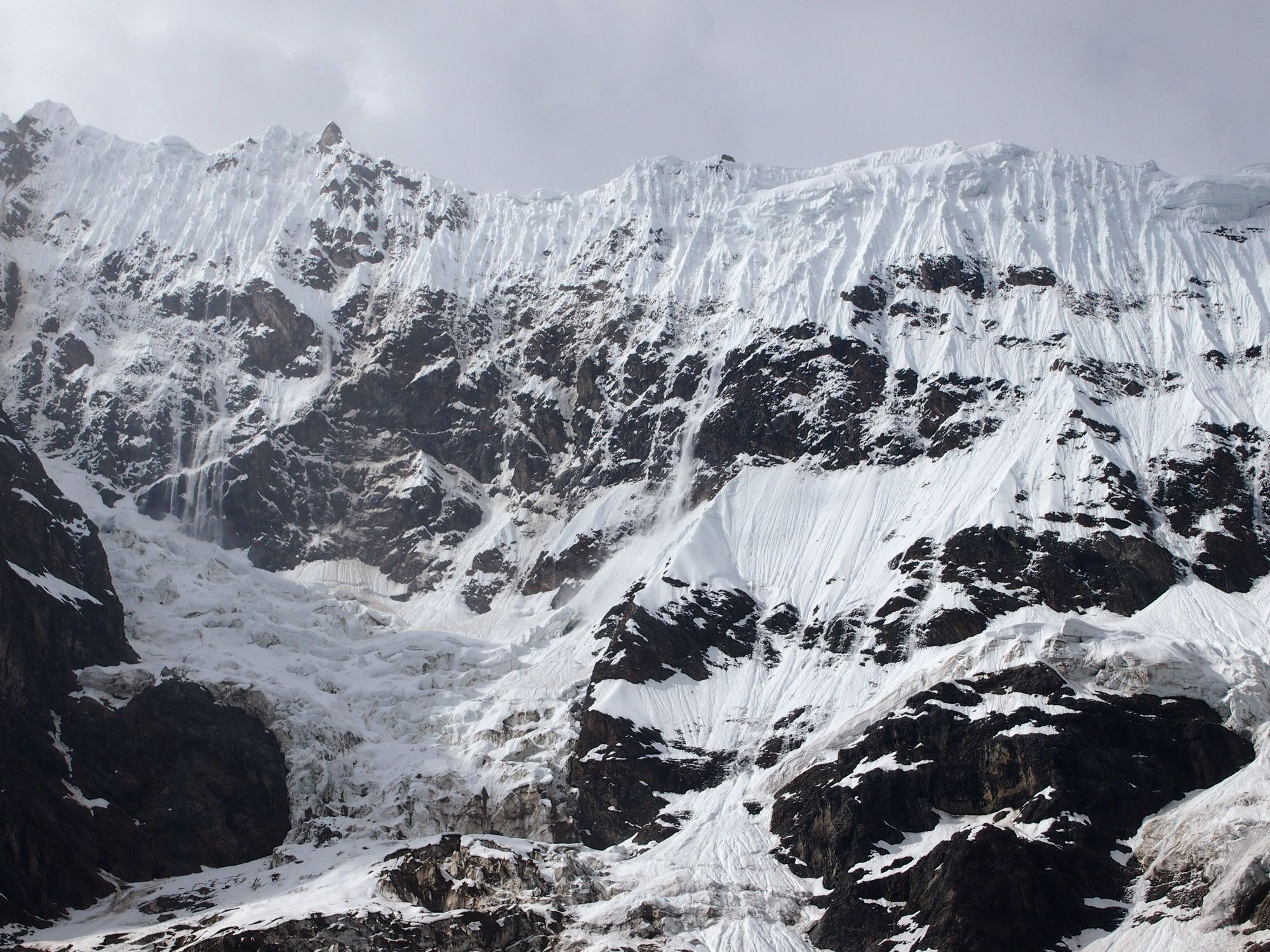 Group Pic!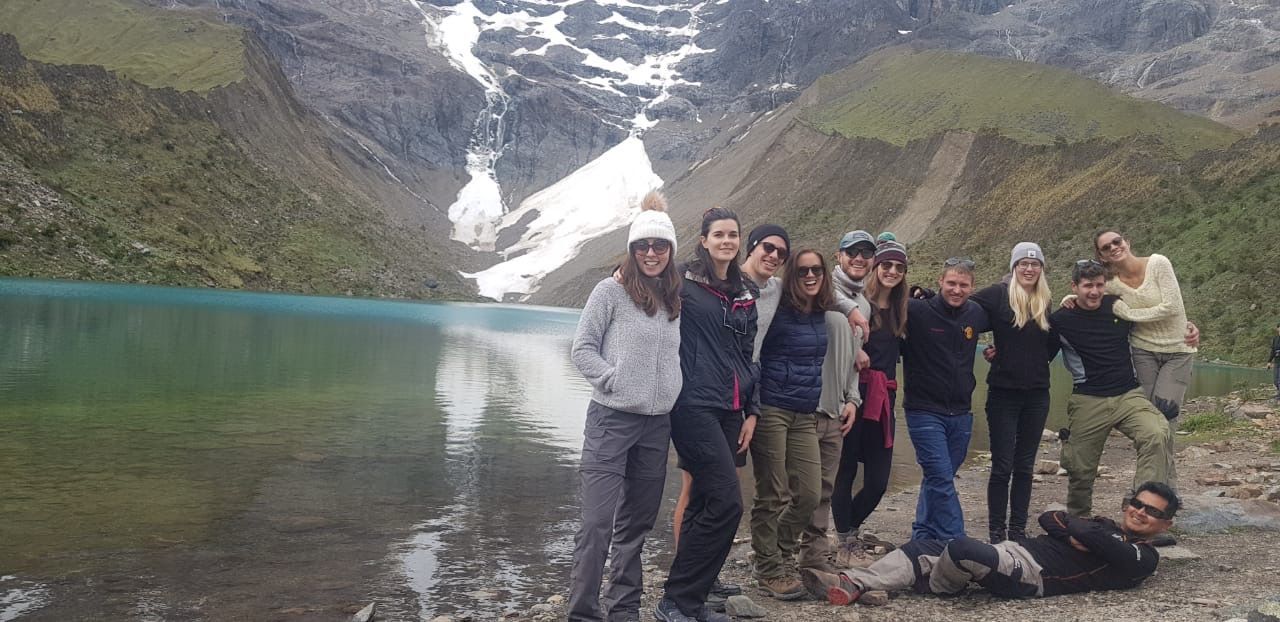 The downhill return was super relaxing up until the final stretch when it started to rain. We sprinted that last bit, through the mud, and took a siesta in our dome until dinner.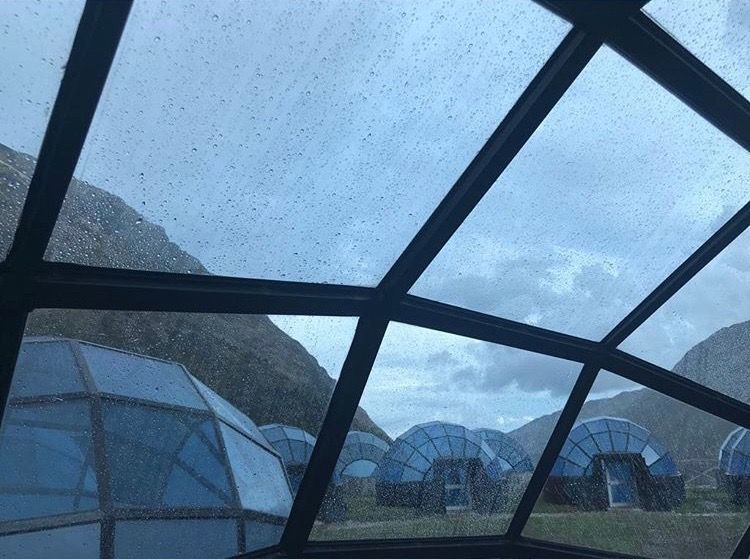 We were all still riding a high from such a great day, and had a delicious dinner full of laughs. At the end of the meal, Leo asked if any of us would want a horse for the following day. I brought up my concern that I didn't want to hold the group back, as I was one of the last to arrive at the lake and had no idea what the next day would look like. The group was so supportive and ensured me that they wouldn't mind waiting if I was a little slow, and even encouraged me to try not to take the horse. I was and am so grateful for having such a great group ❤️ they really made the experience the best it could possibly be.
Here is a Satellite view of the path from the Sky Domes to Humantay Lake that we completed this afternoon. Though, maybe a topographic map would have been a better choice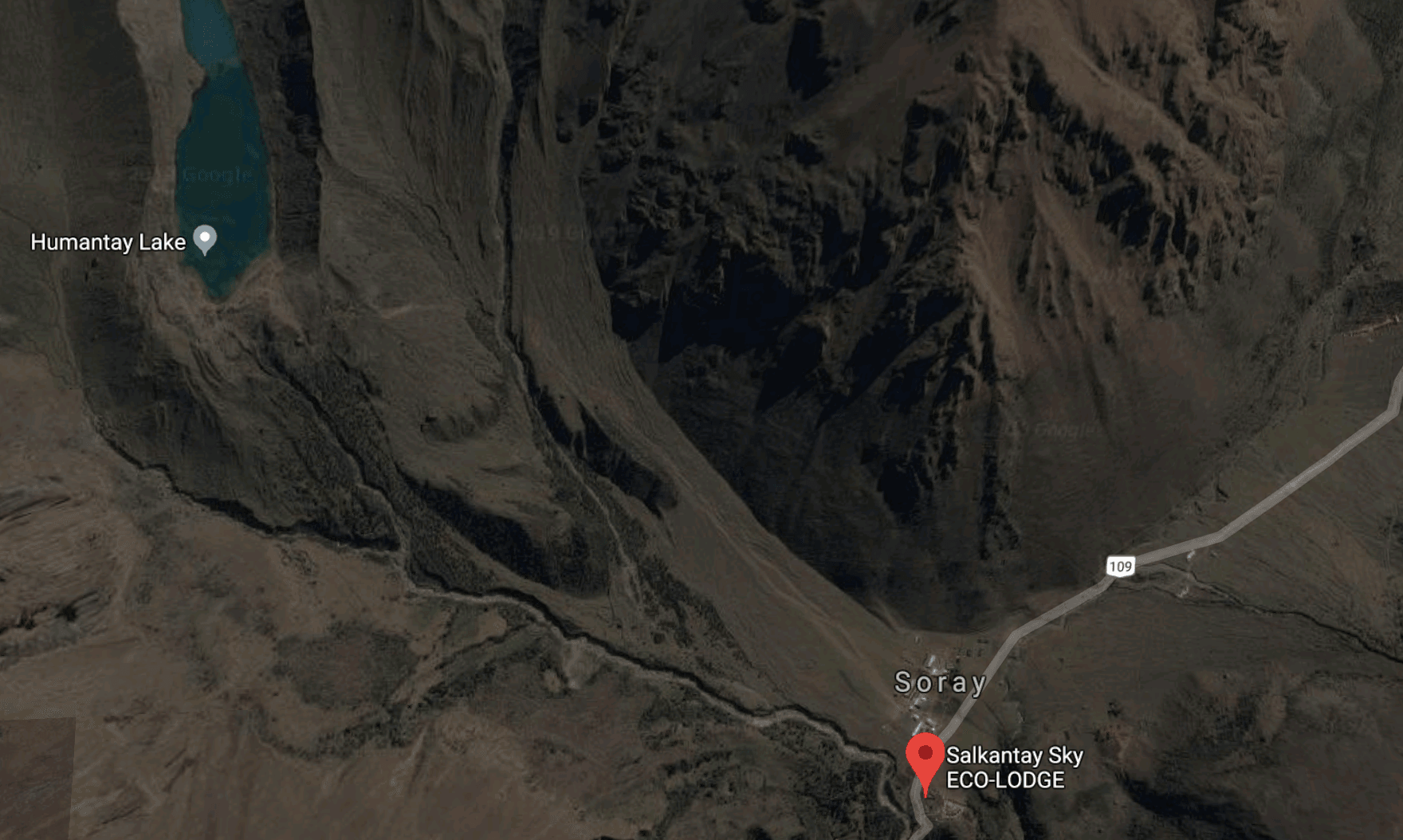 During dinner, a thunder and lightning storm rolled in, which looked even more intense and beautiful up in these skies. Unfortunately, lightning is not a good mix with a high-altitude-headache and trying to sleep under glass ceilings. I stilled loved the idea of the domes though, and made Zach go out in the rain and take a picture of them all as a memento. Unfortunately the picture didn't turn out great, but I am posting it here to reward his efforts LOL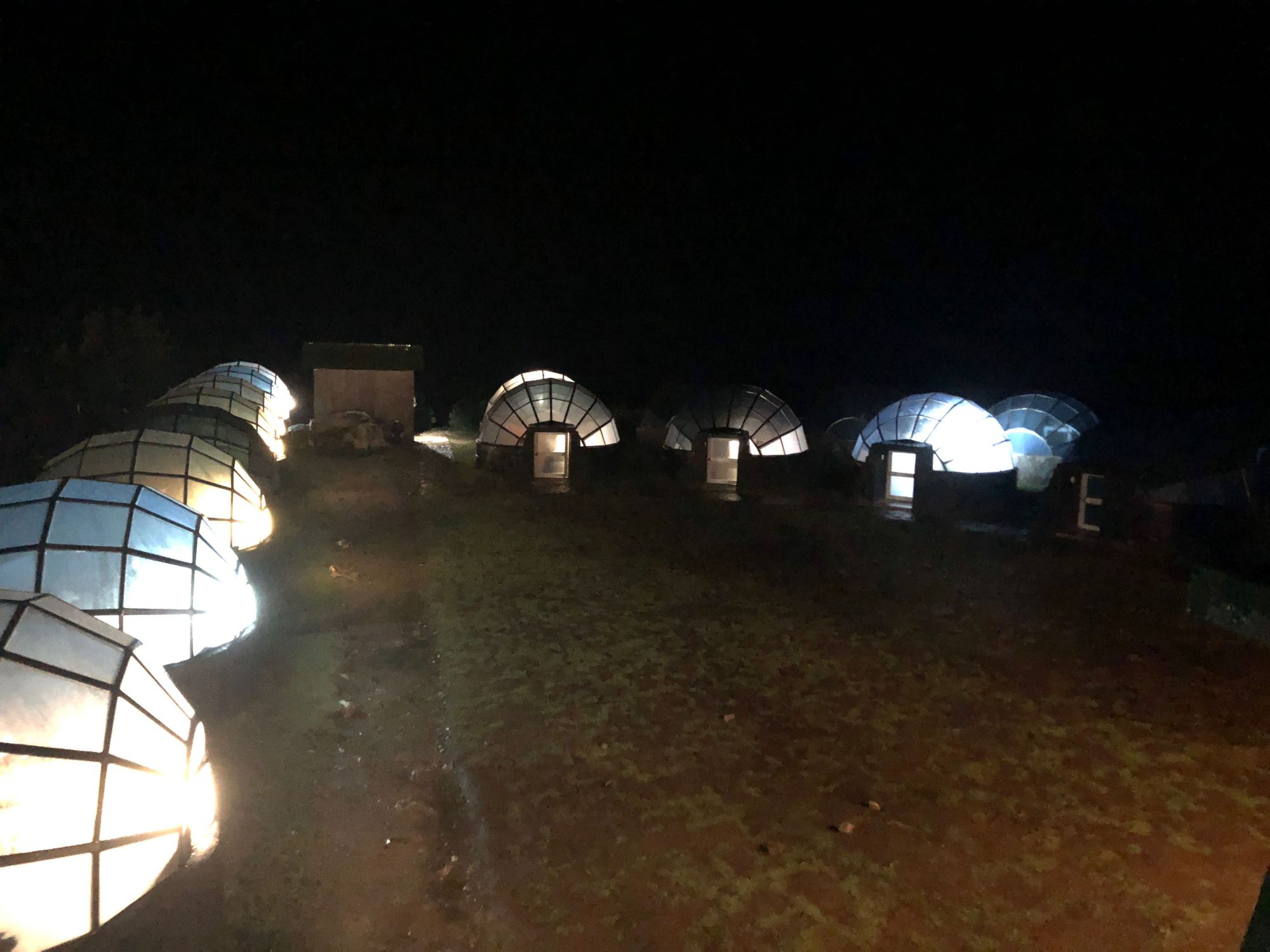 Day 6: "The Seven Snakes" and the Clouded Forest
Salkantay Trek: Day 2
Climb Elevation: 15,213 ft (4,638 meters or 2.9 miles)
Sleep Elevation: 9,414 ft (2,870 meters or 1.8 miles)
Good Morning, Peru! Goodbye Sky Domes!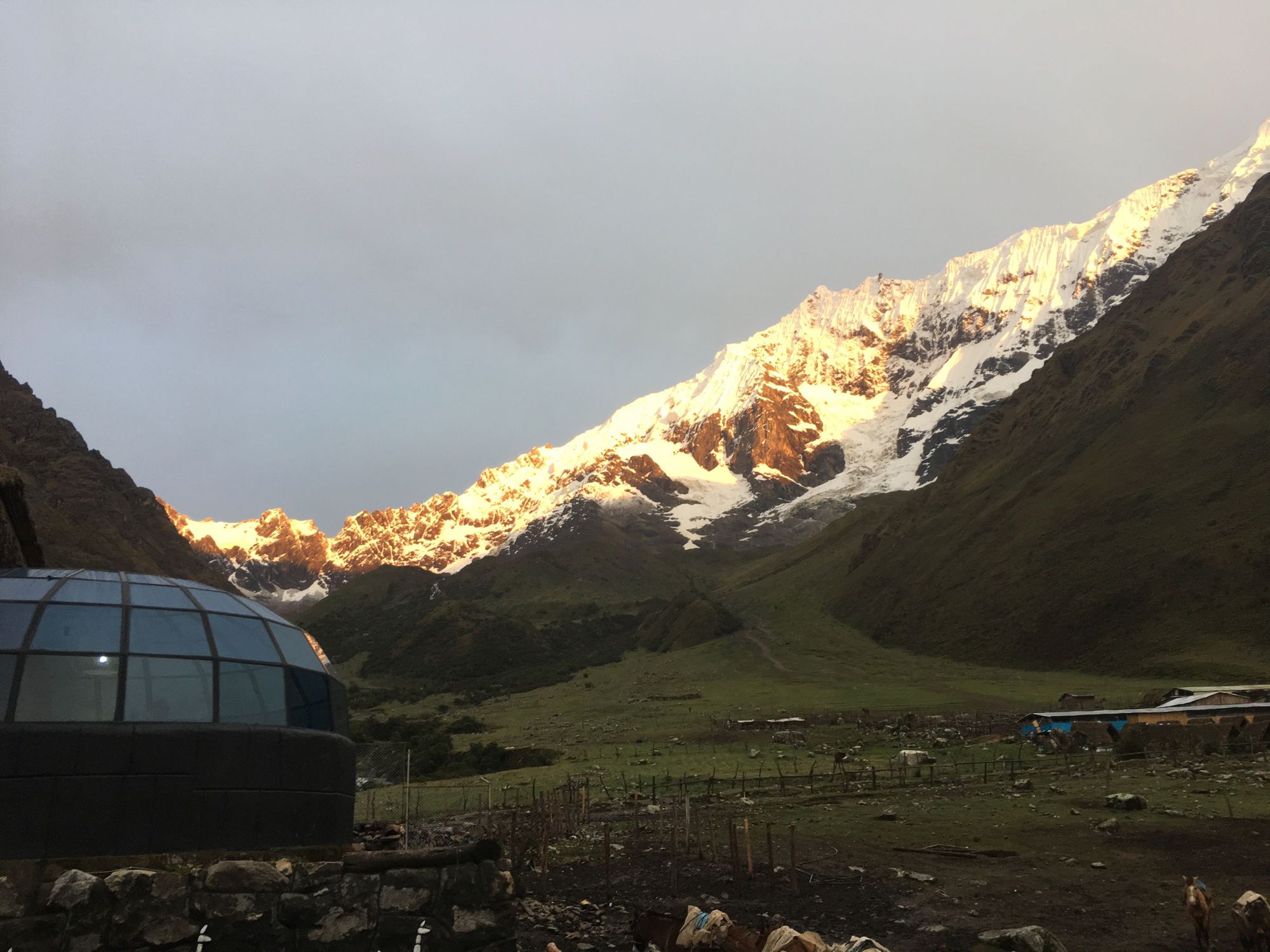 Today was allegedly the longest day. 🐍🐍🐍🐍🐍🐍🐍
One guy in our group, Ariel, got altitude sickness over night, even though he's hiked at this altitude a lot before without any problem. Just shows that it hits when it hits. But he powered through it with no horse nor complaints, what a trooper.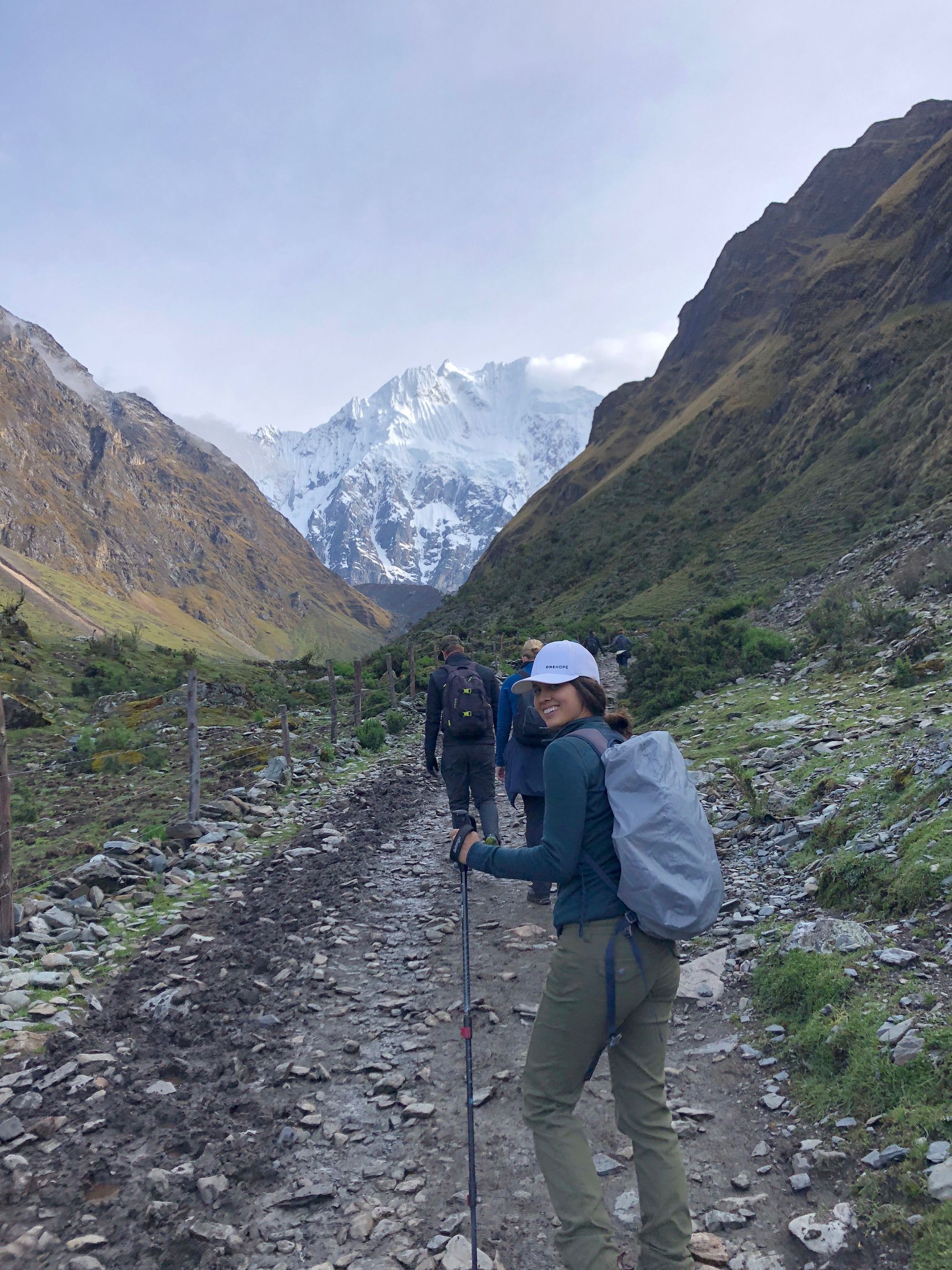 We gathered at the base of the 7 snakes, getting ready for the grueling way up. It's called the 7 snakes because the path of switchbacks snakes around 7 times (so basically 14 legs)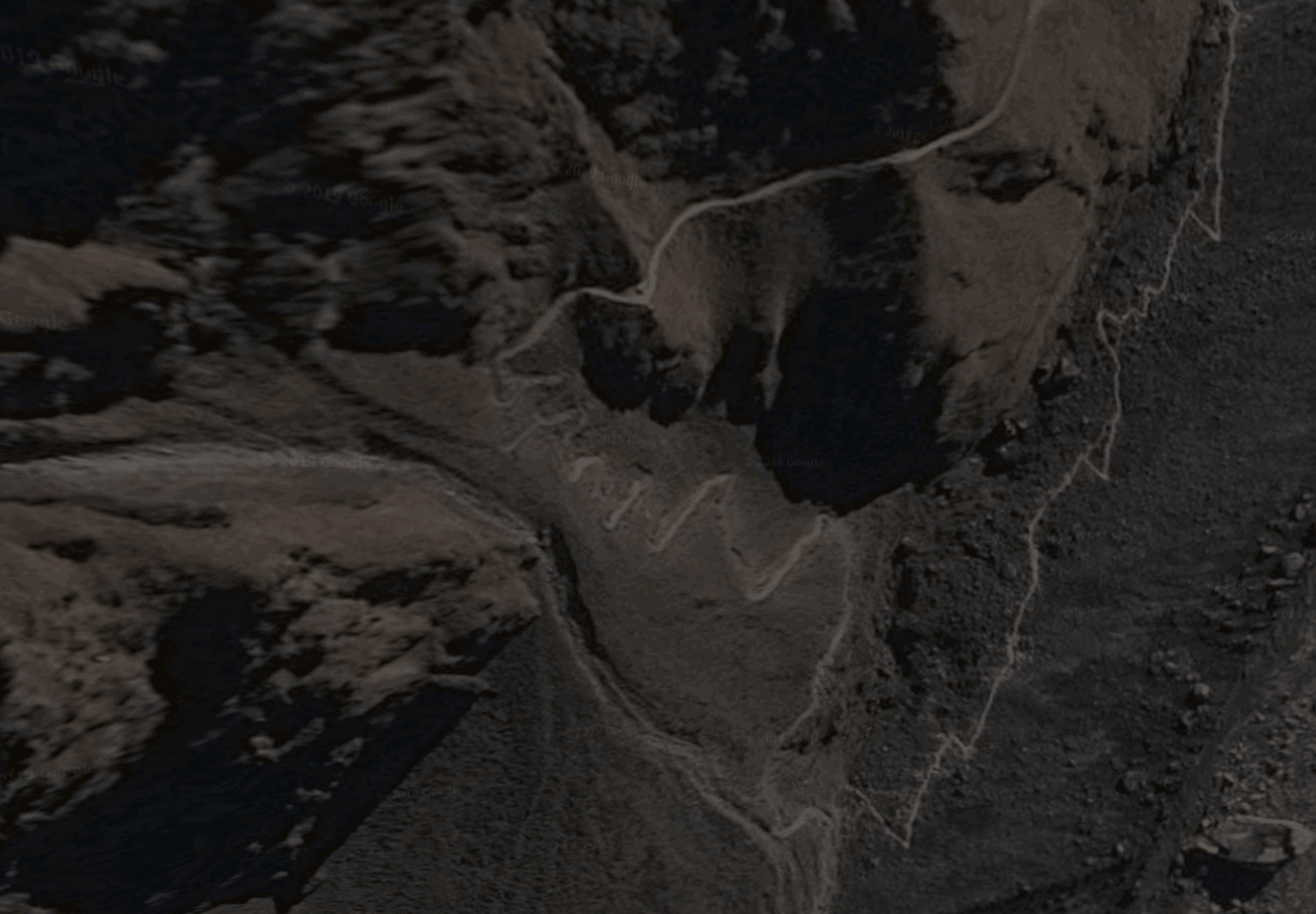 As we rose, the unreal landscape kept getting better... Look at this unedited scenery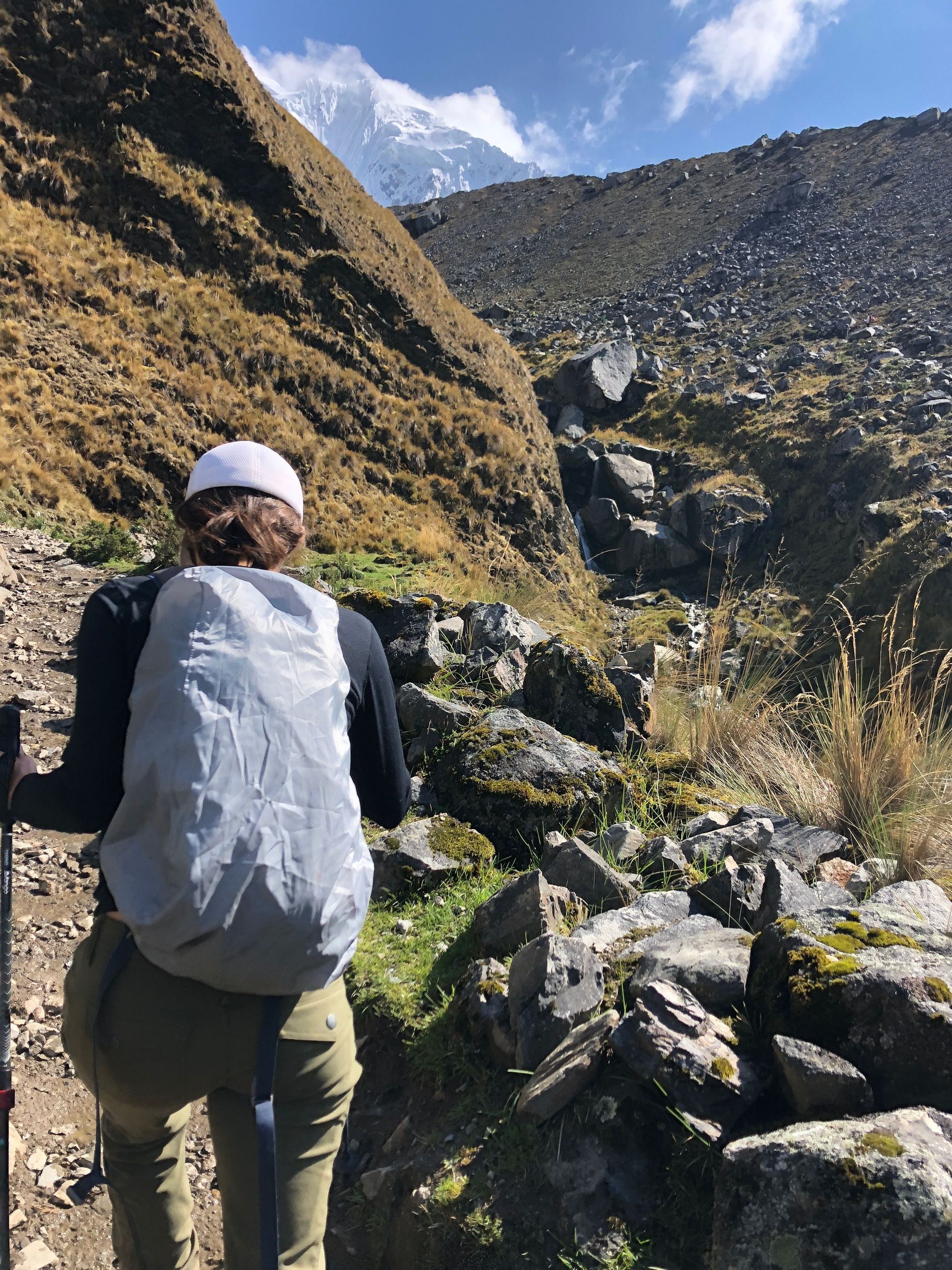 Putting all the group photos in here because it's so pretty!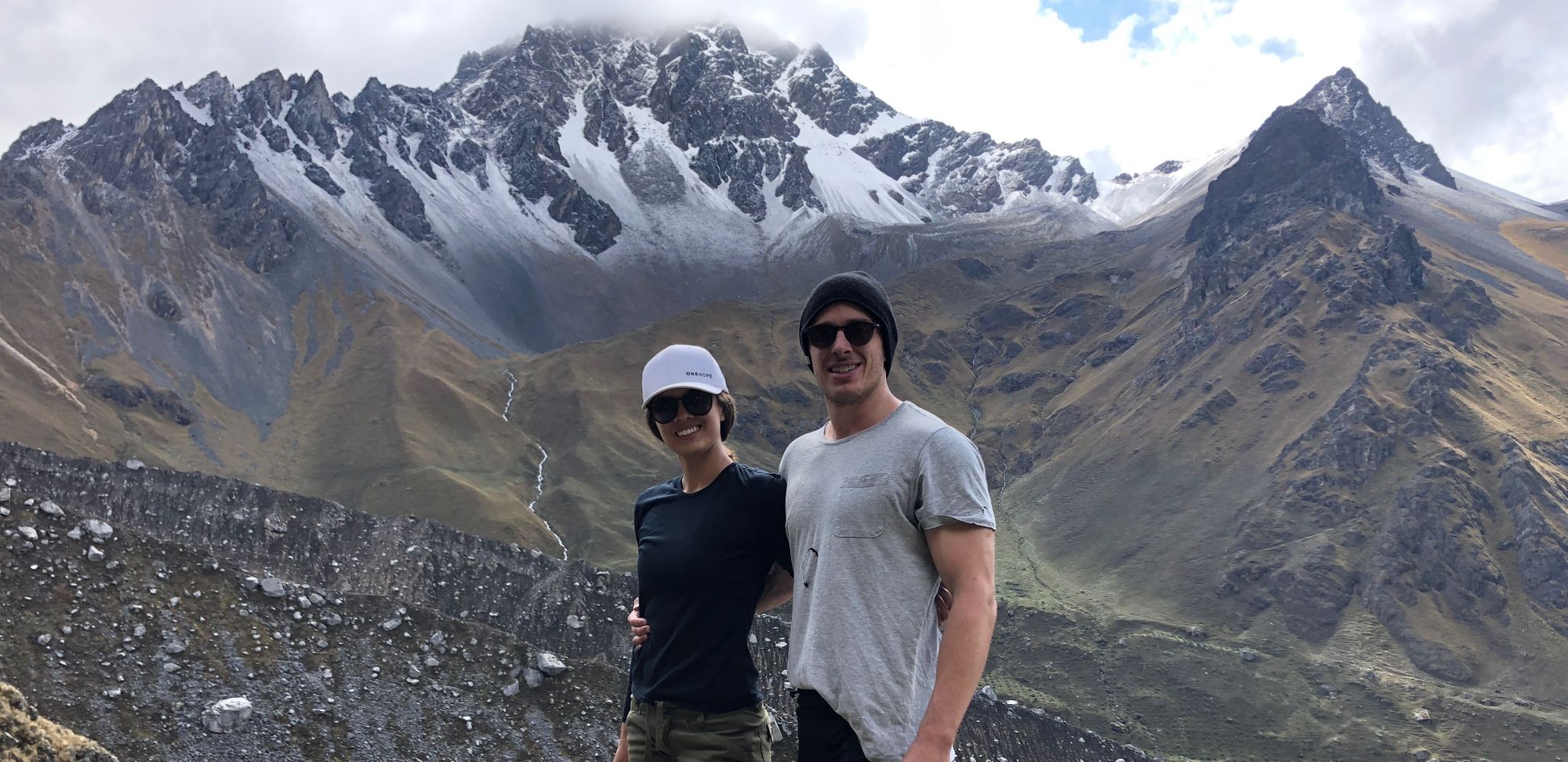 Note that all the action shots are of me because Zach had enough energy to run around and take photos. I could barely do 2 things at the same time (as in, breathe while taking a step). Honestly, I don't even think it's right to call them "action" shots 😂 Sorry that there are none of you, Z! You deserved them and an MVP star hiker award. 🏅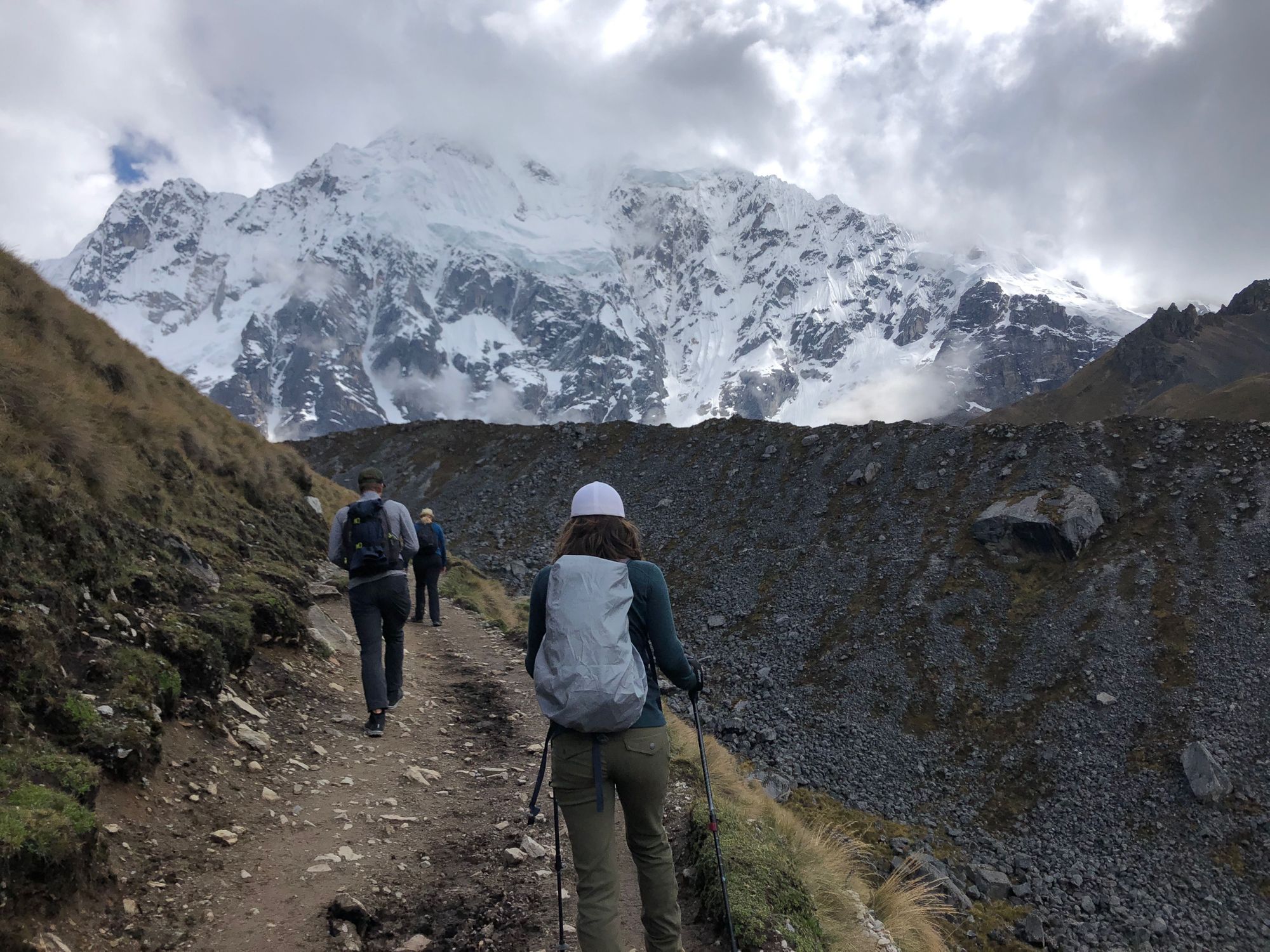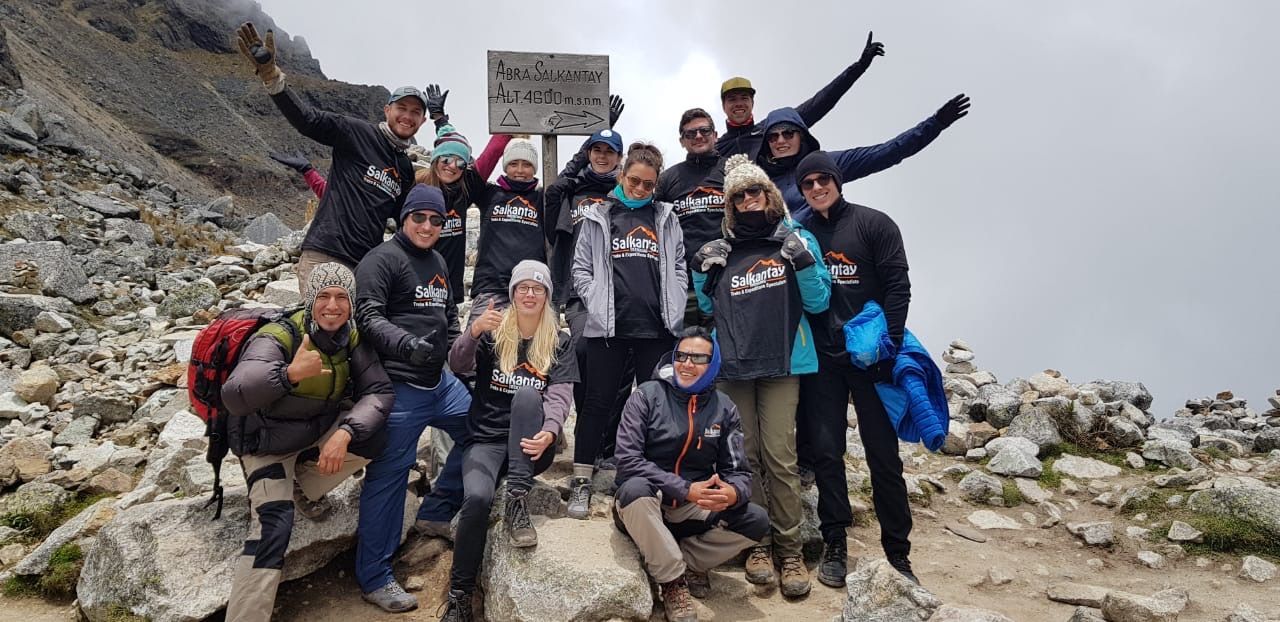 What made this day extra long, was that after finally getting to the peak, we went downhill into the Clouded Forest for, hmmm, basically FOREVER. And some stretches got us pretty wet - perhaps from the dense fog or the steady sprinkling of rain. We thought we had finally reached our lodging, but no it was just a halfway point for us to get food. I mean, at least it was downhill though, so I guess no complaints?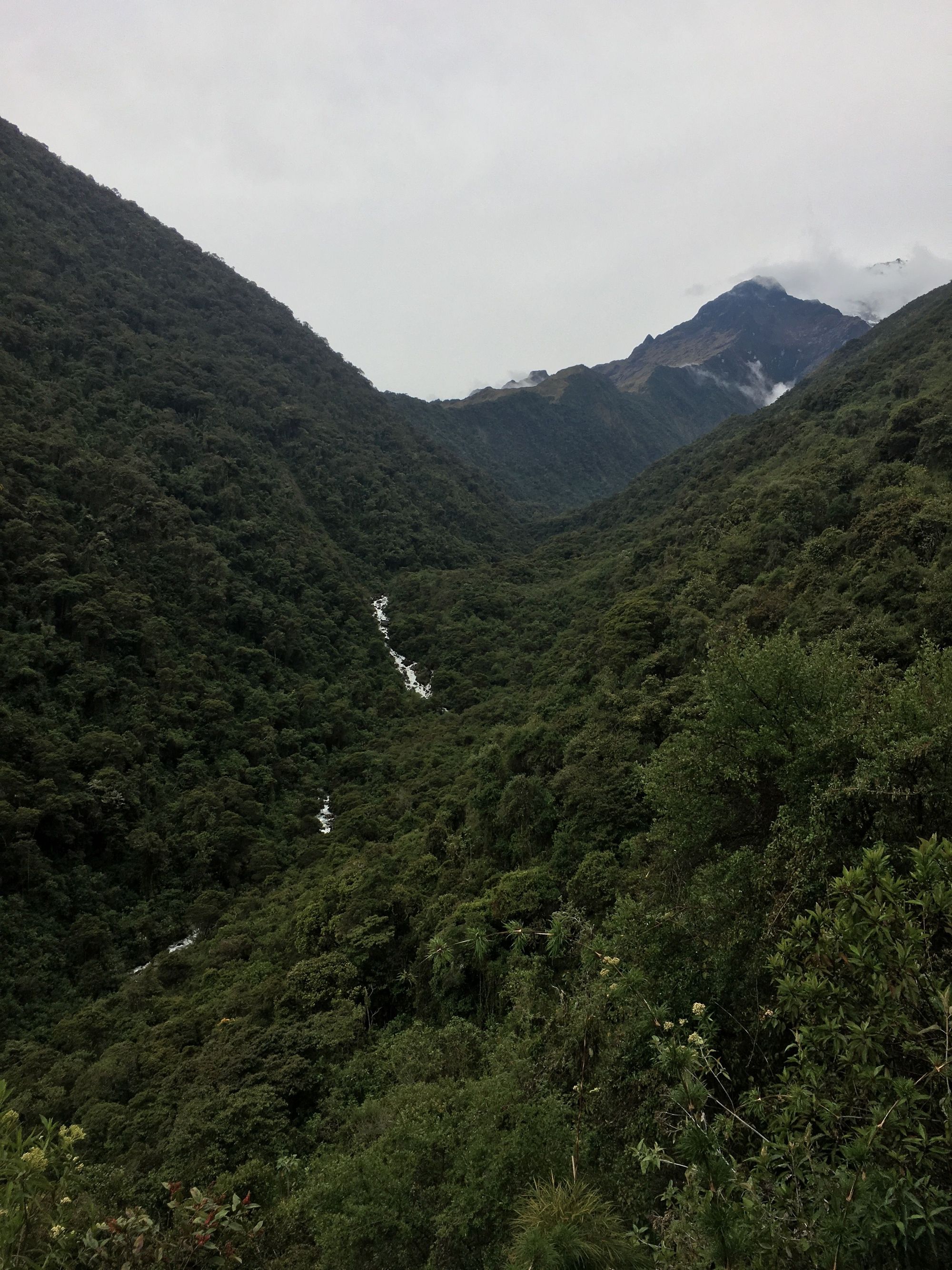 When we finally got to our Andean huts, we were completely exhausted. The map below shows 1) our path from the previous day to the Sky Domes (and the offshoot to Humantay Lake), and then 2) our path from the Sky Domes to the Andean Huts which is what we accomplished today 🥾Today was indeed much longer.
Here, there were shower stalls, so we finally got to wash off after a couple long days of hiking. But depending on which shower or which toilet stall you choice, you were in for some real surprises...
Whereas at the Sky Domes it was high enough altitude and cold/dry that there were basically zero bugs, this place was literally CRAWLING with that sort of wildlife.
Our first assignment was to go in our huts and make sure there were no creatures in our beds – and were instructed not to leave the doors open to let anything else in. I'm pretty sure we decided to leave the slugs above our beds while we slept this night (maybe they would protect us overnight? Or maybe we were just too tired to do anything about them?).
As for the showers and toilets, there were all kinds of varieties of HUGE bugs. Moths, spiders, other crawly things almost coated the walls. I have never tried to finish doing my business so fast before...it was like being in your most vulnerable state, trying to race before the bugs would realize you were there and take you on.
When I was in our hut that night, I heard all kinds of screaming from a couple of the other girls in our group. Apparently Zach helped them battle these giant moths and spiders and came out a hero lol. 🏆
Day 7: Coffee Making and Aguas Calientes
Salkantay Trek: Day 3
Climb Elevation: 9,414ft (2,870 meters or 1.8 miles)
Sleep Elevation: 6,232ft (1,900 meters or 1.2 miles)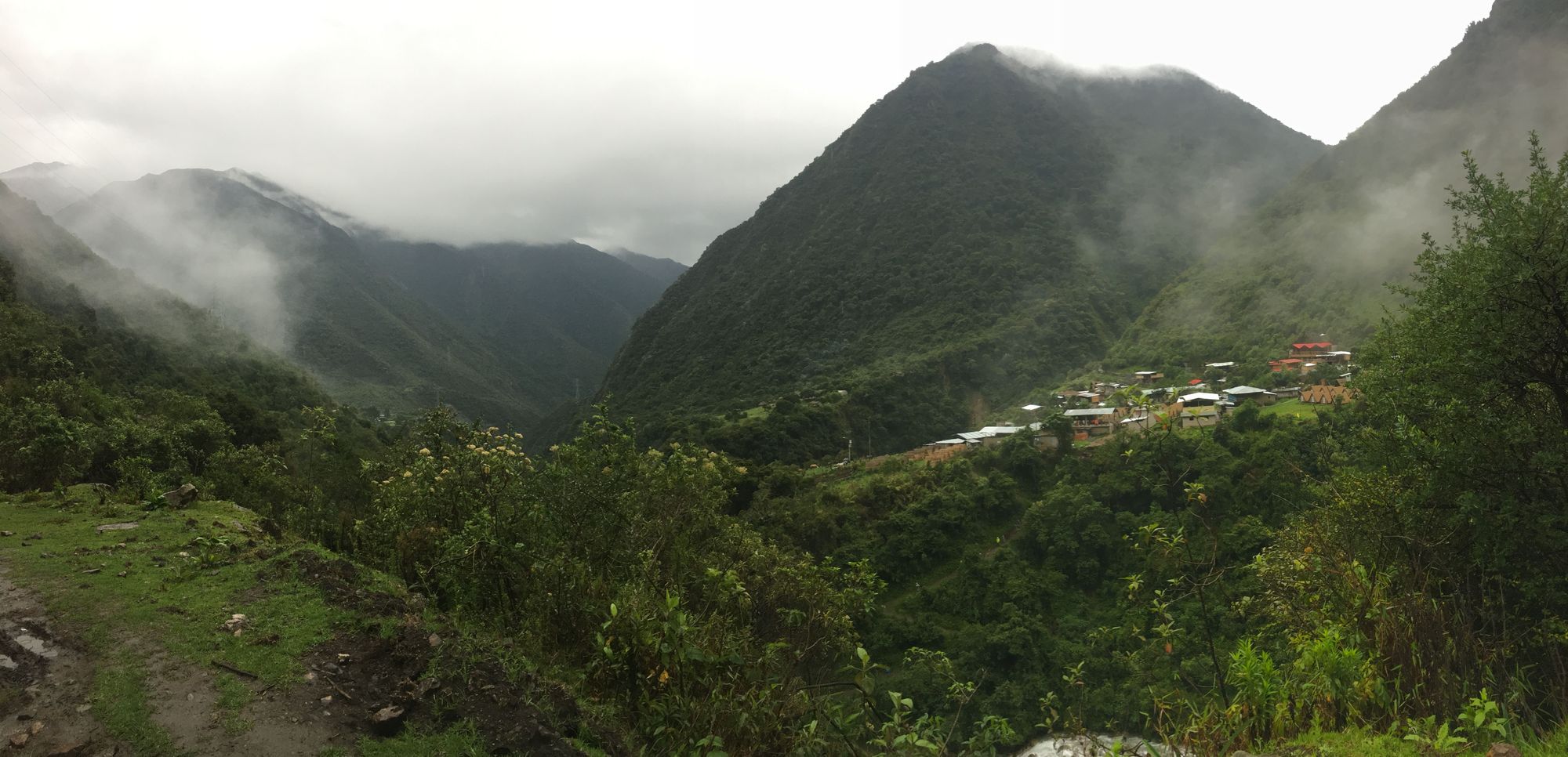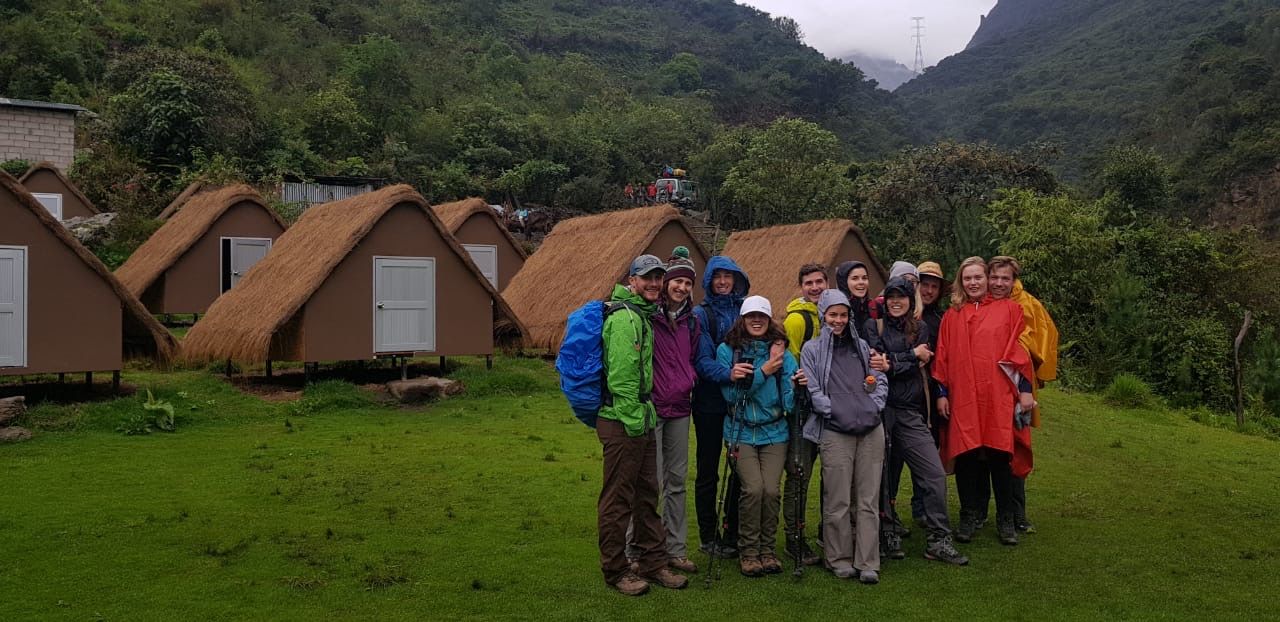 This leisurely hike started with some educational stops to talk about the plants. One such stop was about how individuals of some tribe would go get judged on how "attractive" they were – in men "power" was considered attractive, and in women it was "fertility". They used strange methods to determine their ranking, and then the resulting assessment would get painted on their face. Using berries, Zach is painted with the "power" lines, and I with the "fertility" dots.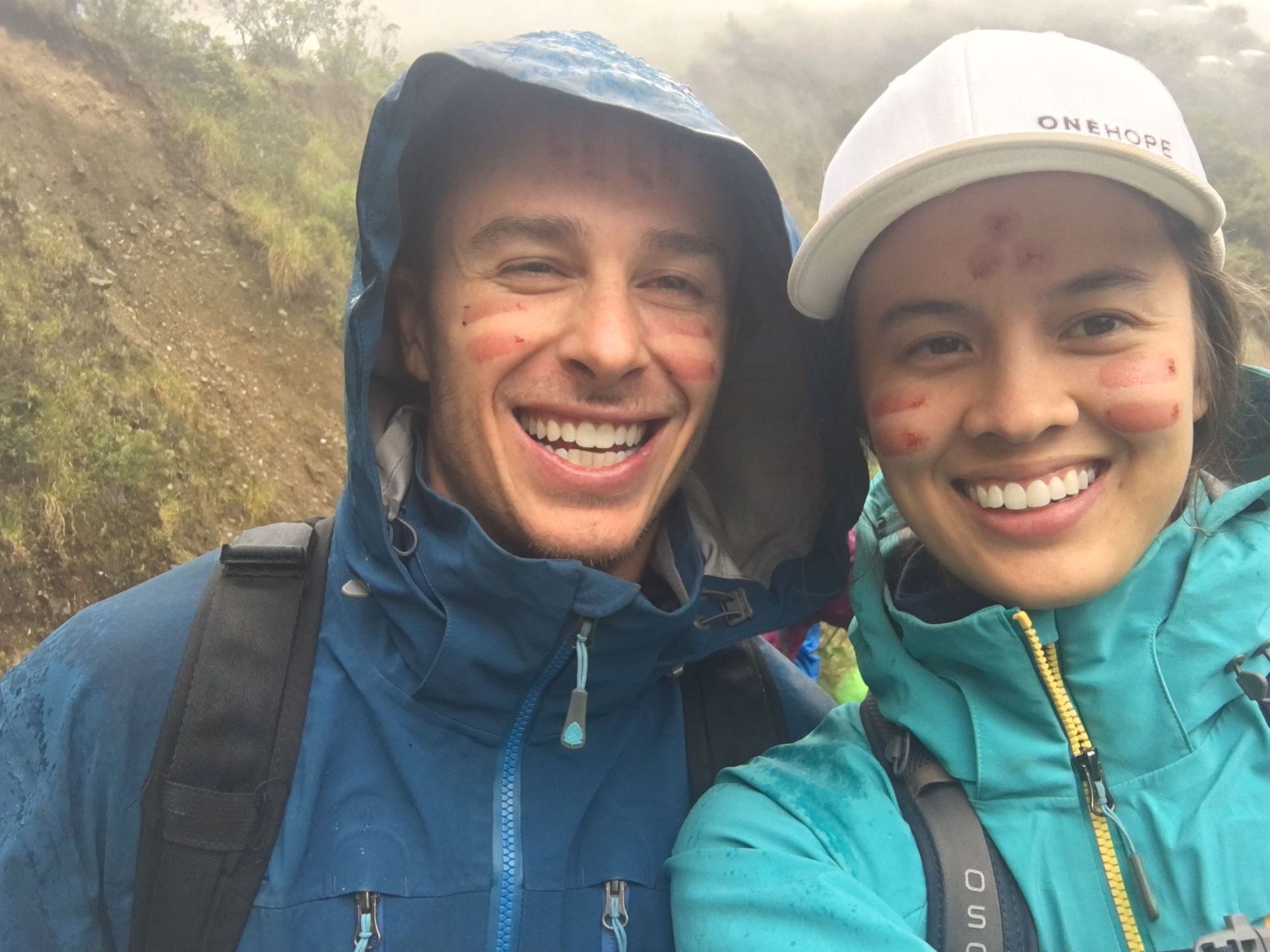 This hike would turn out to be a very rainy and wet day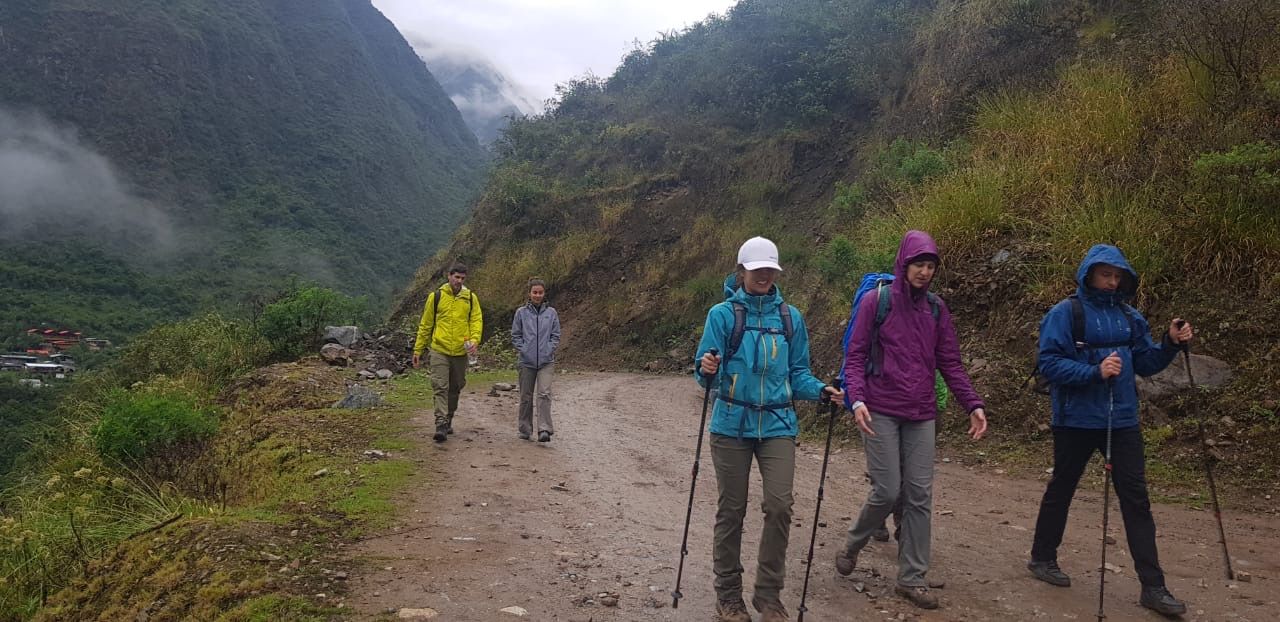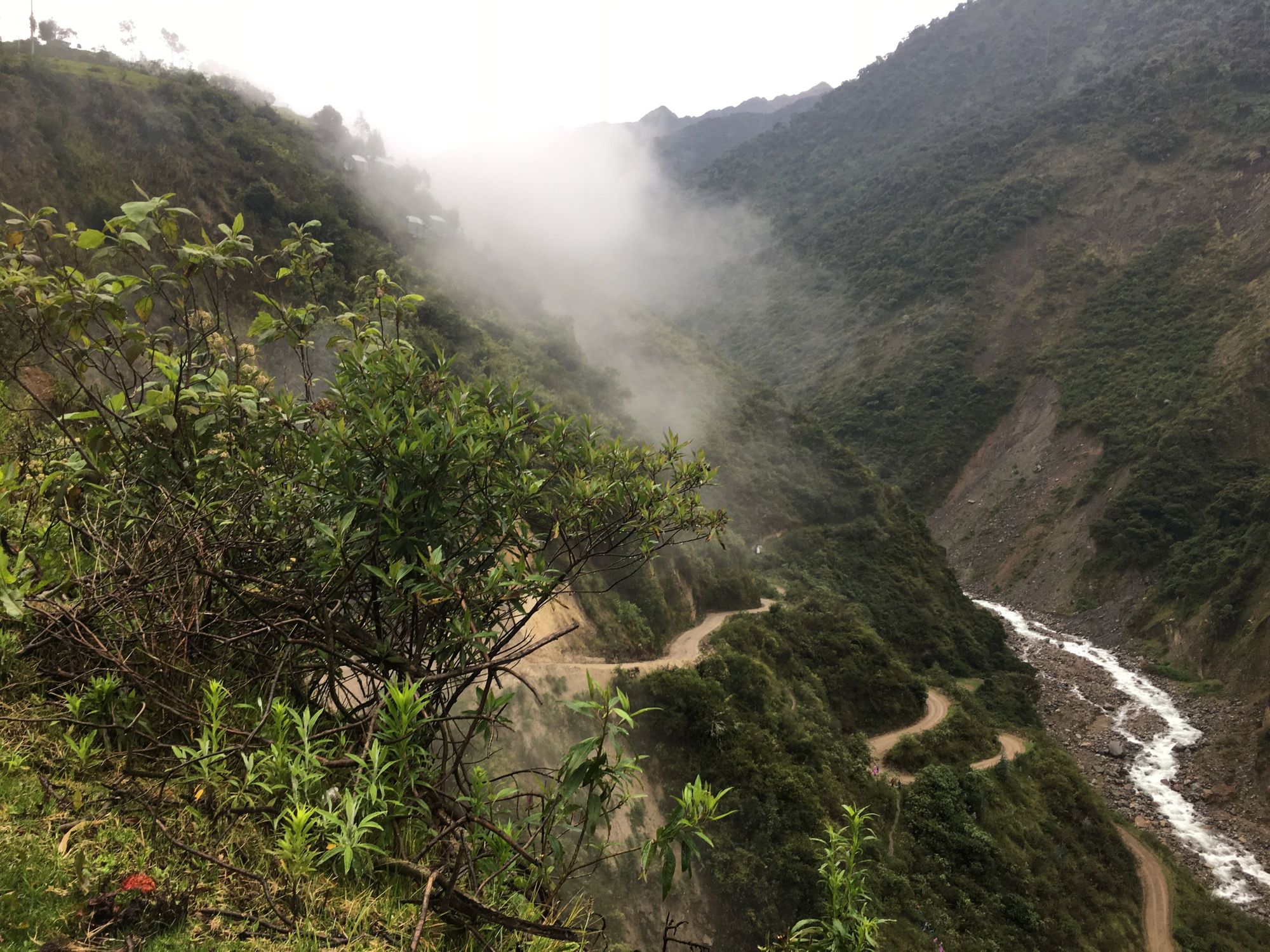 When we were soaked all the way through, we got to stop in a gazebo shelter to have some delicious avocado toast, and pineapple juice in cups shaped like naked bodies.
It turned out we stopped there to wait for Leo to try to find us safe passage across a potential rockslide/mudslide section. Our transportation couldn't safely get to us, so instead the obvious answer was for us to ALL pile into a single truck.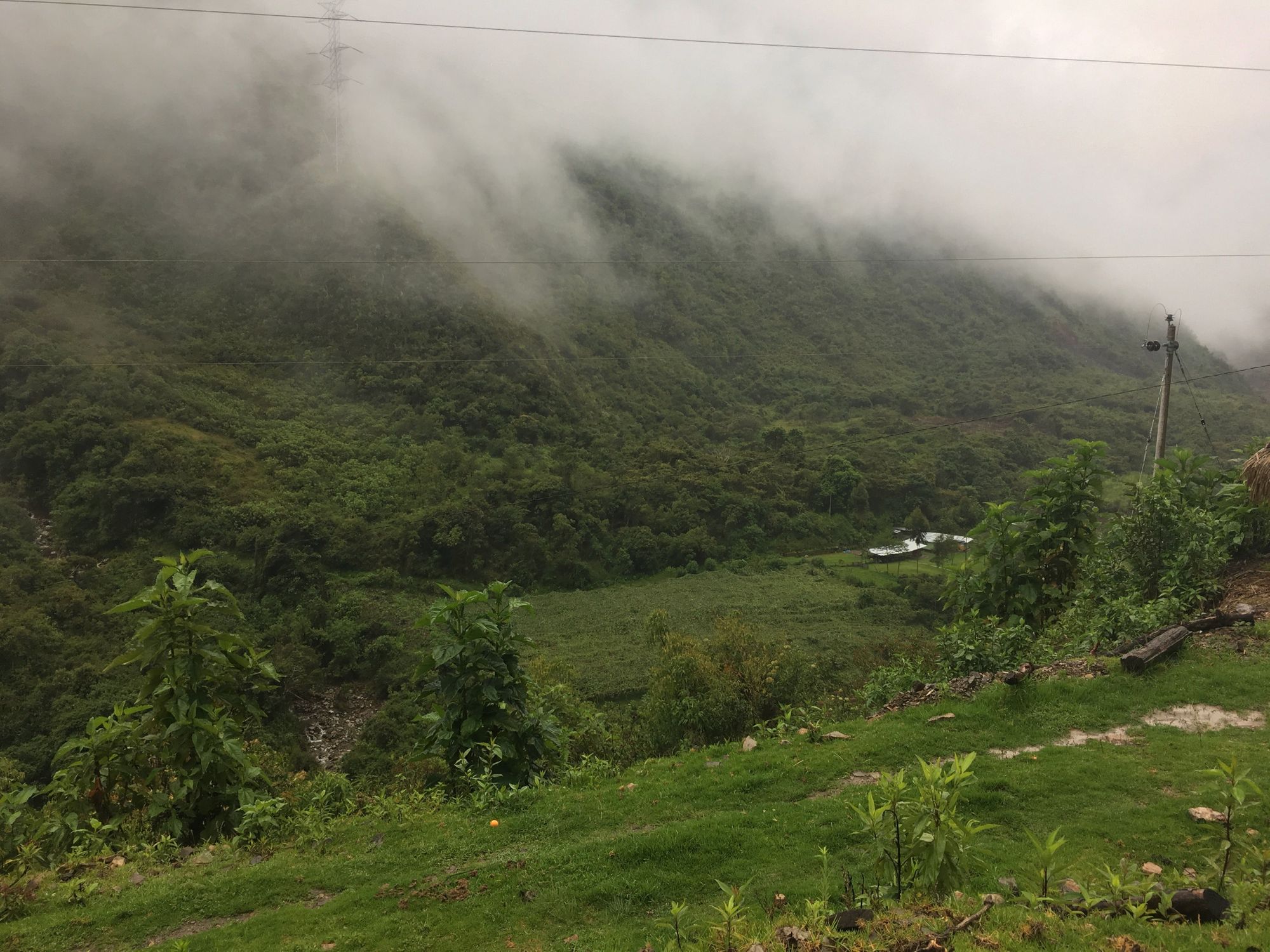 We met our transportation and drove down to the coffee plantation. Here we picked coffee beans, dumped them in some liquid that would remove the shell i think (takes like a day though), then heated the de-shelled beans while stirring to release the aromas or whatever, then ground them, then got to drink the final product: espresso. Though very strong, it was pretty darn good – for a non coffee drinker I think that says a lot.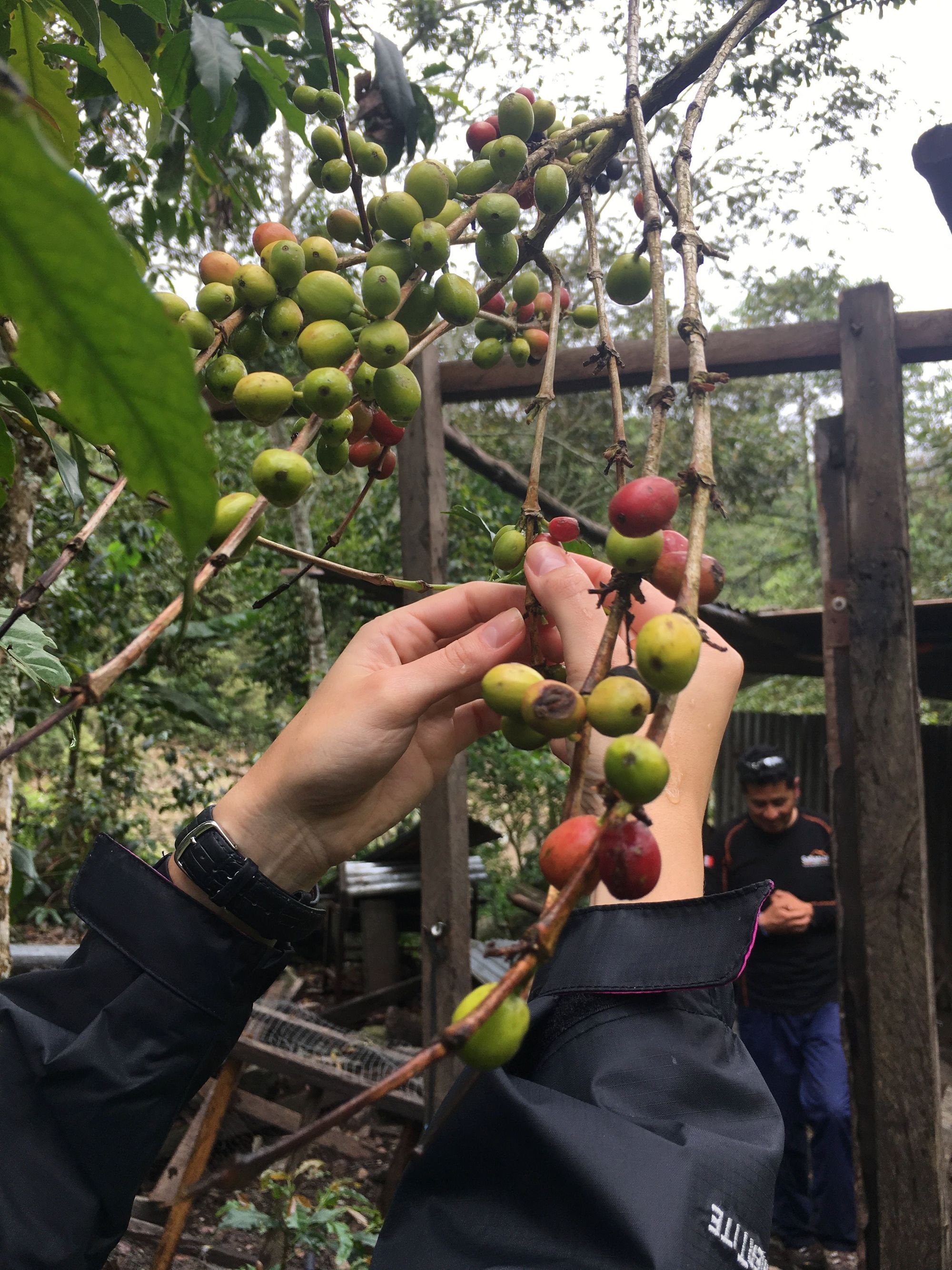 This was our last lunch with our chef, so they made sure to show off and wow us!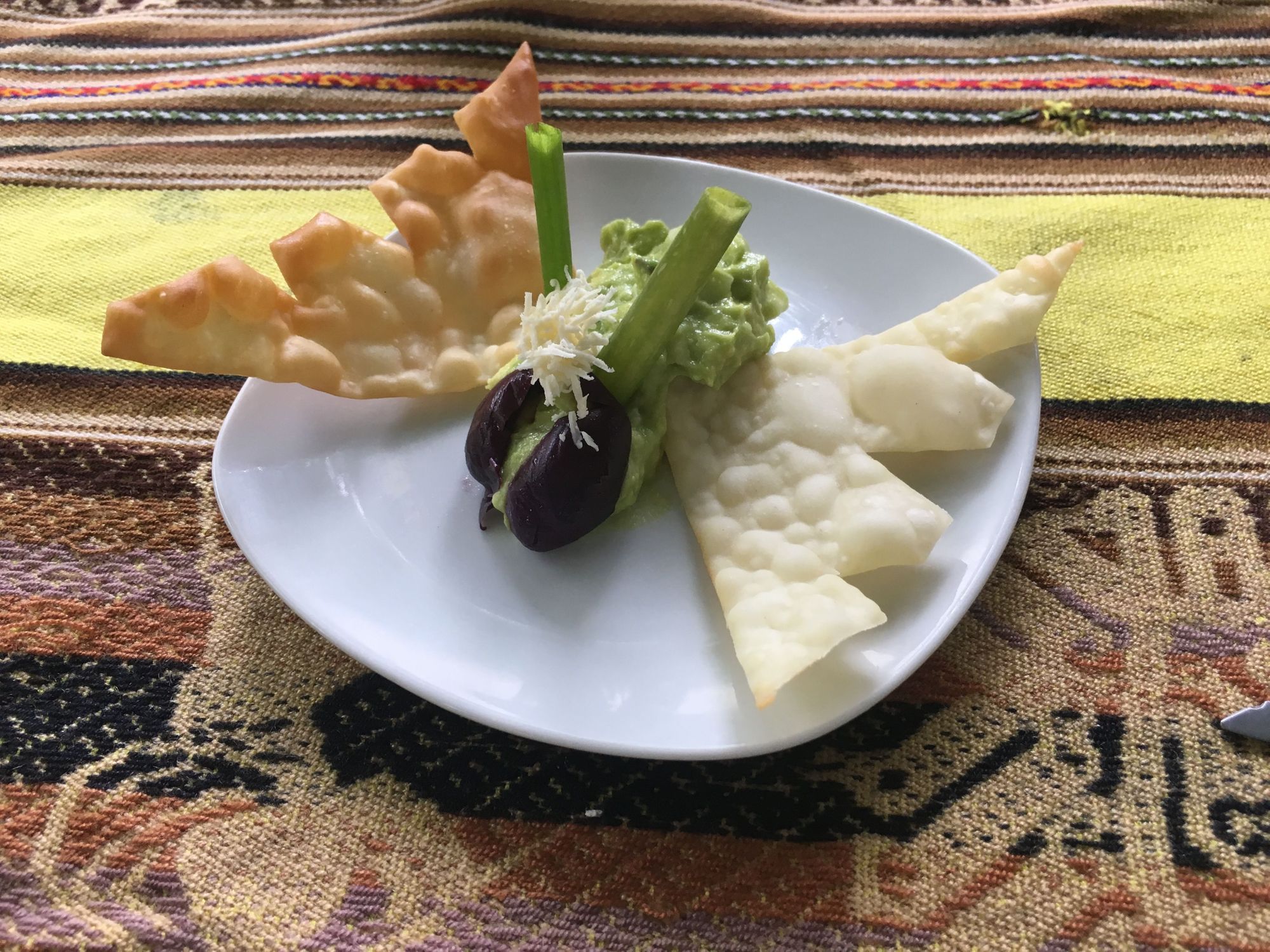 Special seating arrangement 😸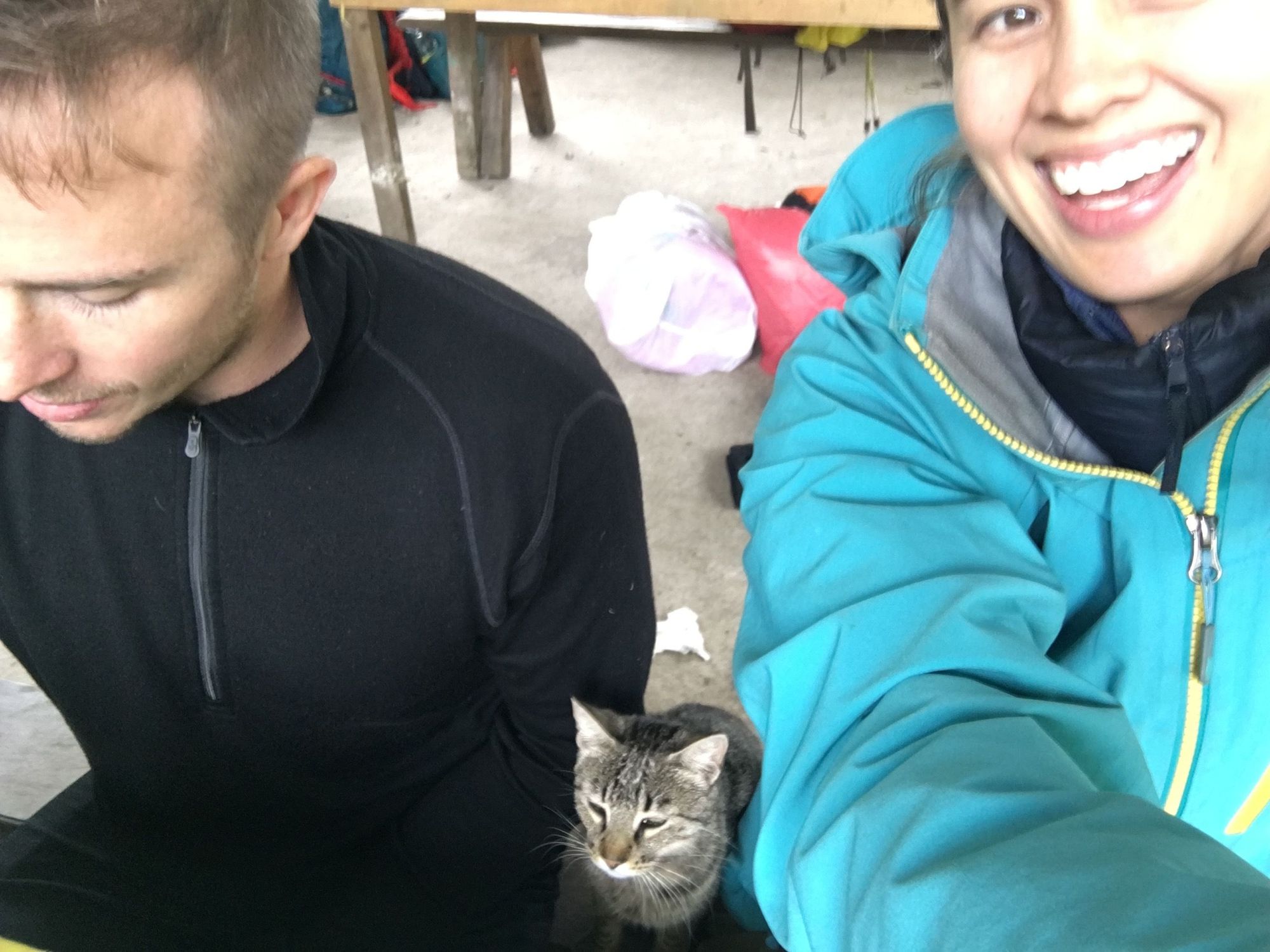 We said thank you and goodbye to our awesome crew of chefs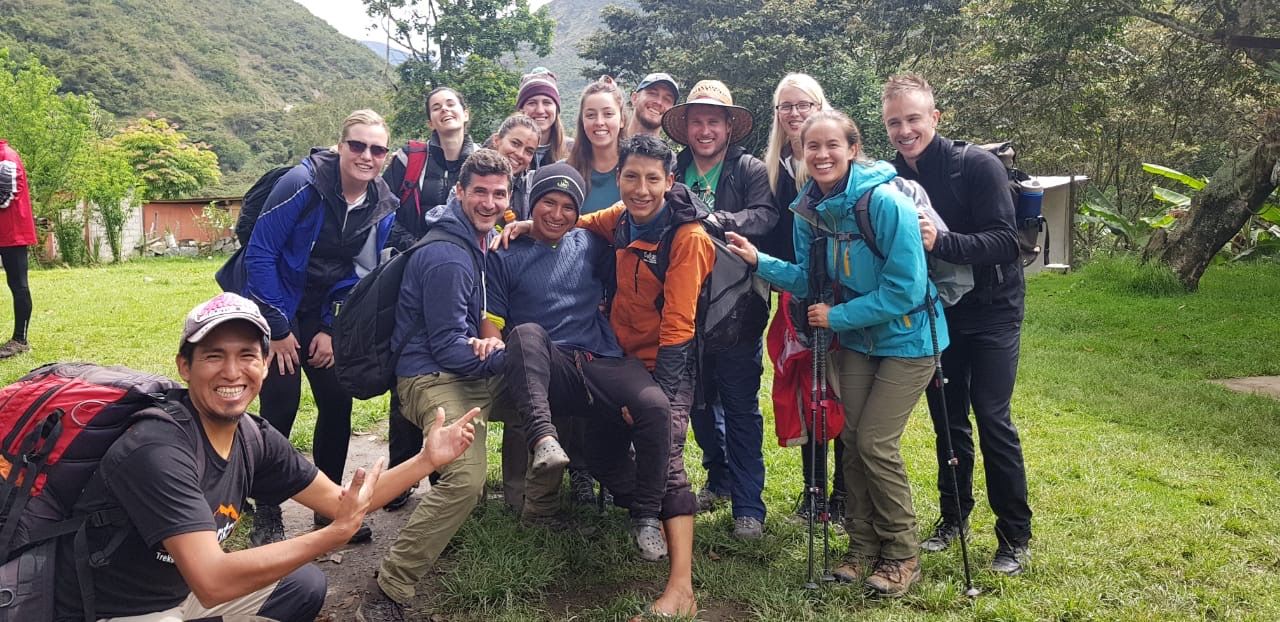 Then boarded a bus which took us to the hydroelectric train tracks that we would walk along side. In this charter bus, there were some precarious bridges we had to cross... and crazy foliage (I wasn't sure we were on an official road at times?).. Again, Zach won't remember that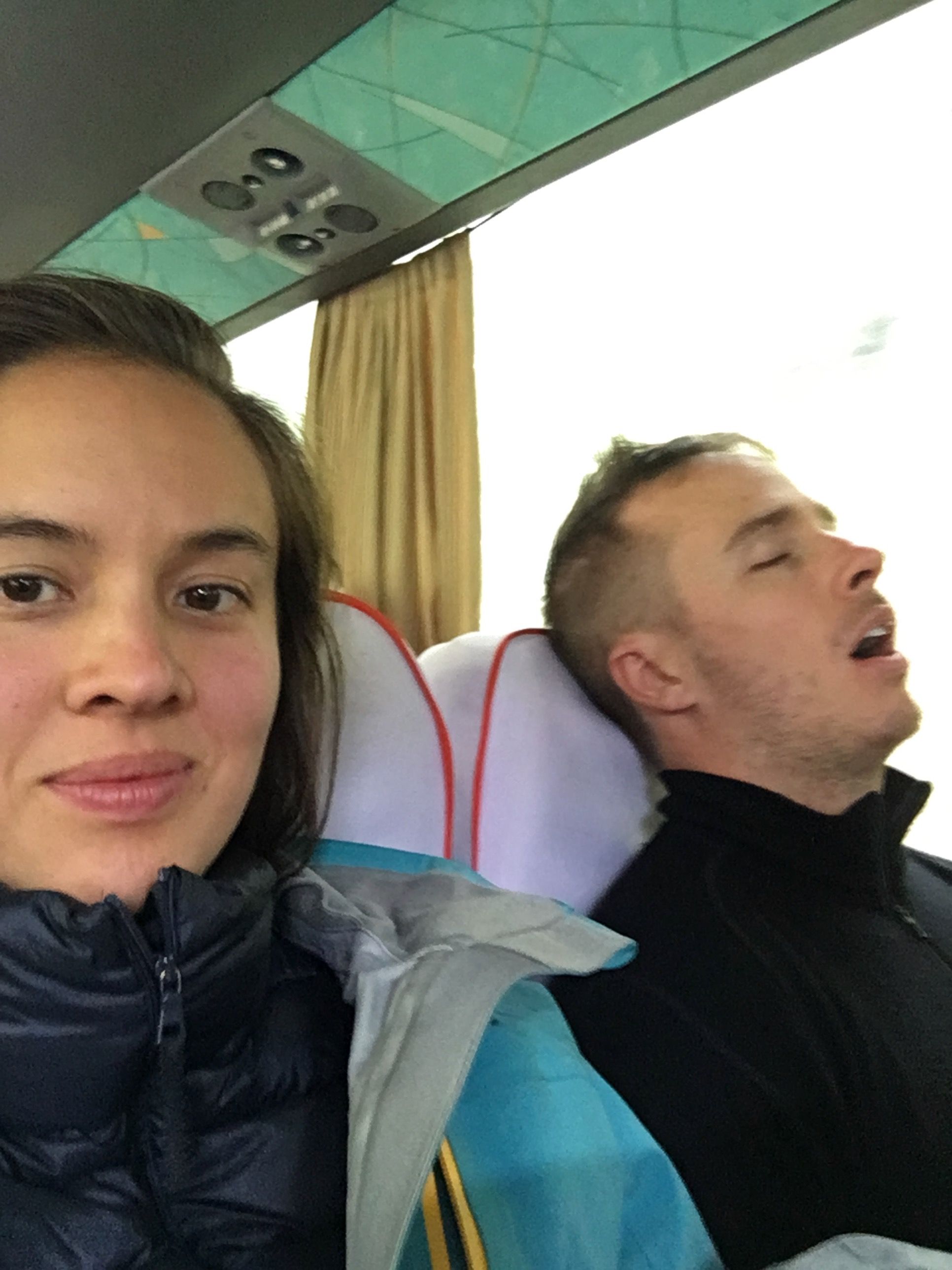 Once we got to the station, we followed the tracks almost all the way to Aguas Calientes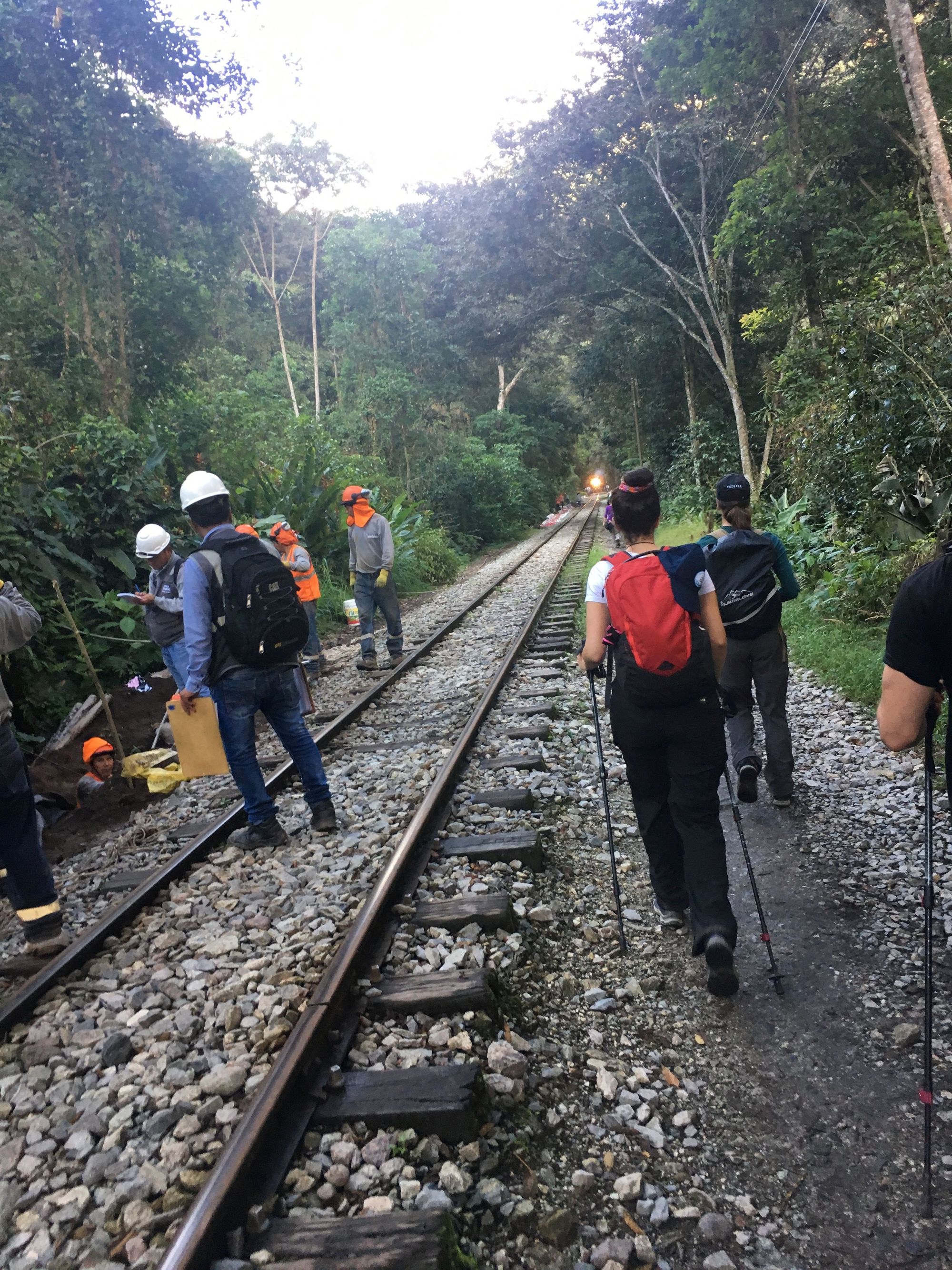 A train came right when some members of our group were crossing which was a little scary. There are just gaps between the wood slats, and they had to run the last bit of the way!
We could tell we were getting close, and could even see some of Machu Picchu up in the mountains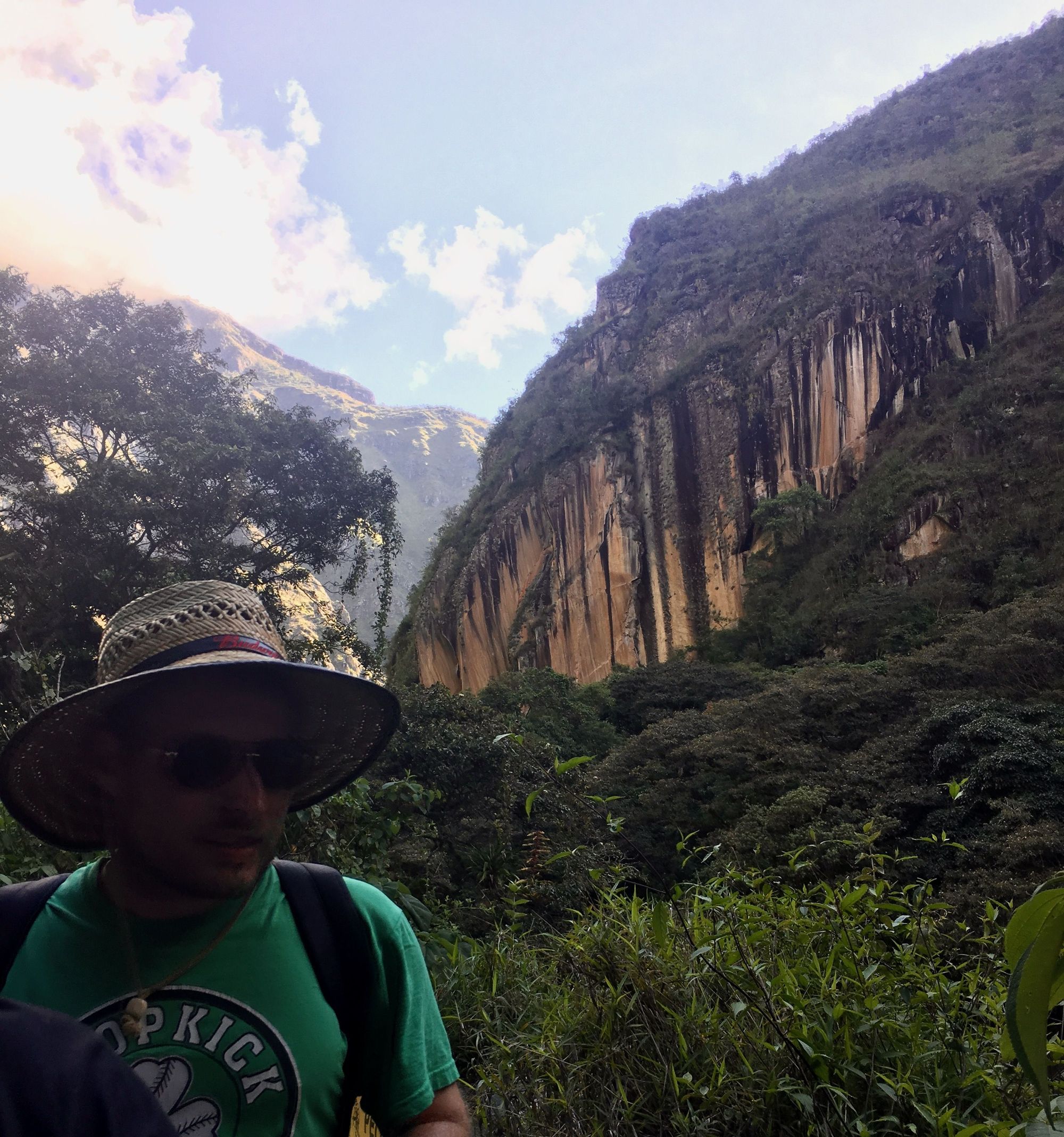 A-ha! now that we're passing the base of the Machu Picchu entrance, we must be 2km away from Aguas Calientes (if that hand-written sign was accurate...)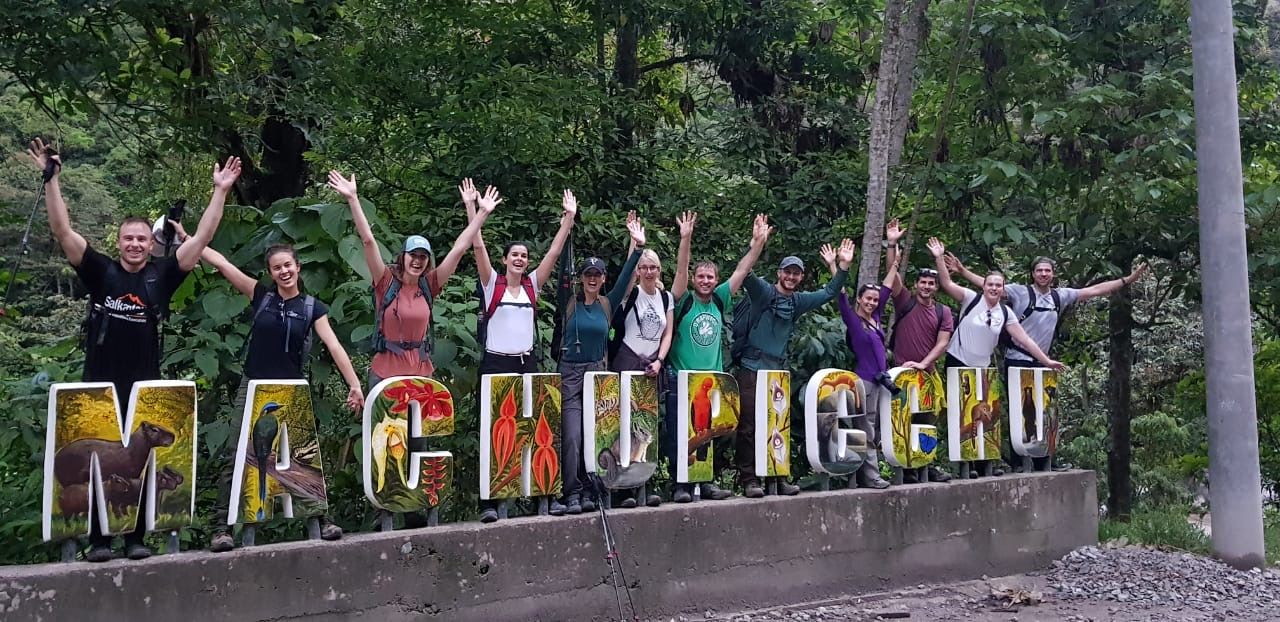 We arrived to Aguas Calientes pretty late at night and had a team dinner.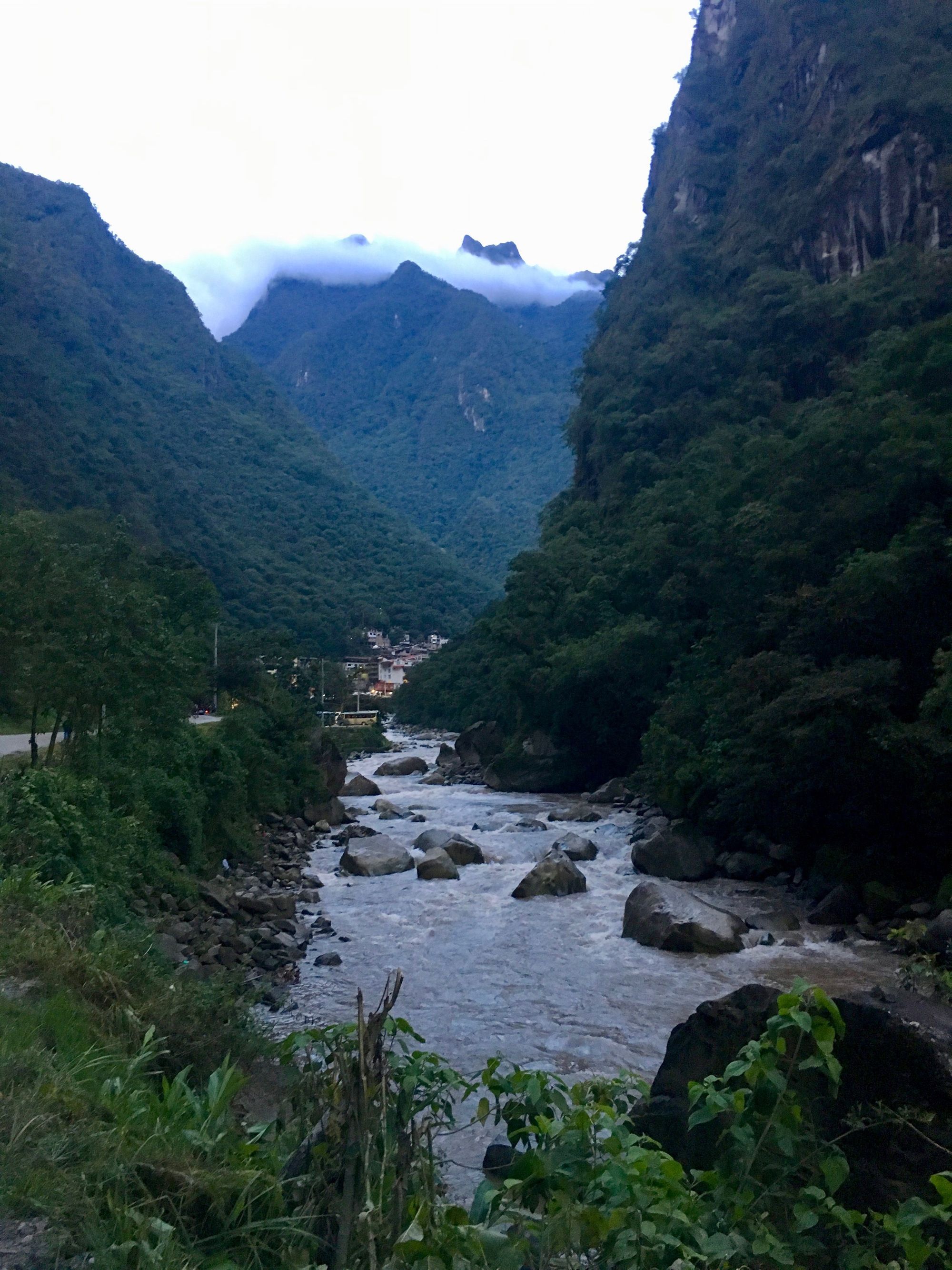 We only wandered the streets briefly after that, to get snacks for the following day (we wouldn't have time for a true meal until we would depart for Cusco), so i bought Pringles. And a renewed Pringles addiction was reborn.
Day 8: Machu Picchu
Salkantay Trek: Day 4
Climb Elevation: 7,872ft (2,400 meters or 1.5 miles)
Sleep Elevation: 11,152ft (3,399 meters or 2.1 miles)
We wanted to be amongst the first to Machu Picchu, so we wanted to catch the first bus departing at 5:30am and arriving at 6am. The lines form super early so our group met up at 4am to get in line at the bus stop, and we made it onto the second bus.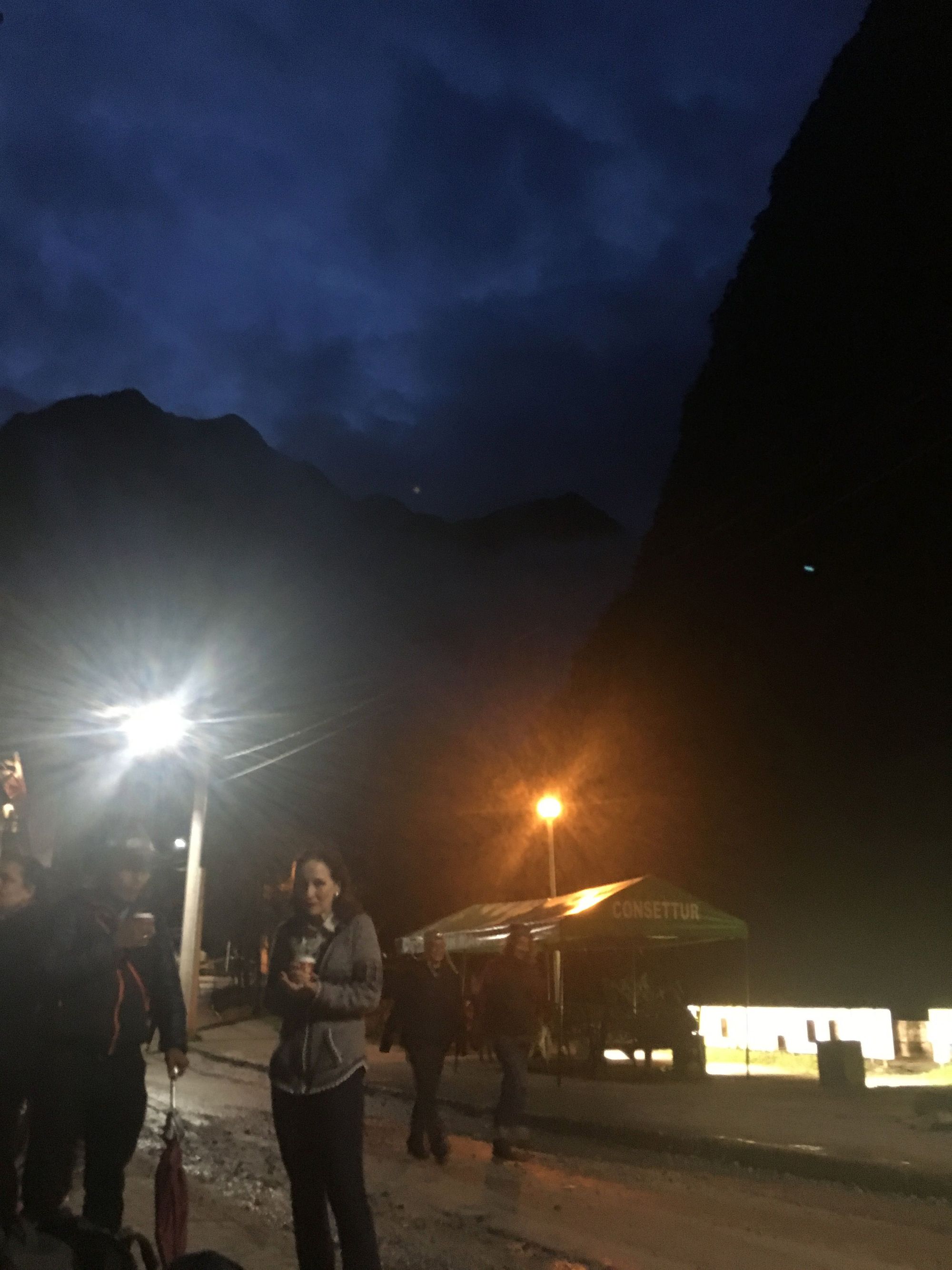 Once in, we crossed the corner and– wow just as breathtaking as when I was first here!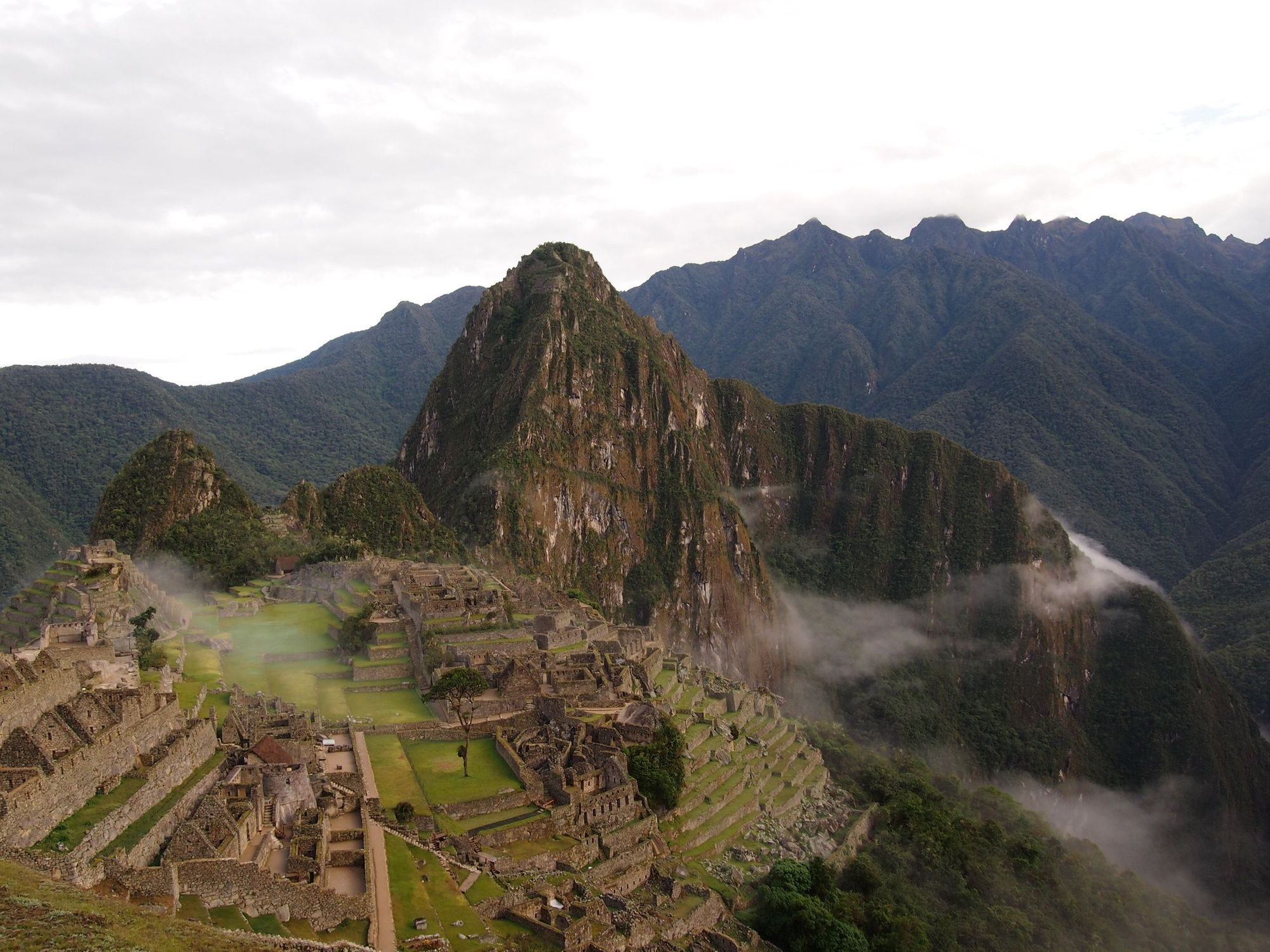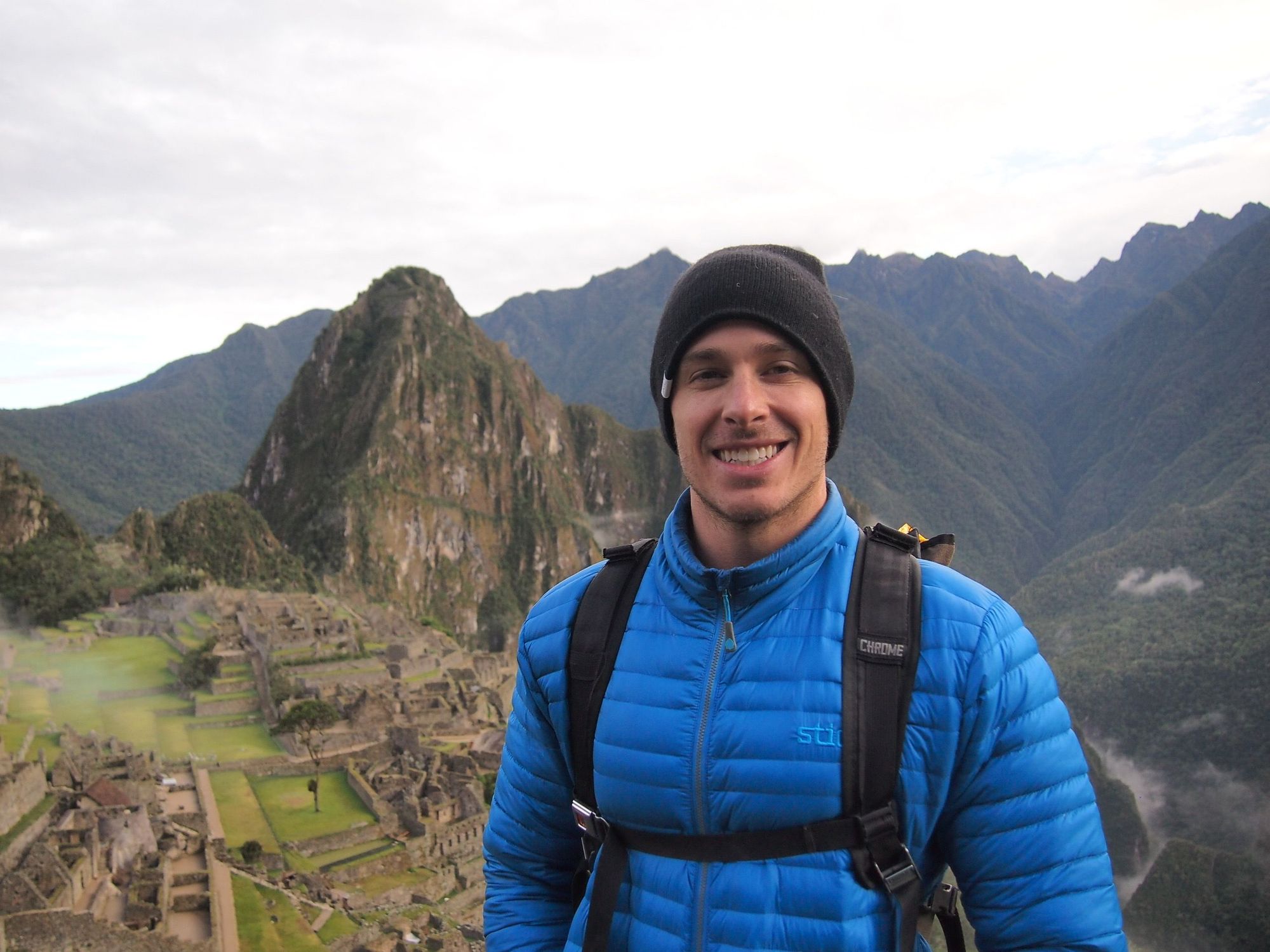 Leo Chasers group pic!
We tried taking a couples-picture together, and in the time it took us to put our backpacks back on, the fog rolled in!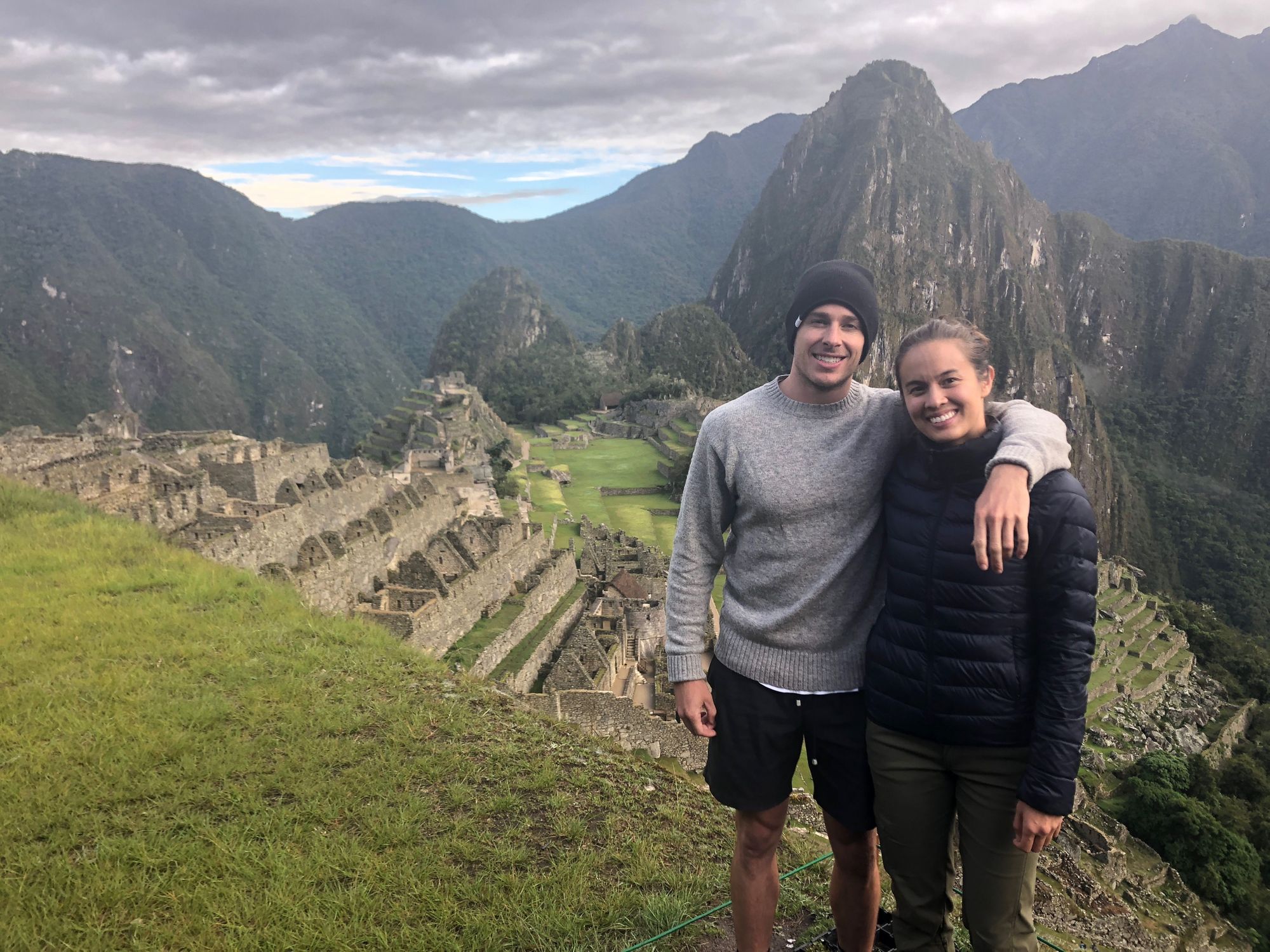 Another angle, now you can see people already touring the ruins.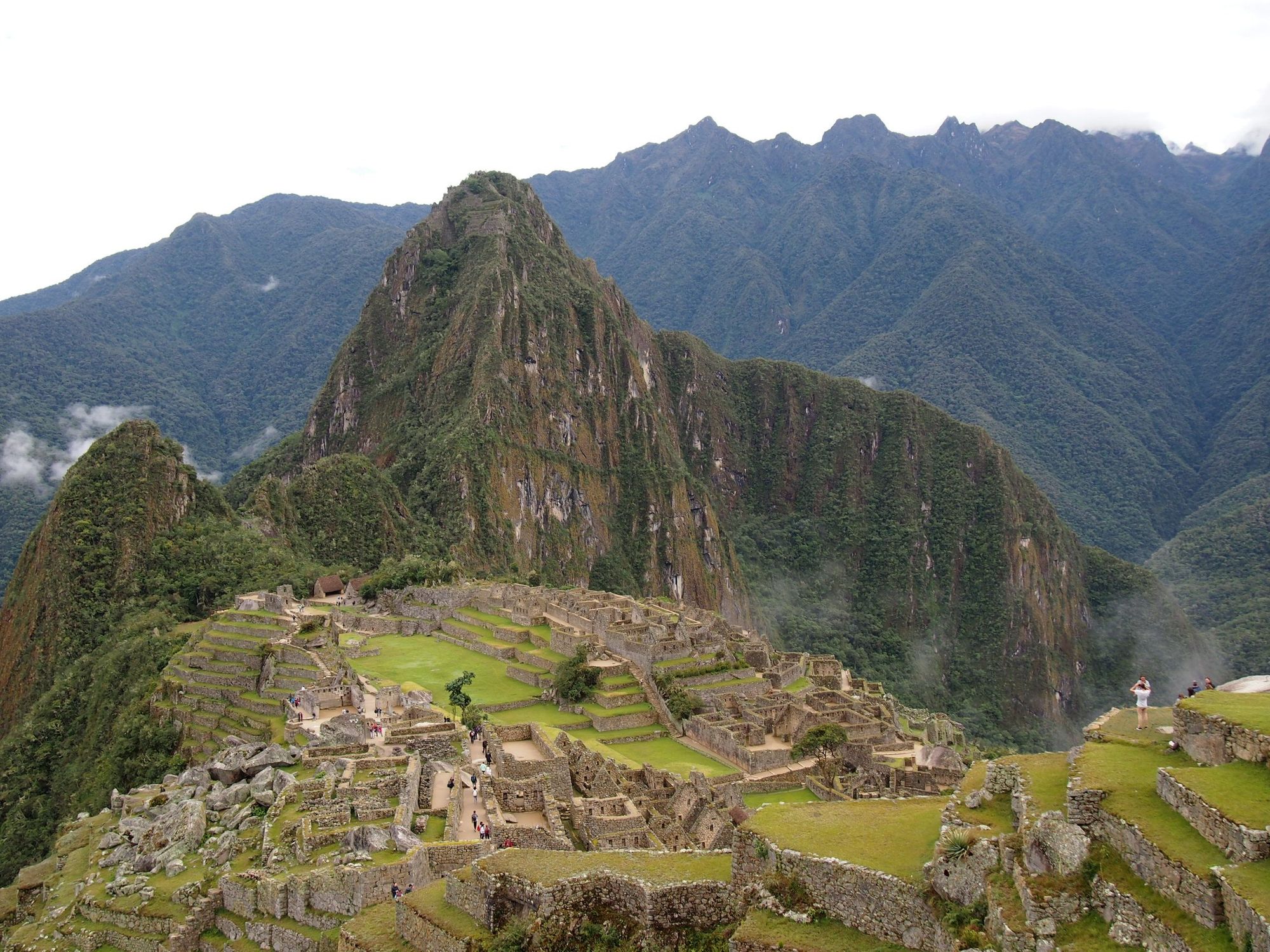 That's not bird poop on the stones, they're llamas!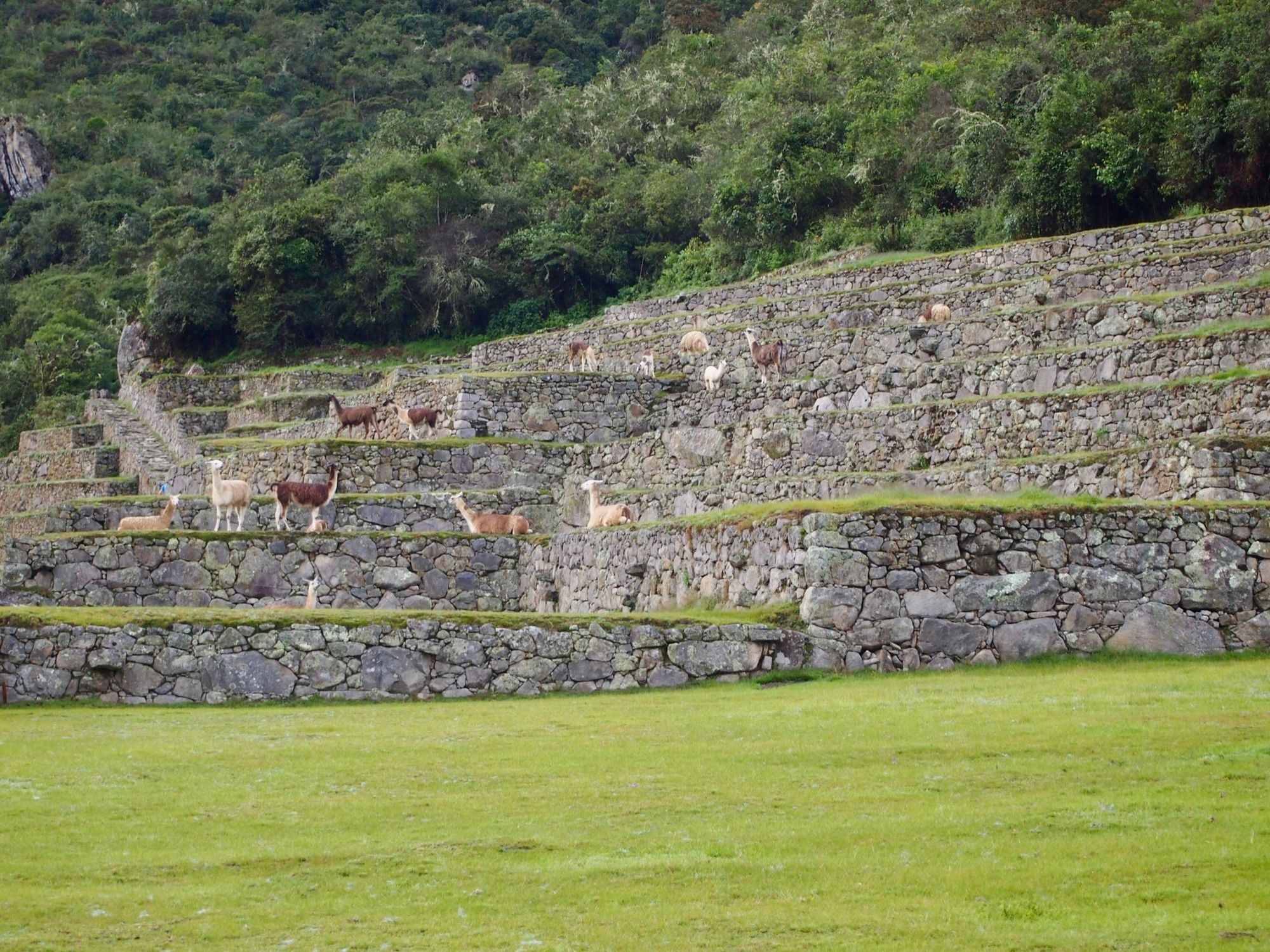 Those of us who bought a package to also hike up either Huayna Picchu or Machu Picchu Mountain got to have a guided tour of the ruins by the one and only Leo himself.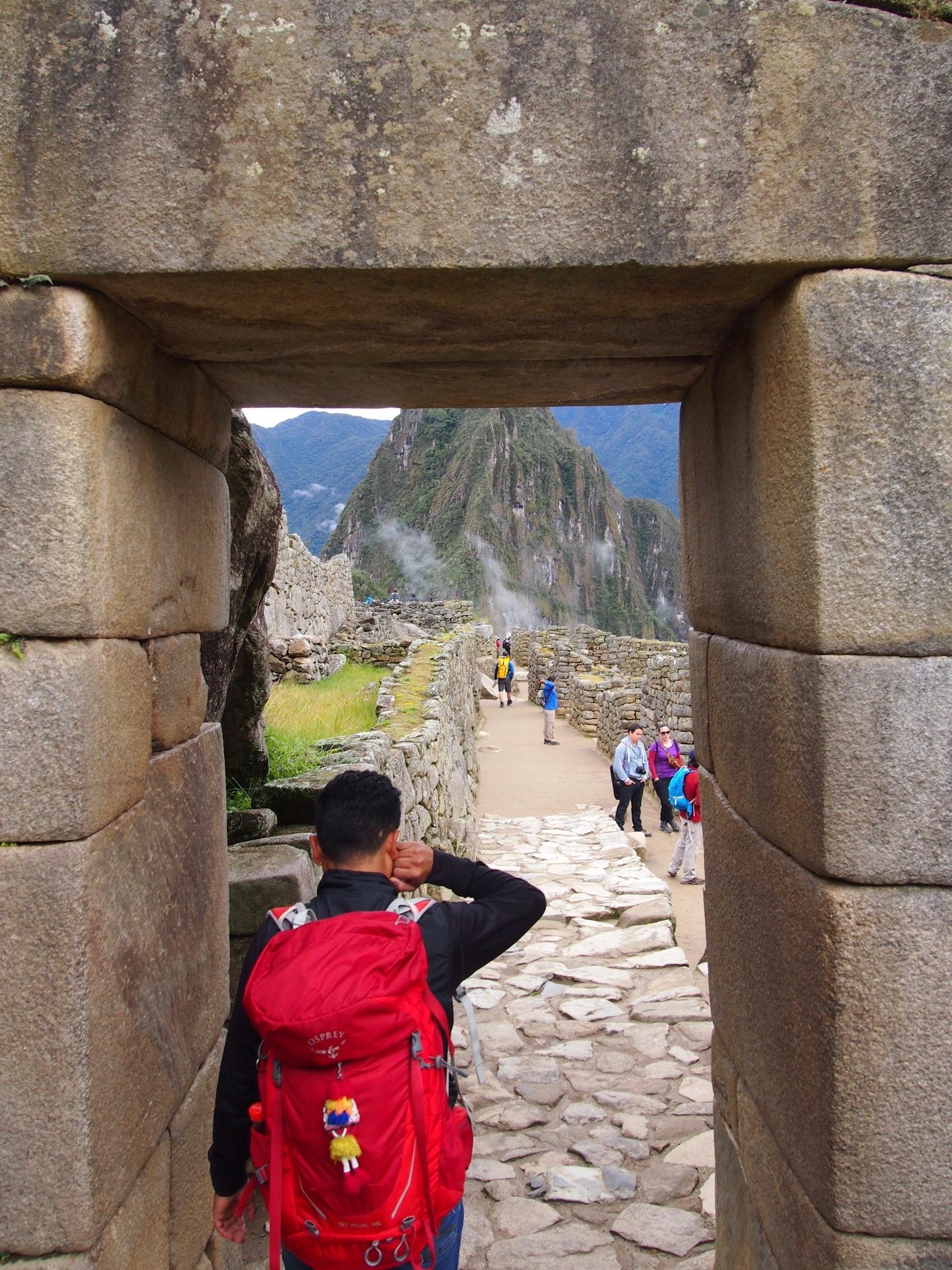 Here are some of our learnings...
Construction
We started our tour at these big rocks and began discussing the construction of the city. In order to break apart large stones, they would put wood slabs into notches in the rock (see photo on the right), and when the wood would get waterlogged, it would expand and break apart the stone.We also got to try out polishing the stone (in the middle picture), and feel the slightly smoother surfaces where many passers by would have their go. It was a fun demonstration of the very slow but possible procedure to polish all of the stones.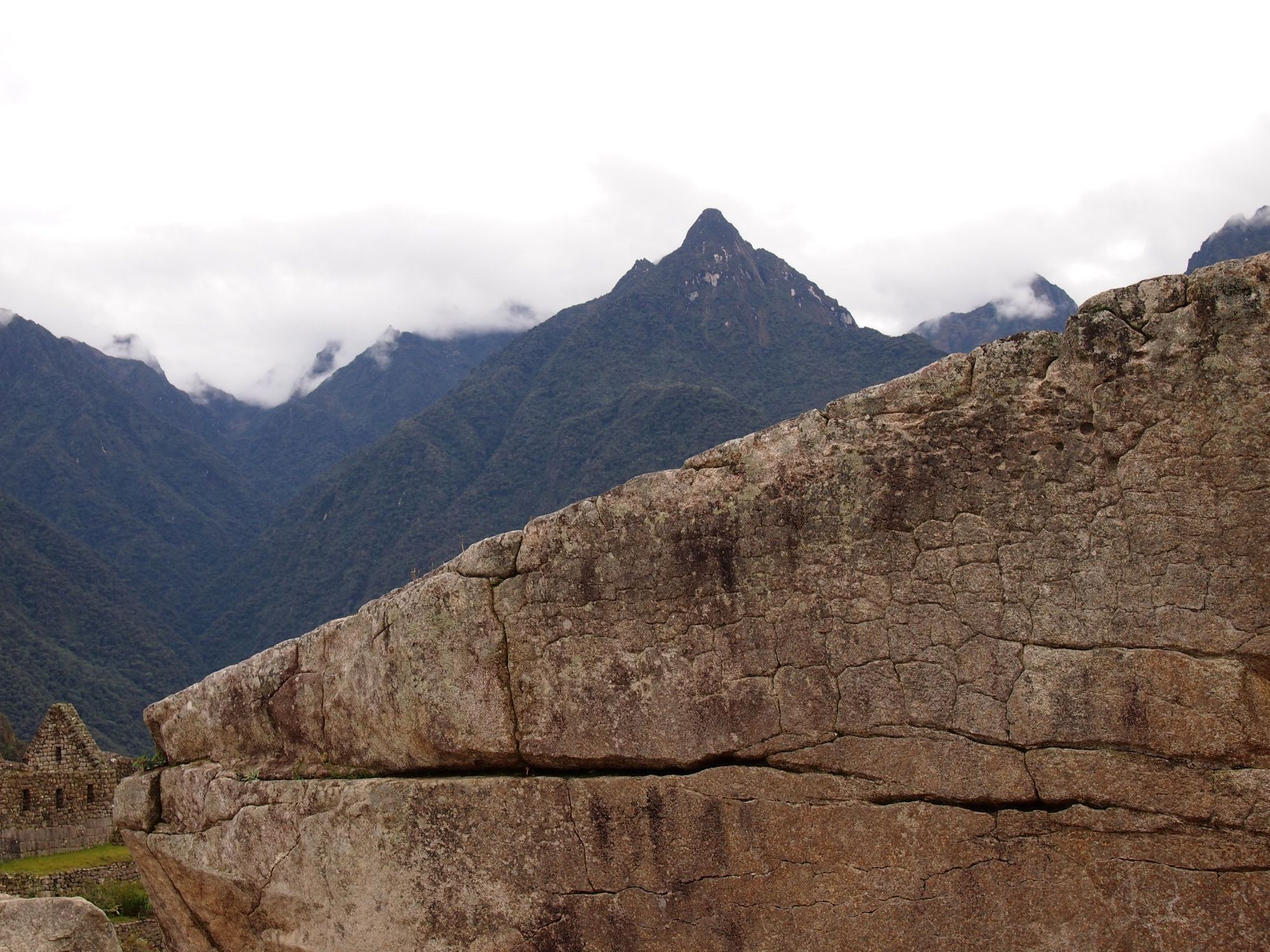 Once they had their stones, they would somehow shape them into the perfect building blocks. 🤯
For important residences and temples, they would invest in polishing the stone. On the left, you can see the footholds that were made naturally over time from people climbing up to reach and polish The Sun Temple; it basically made a little ladder. The middle picture is showing how they would create curves to the stone so that when it rained, the water would drop off of the building instead of eroding it. In the image on the right, you can see an additional measure they would sometimes take to protect against earthquakes: the lips and non-uniform cuts would help hold the stone's position in the wall.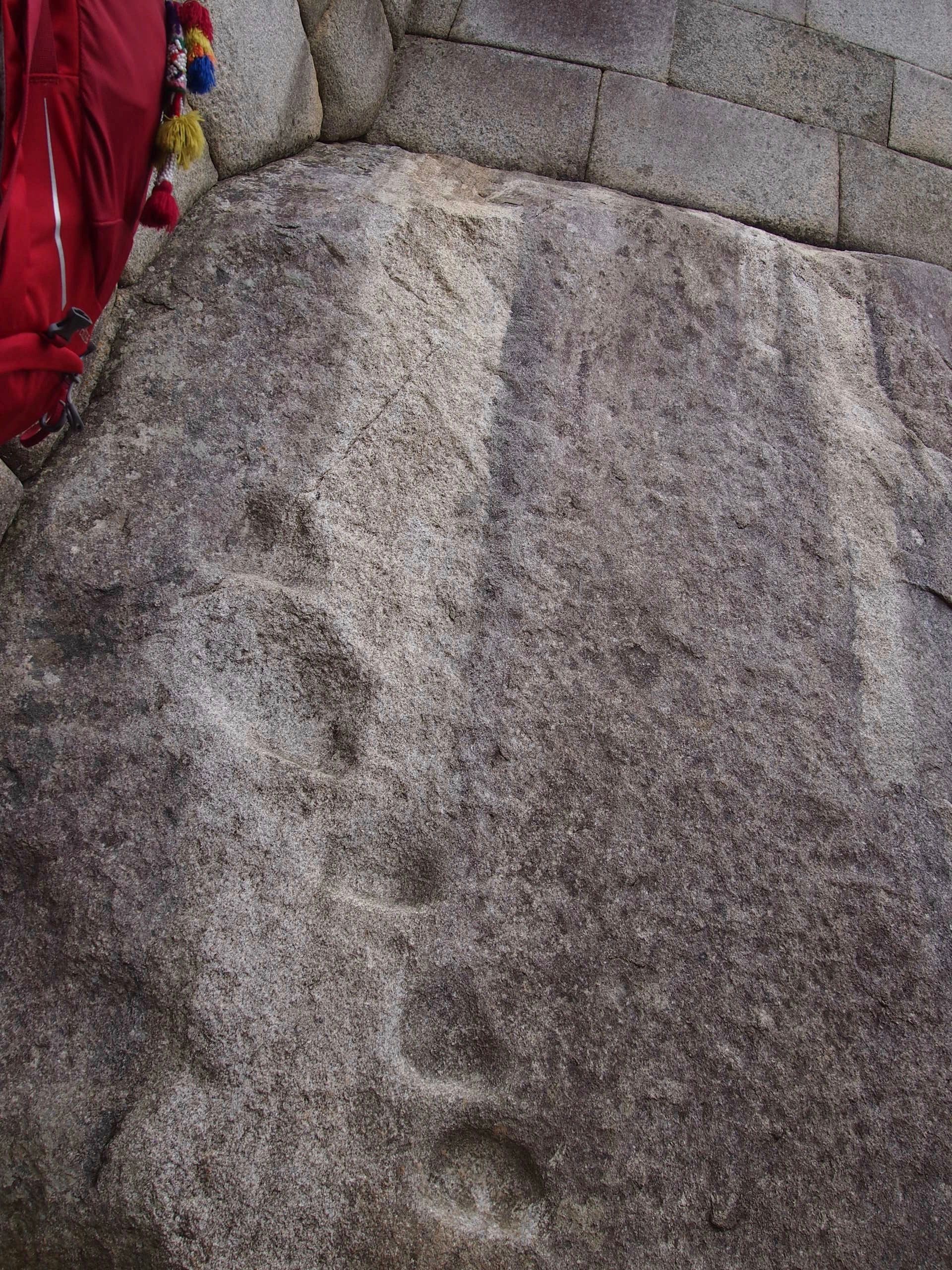 As Peru is a highly seismic land, a lot went into constructing stable structures. The Incas were able to build walls without mortar by fitting the pieces together perfectly (they were masters of this "ashlar" technique). The mortar-free construction allowed the stones to move slightly and resettle without the walls collapsing, which made them more earthquake-resistant. They would also include "L"-shaped blocks to connect corners together, or round the corners. And the walls didn't rise straight from bottom to top but instead were offset slightly from row to row.
Here's an example where you can see
another seismic construction: a trapezoidal door, tilting inward from bottom to top
the different ranks of inhabitants based on the stones' polish. The dweller on the left is not considered as important as the one on the right.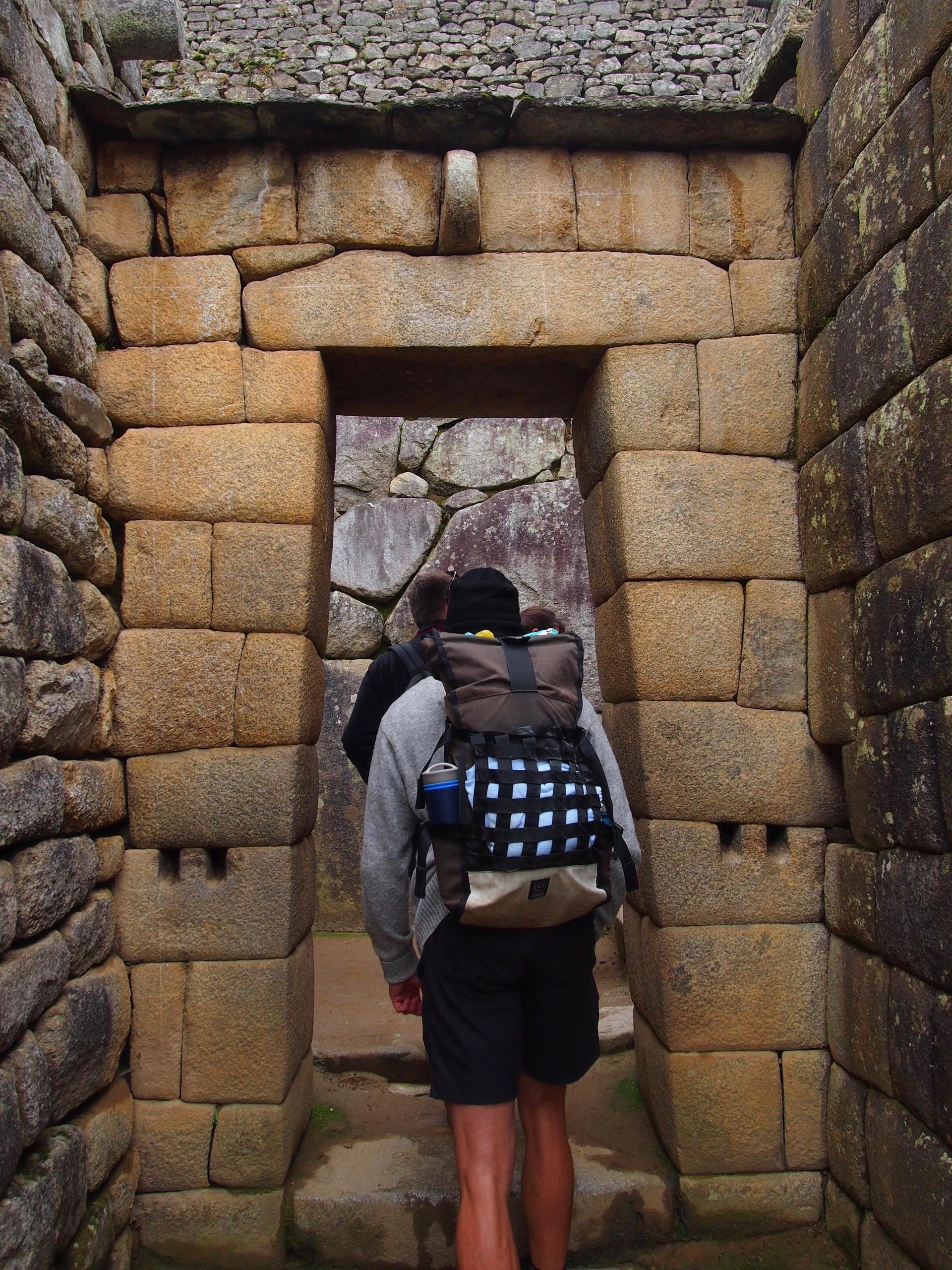 Temples
Temples were considered the most important in rank.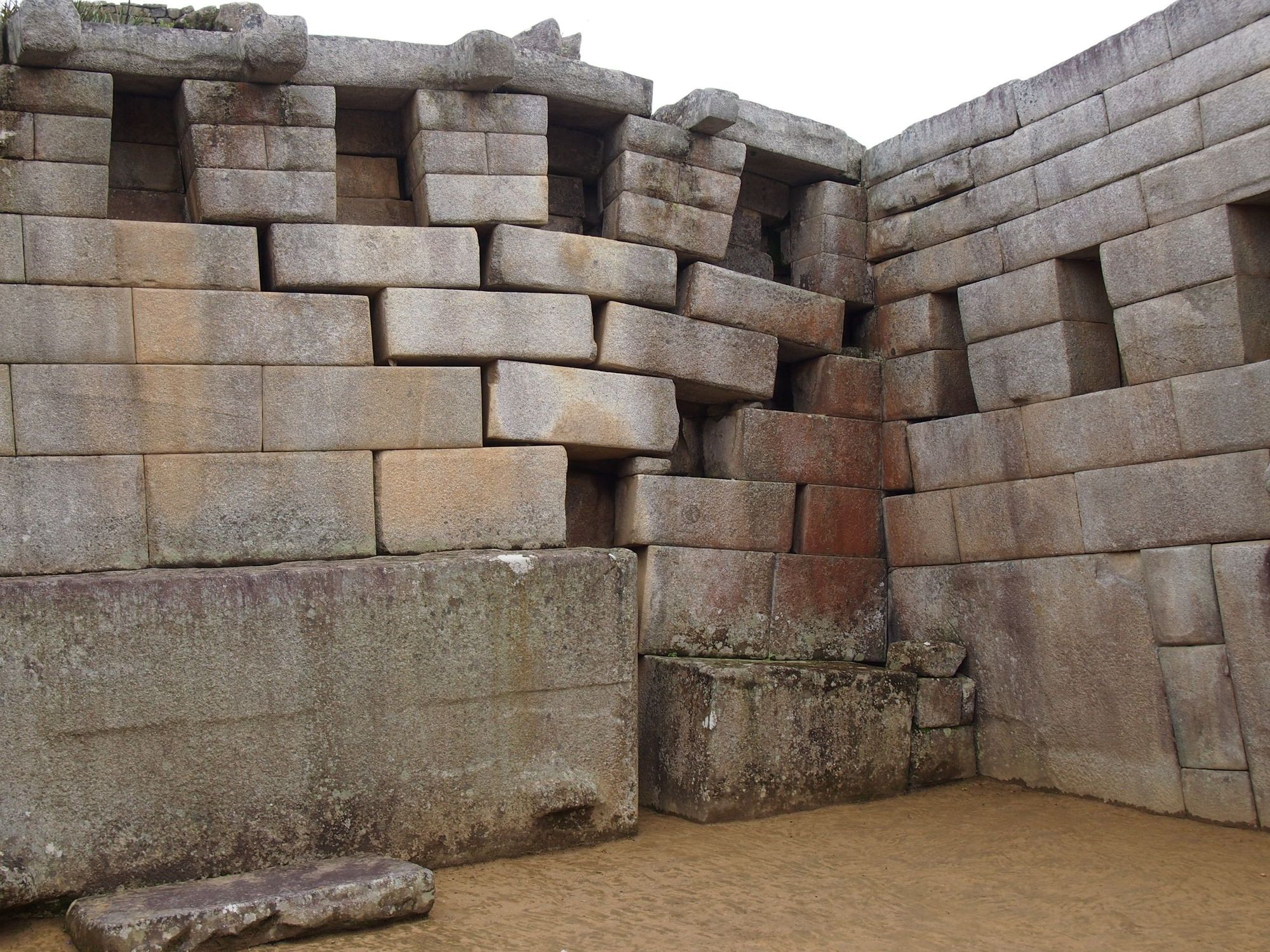 At the highest point of the city, the Main Temple and the Temple of Three Windows are located around the "Sacred Plaza".
The photograph at the Temple of Three Windows is focused on a stone structure with 3 steps per side.  With how the stone was facing, on sunny days it would produce a shadow to make a mirrored image of the structure. The whole piece (structure and shadow) is meant to make a chakana (the Andean cross). There are many different possible symbolic meanings for the chakana, but here is one example for the 3 steps:
Hanan Pacha – represented by the condor – the upper world above, sometimes thought to be inhabited by Gods
Kay Pacha – represented by the puma – the every day / middle world, where we live, here and now
Pacha Mama – represented by the serpent – Mother Earth, nature, the world "below" (but not implying evil)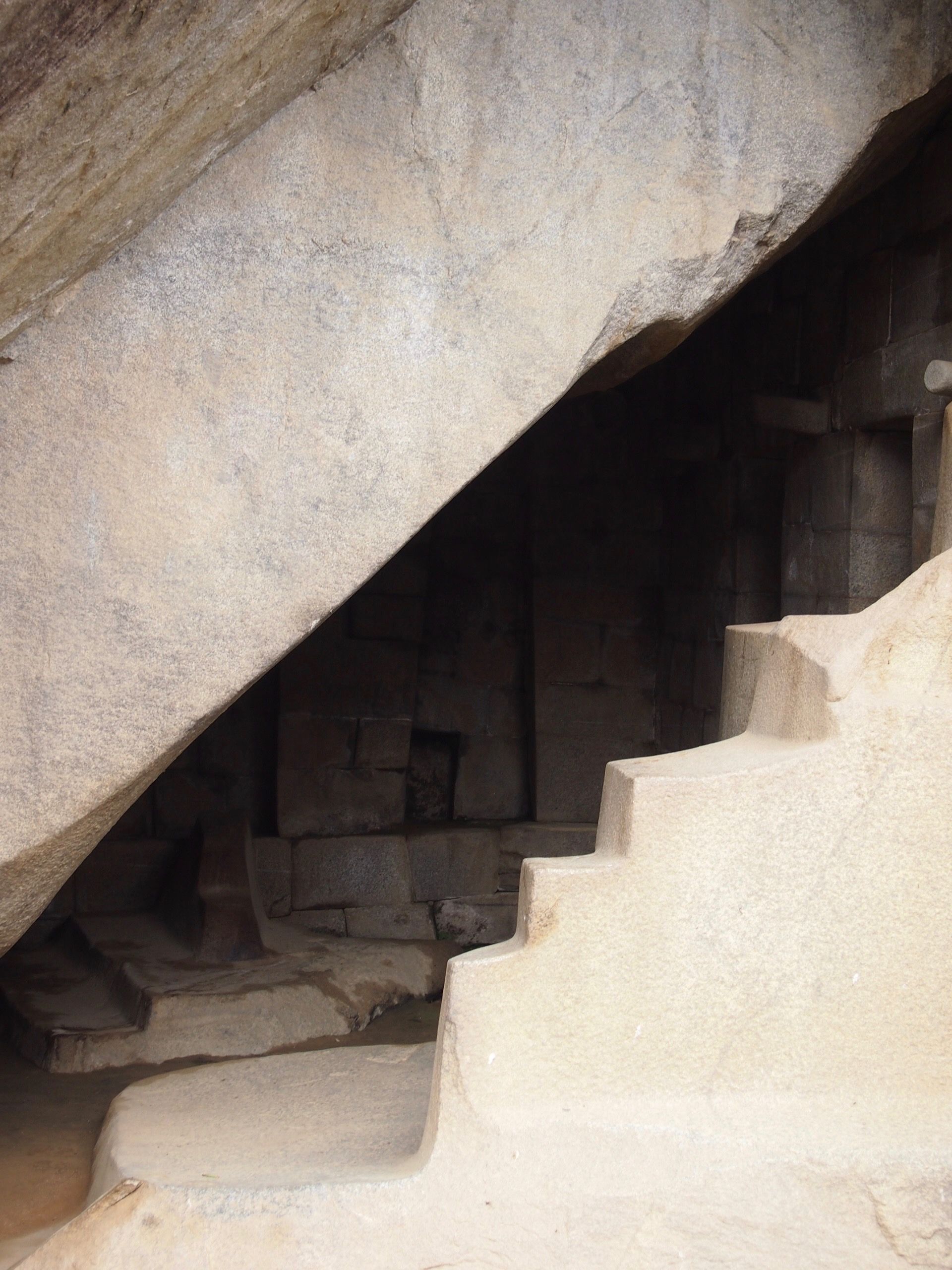 The Royal Tomb could also be thought of as "the Temple of the Dead" or "the Temple of Mother Earth (Pachamama)". It is found directly below the Temple of the Sun.
Other Smarts
First, we have a holding pen for llamas, with no gates or doors. As with many prey animals, llamas have wide-set eyes to give a wide range of vision. As a result, their depth perception (and sense of color) got sacrificed. Once they are led inside, the entrance appears to them as a single wall and they are unable to find the exit on their own.
Next, we see a balcony with drainage carved in the ground. This is just one of the many practical wins of this city. In addition to them somehow transferring all of these rocks up here to build these structures, all of the buildings were level on this mountain, and they also set up irrigation and agricultural terraces to produce more food than required to feed the people who lived here.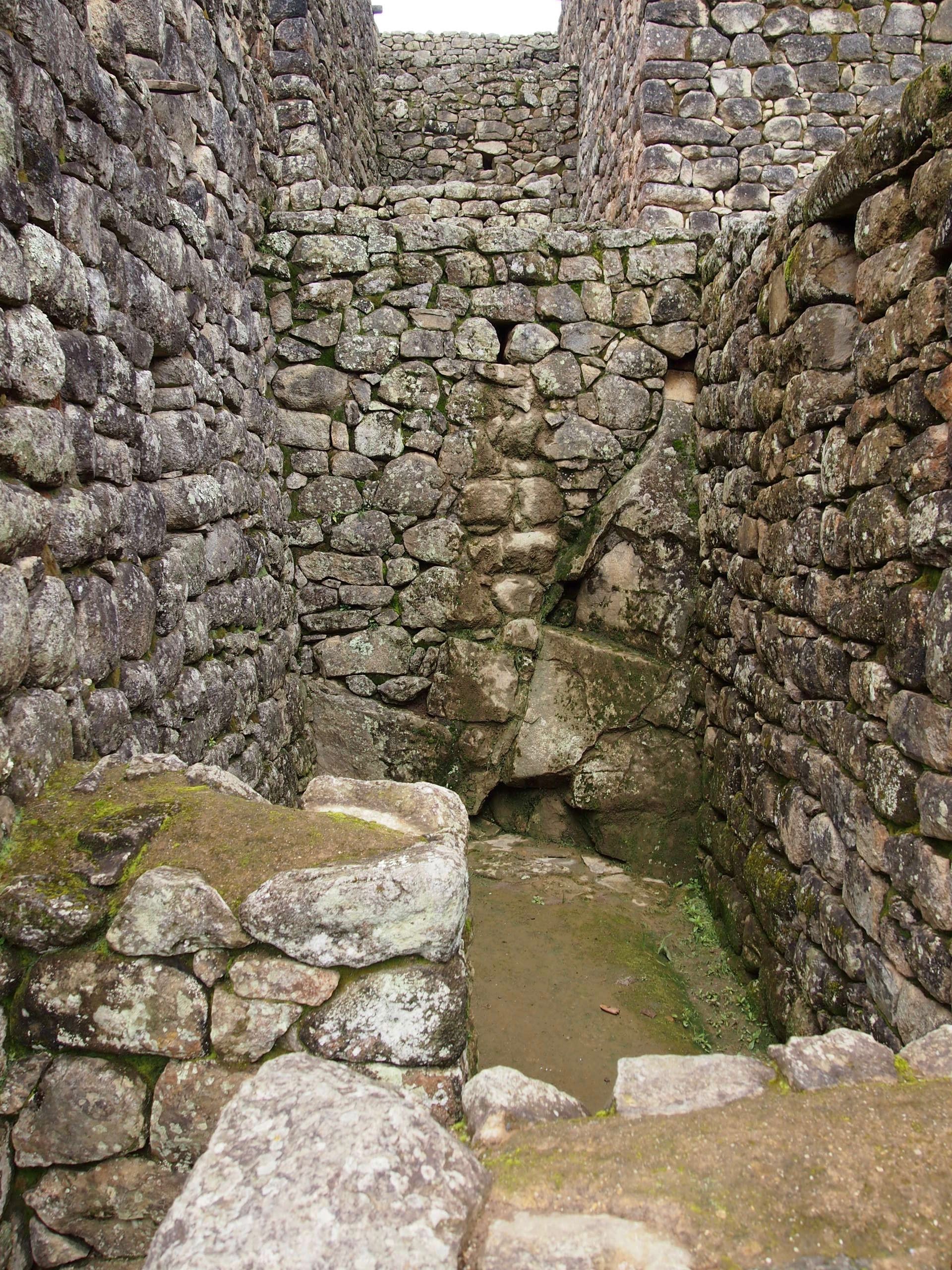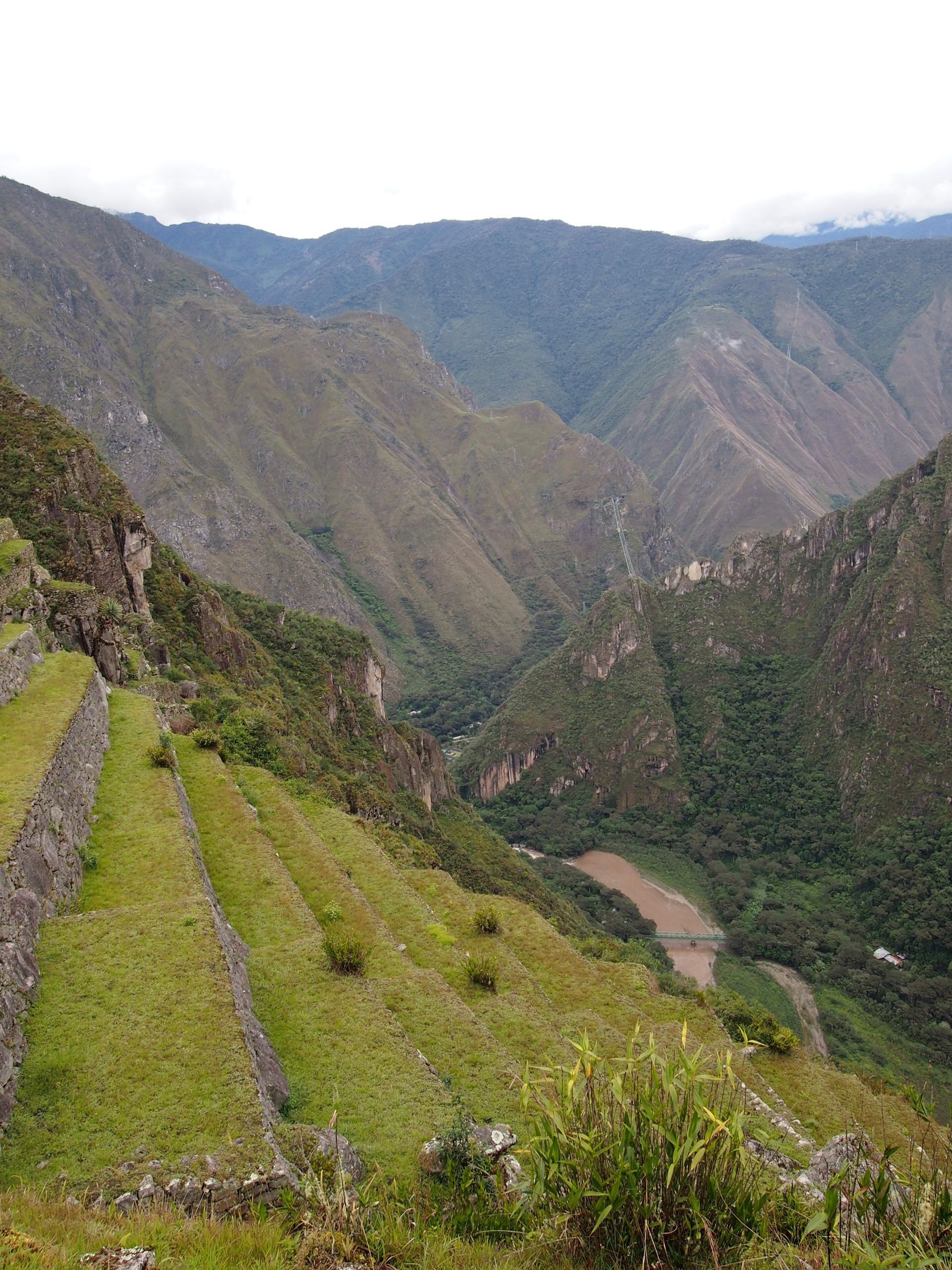 Machu Picchu Mountain
In addition to exploring the Machu Picchu ruins, we signed up to hike the Machu Picchu Mountain (as if we hadn't hiked enough... another example of how ambitious I can be when I'm in charge of planning a trip ha).
We had just arrived to the entrance at close to 10am when we saw this sign. It was very enlightening for what we were about to do.
To set the stage, our train was scheduled to depart at 2:20pm from Aguas Calientes and we were encouraged to be back at our hotel at 12:30pm at the latest to get our luggage. From where we were standing at this moment, it would take about 1 hour to get to the hotel. So, we really needed to get back down to this same spot by 11:30am which was approaching in about an hour and a half...
Time to lace up and book it!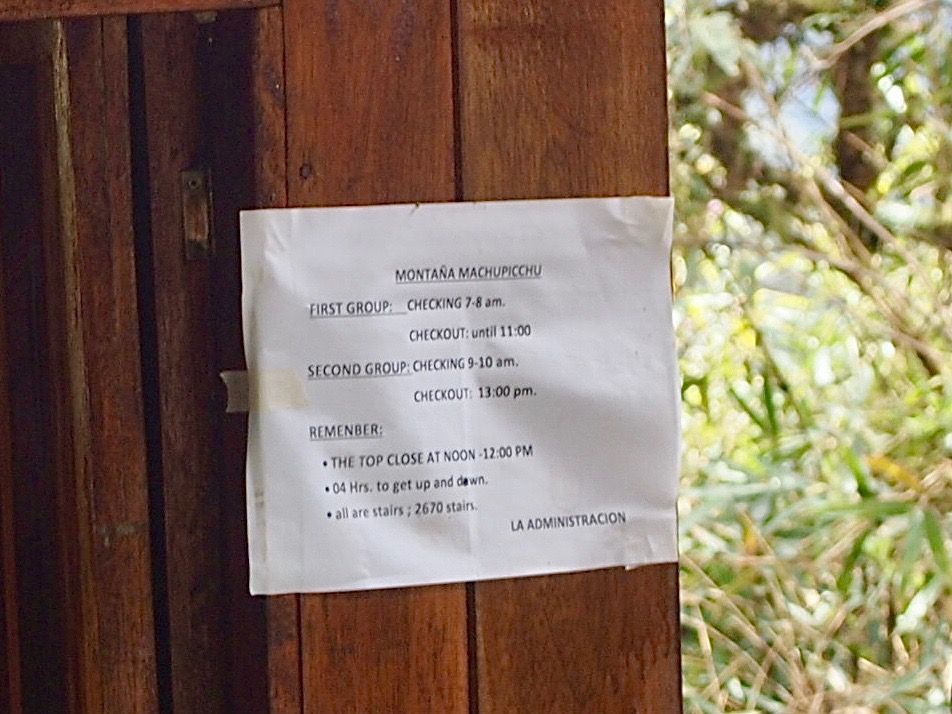 They weren't lying. Stairs and Stairs and Stairs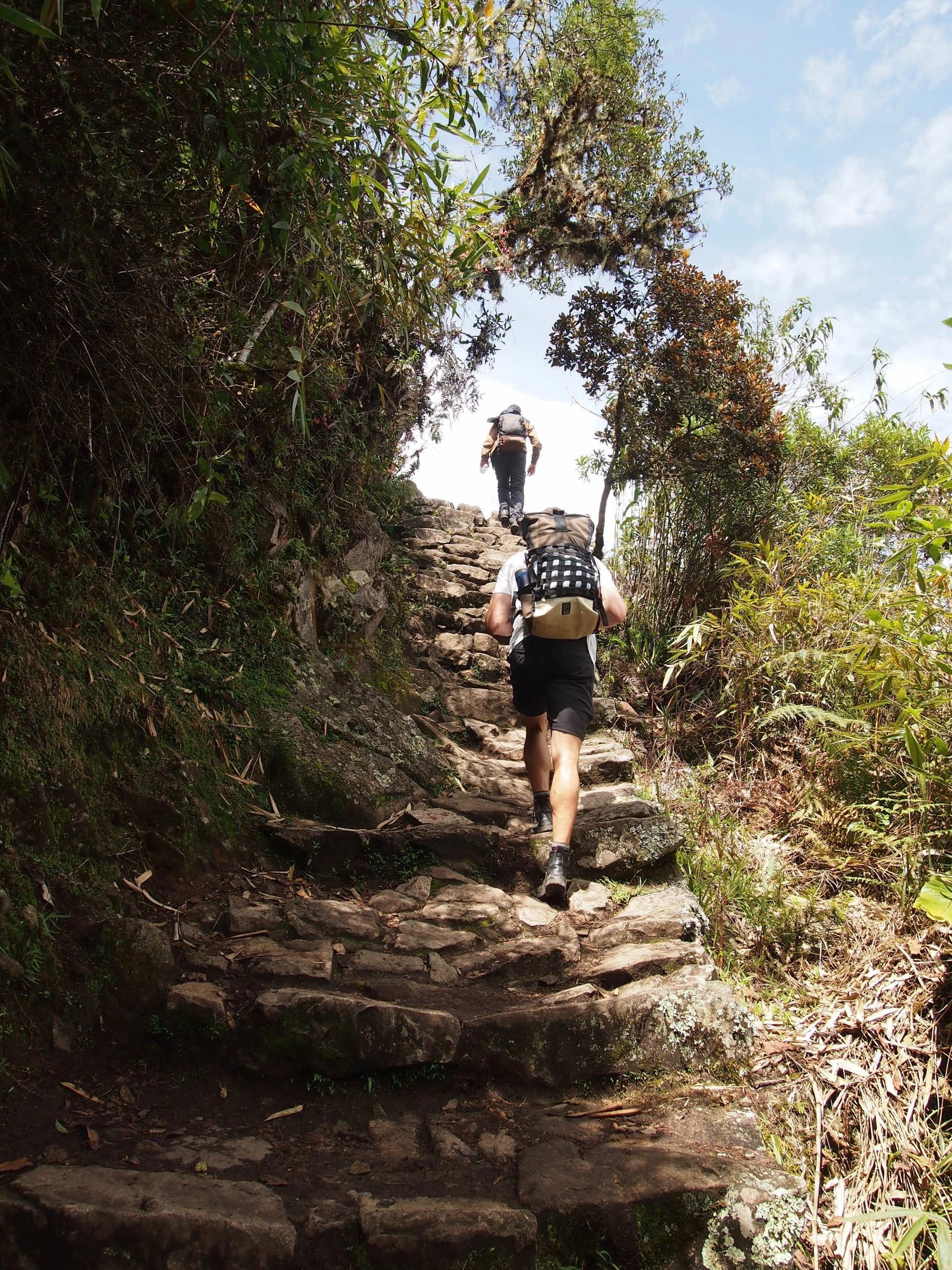 With gorgeous views of course of those same mountains that never got old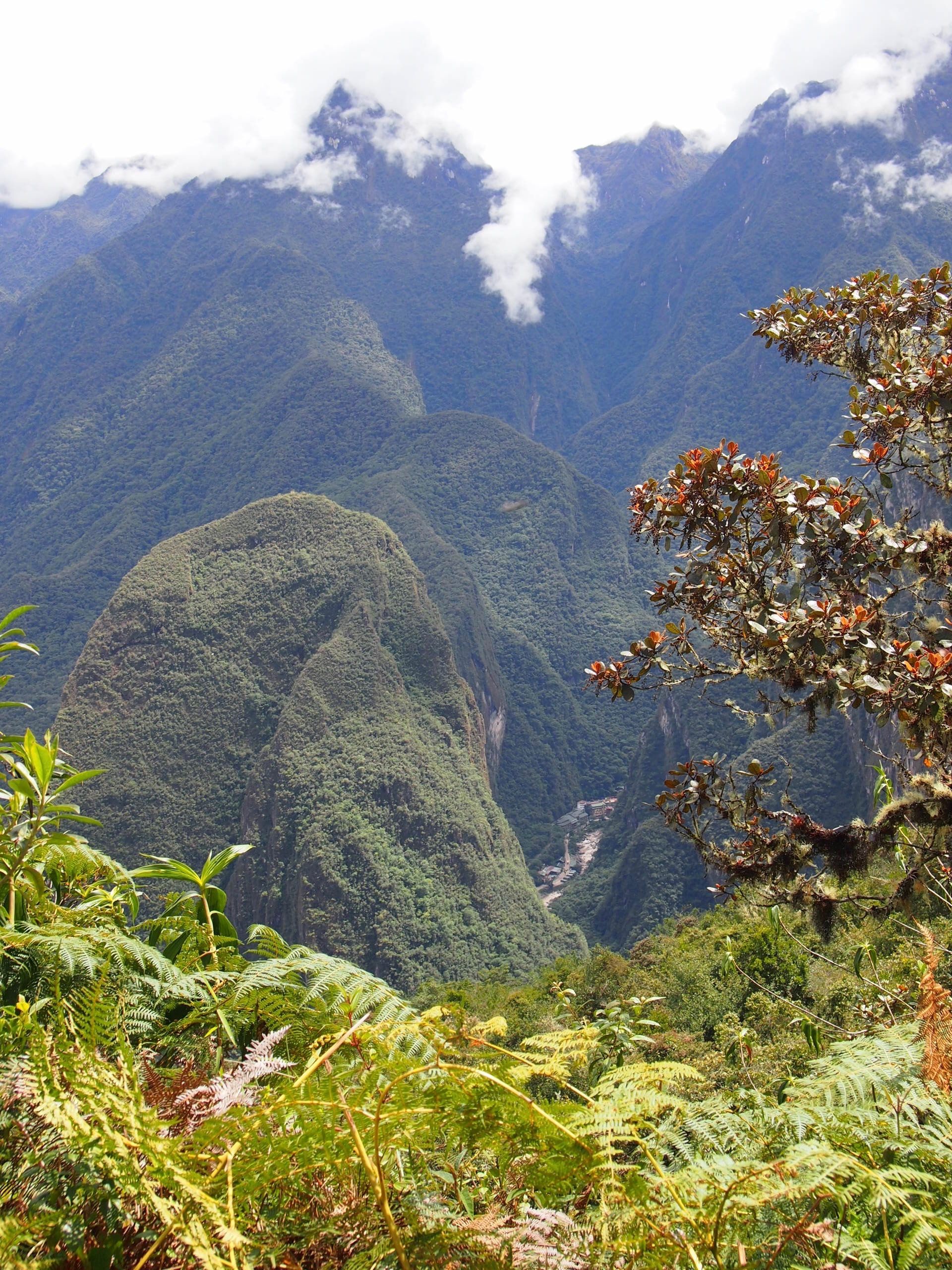 Our ascent using Machu Picchu as a reference. We are well above Huayna Picchu 👀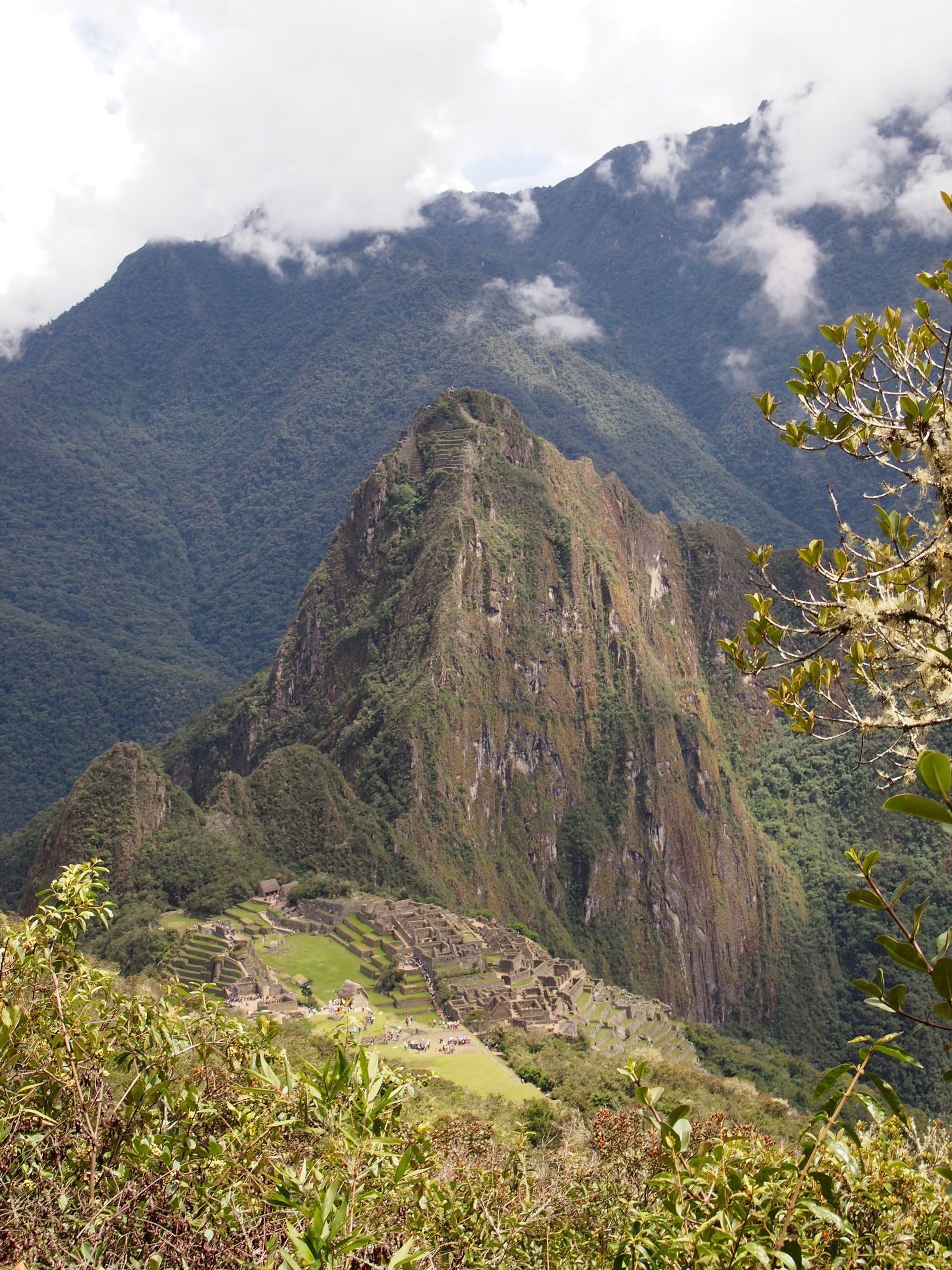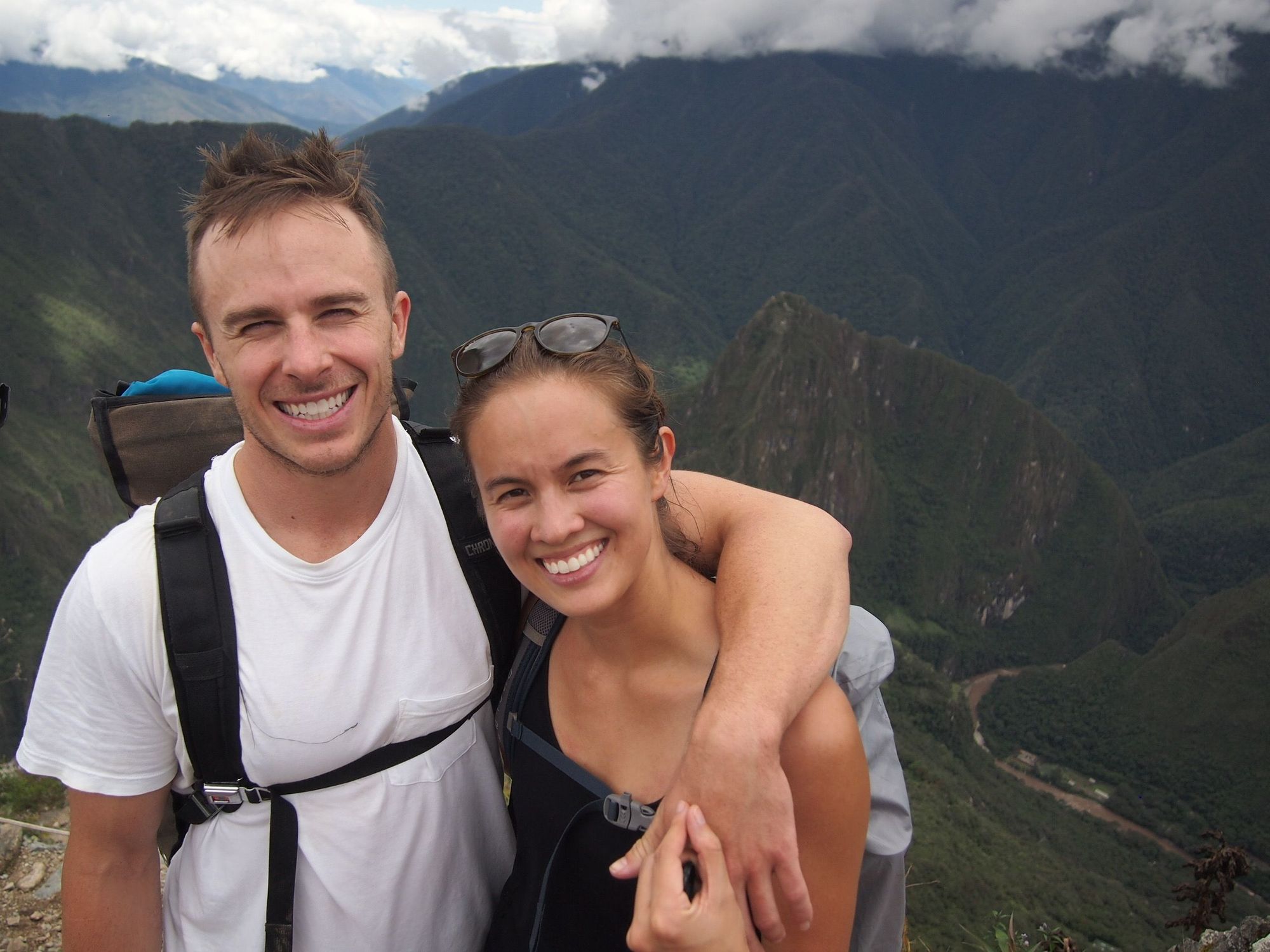 From here, we could spot Aguas Calientes, our next immediate destination! Here it is zoomed in: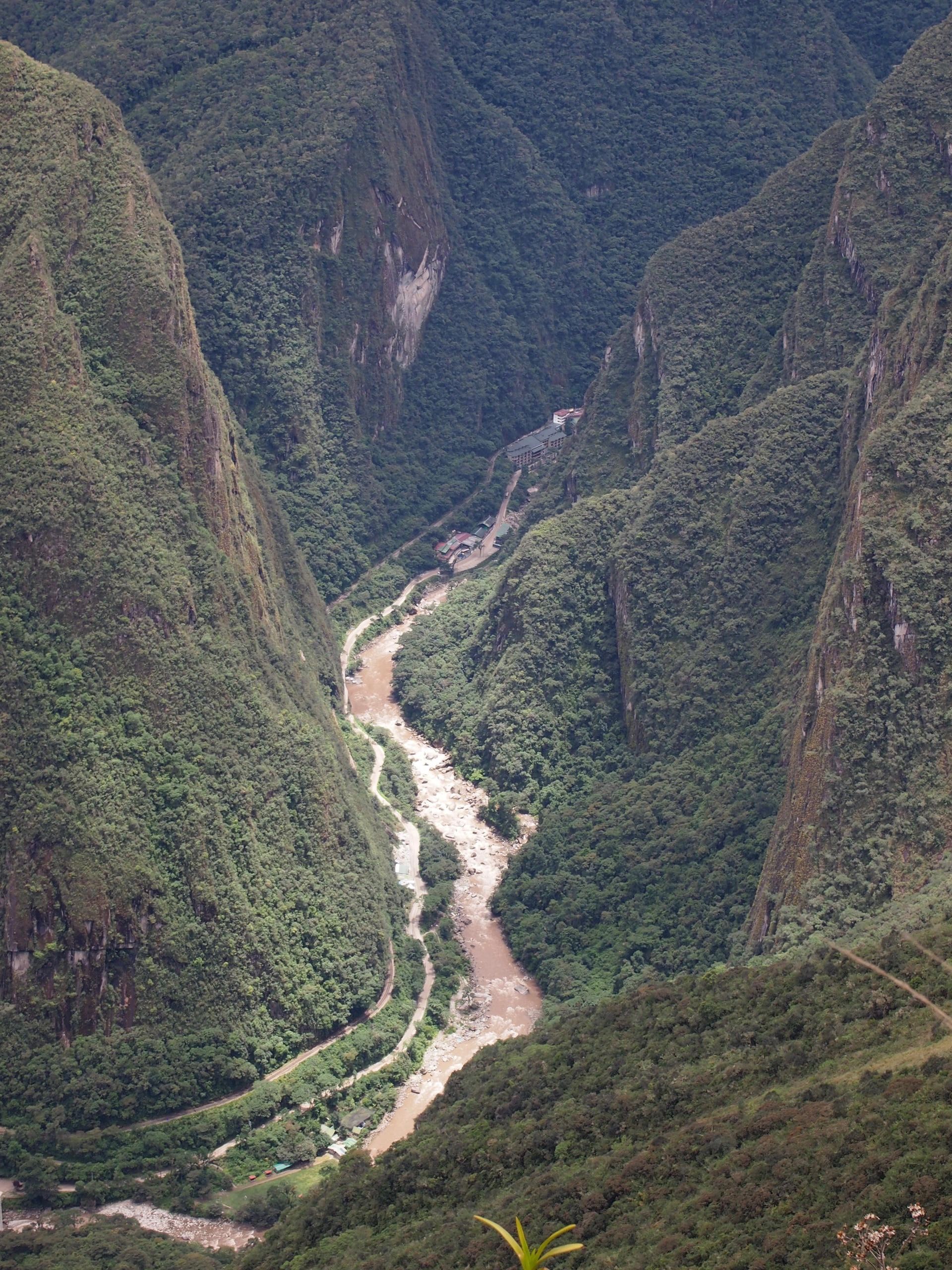 We basically turned around and rushed down the steps, and boy, some of these were the steepest steps I've ever been on (no photos unfortunately). On our way up, we passed some people crawling down on their butts who seemed really scared. Going down was much more daunting than going up. No railings, just sheer cliff drop-offs and the rocks were pretty slippery too. While Machu Picchu Mountain is much more of a climb, I hear Huayna Picchu is steeper and more dangerous... Glad we didn't do that!
We made it all the way back on foot and arrived right in the knick of time, got some quick food, and then had to run to catch the train with our group.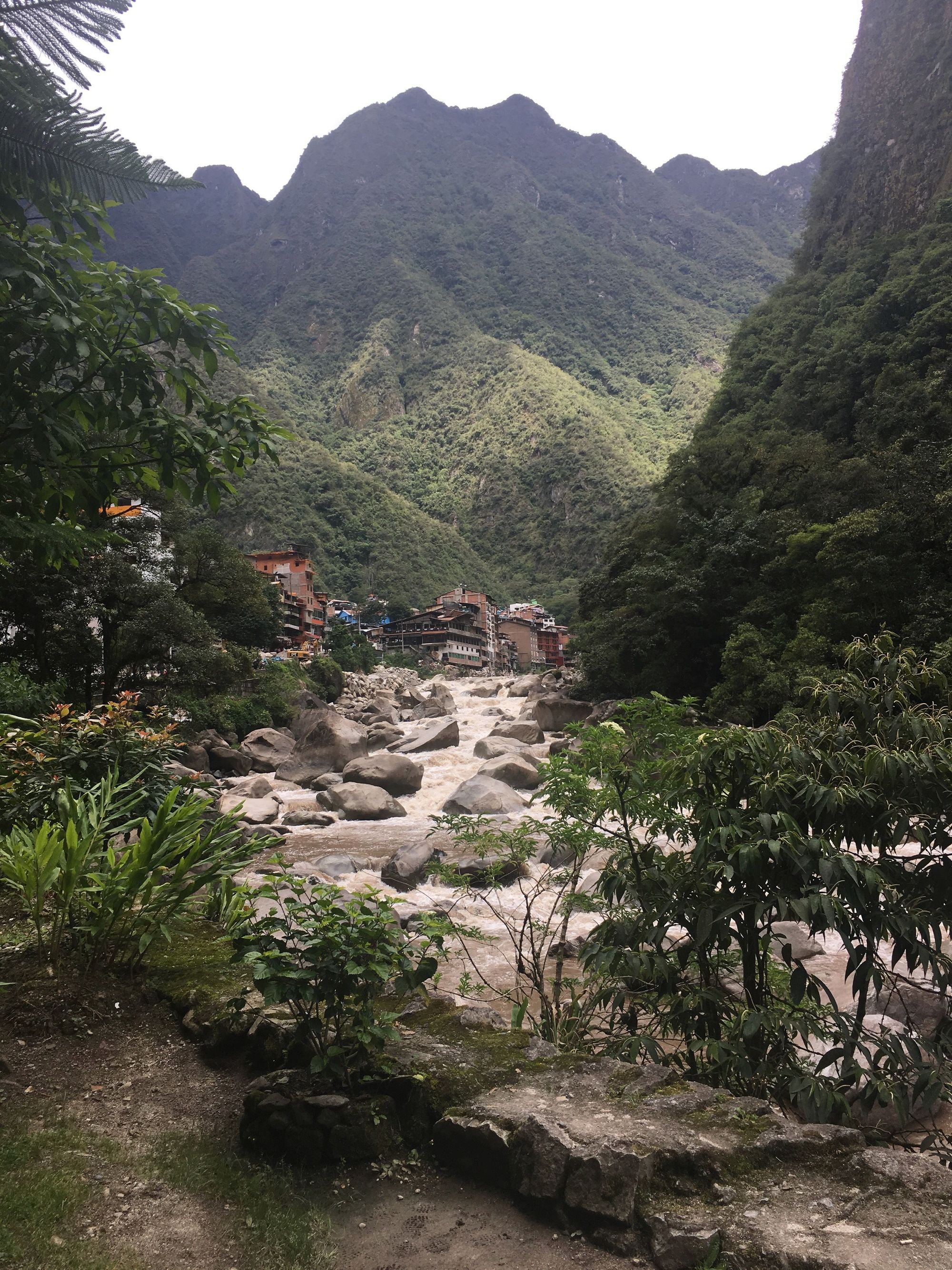 We took the Hydroelectric back towards Cusco, and I said goodbye to those majestic mountains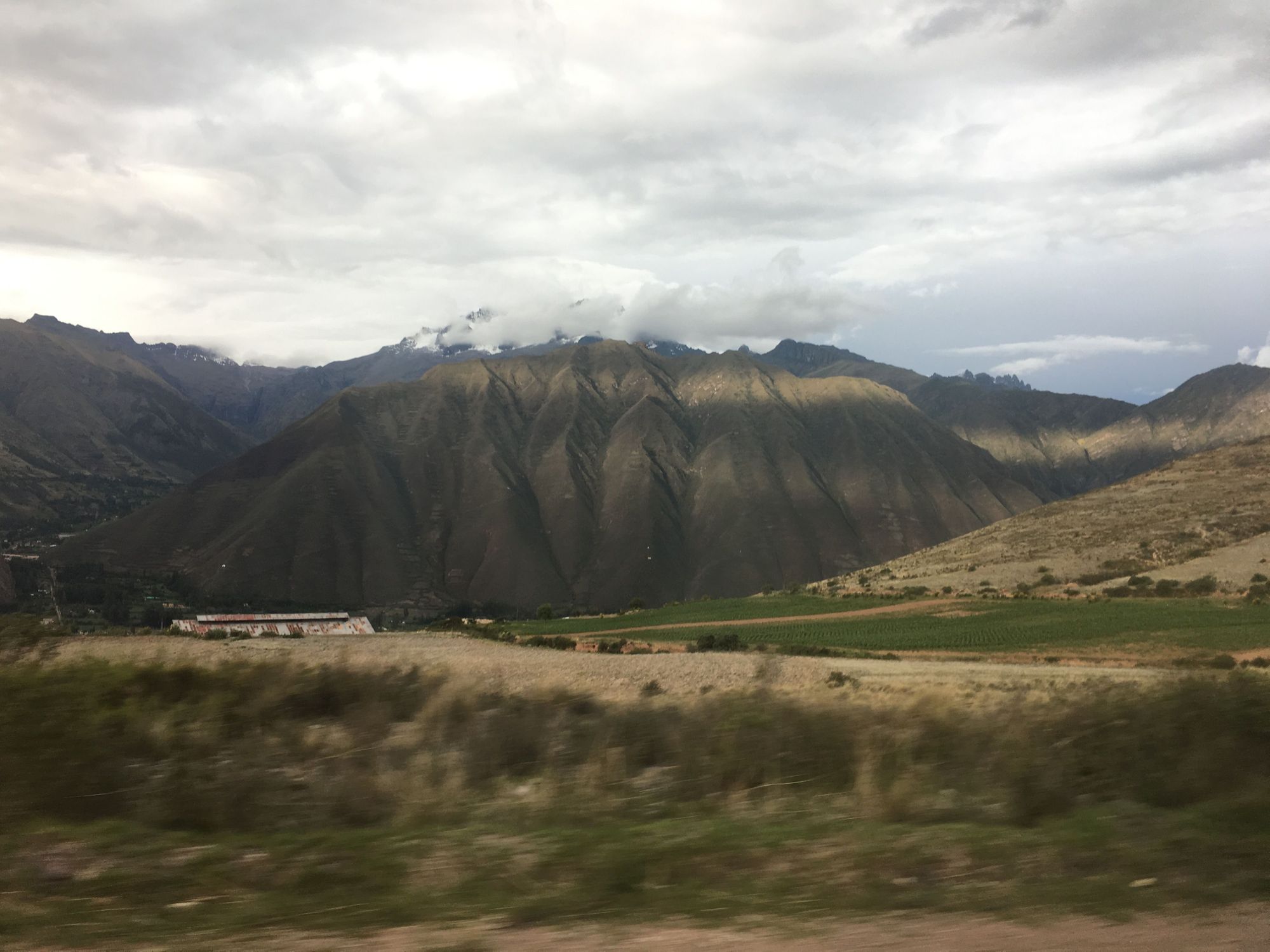 We transferred to a Salkantay Trekking bus and rode that until we were dropped off at our individual residences. Zach and I were staying back at the Quinua Villa Boutique, but in a different "apartment"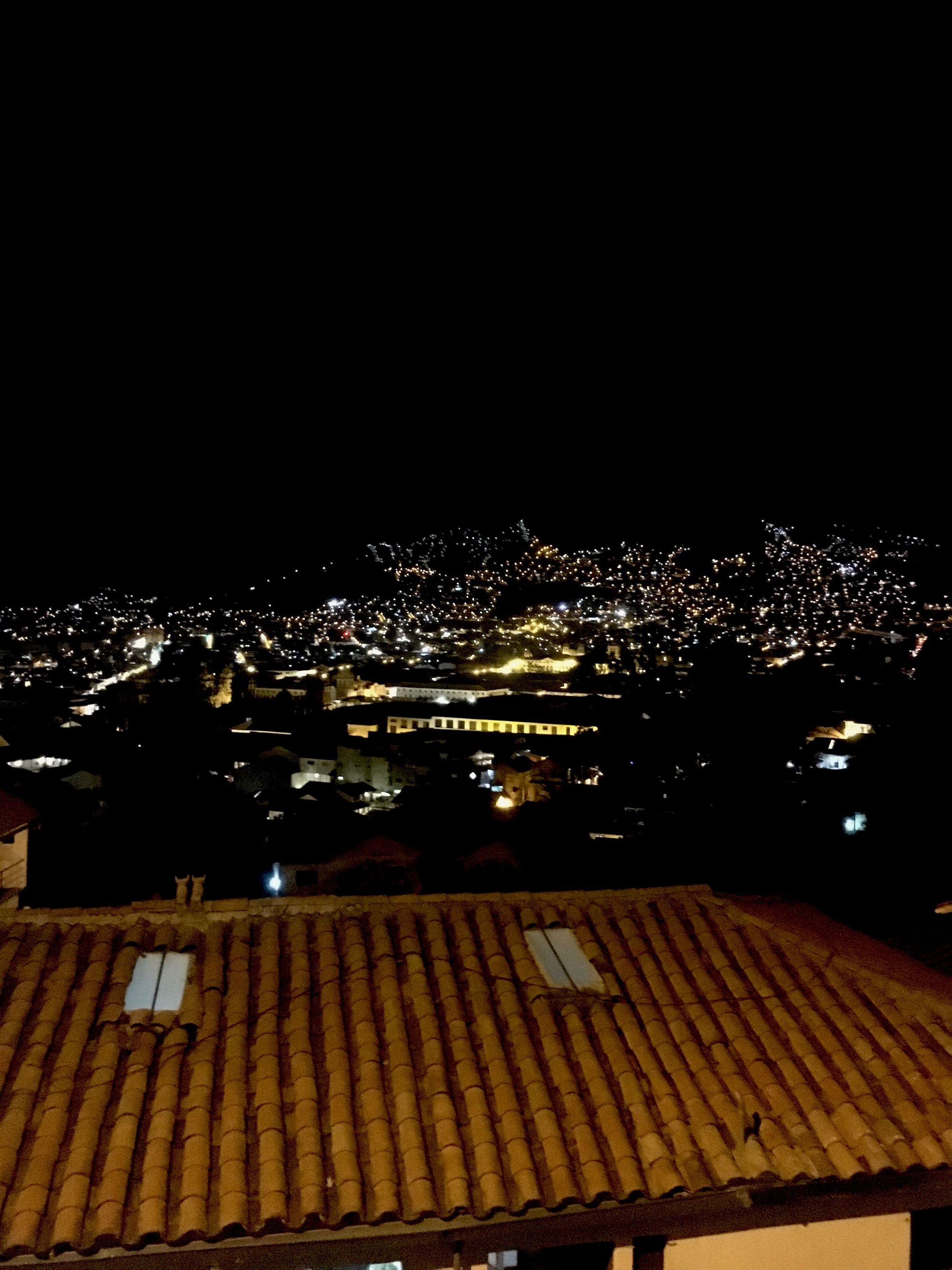 We made plans with people from our trekking group to get dinner together again this night (there were 6 of us: Yasmeen, Iulia, David, Kaitlyn, Zach, and me). Zach and I loved our group, we felt so lucky to have such a vibrant and positive batch of people, all around our age, too. It was so hard to say goodbye. 😭💌
Day 9: Lima
Today was our easiest day. We finally got to sleep in (until 7am!) and caught a flight to Lima. Bye bye Cusco 👋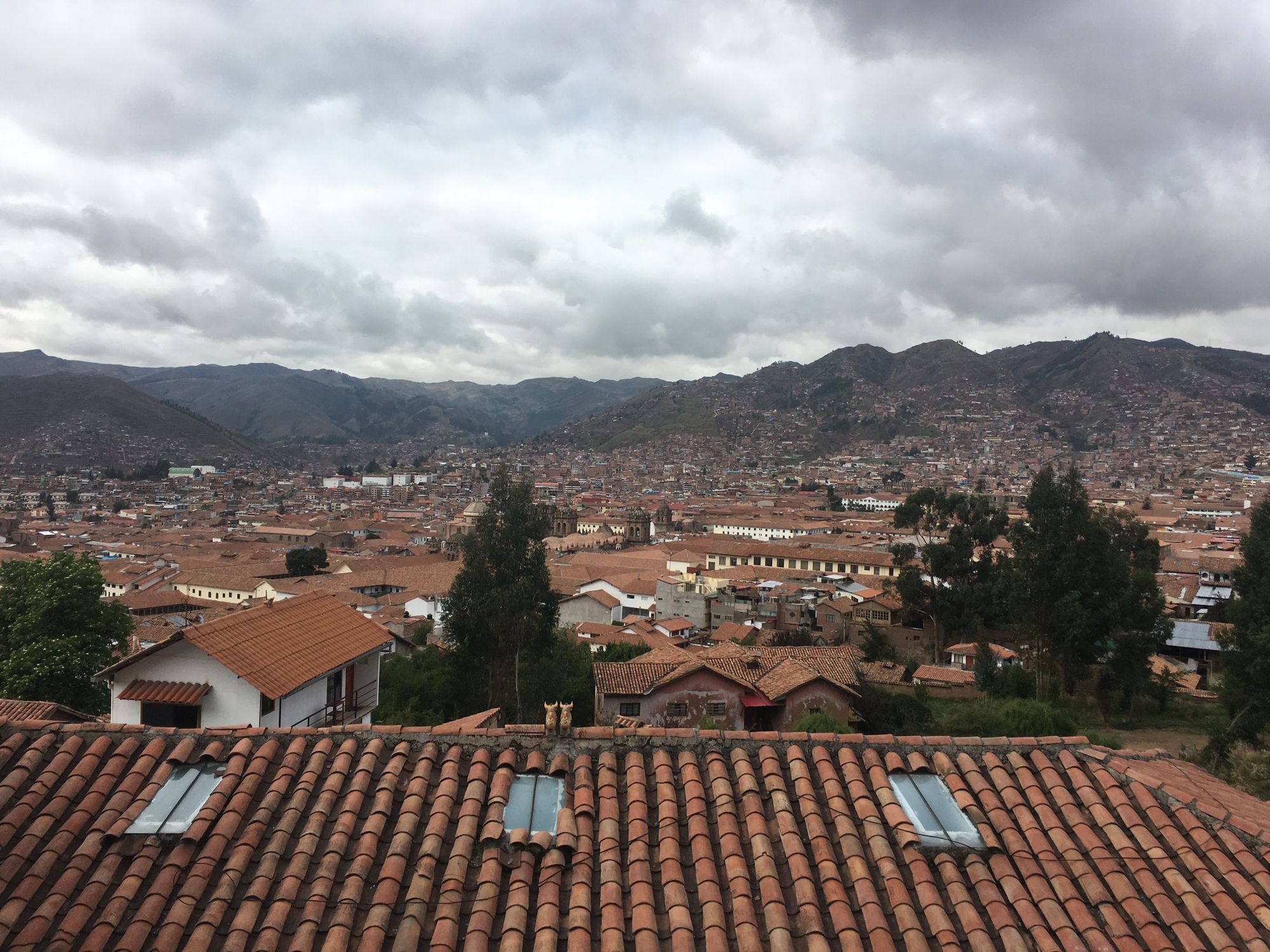 Once we got settled into our hotel, we didn't have any plans except to find a good restaurant to eat at. We ended up eating at Kulcafe for a bagel and smoothies, walking around the Indian market, and then ate at Amaz for dinner.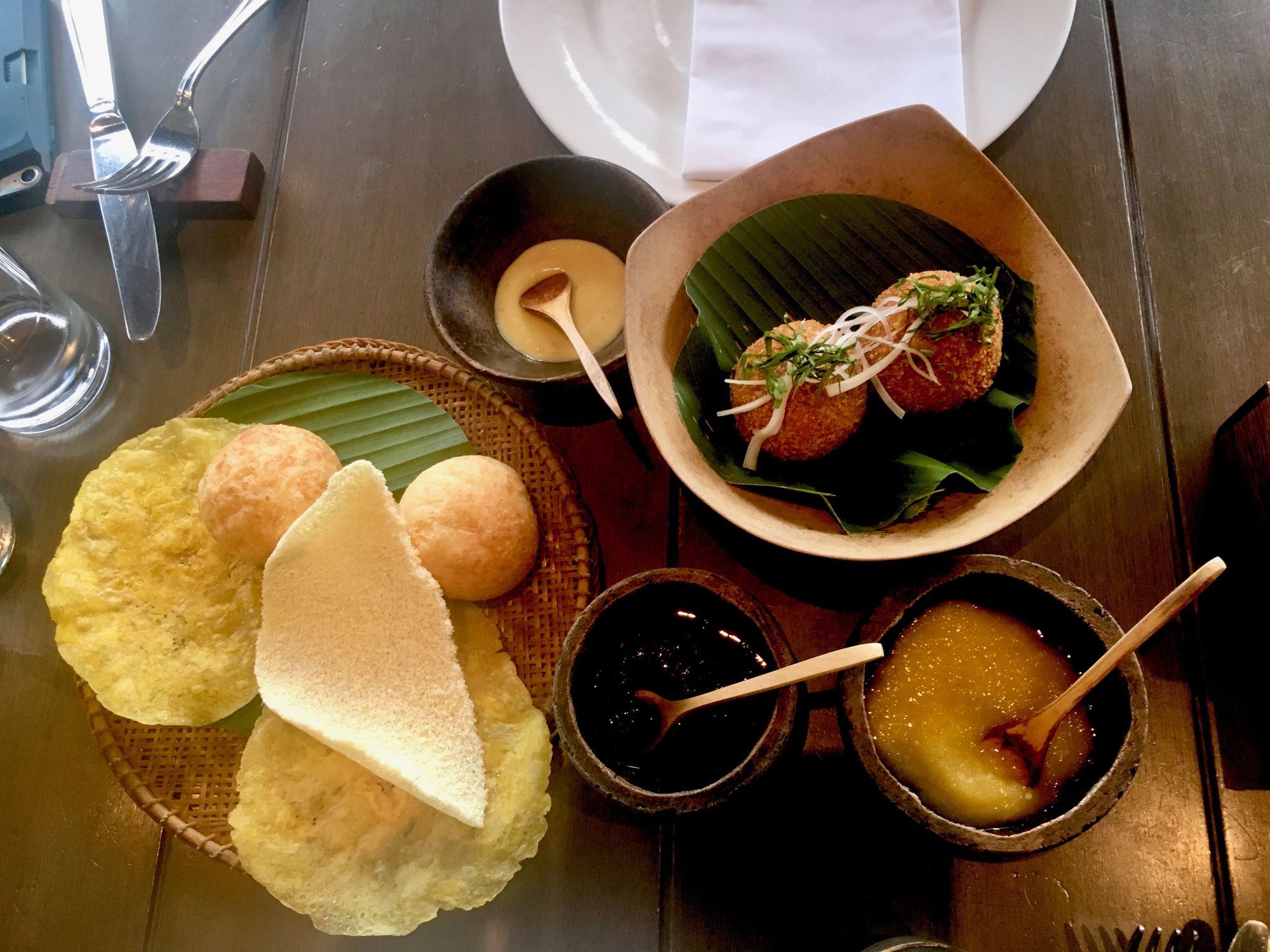 The other notable thing from this day was that we were having withdrawals from the Leo Chasers and were tempted to reach out to the ones who were in Lima, but decided to let them all have their individual vacations. Later we found out they were going through the same thing 😭
Day 10: "Poor Man's Galapagos" and Sandboarding

Today we were going to scratch my itch – I desperately wanted to go to Huacachina to go dune buggying and sandboarding. We were going to "see how we felt" after the trek, but my desire was very much unchanged.
The Peru Hop bus was the only sensible way we found get there and back to Lima in one day, while sneaking some extra stops in along the way. I'm glad we did it and impressed by how much we got to do in a single day, but I wouldn't recommend the Peru Hop bus as your main tour "provider" – only as a way to get from one city to another on occasion, while experiencing some extra activities on the way. It worked and was convenient, but it felt more like a tourist trap than a special or informative trip, and was overall pretty hectic. No time was really budgeted to get food, so it always felt like a mad rush, and then the bus seats were extremely uncomfortable for us. Granted, we had a brand new guide (he was trying to do his best...), so maybe your experience would be different!
Paracas
Our first stop was a boat ride in Paracas, to see the "Poor man's Galapagos" (Islas Ballestas).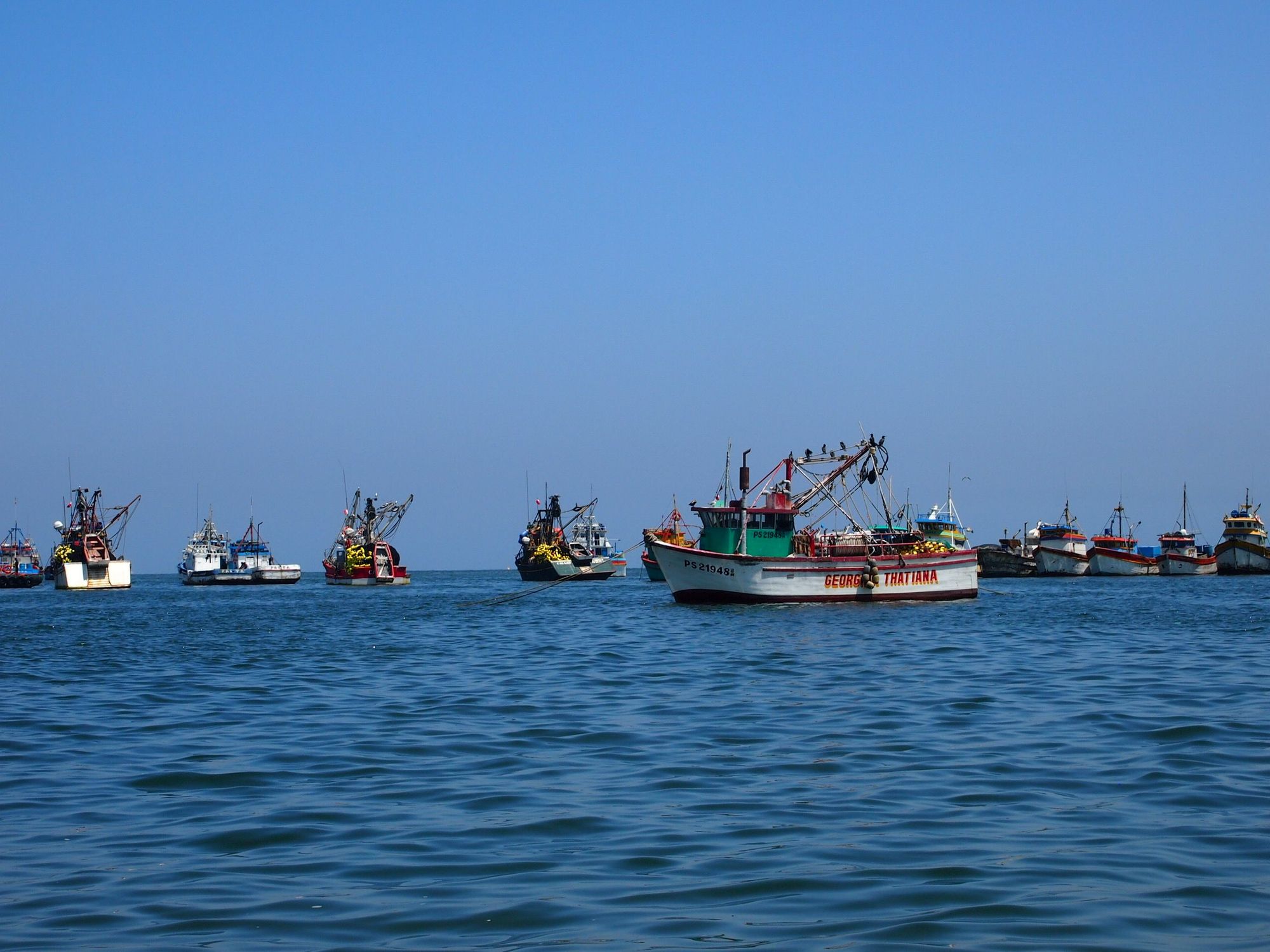 We passed the Candelabra - a prehistoric geoglyph. This was neat to see as we wouldn't be able to fly over the Nazca lines.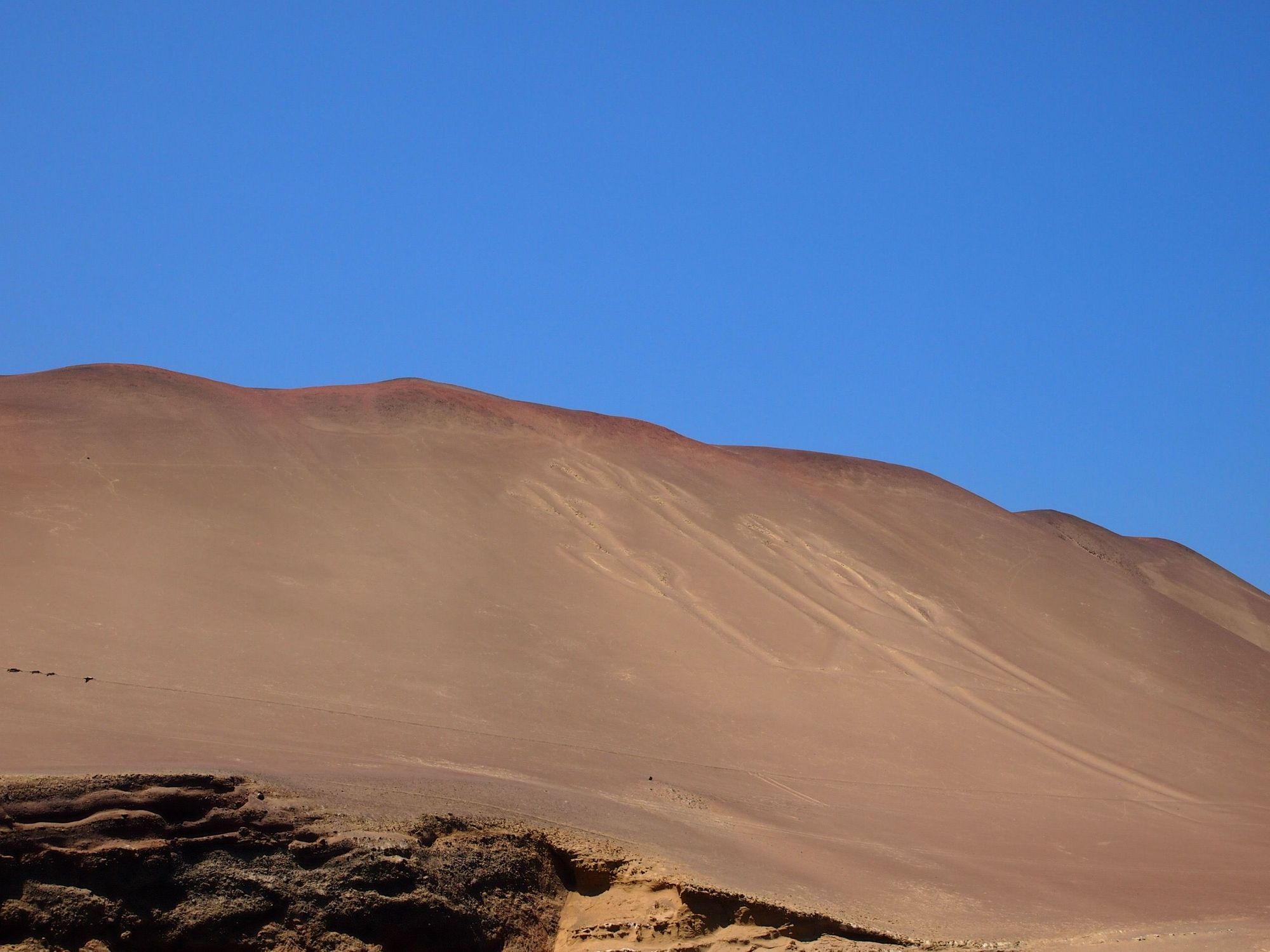 We approached the island sanctuary that especially houses many species of birds.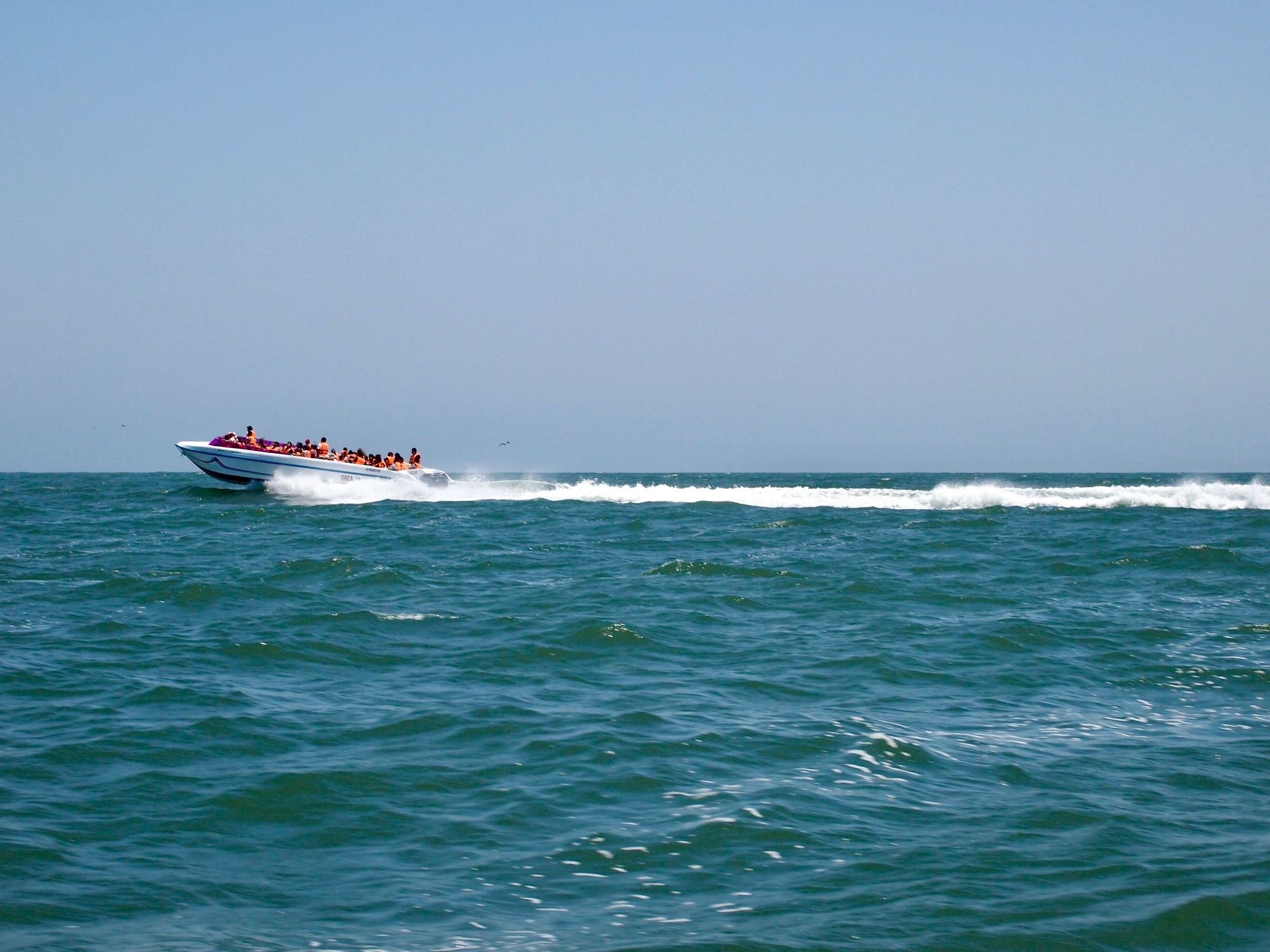 all kindz of birdz on and in rocks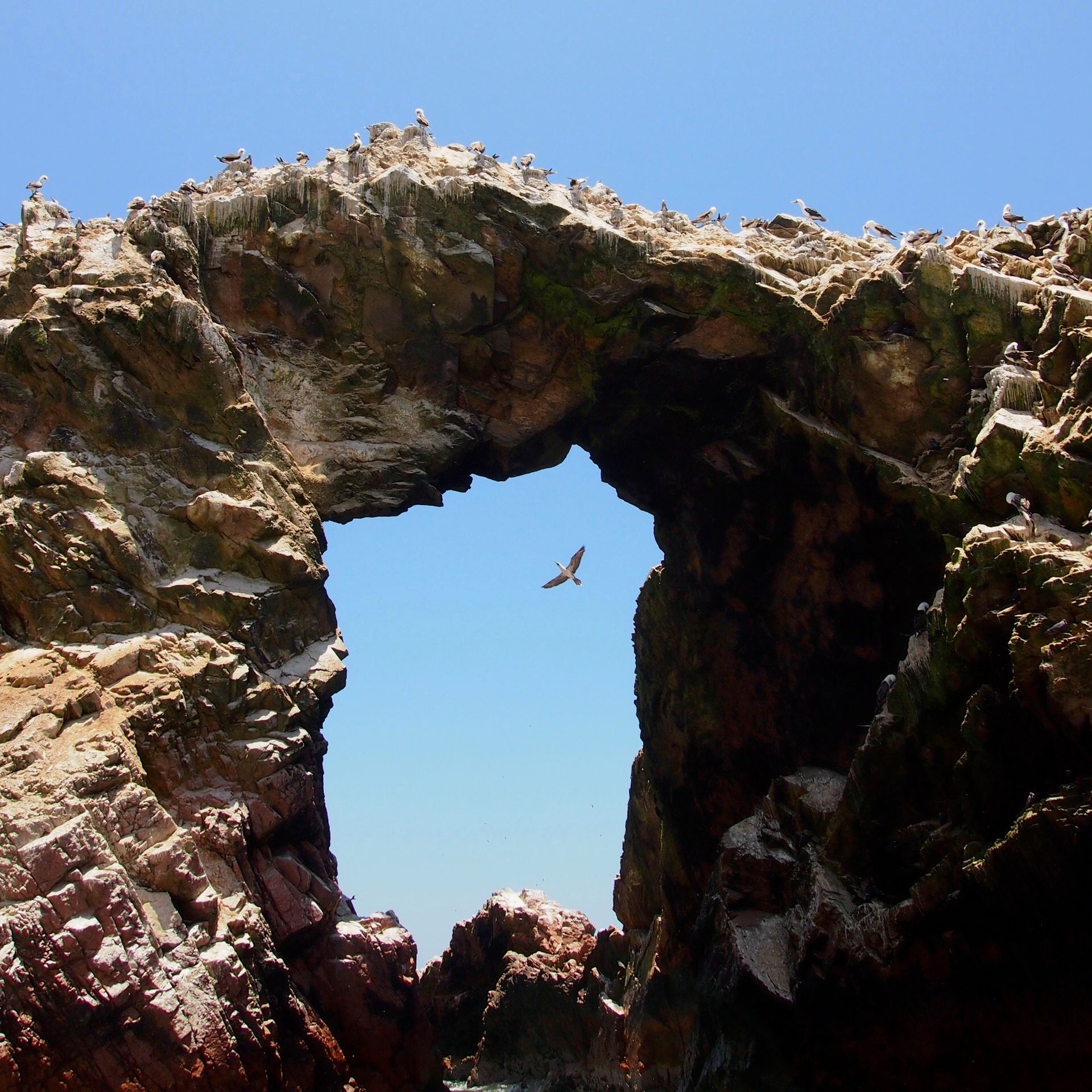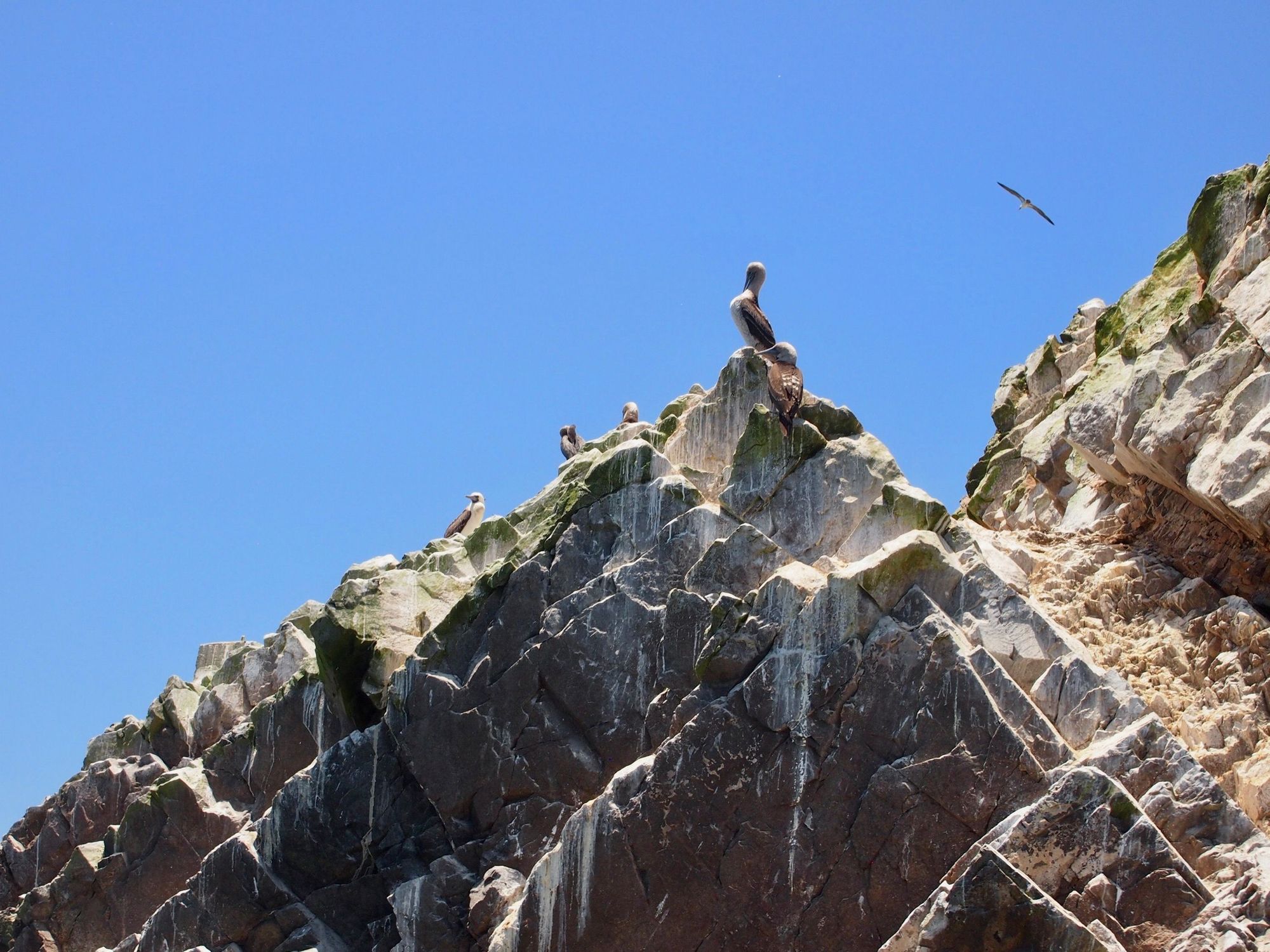 Even penguins!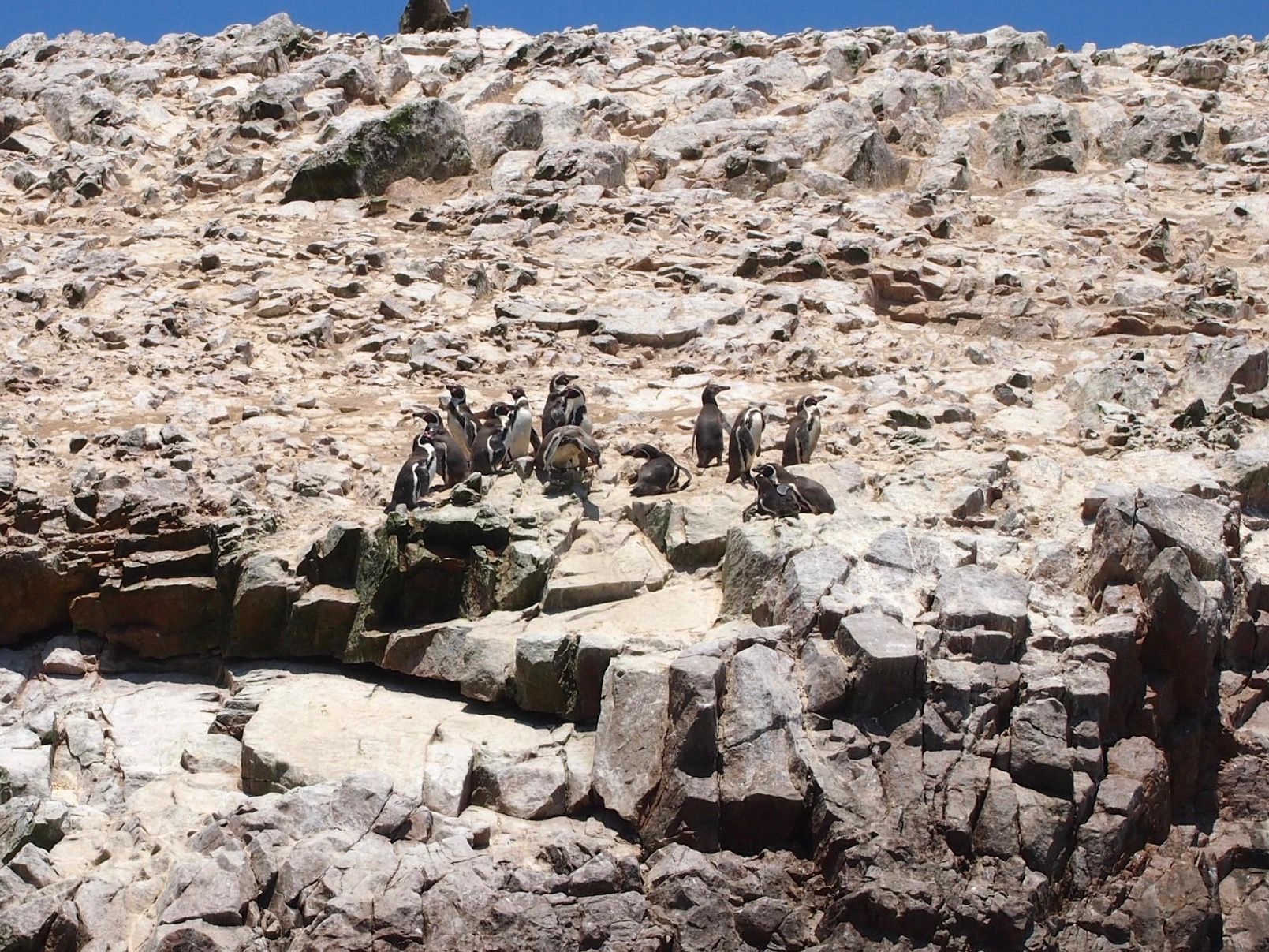 I thought yeah, that's a lot of different kinds of birds.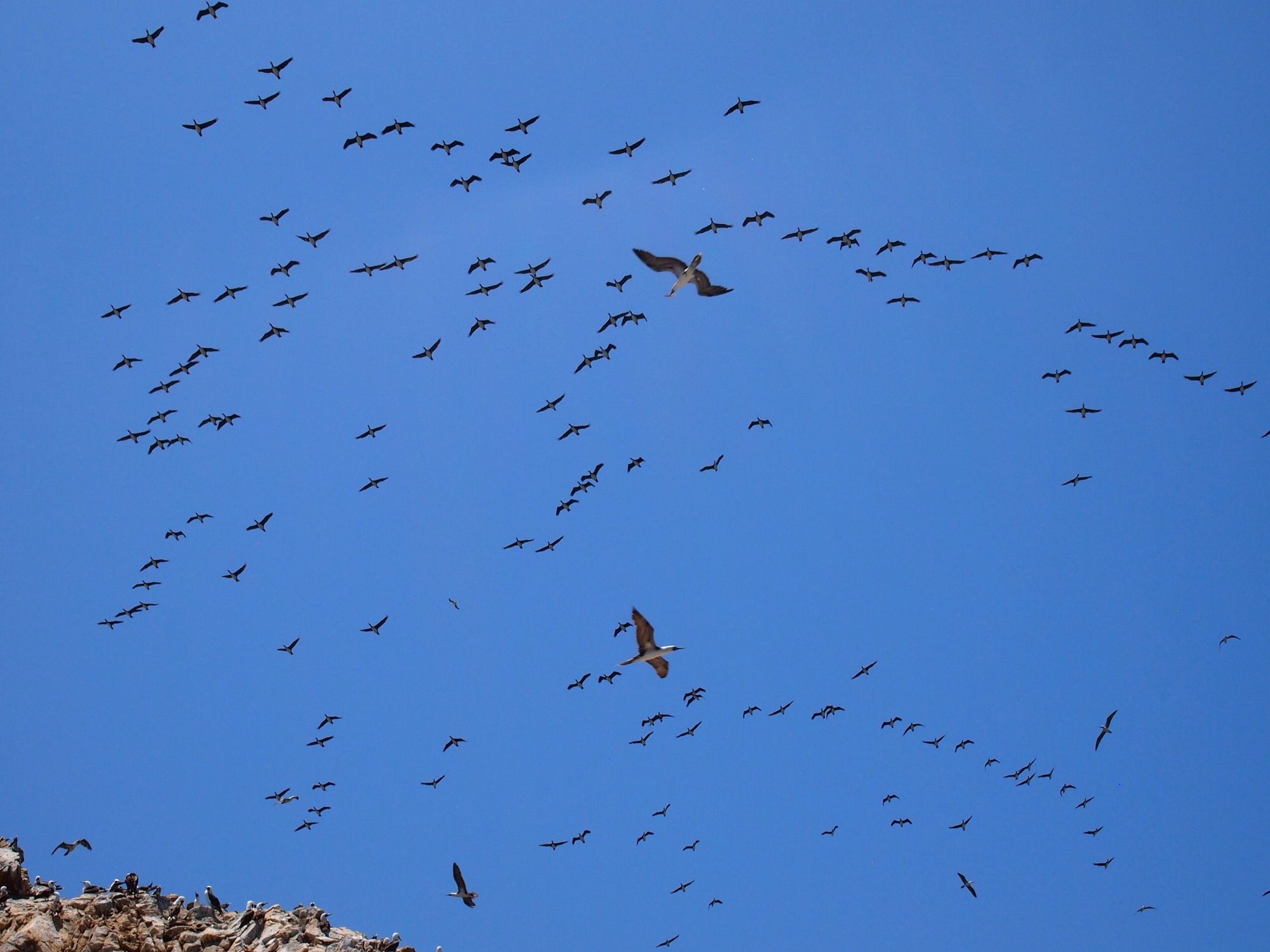 But, no. THIS is A LOT OF BIRDS. Guess what the dots on that island are.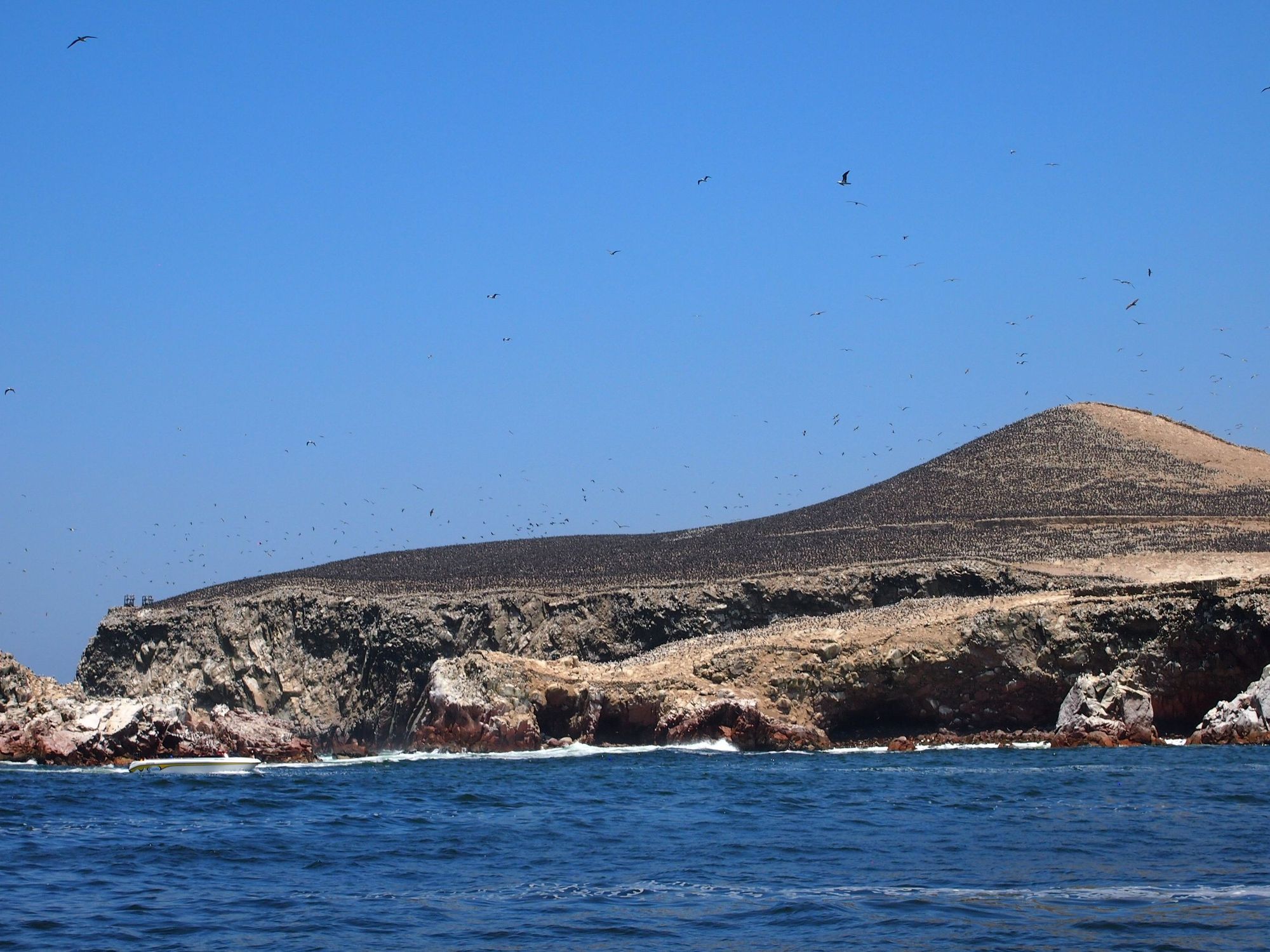 With acceptance of all the birds constantly circling overhead (glad I never saw that horror movie The Birds), we start checking out what else is around. I spy some crabs and mussels, and what is that on the right –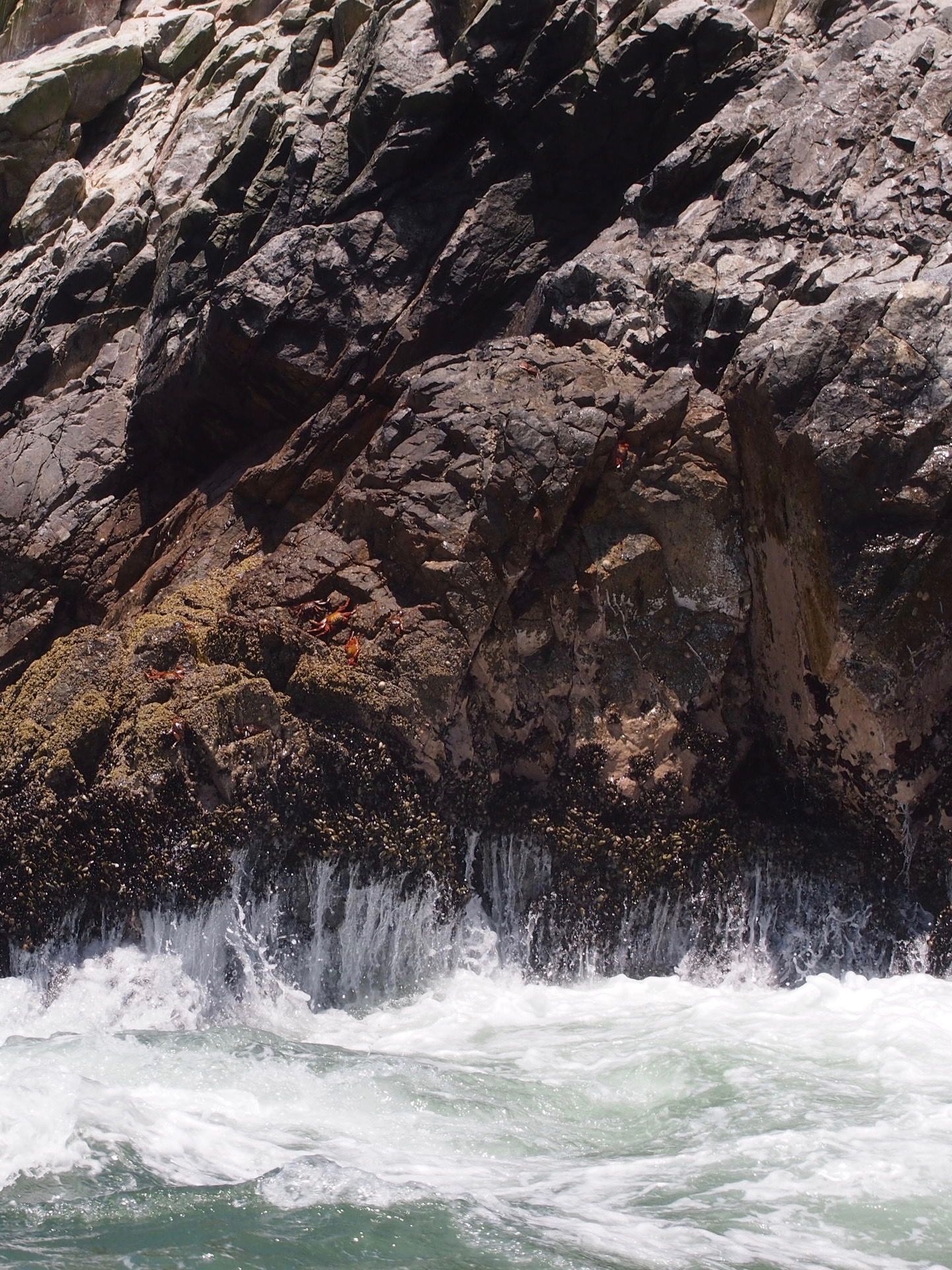 A sea lion! Reminds me of California and of fun times kayaking in Sausalito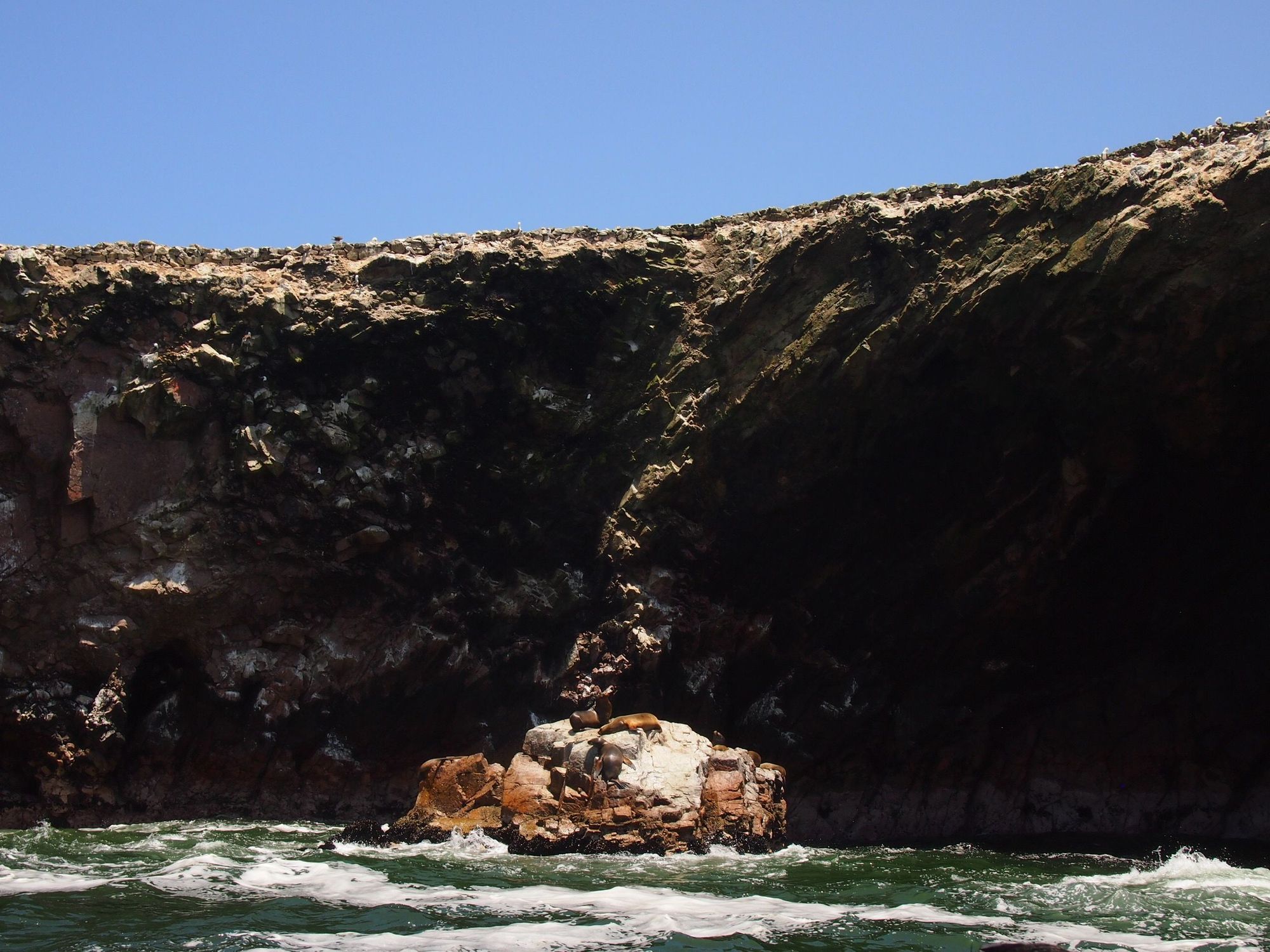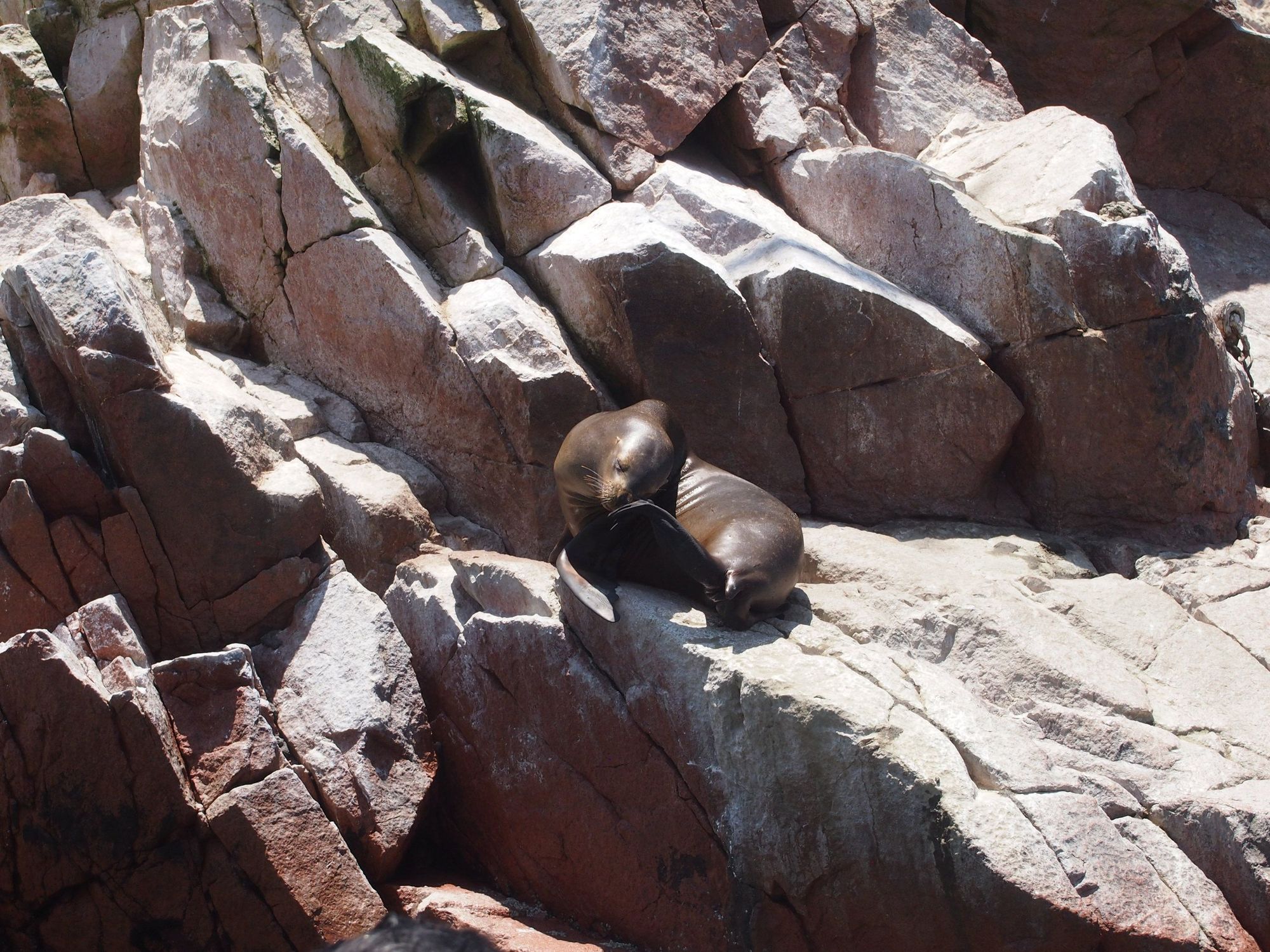 one is playing in the water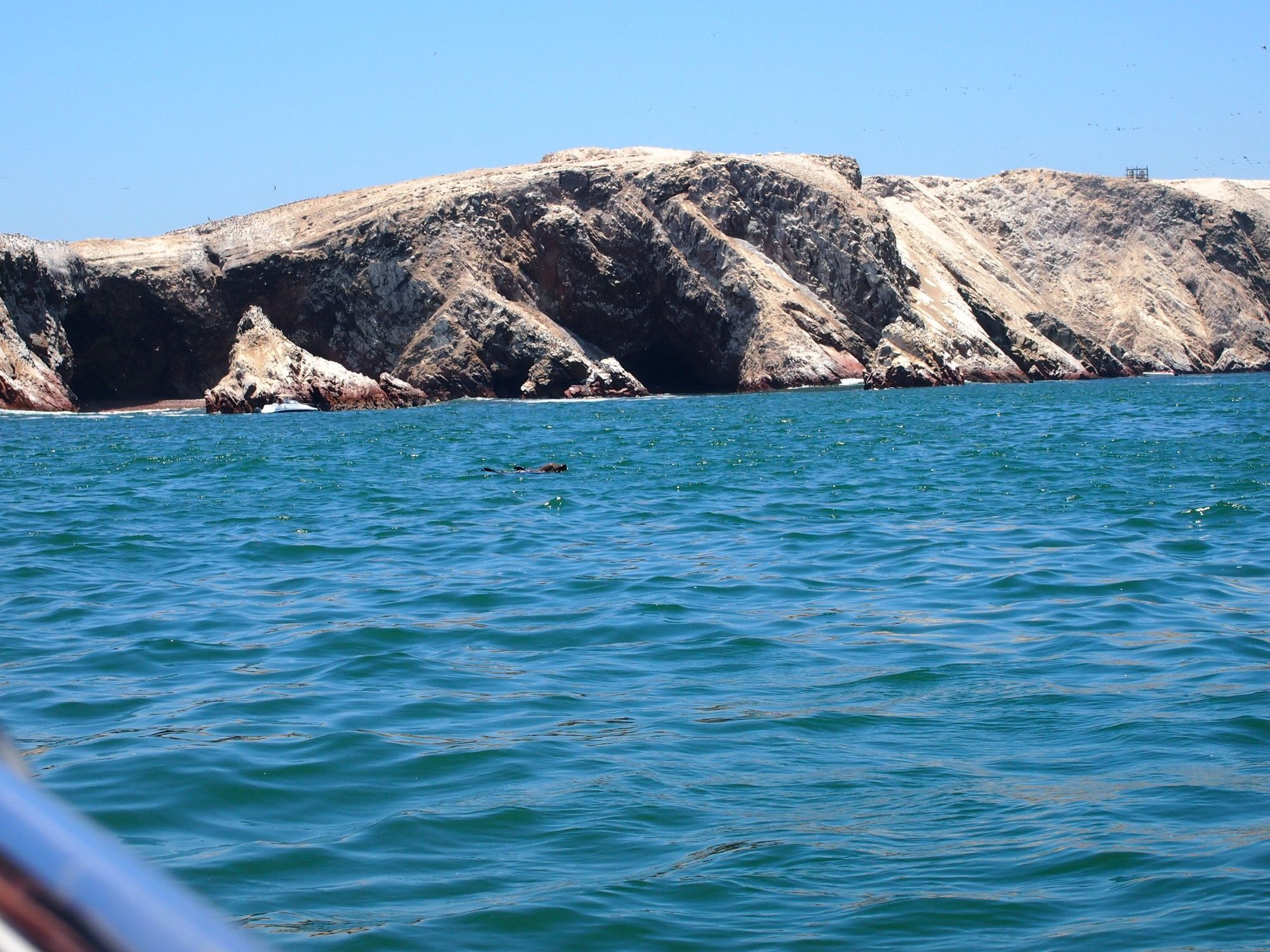 The whole ride back, I felt bad for the poor people in the back of the boat. They were completely soaked, slapped in the face by water for an hour on this speedboat adventure. Not sure if it was the winds and the choppy waters, or just always unpleasant in the rear. 🌊🥴
Huacachina!
We arrived at this little oasis in the desert and got some pizza in a hurry. While we waited for our order, I went around and took photos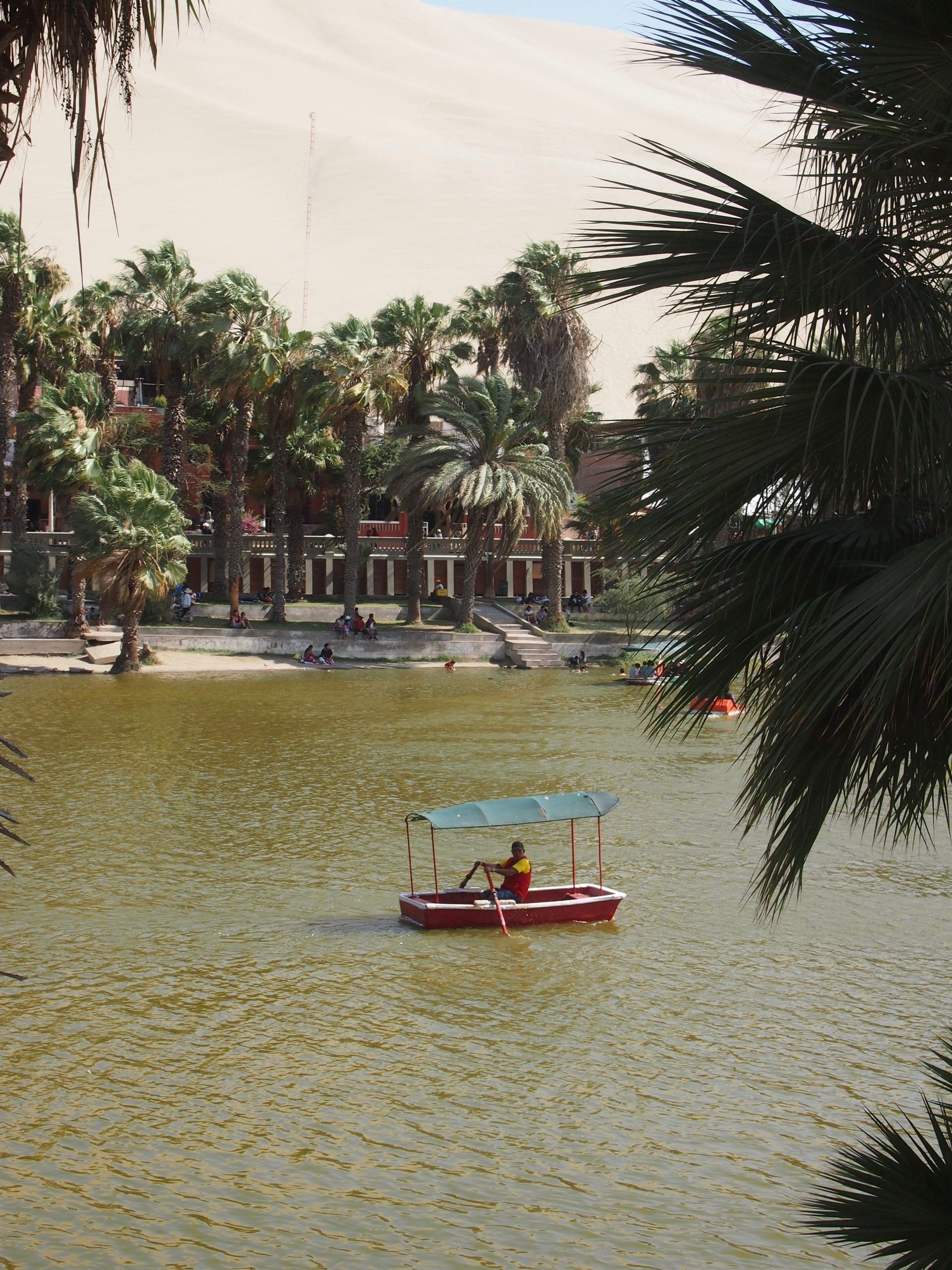 With the pizza in Zach's backpack, we got assigned our dune buggy group, and strapped into our harness.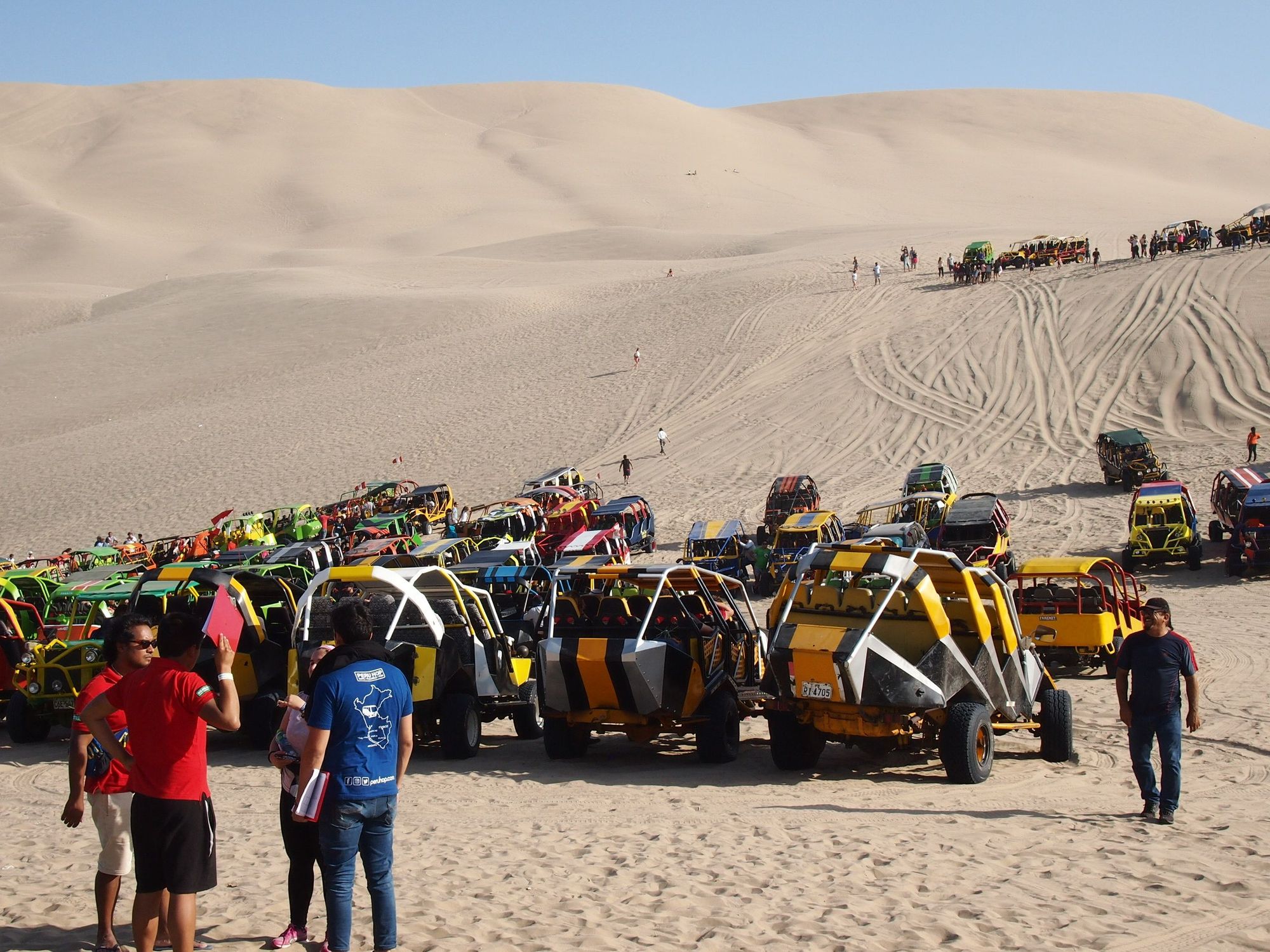 I really enjoyed this whole adventure – easily one of the highlights for me. Zach hated it haha.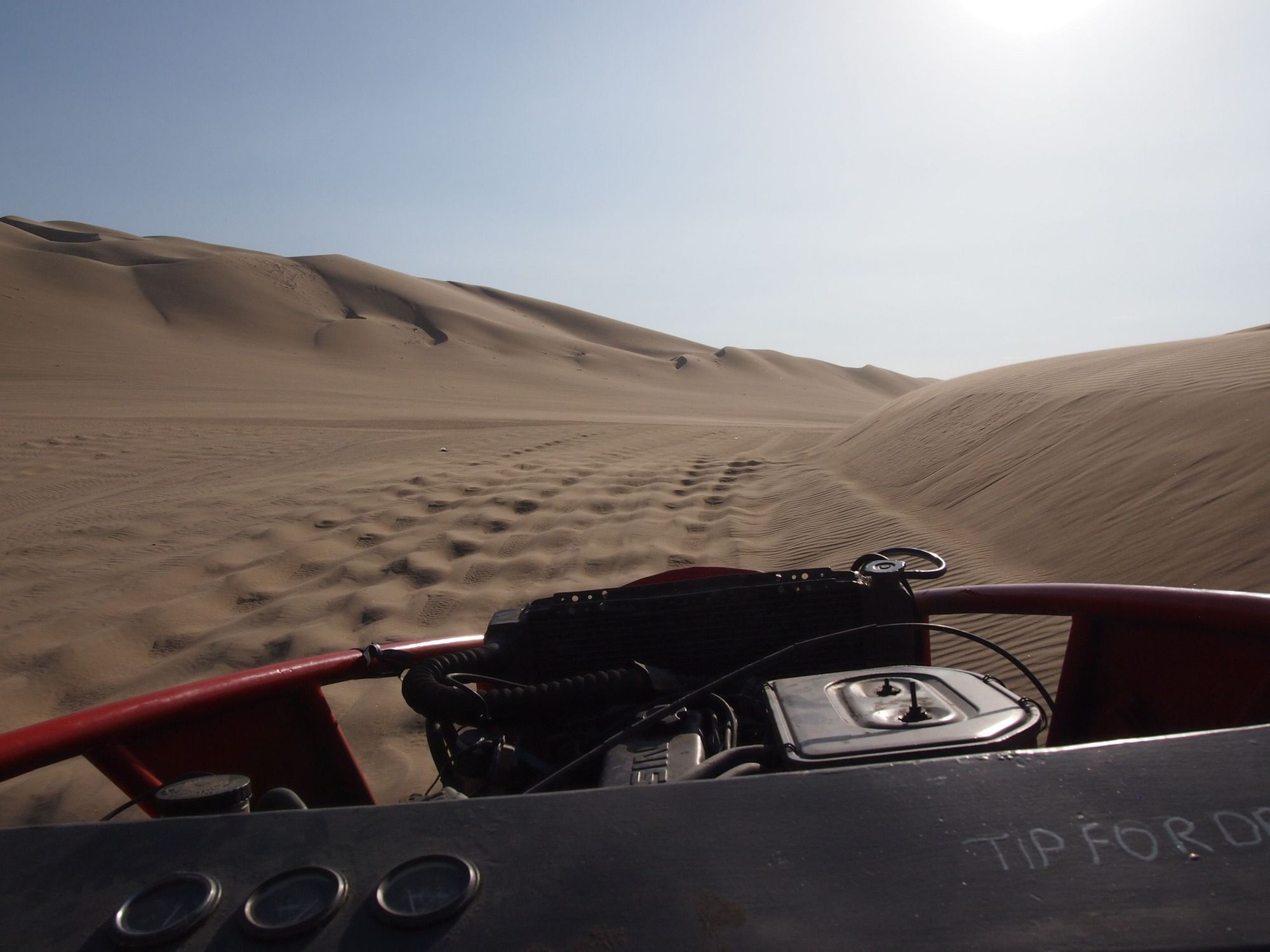 After a short ride, we stopped for what I assume was an extended photo op. I was a bit impatient and disappointed since it wasn't clear how long we would be there... We wandered a tiny bit while we waited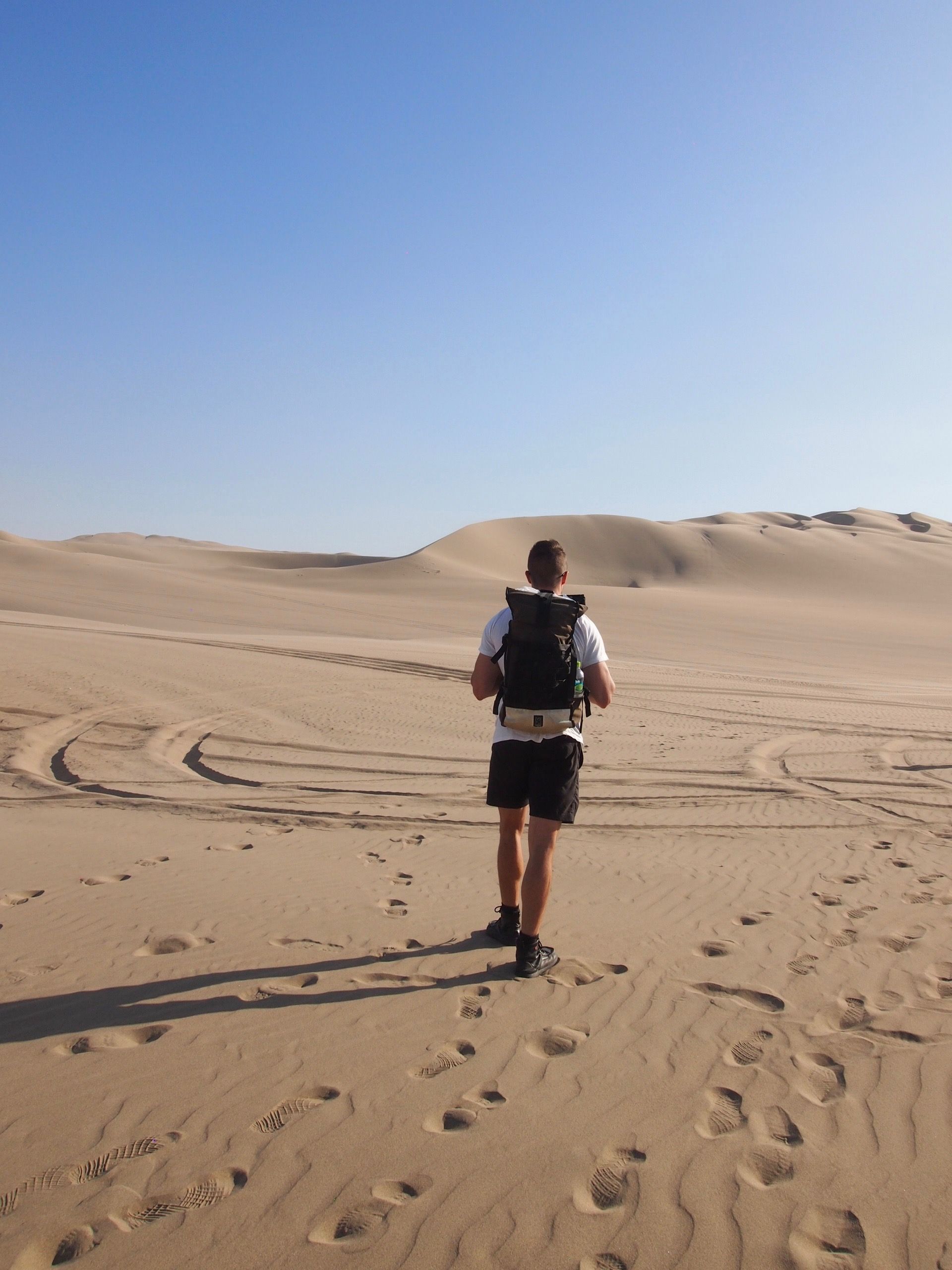 When we got back, everyone else was doing all kinds of basic stuff for the gram, so we decided to copy them to kill the time.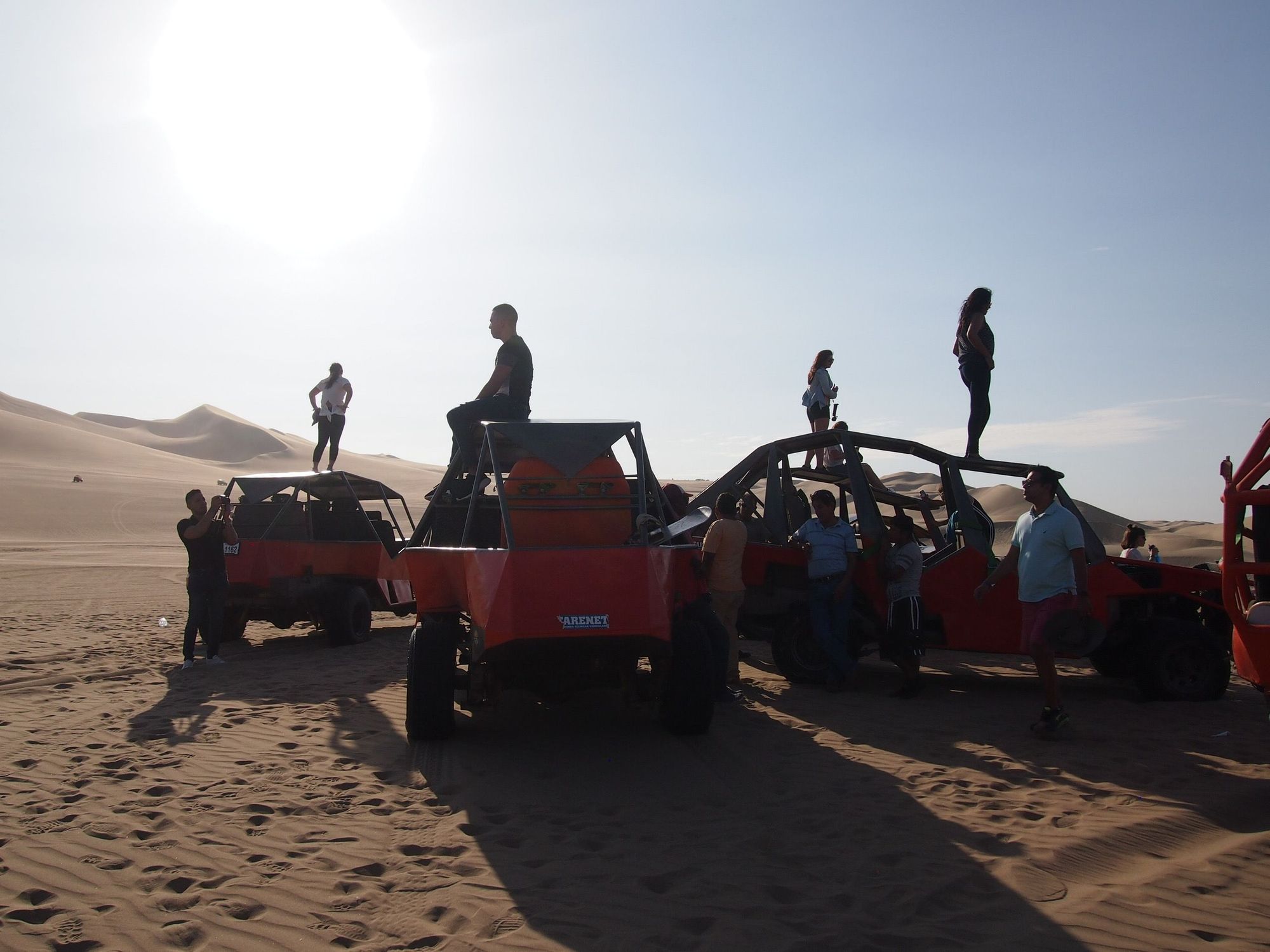 Those other ppl had the right idea... a more secluded stopping place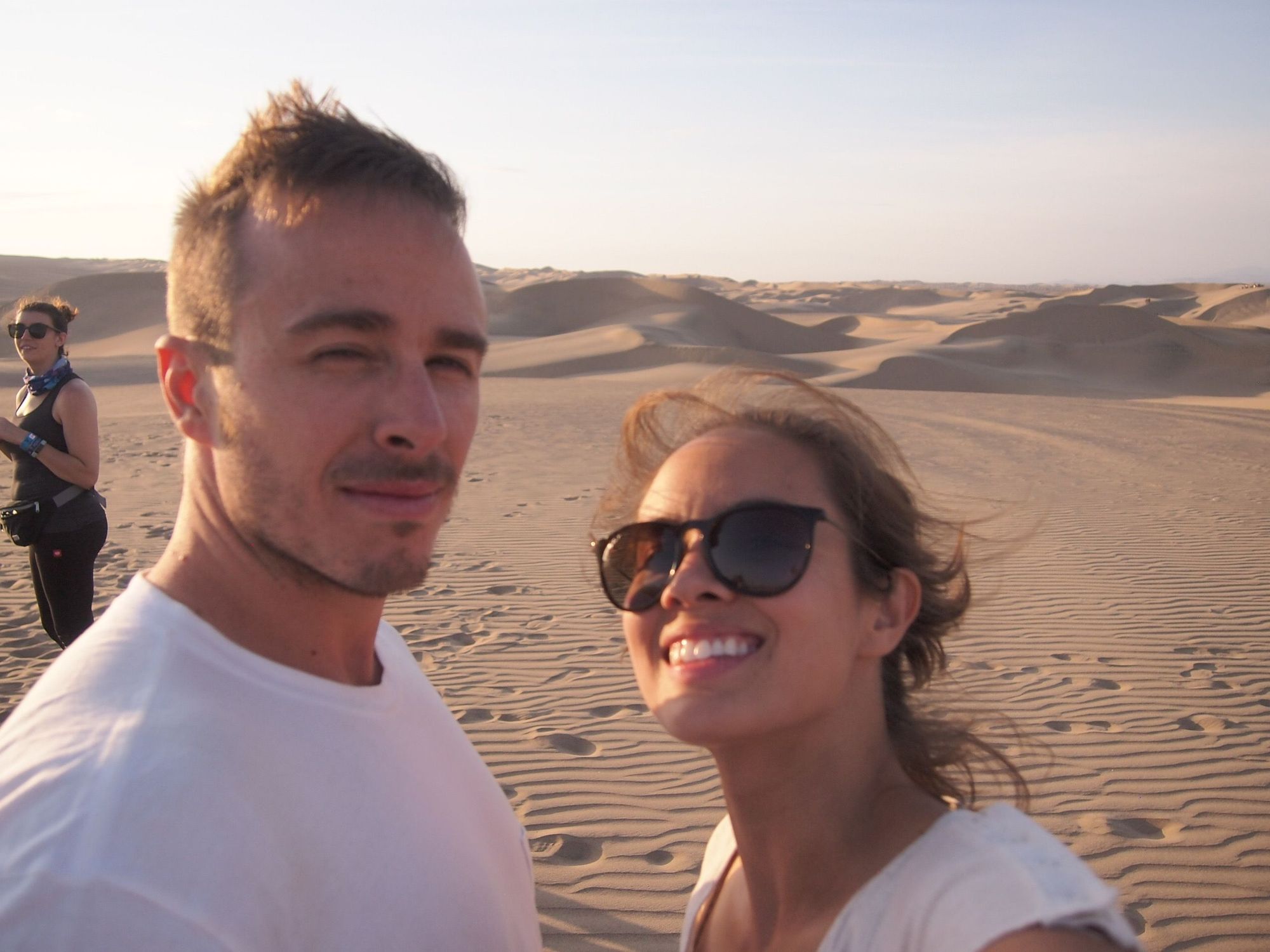 Luckily after this, we rode around for awhile and then sandboarded down a few dunes. The buggy dropped us off at the top of the steepest one, and then we boarded down 3 sequentially to meet our driver. Since it seemed no one was in a hurry, I hiked up to go down the steepest one an extra time. SO FUN 🤪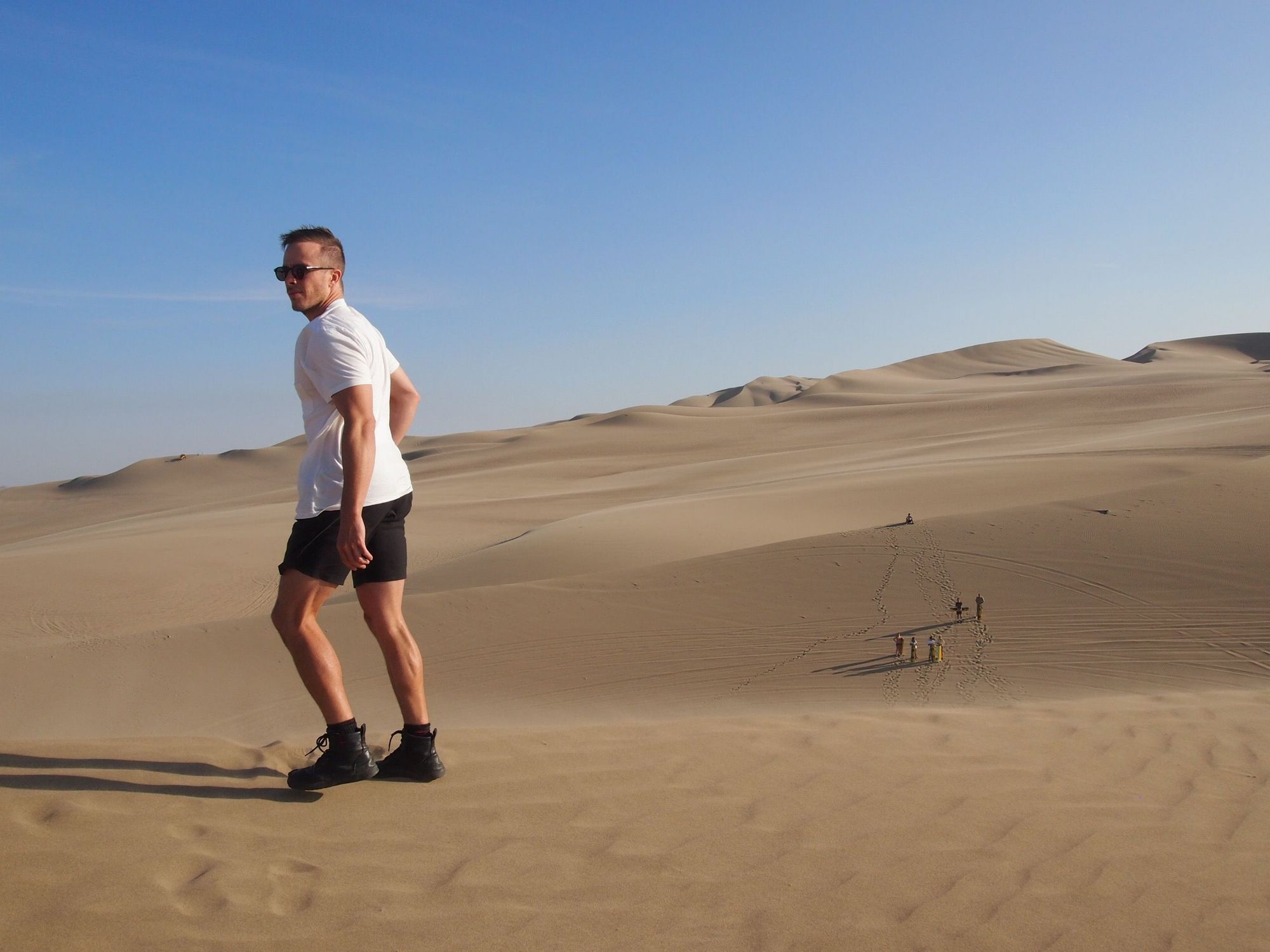 We went down on our bellies... Those straps are too flimsy to give you control or support when you stand.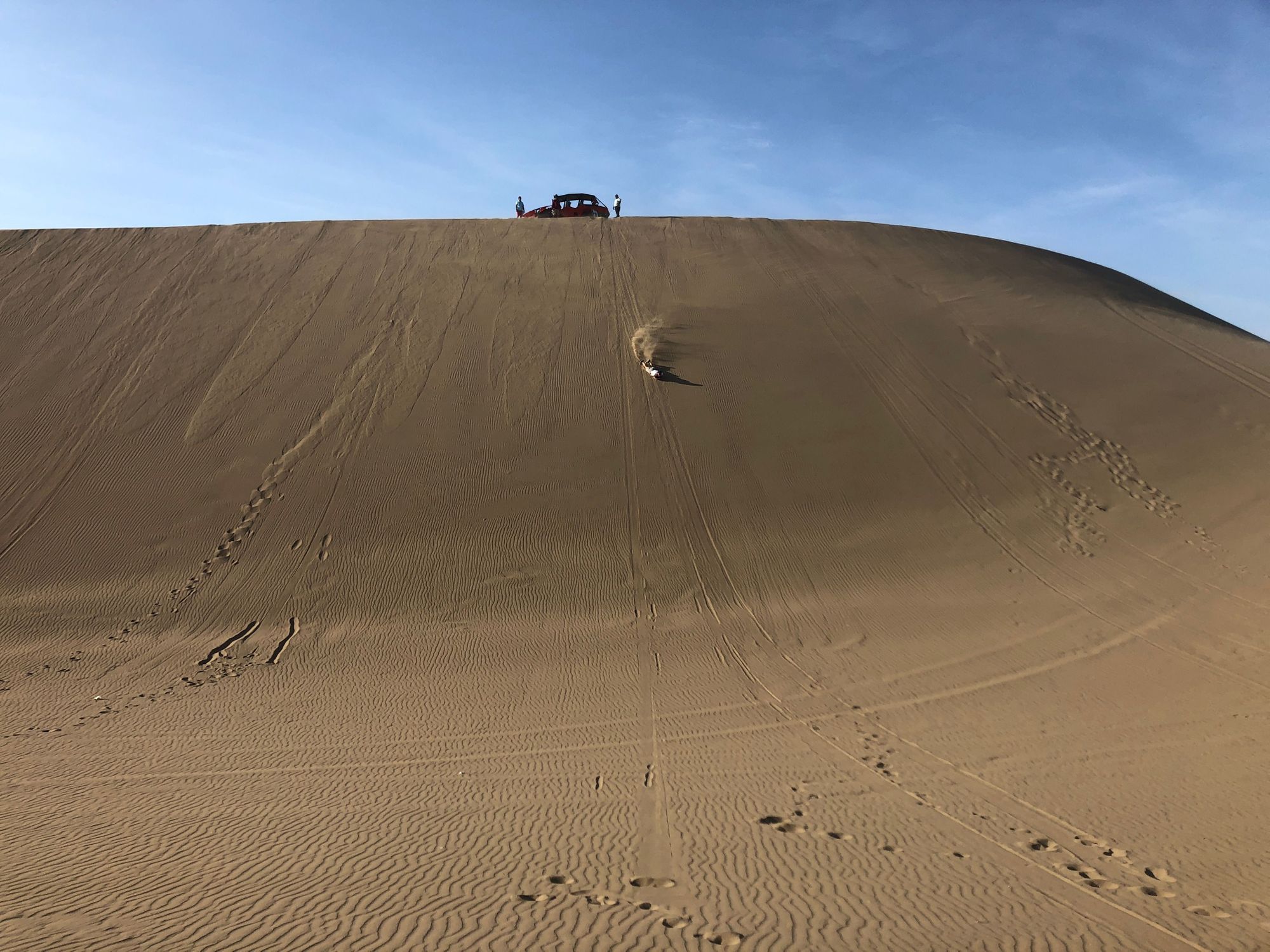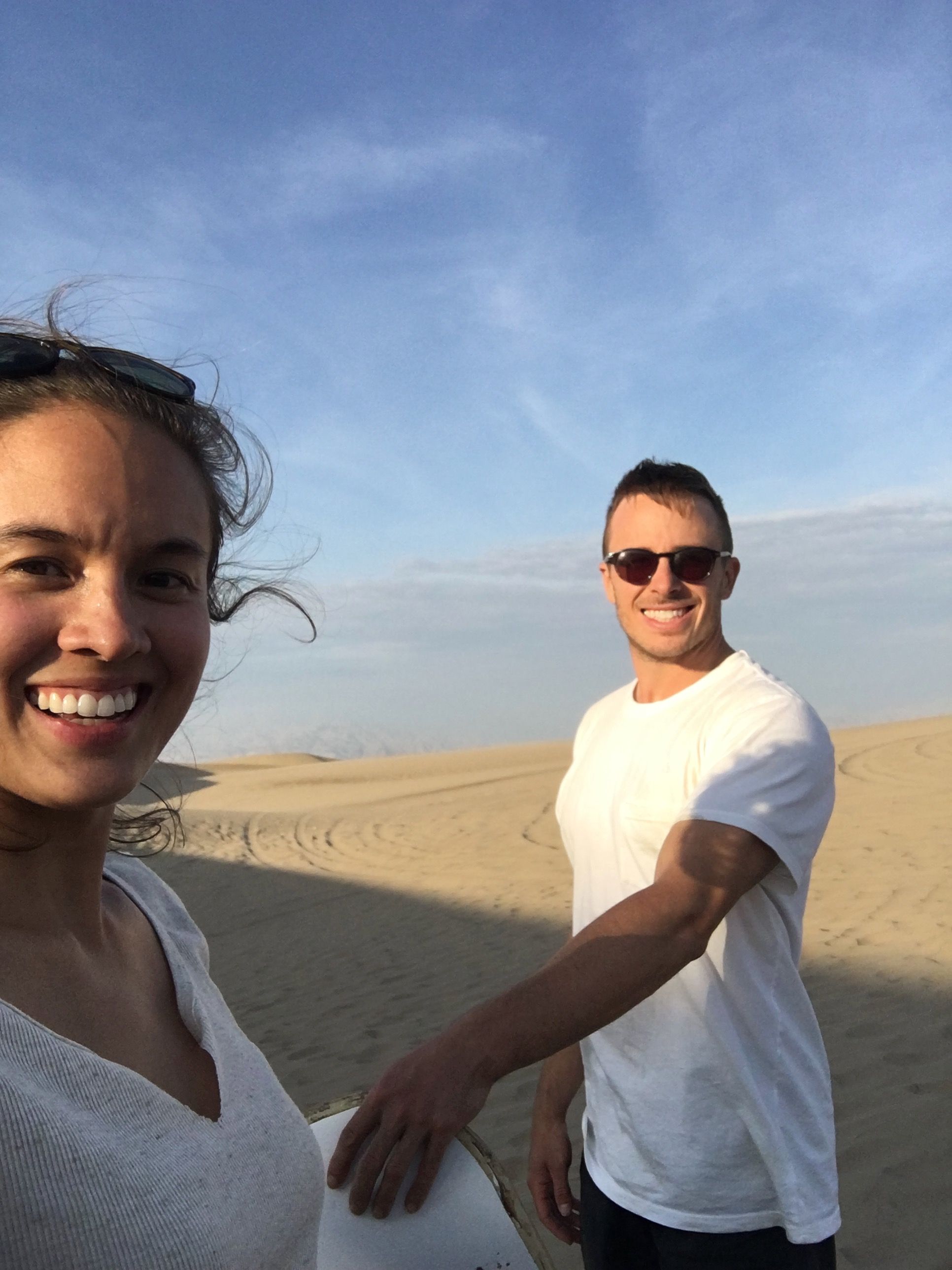 And here are some pictures of other dune buggies doing their thing
After some crazy swerving and air time in the dune buggy, we pulled up to a rest spot to watch the sun set. I think Zach was relieved to get out of the death mobile.


And here is a picture of our crazy driver and his dune buggy.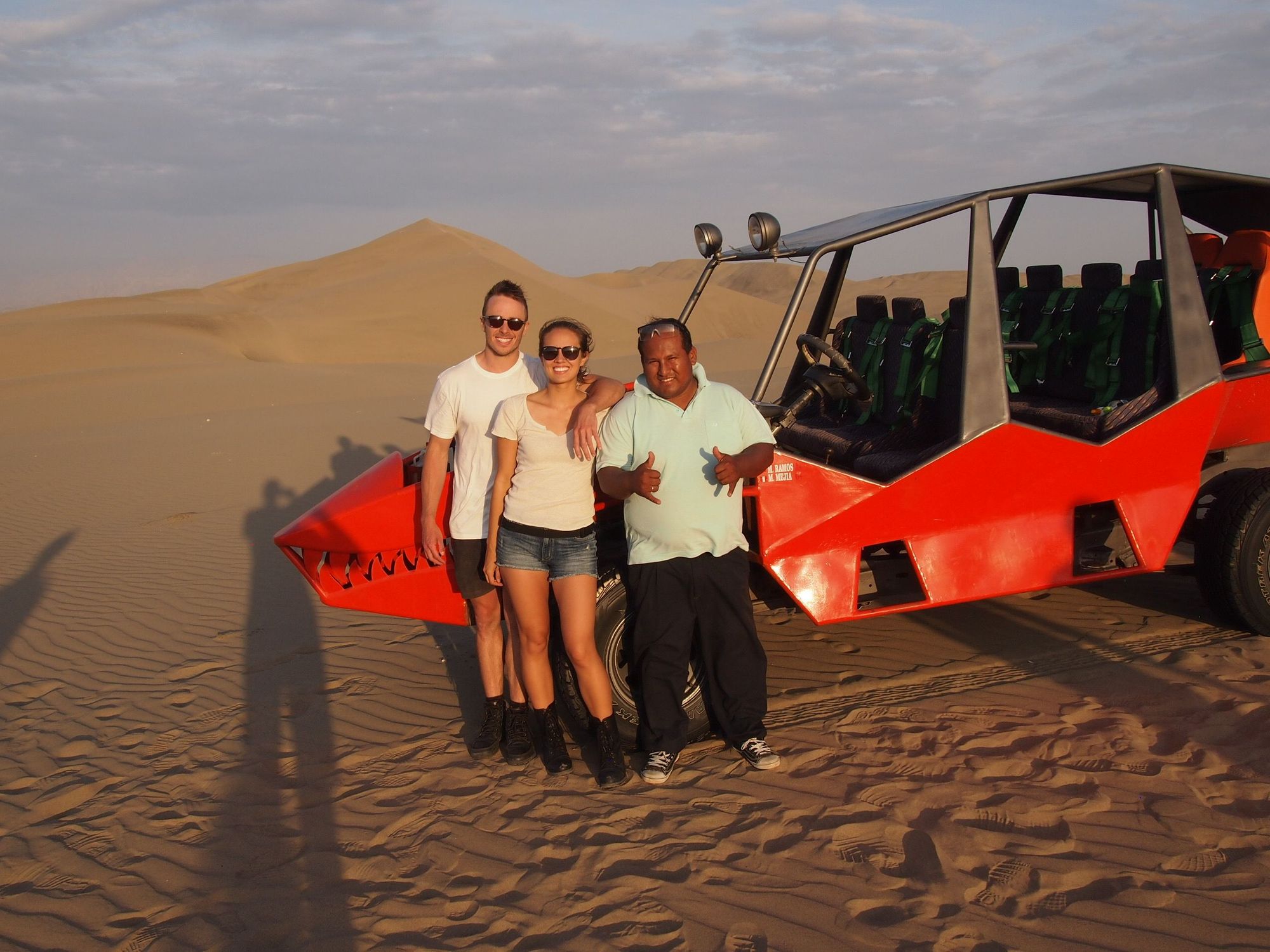 When we got back, there were people hiking up that huge dune and boarding down it. I wish we could have stayed and done that! 😍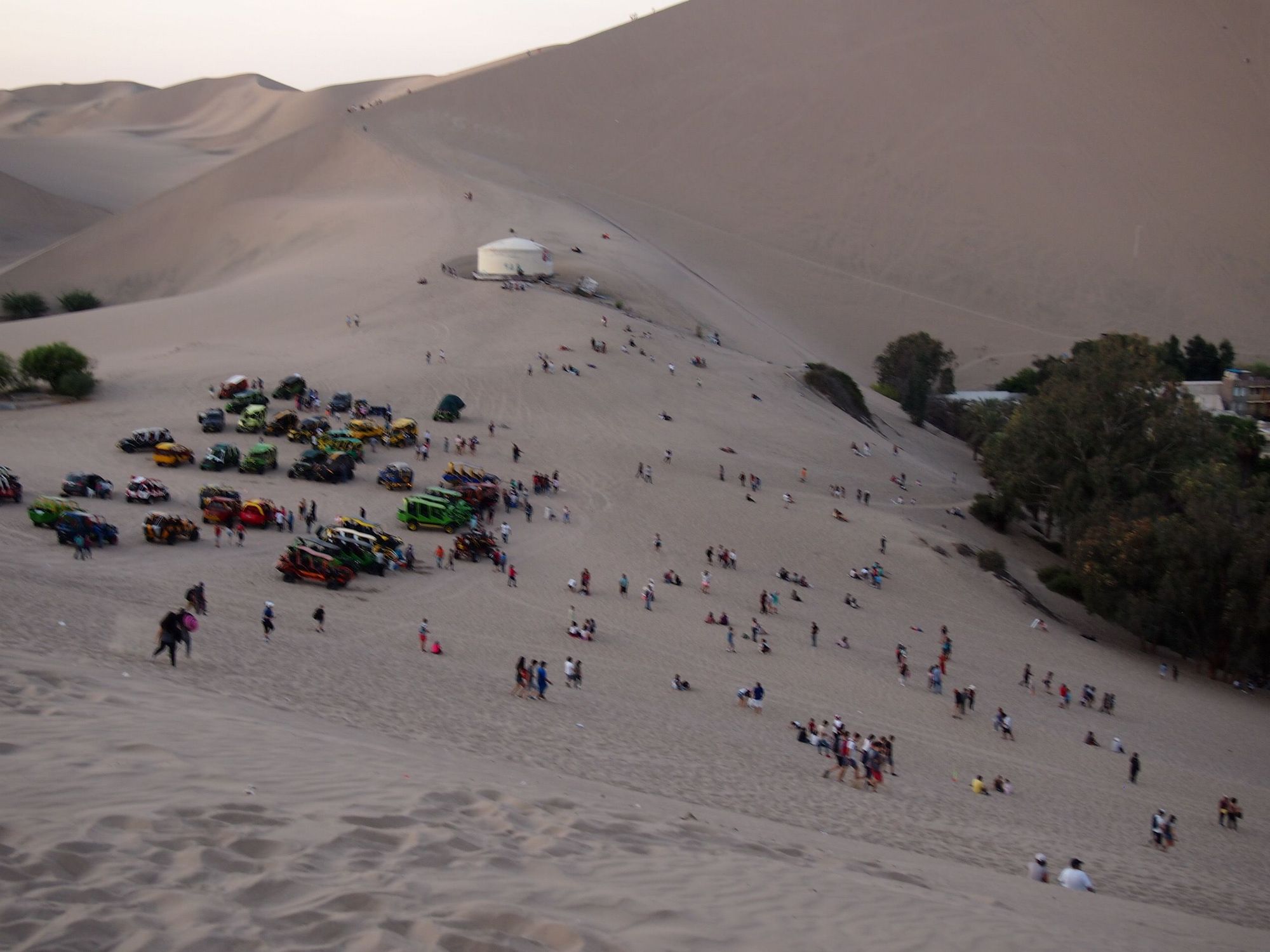 El fin. Now we just had to sit on those aching seats for hours until we got home.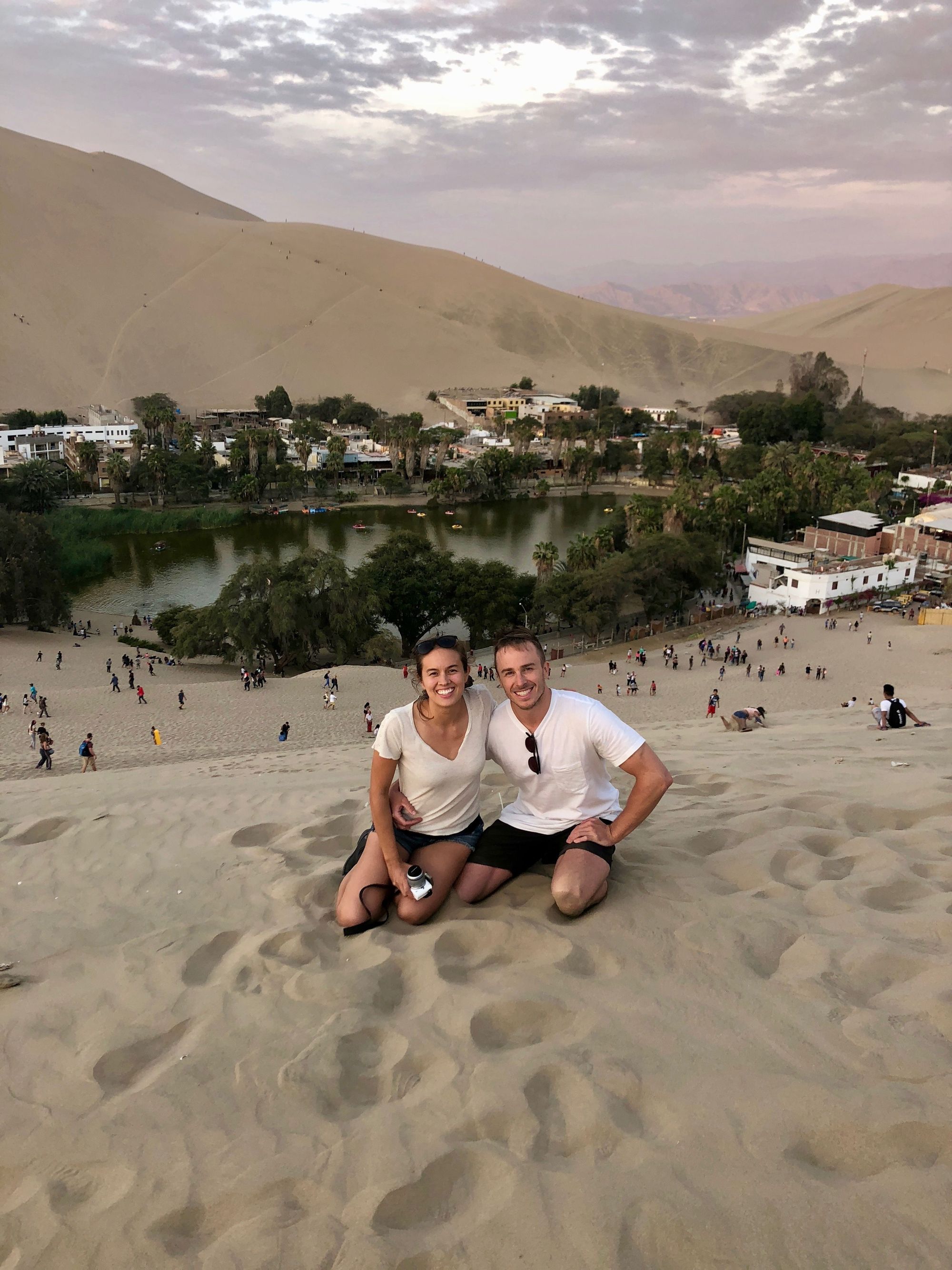 Day 11: Departure 🛫

Zach ran into Ariel from our trekking group at the airport. When I went up to try to find him, I sadly had no luck, so instead I bought a final can of Pringles with the excuse "it's just for vacations" ... I also used this excuse during our Christmas road trip... and as I write this I am actually finishing another Pringles can, which I bought because of having to fulfill a "credit card minimum" at a gas station. 🤔 Thanks a lot Peru, you have somehow given me a lifelong addiction to Pringles.
Side note: If you happen to see Peru's national dog, it looks just like this: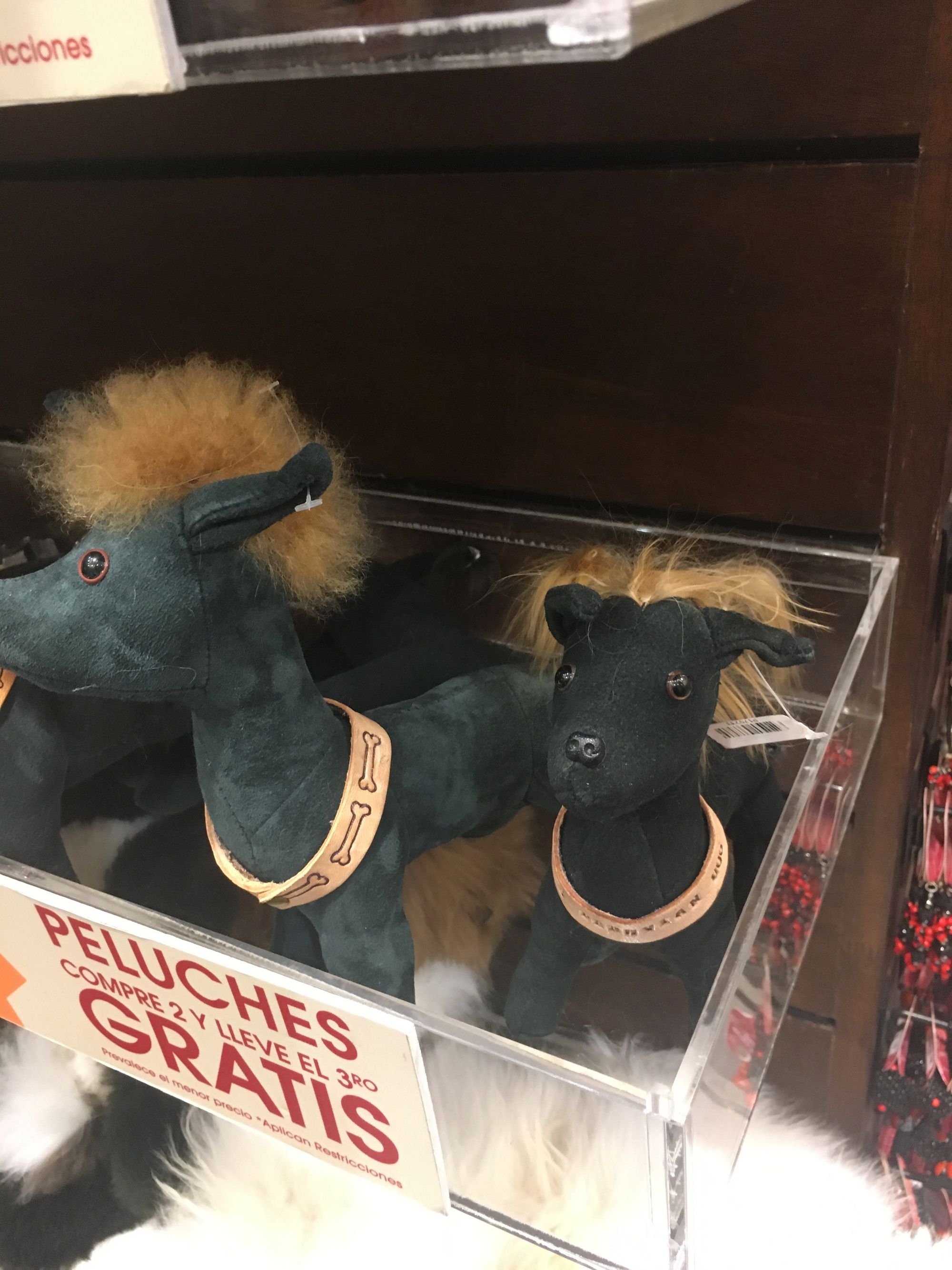 All in all, the Salkantay Trek was definitely the highlight of this trip. It just HAS to be better than the Inca Trail. And for me, it was one of the hardest things I've ever physically done.
If I could give this trip a tagline like Sleepless in Seattle, it may be "Exhausted in Peru". Physically, mentally, emotionally, and sleep deprivedly, (and also fun and rewardingly).
And into the sunset we go... Adios!!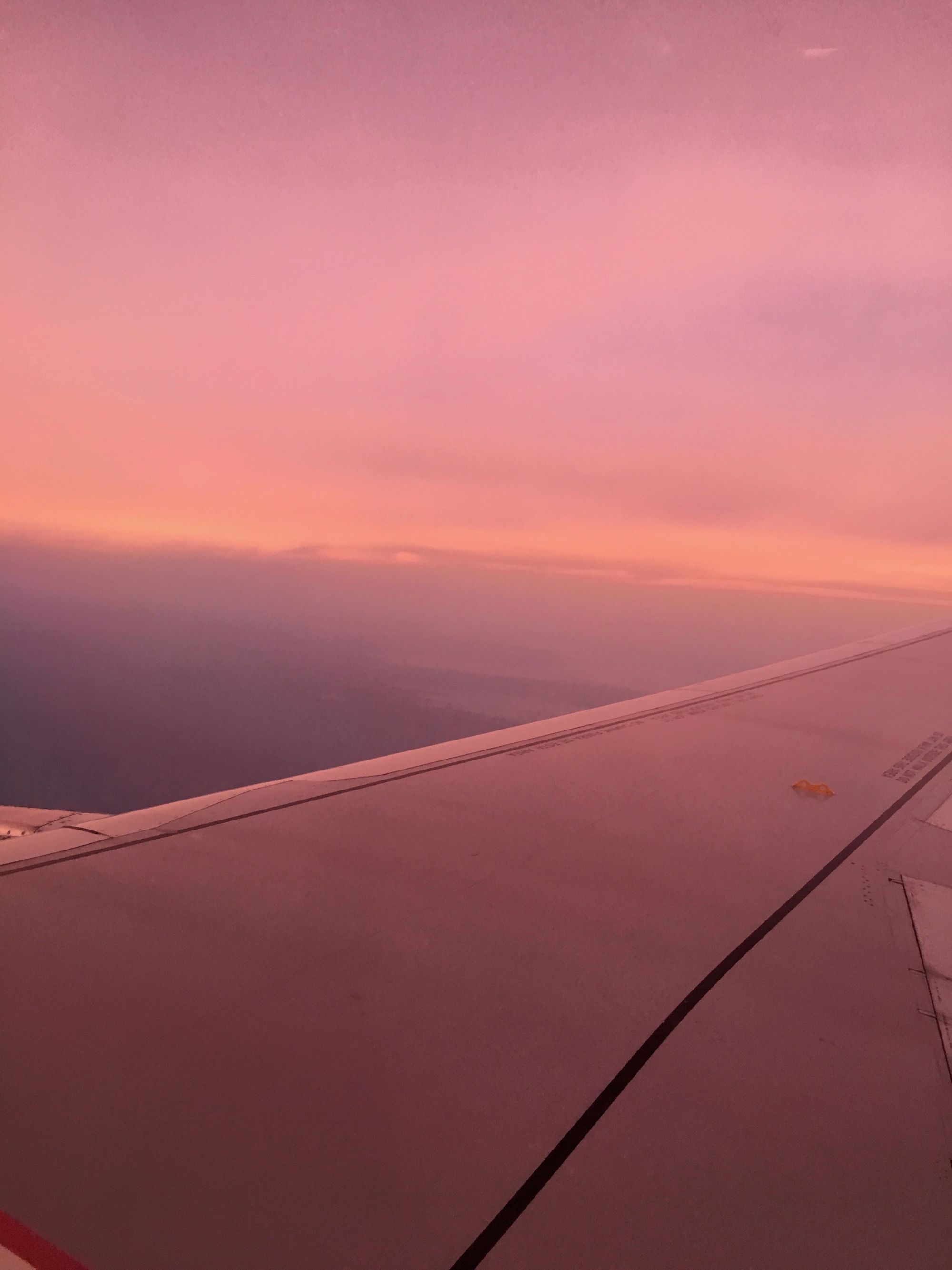 Sherlock
Dad got Arequipa correct from clue number 1. Reverse image search was easy with that cathedral, it seems. I'll have to be smarter with our next adventure!
---
1. My aunt and uncle are an inspiration to me in so many ways, and I love them dearly! (go back)